These Gluten Free & Dairy Free Raspberry & Coconut Slices are simple to make & taste amazing. The melt in the mouth base alongside the sweet jam & soft, yet crisp coconut topping is the perfect combination. Everyone will love them, trust me!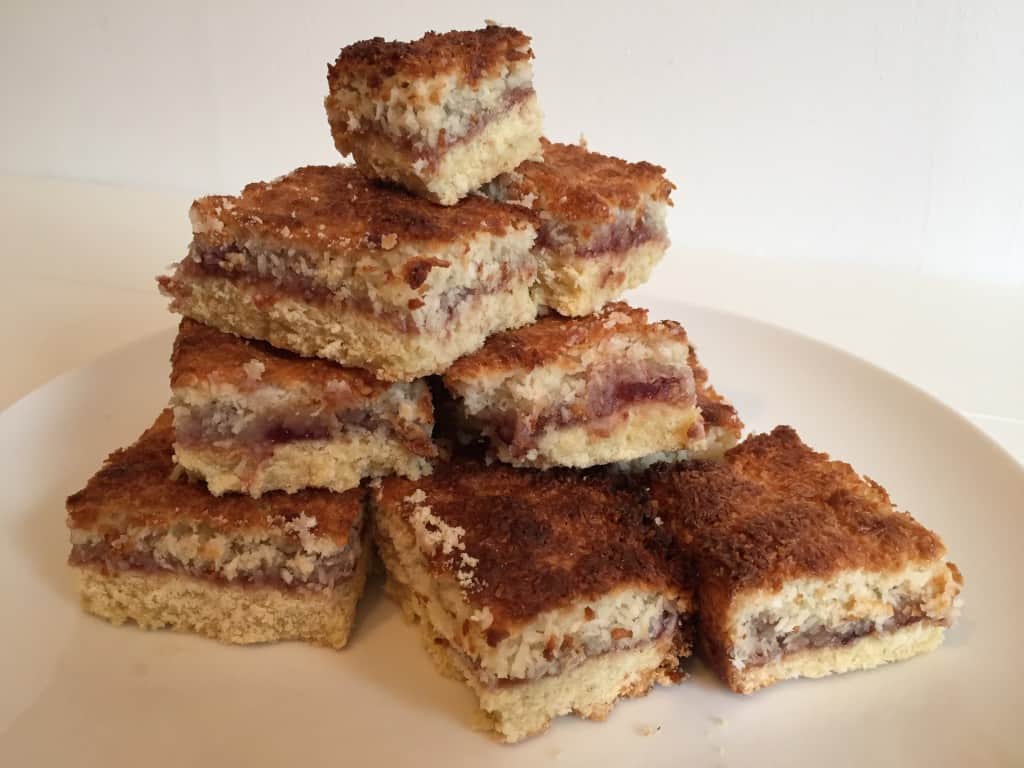 I haven't done much baking the past week or so. We've been doing a few DIY jobs around our home & had my parents come to visit. But this week I wanted to get bang on it again! I bought a huge bag of desiccated coconut last week with the idea of making some coconut macaroons. We had some absolutely amazing fresh coconut macaroons back in December at the Manchester Christmas Markets and have been craving fresh, warm ones ever since! But instead of making them straight away, I had an urge to do something slightly more with my coconut!
I love making different types of tray bakes. I also love biscuit bases. So I went about trying to devise something that was both gluten free and dairy free. A tray bake, or any cake for that matter that offers a few layers, with different textures is a winner for me. I always prefer bakes that have something with more of a biscuity, crunch texture to go alongside a softer texture such as coconut. This raspberry & coconut slice tray bake seemed the perfect combination of flavours and textures to me.
This recipe for the raspberry & coconut slice is really easy to follow as well, and requires minimal ingredients – basically it's just store cupboard items so you can make it anytime. It would be perfect if you wanted to make something for when friends come round… or just something you can sit & scoff on! (They are very moorish!)
The biscuit base is made and very lightly cooked first to give it structure. It also allows the biscuit to turn slightly golden. I highly recommend this simple biscuit recipe for anything. It is very versatile and although it works great in the raspberry & coconut slice recipe it would make for a great gluten free biscuit dipped in chocolate too!
I am a massive fan of raspberries within cakes and biscuits as you might have noticed from my gluten free & dairy free Bakewell loaf cake recipe I put up recently, click here to view it. Any flavour jam would do in this instance but I just have a thing for a good quality raspberry jam!
The coconut slice topping is incredibly easy to create as well for this recipe and is basically the mixture you would make coconut macaroons from if you wanted them plain. It tastes amazing and the smell from the coconut as you pour it into your mixing bowl is incredible (thats if you like the smell of coconut I guess!).
Anyway, as I have said, this recipe for my gluten free & dairy free Raspberry & Coconut Slice is really straightforward so I do hope you give it a go!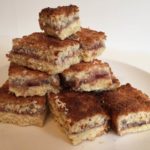 Raspberry & Coconut Slice (Gluten Free & Dairy Free)
Ingredients
250

g

gluten free plain flour

220

g

golden caster sugar

when measuring split this into 2 separate 110g portions

125

g

dairy free hard margarine

3

eggs

1

tsp

vanilla extract

raspberry jam

180

g

desiccated coconut
Instructions
Preheat your oven to 180 degrees celsius.

Grease a rectangular baking tin (around 12 x 10 inches - it wouldn't matter if you had a bigger or smaller tray really, or if it was a different shape, you will be able to judge).

Mix together your gluten free flour, 110g of sugar & your dairy free hard margarine until it forms a breadcrumb consistency. (I used an electric whisk for this)

Add your vanilla extract and 1 egg to your mixture & mix until it forms a dough like consistency. (I used an electric whisk for this)

Bring together the dough into a lump with your hands.

Press the dough into your prepared baking tin evenly and bake in the oven till slightly golden.. this will take about 15 minutes.

After 15 minutes take the baking tin out of the oven and put to one side briefly.

Whisk together for 2 remaining eggs & your other 110g of sugar.

Stir in your desiccated coconut. (This is now ready to spread)

Spread your raspberry jam all over your base as evenly as you can (it should be slightly warm still, no worries if it isn't this time though).

Spread your coconut mixture over the jam & base evenly.

Place back in the oven for a further 20 - 25 minutes or until golden.

Allow to completely cool in the baking tin before removing and cutting into slices.

Enjoy!
Let me know what you think of the recipe on
Facebook
&
Twitter
. & if you do make them, make sure you take a photo and post it on
Facebook
,
Twitter
or
Instagram
!
Thanks for reading,
Becky xxx
Comments