Missing authentic Chinese dishes since going on a gluten free diet? My gluten free honey chicken with cashew nuts is quick and easy to make!
Near the end of last year Mark decided to treat me to a home made Chinese Takeaway, including an amazing Gluten Free Honey Chicken with Cashew Nuts. I rarely, if ever, have a Chinese takeaway any more, I used to also love Chinese Buffets back before my food problems but they are definitely a no go these days. (Of course I know the quality isn't up to that much often at buffets – but there used to be something I loved about going!)
Obviously for the two of us Mark couldn't make a full buffet as that would just take forever and we haven't got that big of a stomach! He just gave a few dishes a go and it was amazing. We've had two 'home made' Gluten Free Chinese takeaways now which have included a variety of dishes. All are gluten free/dairy free/onion free! We've had prawn toast, 5 Spice Chicken Wings, Noodles, Egg Fried Rice, Gluten Free Honey Chicken with Cashew Nuts, Chicken Satay, Glutinous Rice with Chinese Mushrooms & Chinese Sausage.
One of my all time favourites was his Gluten Free Honey Chicken with Cashew Nuts. Honey doesn't agree with me so instead we have been using Agave Nectar. I might try using Rice Syrup at some point as well instead of the agave. The agave works really well though… of course honey would too if you prefer using honey.
Mark is half Malaysian and I think this influences what we eat quite a lot. We experiment with a lot of different Chinese, Malaysian, Thai & Vietnamese Dishes as a result. This is great news for me as South East Asian cuisine is definitely right up there with my favourites. In British restaurants it is so often the case that I can't eat a lot of the choices. It isn't always the case that these dishes naturally should contain gluten but I don't think too much of the South East Asian food you find in restaurants is completely authentic. I am definitely not saying that is the case for all Asian Restaurants in the UK, as I have been to many amazing restaurants that do cater. Basically, its great to be able to cook your own Asian food sometimes and know exactly what is in it. Additionally for me, its not just gluten that is the issue but onions! Luckily, with our Gluten Free Honey Chicken with Cashew Nuts recipe, onions are totally optional!
I thought today I would give you the recipe for our Gluten Free Honey Chicken with Cashew Nuts. It is seriously quick to make and tastes absolutely amazing; plus Chinese New Year is coming up! I'm sure over time I will put up some more of our Asian Dishes and there are a few on here already I believe as well.
We often accompany this dish with simple steamed Thai fragrant rice but we have on a few occasions made a fried rice noodle cake and had that with it. It is a bit different and I think I prefer the steamed rice for this dish so I would recommend that, but, both work amazingly.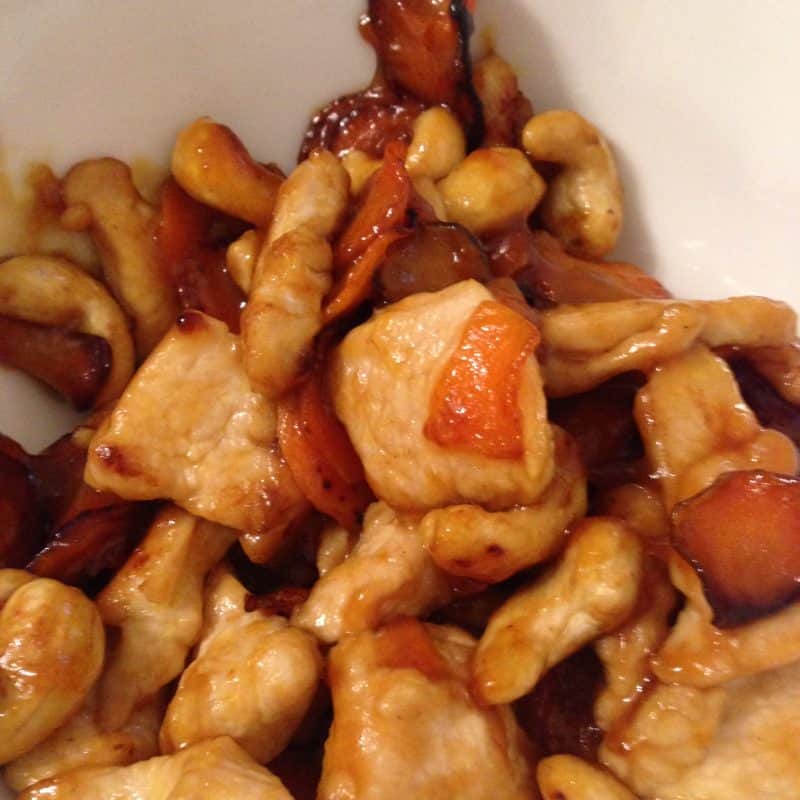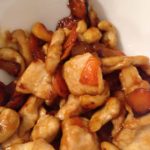 Gluten Free Honey Chicken with Cashew Nuts
Ingredients
Enough steamed rice for 2

Oil for cooking

2

Chicken Breasts

1

Carrot

Handful of Cashew Nuts

Extra corn flour for the chicken

3

Tablespoons

of Rice Vinegar

3

Tablespoons

of GF Soy Sauce

6

Tablespoons

of Honey or Agave Nectar

1 1/2

Tablespoons

of Sesame Oil

9

Tablespoons

of Water

3

Tablespoons

of Corn Flour
Instructions
Make your sauce by measuring out all the sauce ingredients and mixing them in a bowl (you will only need a small bowl – mix it enough to make sure the corn flour is fairly blended in – put to one side).

Peel and very finely slice your carrot.

Chop up your chicken.

Cover your chicken in corn flour (This is not essential but when you fry the chicken it goes a bit crisp and golden which I like)

Fry your carrots until they are a little softer. (We use a wok for all our cooking but a frying pan would do for this recipe)

Add the chicken and continue to fry until cooked through.

Add the cashew nuts so they are fried lightly.

Make sure you have the heat turned up high and pour in the sauce mixture.

Shake the wok a little and keep mixing it trying to coat all your chicken, carrots & cashews.

It will only need the best part of a minute on a high heat, the mixture will reduce down to a sticky 'epicness'! Take it off the heat once it has reduced.

Serve straight away on a base of steamed rice… enjoy Gluten Free Honey Chicken with Cashew Nuts!
Let me know if you give this Gluten Free Chinese dish a try. It is seriously simple and has to be one of my favourite dishes at the moment!
If you are celebrating Chinese New year, have a good one! Did you try and make our Gluten Free Honey Chicken with Cashew Nuts? Please leave us a comment below letting us know how you got on!
Thanks for reading,
Becky xxx