What a weird name for a recipe, right? Well, I'll get to explaining that shortly! Here's my newly update gluten free paella recipe that's low FODMAP and dairy free too.
Wow, I first posted this recipe in 2015?! Well, three years and at least 30+ paellas later, I've perfected finally returned to perfect my gluten free paella recipe. I guess I'd better explain the title first then…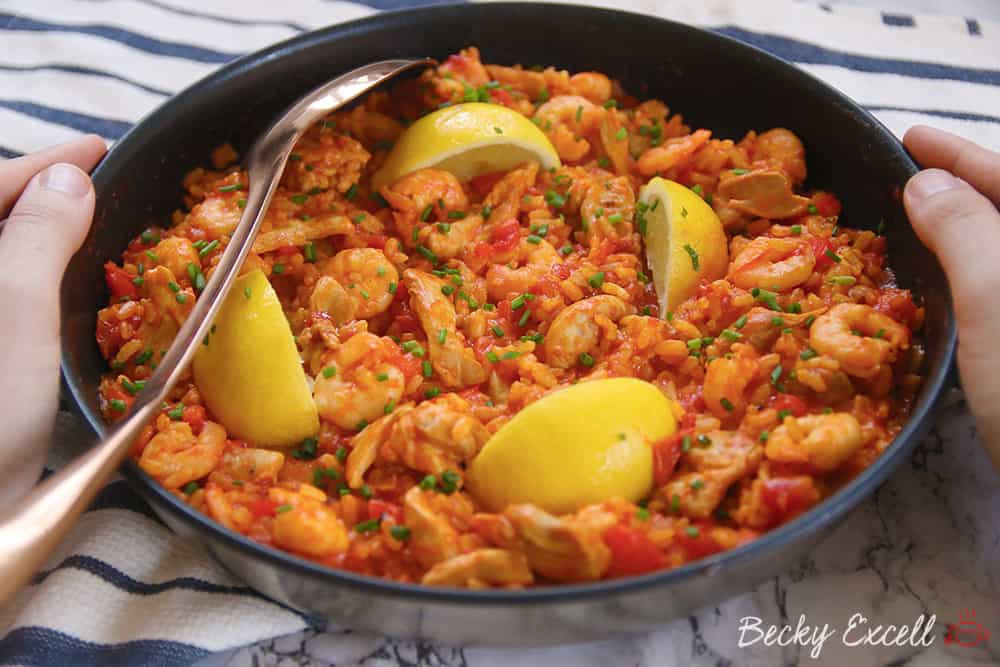 If you follow me on Insta and stalk my story, you'll probably have seen Mark and I cook a few of our regular week day meals – including this gluten free paella recipe.
(wow, this story is so exciting that it could be made into a novel that later gets adapted into a TV series)
As usual, my inbox was flooded with 'RECIPE PLEASE!' but of course, I couldn't share it until I'd updated it, as not only had we changed the recipe to be low FODMAP, but the photos were pretty butt ugly.
But there was one comment that I just couldn't ignore…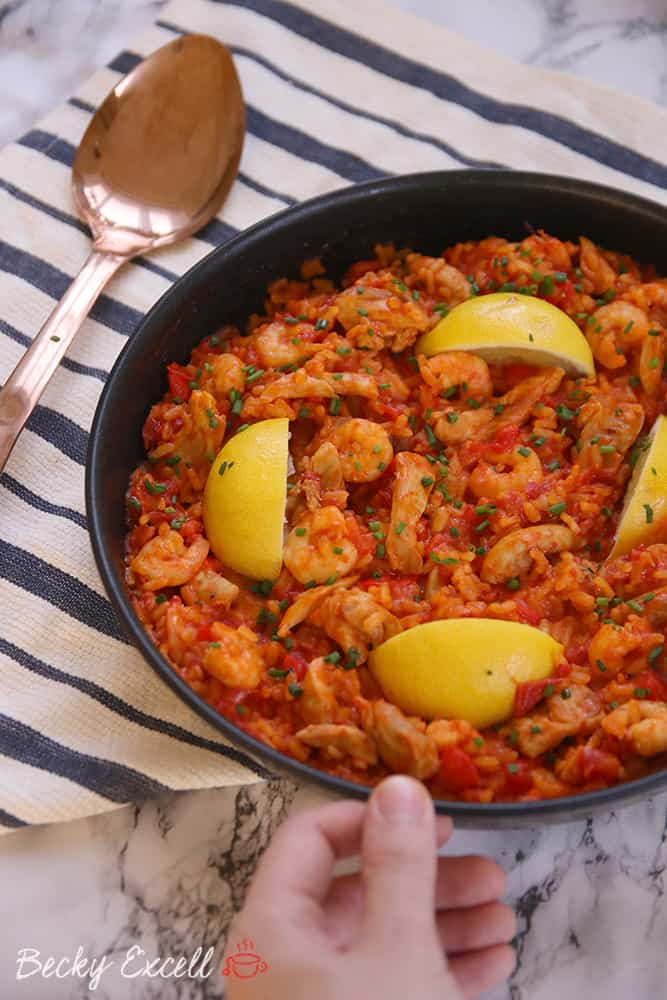 The comment just simply read "don't call that a paella".
So I didn't.
It's now called a 'Don't Call That a Paella' Paella. I hope that one person can now happily retire from the Paella Police after a lifetime of dedicated service.
Gosh, I'm such a sarcastic so and so, aren't I?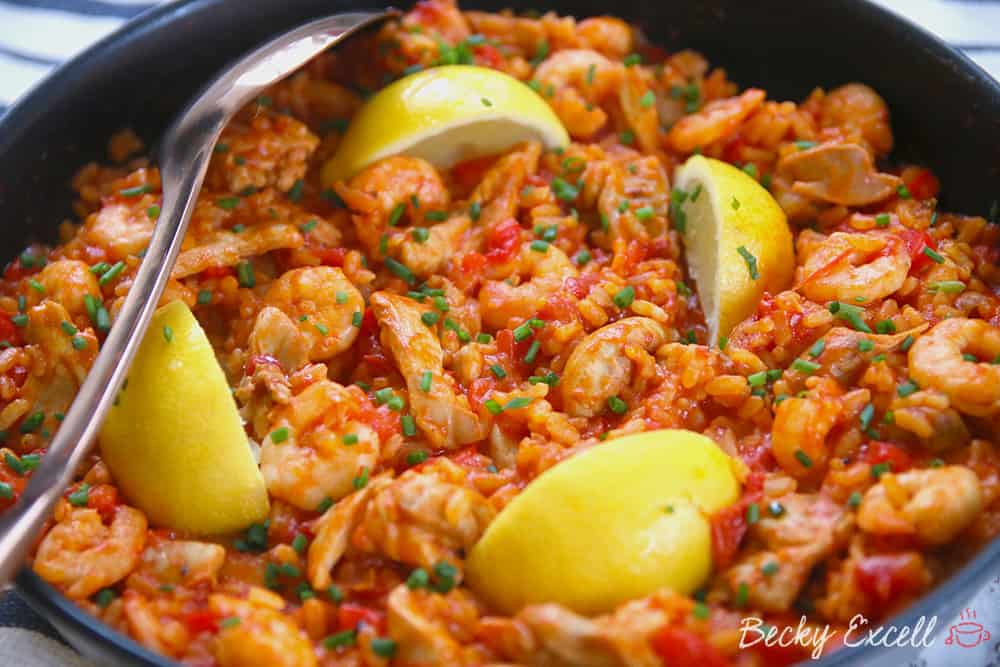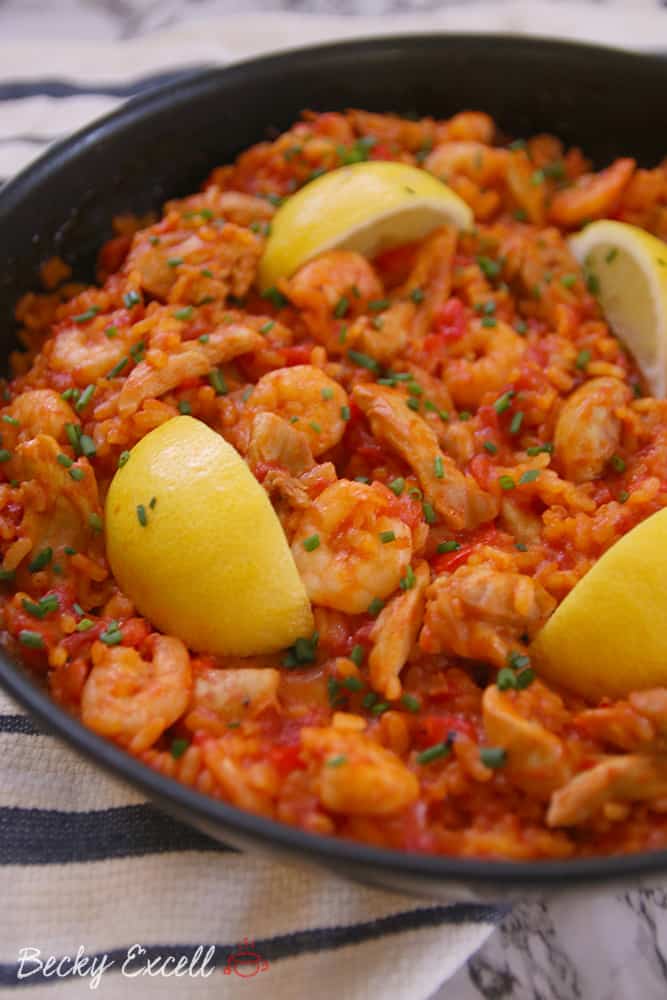 Now that all the paella purists are gone, it's time to actually talk about this recipe.
(plus, it's good that they're gone because I say paella like it rhymes with umbrella, which would only make them more angry)
Mark made this paella for me after our 9 year anniversary of first meeting this year (hooray for not hating each others guts by now) but it isn't the first time he made it for me.
Yep, waaaay back in 2015, he made this for me for Valentine's day for the first time and we've been making it and tweaking it ever since.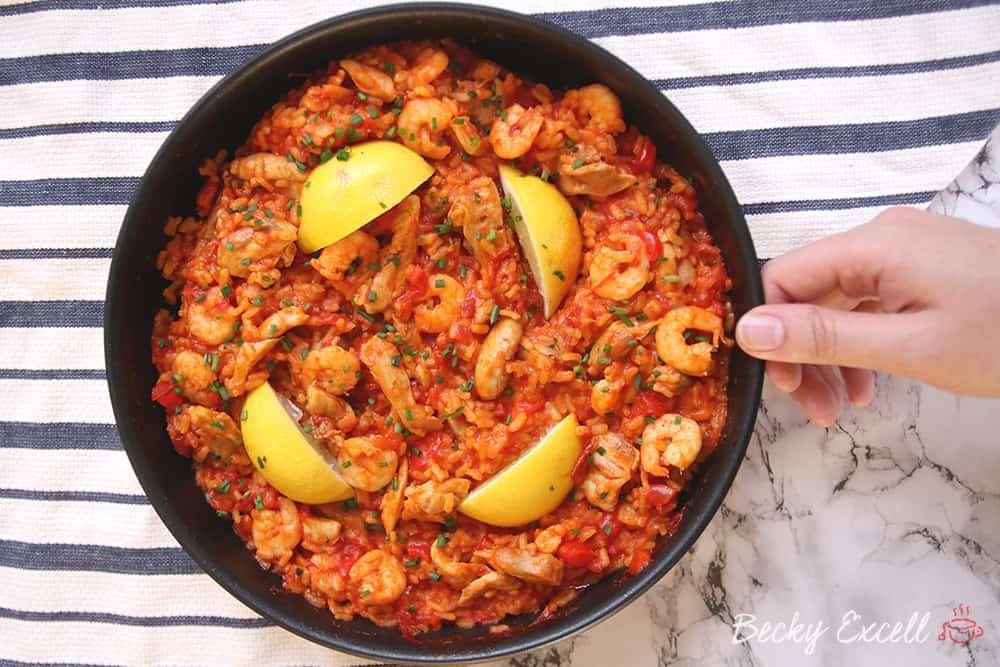 I guess the things that Mark and I changed over the years, a paella purist would probably scoff at, but hear us out.
Ok, a paella should probably have enormous, fresh shell-on king prawns on top. But that's really not something I'm bothered about midweek after a full day's work.
(plus peeling an enormous prawn only to find 2 cm that's actually edible is never that enjoyable to me)
According to good ol' Wikipedia, a traditional Valencian paella might have green beans, snails and artichokes. Well sorry paella purists, but I've never even seen a paella with any of that in it!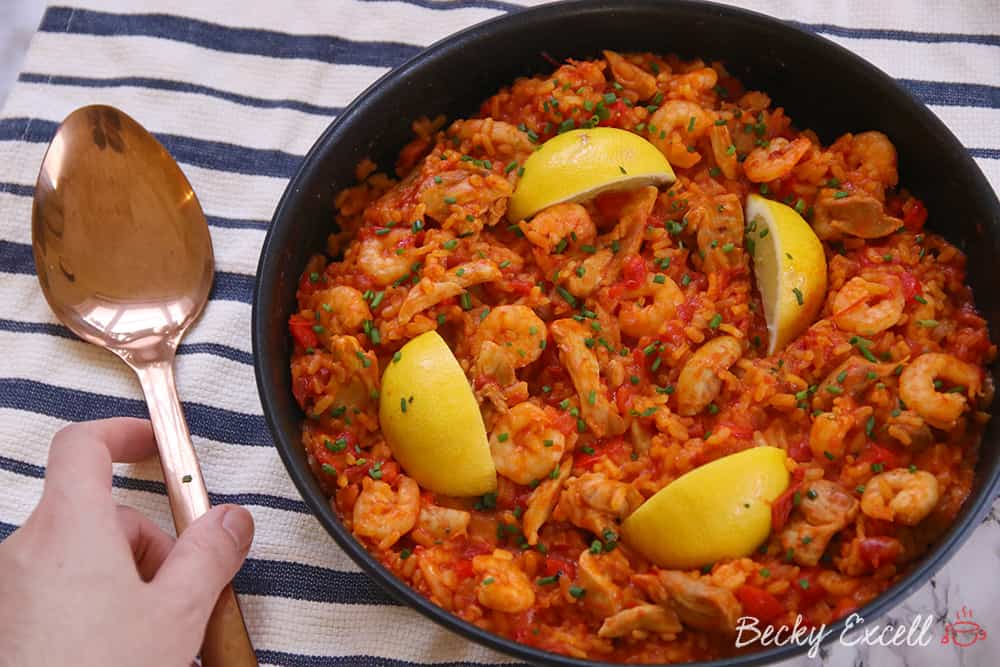 Basically, our gluten free paella recipe is packed full of flavour and as convenient as creating a meal from scratch could possibly be.
Since we've made this recipe soooo many times since 2015, we've really streamlined how easy this recipe is to make in next to no time.
Plus, it's totally low FODMAP so as many of you guys as possible can still enjoy what we think is a kick ass paella (if you'll allow us to call it that).
If all of the above is a crime, then put us in paella prison.
(oh and we didn't even make it in a proper paella pan, we used a saucepan. In your face.)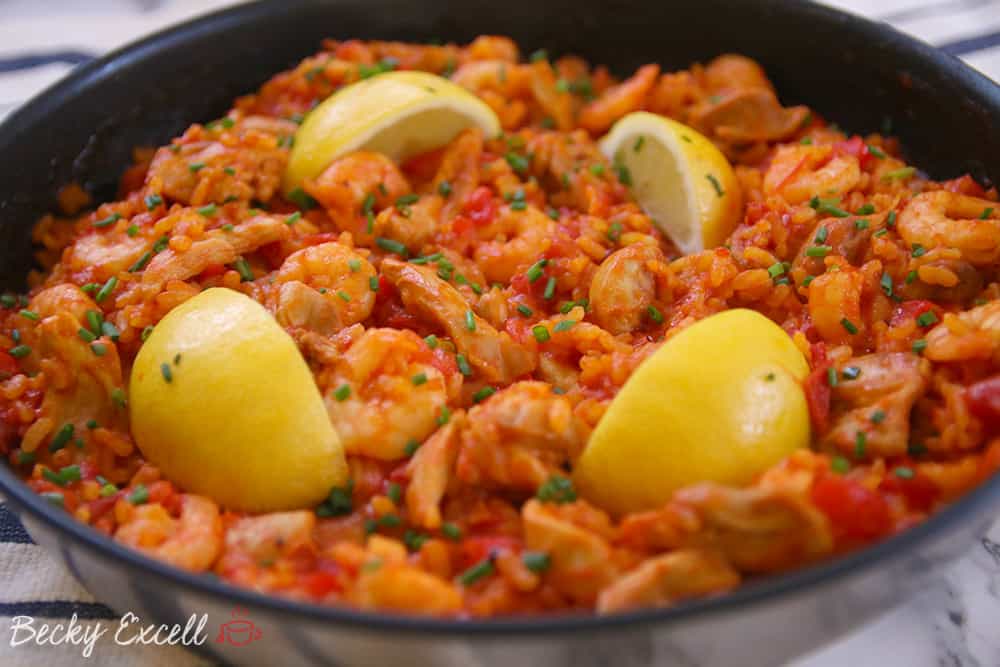 So now I've spent an entire recipe post defending myself for one comment out of a hundred, I think I can now bring myself to share my full gluten free paella recipe.
If you're not following the low FODMAP diet, there's a few optional extras you can add underneath the method so don't miss out on that. Let's get started!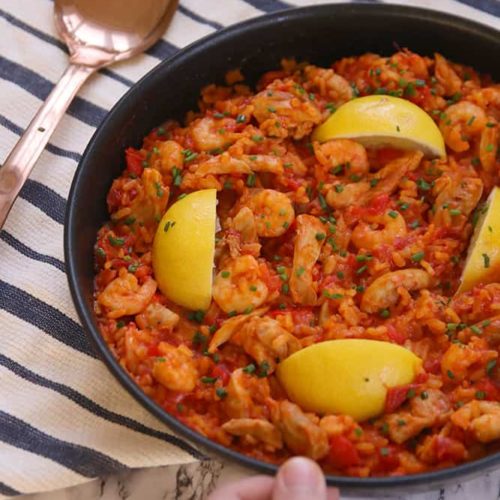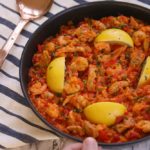 My Gluten Free Paella Recipe (low FODMAP, dairy free)
Ingredients
3 skinless

boneless chicken thighs

165g raw king prawns

175g paella rice

1 red pepper

finely chopped

tin of chopped tomatoes

400g
Spices + seasoning
pinch saffron strands

pinch cayenne pepper

1/2 tsp smoked paprika

1/2 tsp salt

1/4 tsp pepper

garlic-infused olive oil for frying

fresh chives

1 lemon
Instructions
Chop your red pepper and skinless, boneless chicken thighs.

Fry your finely chopped red pepper in garlic-infused olive oil until softened. Add your chopped chicken thighs and fry until sealed.

Add all your spices apart from salt and pepper to the pan and fry for 30 seconds.

Add your entire tin of chopped tomatoes and 500ml of boiling water. Add your paella rice too.

Bring to the boil and simmer until the rice is cooked and everything has reduced like in the photos. Keep stirring occasionally throughout. It'll need more regular stirring, the more reduced it becomes.

When it's looking pretty done, add your raw king prawns and stir for 3-4 minutes until cooked.

Add freshly chopped chives on top and serve with a quarter of a lemon (for squeezing) for each person.
Notes
A quarter of this meal is a safe portion size during the elimination phase of the low FODMAP diet.
If you're not following the low FODMAP diet, you can always add a handful of frozen peas when you add your fresh prawns.
Also, if you're not following the low FODMAP diet, adding a handful of raw, finely chopped chorizo when you add your chicken thighs is pure heaven.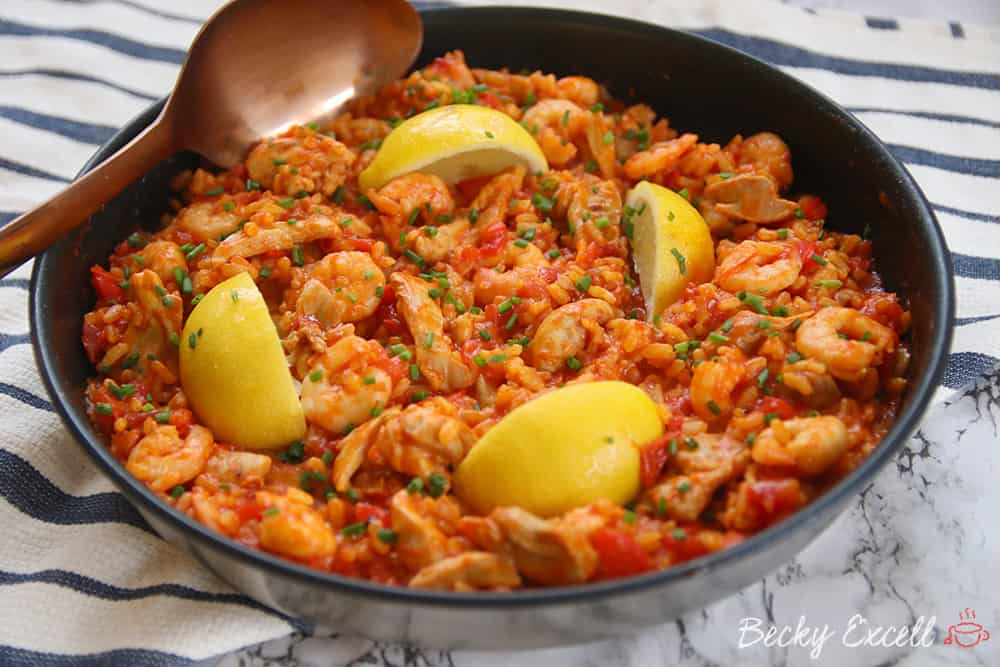 Thanks for checking out my gluten free paella recipe! If you recreate this recipe, I'd love to see how it turns out. So absolutely make sure that you send me a pic using my social media links below…
Any questions about the recipe? Would you call this a paella?! Please do let me know by leaving a comment below or on Facebook / Twitter / Instagram!
Thanks for reading,
Becky xxx
Oh and don't forget to pin this for later!