Did somebody say its Pasta Bake night? Tuna Pasta Bake has to be one of the easiest and tastiest meals on the planet & here is a gluten free & dairy free recipe that oozes cheesy deliciousness!
When I stopped being able to eat gluten in 2010 it was a pasta dish at a restaurant that confirmed what I was dreading about my gluten intolerance… I had quite an awful night! I found it hard to want to even try any pasta, even gluten free pasta after that. When I did eventually try gluten free pasta I wasn't overly impressed. It seemed to get stuck together in clumps and just not do what pasta should do; plus it was a lot more expensive.
I ended up not eating pasta for a couple of years until myself and Mark tried to make our own gluten and dairy free Chicken Carbonara, the recipe for this is up on the blog so click here to view it! (It's super tasty!) Other than the very occaional Carbonara I don't think I have touched pasta since 2010 until I moved to Manchester. I've always craved having the standard, easy dinner of a tuna pasta bake and until September 2014 I had never even tried one. I will never look back now, tuna pasta bake is one of my favourite dishes. It is so simple to chuck in the oven after a long day at work and you will pretty much have all the ingredients in your cupboards all the time – I love tuna pasta bake!
I have to say I do use a pasta bake sauce from Homepride instead of making my own for our tuna pasta bake. We found one that contained no dairy which is rare as many contain cream, milk or cheese. I would attempt to make my own pasta bake sauce, but when it is for a simple meal like this and it tastes so good already… why change anything?! If you were wondering, we use the Tomato, Garlic and Chilli flavour.
We always put tuna into our pasta bakes but obviously you could just go for more veggies, chicken, turkey… or pretty much anything into it! It's kind of like a pizza in that you can chuck whatever you have in the cupboard/fridge in and it'll taste pretty epic. However, for ultimate ease and taste I personally would always recommend a tuna pasta bake!
We always use courgette as our main vegetable in a pasta bake. It really soaks up the flavours of the sauce well and cooks quickly. I have a few issues with eating onions and peppers otherwise we probably would include that in the bake too. Mushrooms would likely work well too. Basically any vegetable that you like would do the job.
I really feel like all gluten free pasta has improved somewhat. Since making pasta bakes I initially just used the brand Salute but I have since used Tesco and Sainsburys own brand gluten free Fusilli and liked it just as much.
The pasta bake is just a staple homely meal that everyone needs to have every once in a while. It is comforting and just makes you smile. Any dish with cheese in it always does, right?! (Especially when the you live with a dairy intolerant and you have delicious dairy free cheese!)
I would highly recommend this dish, so take a look at the recipe for my tuna pasta bake below and let me know what you think.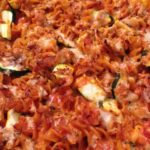 Tuna Pasta Bake - Gluten Free & Dairy Free
Ingredients
1 500g Jar of Homepride Tomato

Garlic and Chilli Pasta Bake Sauce

200g

You could easily put a bit more in, we always do! Gluten Free Dried Pasta (Any shape.. we use Fusilli)

2 Large Tins of Tuna in Spring Water

Not the tiny sandwich sized tins or you'll need 4!

1/2 a courgette chopped up.

50g - 100g of Dairy Free Cheese

We have found that you don't need as much cheese as you would imagine!

Black Pepper
Instructions
Preheat your oven to 200°C / Gas Mark 6 / Fan 180°C.

Get out a large oven proof dish that you want to cook the pasta bake in.

Pour the Pasta Bake Sauce into the oven proof dish.

Fill the empty Pasta Bake jar to the top of the label with cold water and stir into the sauce.

Pour you dried pasta into the oven proof dish and thoroughly mix it into the sauce mix.

Place the dish into the preheated oven uncovered for about 25 minutes.

Whilst in the oven you can chop your courgette, get your tuna ready and grate your cheese.

After 25 minutes remove the oven proof dish from the oven and mix around the pasta and the sauce.

Mix into the pasta the tuna and the courgettes.

You can now sprinkle the cheese over the top of the pasta or if you prefer you can mix it in. Or... you can do a bit of both!

Season with some pepper if you wish and place the dish back into the oven for a further 20 minutes.

Remove from the oven once all the cheese has melted and is bubbling & golden! (it will be super hot!)

Serve up and enjoy!
Recipe Notes
In terms of dairy free cheese we often use a mix of Mozzarisella & Toffuti for a pasta bake... both are great and fairly easy to get hold of in the UK.
Thanks for reading,
Becky xxx
Comments