Wow, this was one of the first ever recipes on my blog! So four years later in 2018, I thought it was time to update my gluten free spaghetti carbonara recipe. It's now low FODMAP and dairy free too.
So much has changed in the 5 years since I started my blog – even this recipe! But my love for a good gluten free spaghetti carbonara certainly hasn't. So here's the newly updated version…
When I first posted this recipe, I was still wading my way through post-University jobs and wondering how the hell Uni was supposed to prepare me for the real world.
I mean, going from 10 contact hours a week, getting up at midday and drinking on a Sunday night doesn't exactly instil that ever-employable quality in you: responsibility.
But nevertheless, I still managed to post a recipe like this one every now and then after coming home from work after a successful day of not getting the sack.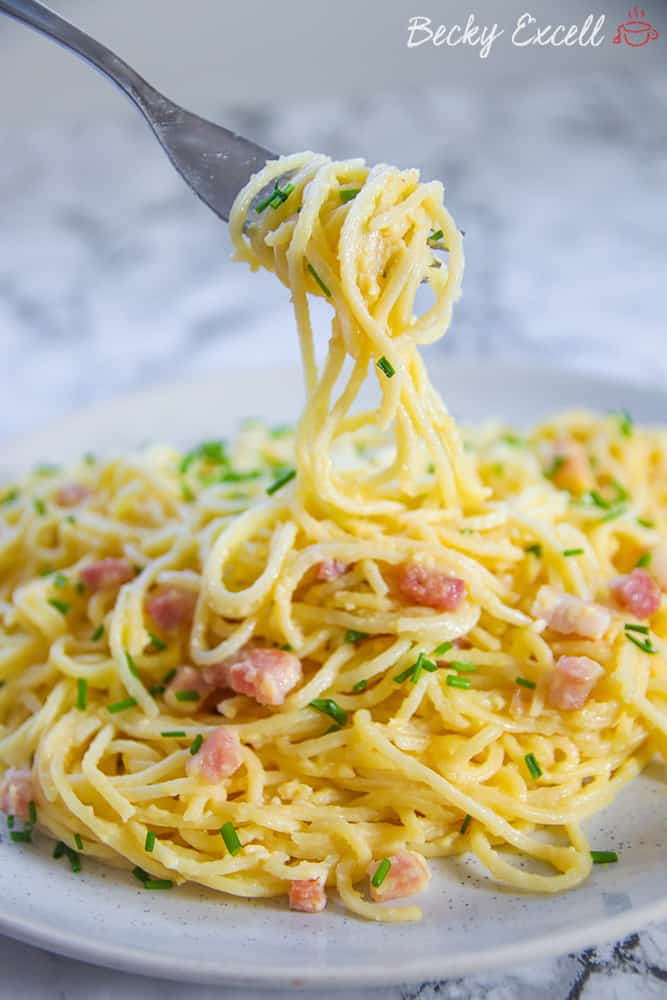 And my gluten free spaghetti carbonara recipe was born back then from those exact circumstances!
I'd come home and need a bit of cheering up, but not by something that would leave loads of washing up.
This meal honestly tastes like what you'd get in a fancy restaurant, but it's as simple as boiling pasta, mixing up a sauce and combining the two. Simple!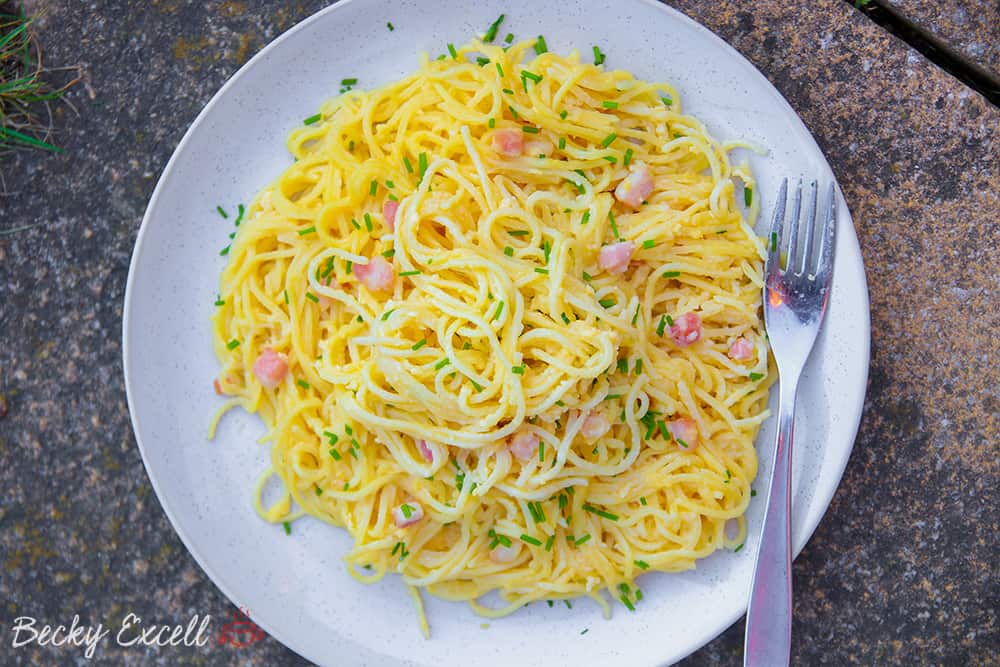 Fortunately, in 5 years of my food blog my life has changed a lot and now, recipe creation and being a 'social influencer' (hate that term) is now my career. Funny how things change!
But one thing hasn't changed – after a hard day's work I just want a meal that's convenient, quick and tastes bloody awesome. So that's why I just had to come back and update this recipe and take some nice, new photos.
What do you think?!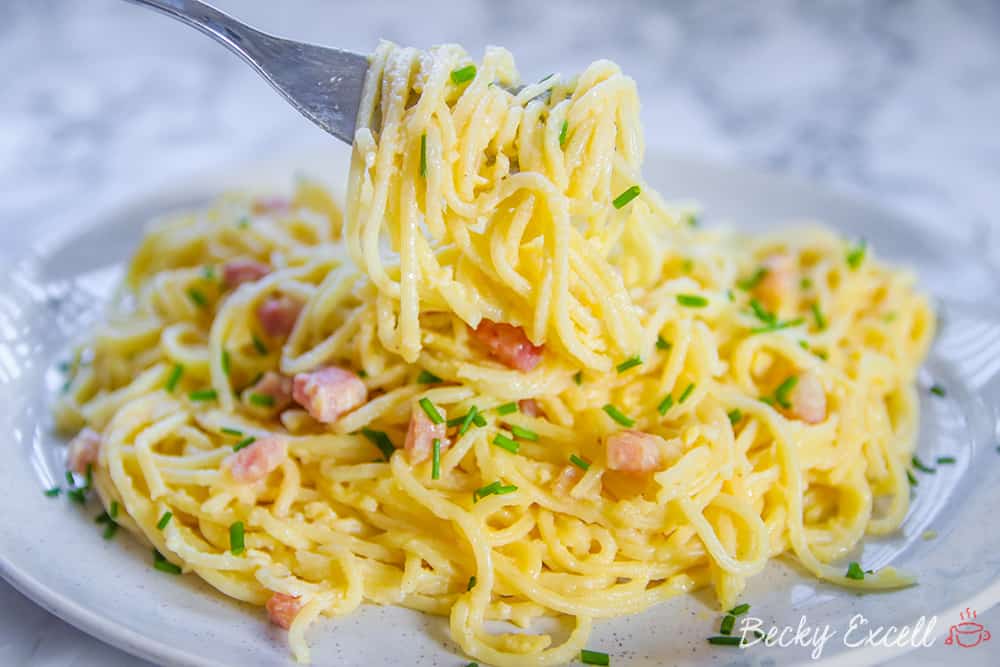 Anyway, I think it's about time I showed you how to make my gluten free spaghetti carbonara recipe!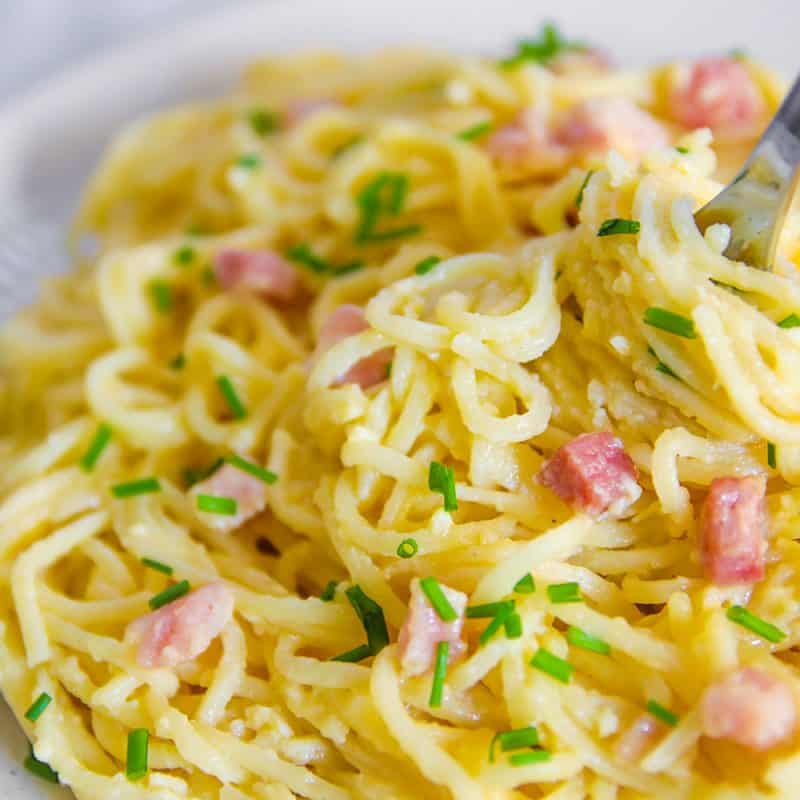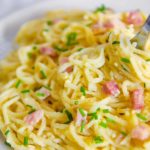 Gluten Free Spaghetti Carbonara Recipe (low FODMAP, dairy free)
Ingredients
200g gluten free spaghetti

3 large eggs

3-4 tbsp garlic infused oil

great for low FODMAP

120g pancetta

chopped

fresh chives

chopped finely

75g cheese

Parmesan is ideal and also low FODMAP but if dairy free, a strong flavoured DF cheese will work fine too, grated

salt and pepper

extra cheese

for serving
Instructions
Boil some slightly salted water and add your gluten free spaghetti to cook. I usually cook mine for around 10 minutes but it depends how you like the pasta. (With gluten free pasta I also swirl the pasta around from time to time whilst cooking to ensure it doesn't clump together)

Whilst your pasta is cooking, crack your eggs into a jug, season them with salt and pepper and then add in your grated cheese.

Then put your garlic oil in your pan, allow it to heat up and add your pancetta. Cook for about 5 minutes until the pancetta starts to crisp up a little and smells amazing.

Once the pasta is cooked, drain it but leave a little bit of the pasta water too. (You will need some of the water!)

Add your gluten free spaghetti to the pan, try and coat it evenly in all the oils from the pancetta and the garlic oil.

Take your pan off of the heat and add a couple of tbsp of the pasta water, mix it in briefly. Then pour in your egg and cheese mix. The fact the pan is no longer on the heat in important as it will stop the eggs from scrambling. But make sure you keep moving the egg mixture around and tossing the spaghetti into it to coat evenly.

You may add a little more pasta water if you want it slightly more moist, but make sure it doesn't get too wet.

Finish by seasoning with salt and pepper as well as some freshly chopped chives.

Serve immediately with some extra grated cheese on top. Enjoy!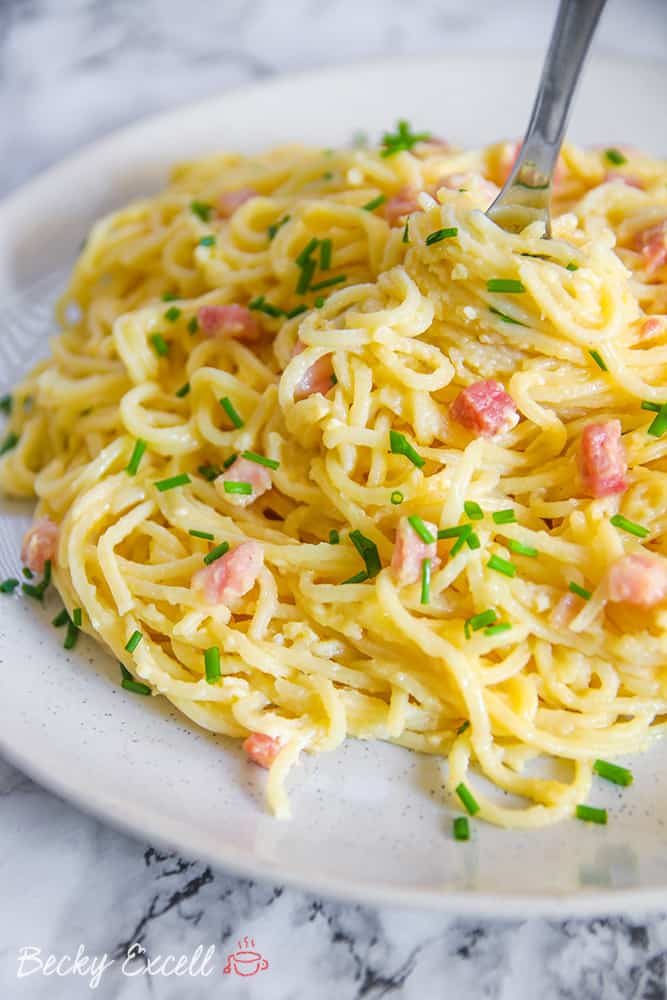 Thanks for reading how to make my gluten free spaghetti carbonara recipe! If you make it, I'd love to see how it turns out. So absolutely make sure that you send me a pic using my social media links below…
Any questions about the recipe? Please do let me know by leaving a comment below or on Facebook / Twitter / Instagram!
Thanks for reading,
Becky xxx
Oh and don't forget to pin this for later!