Here are my TOP 4 New Discoveries from The Allergy & Free From Show North 2014 in Liverpool (25th-26th October) I hope you love them as much as I do!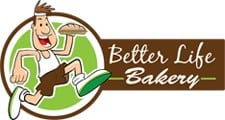 Better Life Bakery
Better Life Bakery is a Bakery based in Blackburn but orders can be delivered across the country. I love the name of this Bakery; it's just so positive and makes you feel that everything is going to be ok. I can assure you, everything was more than ok once I had visited! The bakery produces an amazing assortment of fresh cakes, biscuits, sweet & savoury pies and a selection of delicious puddings all of which are gluten free and lower in sugar.
Whilst at the stand I tried one their caramel slices and I have to say it was better than any caramel slice I have ever consumed. There was no scarcity of any layer; the caramel layer was especially enjoyable. It tasted delicious and was amazing quality whilst still retaining its homemade roots – the perfect combination.
I spoke to Barry, the owner of the Better Life Bakery who showed a huge amount of passion in sourcing ingredients locally to ensure the best quality. He explained that when they receive an online order, products are freshly baked and sent out shortly after. I love the idea that whenever I order a product it is made especially for me. When I arrived at the stand it was clear that they'd had an incredibly busy morning already, but I grabbed a few goodies including a gluten free sausage roll which I have a feeling will be eaten today!
I would highly recommend the Better Life Bakery for both the quality of their baked goods and their absolute passion to make every gluten intolerants life better. Check them out at: http://www.betterlifebakery.com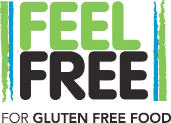 Feel Free For Gluten Free
Feel Free For Gluten Free I mentioned as a Ones to Watch for The Allergy Show 2014 and I am so glad I did. They really are a company that is at the forefront of new gluten free products in the UK. At The Allergy Show this year the stand was constantly heaving with visitors wanting to try all manner of different products. I have to say the donuts seemed to definitely be the biggest draw and I can totally see why. I probably ate at least 3 full donuts with the amount of samples I kept going back for! They had that donut taste and that donut texture, basically, donut heaven.
At their stand this year they had a huge range of frozen products that you could purchase on the day; everything from tarts & pasta dishes to pasties & spring rolls. Each time I walked past, the freezers were getting emptier and emptier – no doubt a good sign! We weren't planning on going straight home after the show so we opted against buying any frozen items, however everything can be purchased online so I wasn't too concerned – I will get those donuts whatever happens!
Instead, what I did pick up was something else that I had been looking forward to trying – a gluten free suet mix. Now that winter is creeping up on us it really is time for stew & dumplings and hot suet puddings. I haven't found gluten free suet to be the most accessible item over the years so this was a real treat. The packet contains a recipe for a Gluten Free Jam Roly-Poly… definitely watch this space for that!
Feel Free For Gluten Free really is a great asset to gluten free foods. They have such a diverse range of products. I just can't wait to try some more goodies! Check them out at: http://feelfreefoods.co.uk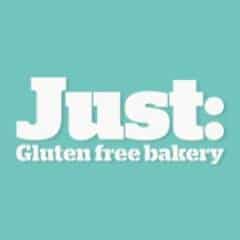 Just: Gluten Free Bakery
I had never come across this brand prior to The Allergy Show and so far they have been my best find for sure. Just: Gluten Free Bakery bake bread that is not only gluten free but also entirely allergen free. They make white and seeded loaves as well as white and seeded rolls. At the show Mark commented on how great the bread looked as we walked past, so I tried some… I was seriously impressed! It was really soft and tasted as fresh and flavoursome as regular bread. The texture was the best I have ever had since going gluten free. I bought a pack of their seeded rolls and I have had one for lunch every single day since the show. I think that says it all. I would love if these rolls could be stocked locally in supermarkets, used in cafes and also used in restaurants as burger buns. They are simply the best! You can buy them in Whole Foods Stores in London and Glasgow as well as online. I would really encourage as many people to try out Just: Gluten Free Bakery, you will be so glad you did. Also, I have just been informed new products are in the pipeline so get your eyes and tastebuds ready! Check them out at: http://www.justglutenfree.co.uk

When it's Scone it's Gone
Another one of my Ones to Watch for The Allergy and Free From Show was the wonderful Warwickshire based Bakery, When it's Scone it's Gone. What a great name!
At the show we met Sarah the owner of the bakery and that in it's self was a treat. I have never met such a positive, friendly and passionate gluten free baker before! Before we had a chance to properly chat, Sarah was propelling a large spoonful of gluten free/dairy free Belgium chocolate pudding into my mouth, it was amazing. That was briskly followed by a spoonful of syrup sponge pudding. They were probably the nicest puddings I have ever had. Due to our amazing tasting session we proceeded to purchase a syrup sponge pudding to take home. It has already been devoured and the review Mark wrote on the blog right now, click here to view it! At home the pudding was even better I must say, steaming out of the microwave, with delicious dairy free custard. When it's Scone it's Gone do a large range of cakes, puddings, breads and pasties which can all be purchased online & are all made fresh to order. I would like to say a massive thank you to Sarah for being so lovely at The Allergy Show… we are definitely having cravings for more puddings already! Check them out at: http://www.whenitssconeitsgone.com
So there you have it, my Top 4 New Discoveries from The Allergy & Free From Show 2014. I would advise you check them all out when you have the chance. Finding new amazing products really is one of greatest things for a gluten intolerant, I think!
Also please check out my general highlights of The Allergy and Free From Show North 2014 here. Although the brands listed above are my Top NEW Discoveries, there are plenty of amazing brands that I already knew about that offer so much too. Click here to check that out.
Thanks so much for reading,
Love Becky xxx
Comments