Little Bird Brighton serves some of the best Gluten Free cake around. If you are in the North Laine area of Brighton, then you must check out this lovely little (bird) gem!

One of my favourite cafes in Brighton that I have only recently discovered is Little Bird down Kensington Gardens. I love the contemporary inside look of the place; it is very inviting and perfectly located.
For Mark and I the last time we visited we were only interested in tea & cake therefore I can't tell you much else about the place! But what else do you need to know really? If the cake is good you're surely up for a cheeky afternoon visit right?
As we walked down Kensington Gardens we were on the look out for somewhere new to try and Little Bird instantly drew us in with huge cakes right in the window. These cakes were not just any old cakes either; lovely large labels stating Gluten Free and Vegan were placed next to the two most delicious looking ones… we rushed in and took a seat.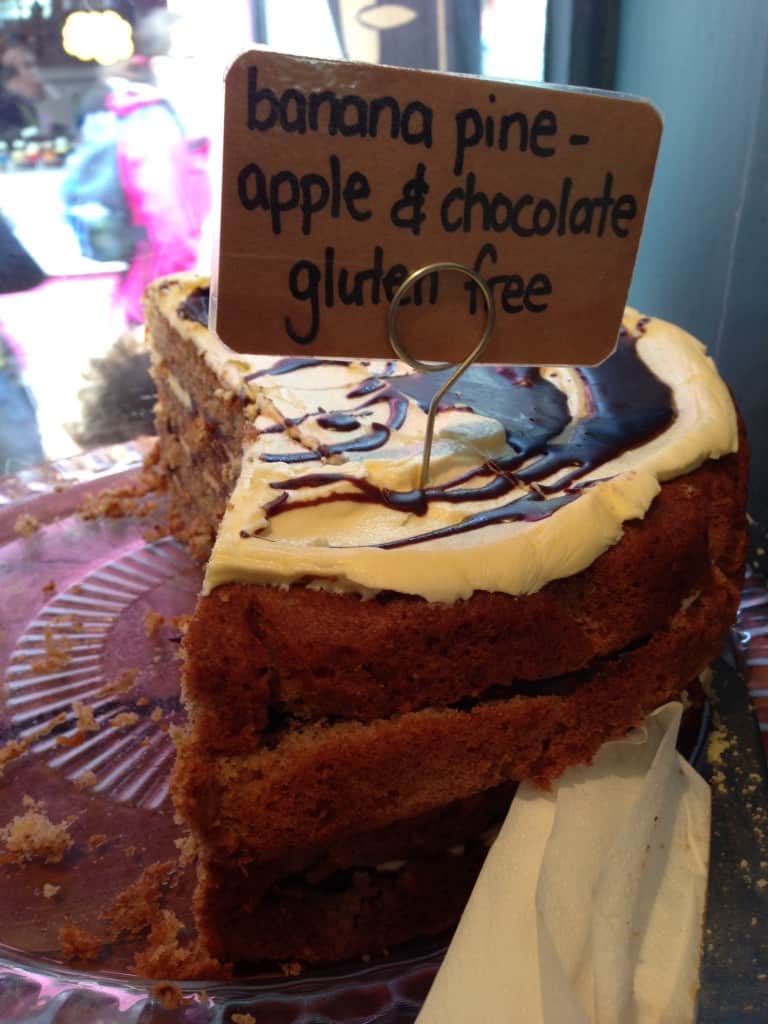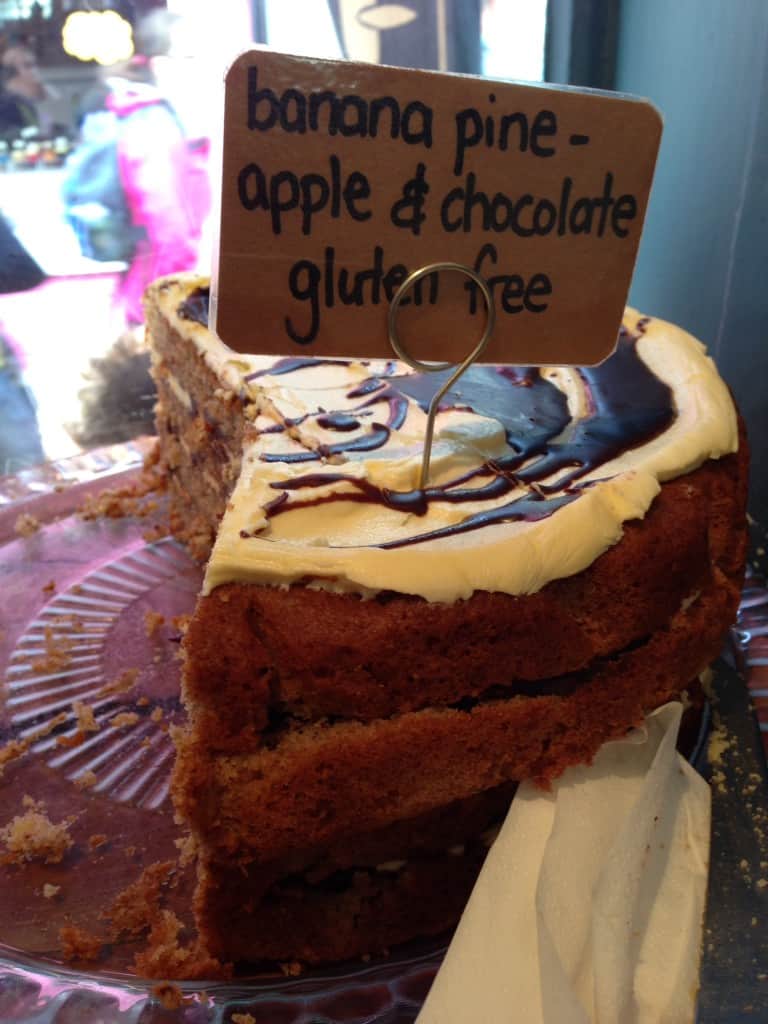 The Gluten Free choice was 'Banana, Pineapple and Chocolate'; it looked amazing. The Vegan (Dairy Free) choice was 'Banana and Passion fruit'. Both cakes were flavours that neither of us had tried before and we just couldn't resist.
The Banana, Pineapple and Chocolate cake was massive, the slice was huge and many tiered – which means more icing! I can only describe the flavours of the cake as amazing. You could actually taste all three different flavours and they went really well together. It was moist and exceptionally fresh; I somehow managed to finish the entire slice, don't ask me how, I guess it was just too nice to leave any behind!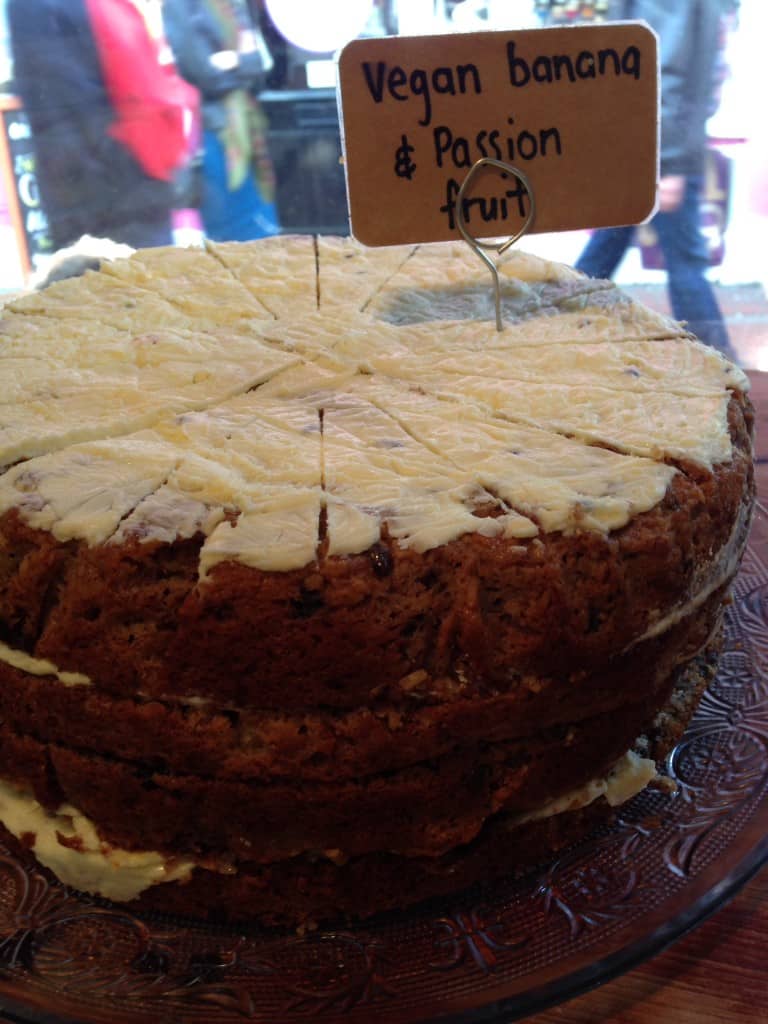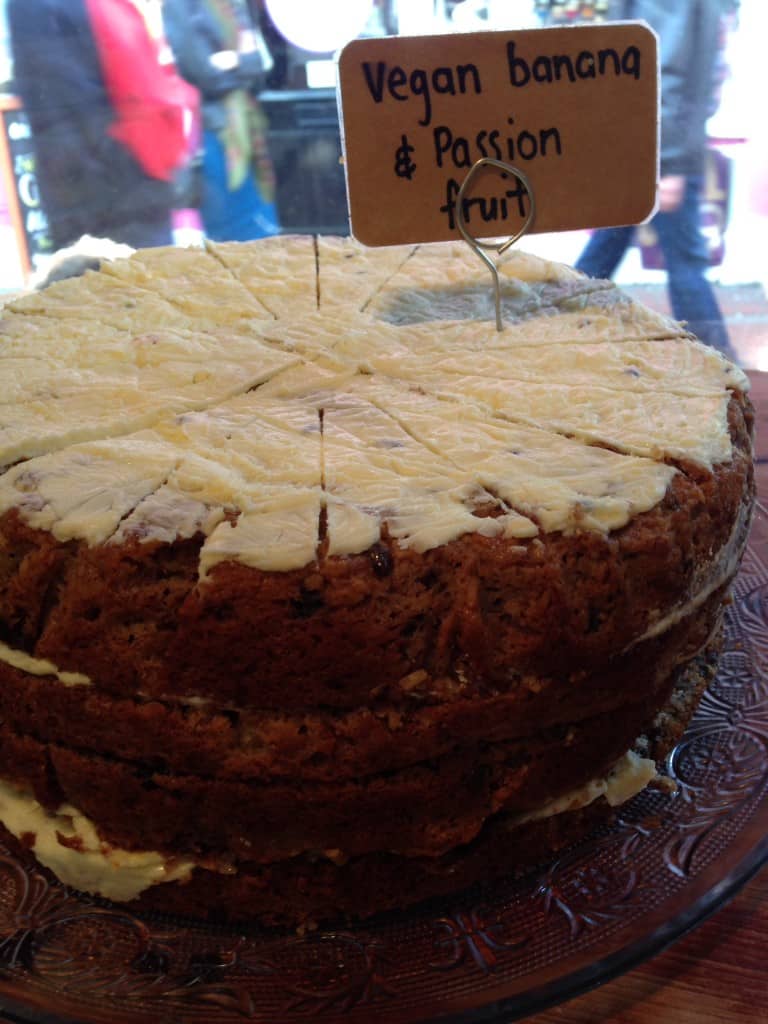 The Vegan Banana and Passion Fruit cake looked a really treat as well. I forget that when a cake is vegan it contains no eggs, I always find this fascinating seeing as when I bake I use so many eggs! Obviously Mark eats the vegan cakes because of his dairy intolerance rather than having any issue with eggs. It certainly turns out very well regardless. Again this cake was moist and many tiered, it smelt great and looked what I can only describe as 'epically homemade'. I would love the recipe for both these cakes, I would be making them daily!
Little Bird is a very popular café, whilst we were sitting down many other people came in and had a slice of cake, either one similar to ours or another of the vast array of choices. For some folk it was unfortunately too busy inside Little Bird (we were enjoying our cake too much to hurry out!) but they still came in and got cake to takeaway (they were even provided with a fork – I guess they know most will not be able to wait till they get home!).
I saw on a sign inside Little Bird that they do cakes to order as well, so if you need a whole cake, Little Bird should definitely be taken into consideration if you are around the Brighton area.
Little Bird certainly doesn't make Little Cake; she makes Big Cakes! Big cakes that are beyond delicious. Big Cakes that cater for gluten intolerants, dairy intolerants and vegans. Thanks Little Bird!
I feature Little Bird Brighton in my Gluten Free Brighton Guide, click here to check it out.
Thanks for reading,
Love Becky xxx