Germany isn't a country that you think of when you think of good gluten free options, especially when there are some outstanding places in Europe (Spain and Italy are amazing) that offer great gluten free food. However Berlin, as the capital of Germany, is actually pretty good (if you do your research!!)! If you are searching for gluten free in Berlin, this ones for you!
I haven't travelled around Germany much but Berlin in the one place I've been to and a place I keep wanting to go back to again and again (I need to make time to actually go back!). It's a fab city for so many different reasons. It's cool, the history is really interesting (better than history lessons at school) and well, the food is actually pretty good! Just remember the phrase for Germany is Gluten-frei and follow my guide to gluten free in Berlin!
1) Glutanada, Nostitzstraße 33, 10965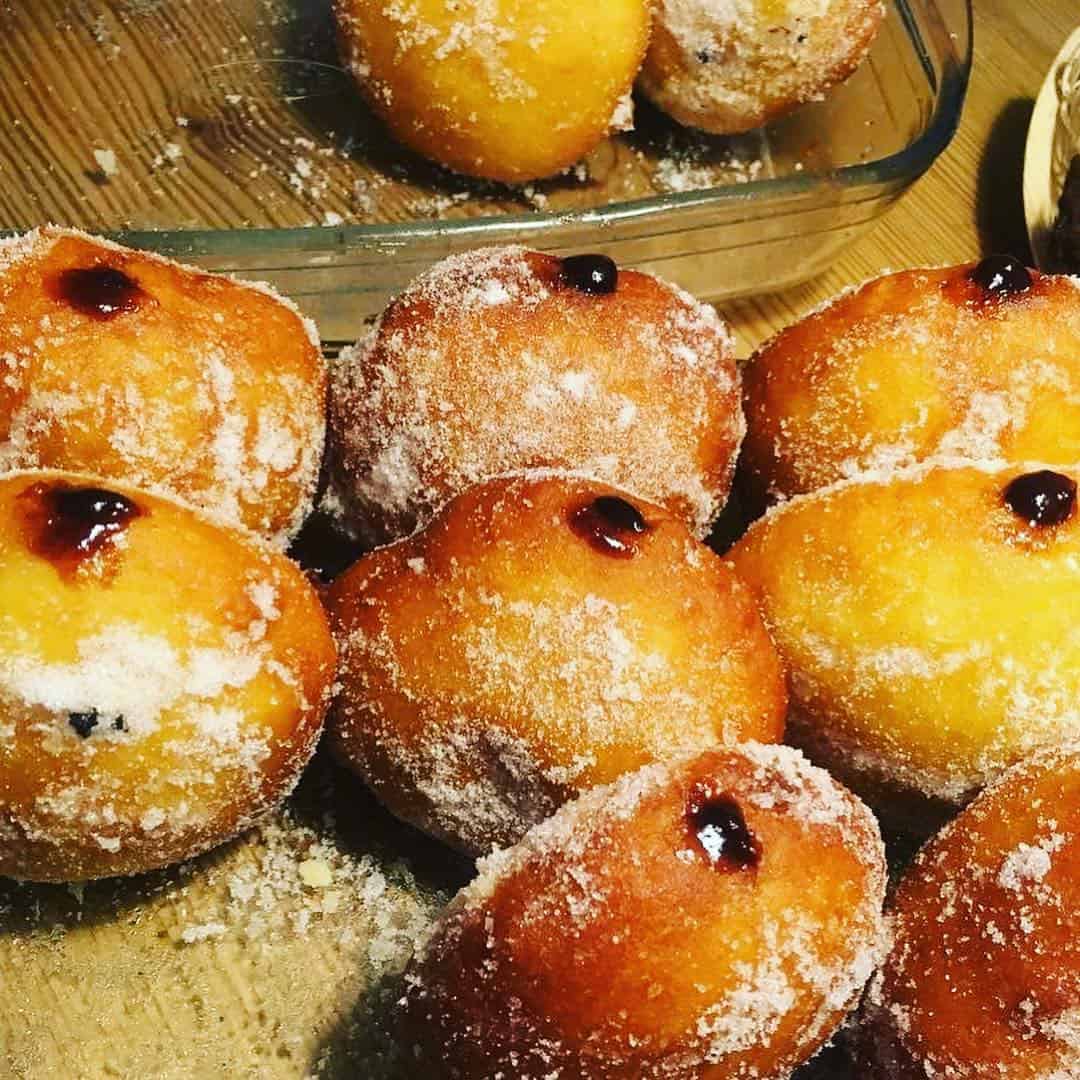 Let's start this guide with somewhere that's 100% gluten free! Glutanda cater really well for all dietary requirements as well so if you have any others just let them know and they'll be sure to help, vegans are well catered for too. They have delicious fresh gluten free bread, cakes, crepes. They do change their menu up quite a lot but often you will find schnitzels and spätzle on there.
They also have a breakfast buffet regularly on a Saturday! This place is pretty small but definitely somewhere to visit if you're looking for gluten free in Berlin.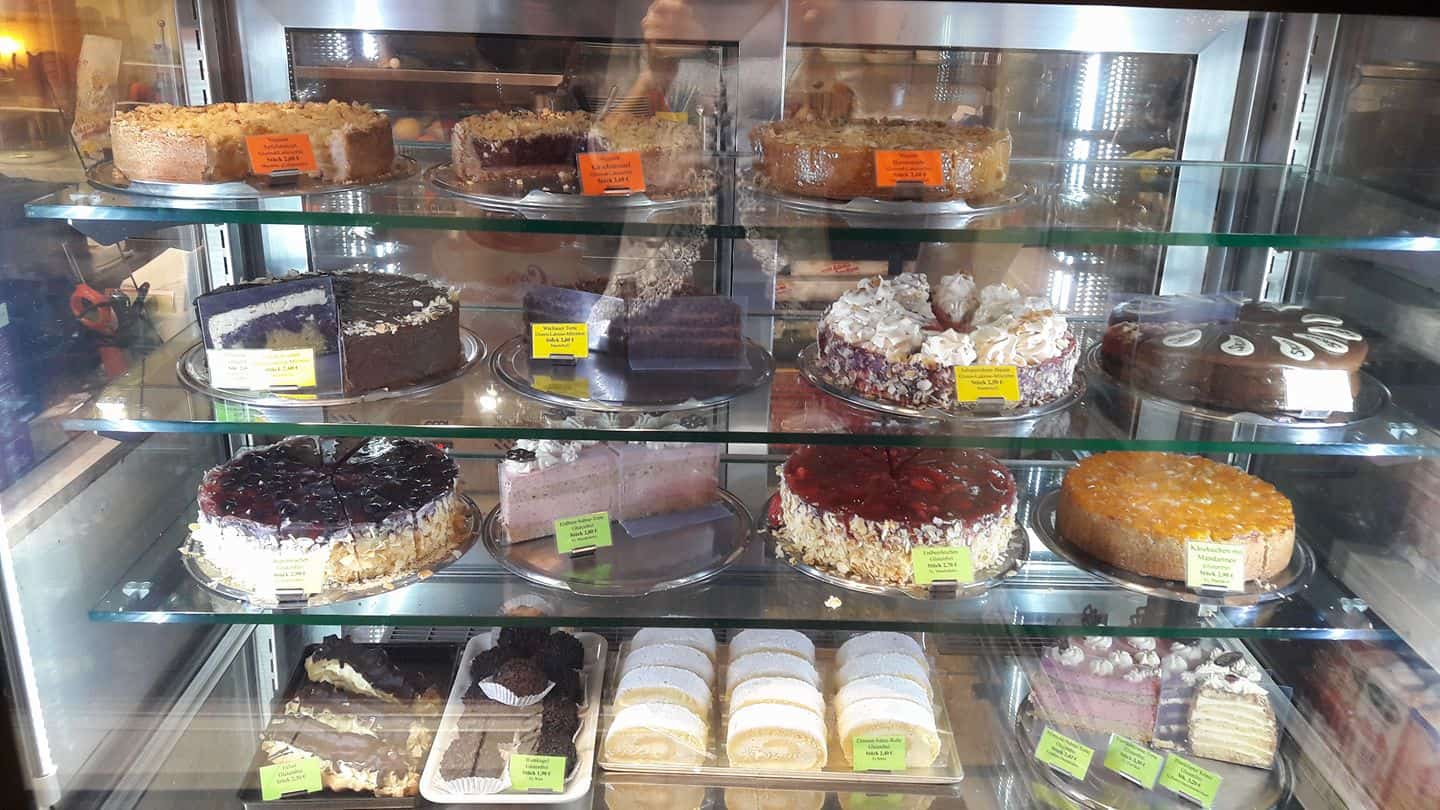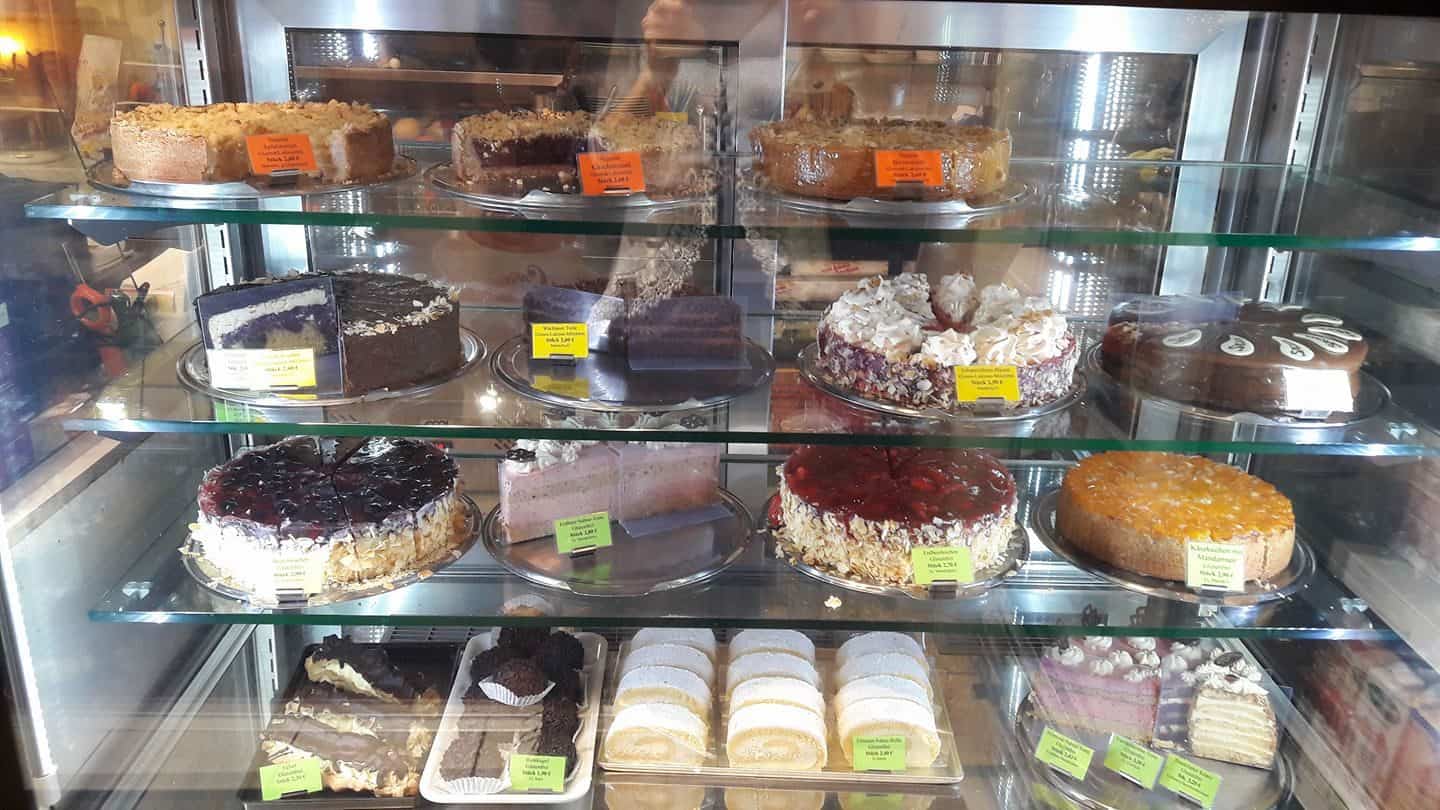 Not only is this another gluten free bakery, it is also somewhere to grab yourself some safe gluten free ice cream too! This place started out as an ice cream shop (so you HAVE to try the ice cream in a cone) and has now expanded to so much more than just that, offering up some of the best gluten free cream cakes you will find in Berlin as well as plenty of delicious gluten free bread.
All the ice cream is completely homemade and many of the ice cream flavours are vegan (perfect for dairy free folk). Oh and I almost forgot, they serve up gluten free soft pretzels, something that you never see!
3) Schnitzelei, Chausseestraße 8, 10115
I mean, you can't come to Germany and not find a schnitzel you can eat. No worries though because you can enjoy a gluten free schnitzel at Schnitzelei. They are able to safely put a gluten free crumb on the meat and also offer gluten free beer!
Surely you can't go to Berlin without having some Currywurst?! Well you don't have to worry about it at all as Witty's Currywurst is here for all your sausage needs! They have a separate fryer for chips and the sausages are gluten free.
Whilst there aren't any proper tables to sit at, this is the sort of food that you want to eat on the go as you wander, it feels like proper German street food. It's what we all crave at German Christmas Markets in the UK but can never find gluten free.
When in Germany, eat Currywurst and when you're gluten free in Germany, go to Witty's!
5) Vapiano, across the city (not in the train station branch though)
Vapiano are everywhere, you might not have noticed them before, but now I've said that you will! In Berlin there are quite a few which is great news as they offer gluten free pizza and pasta (gluten free penne). The menu is clearly marked with what you can have that's gluten free. There aren't many desserts to be enjoyed besides sorbet, but the pizza is good enough!
6) Jute Bäckerei, Schönhauser Allee 52A, 10437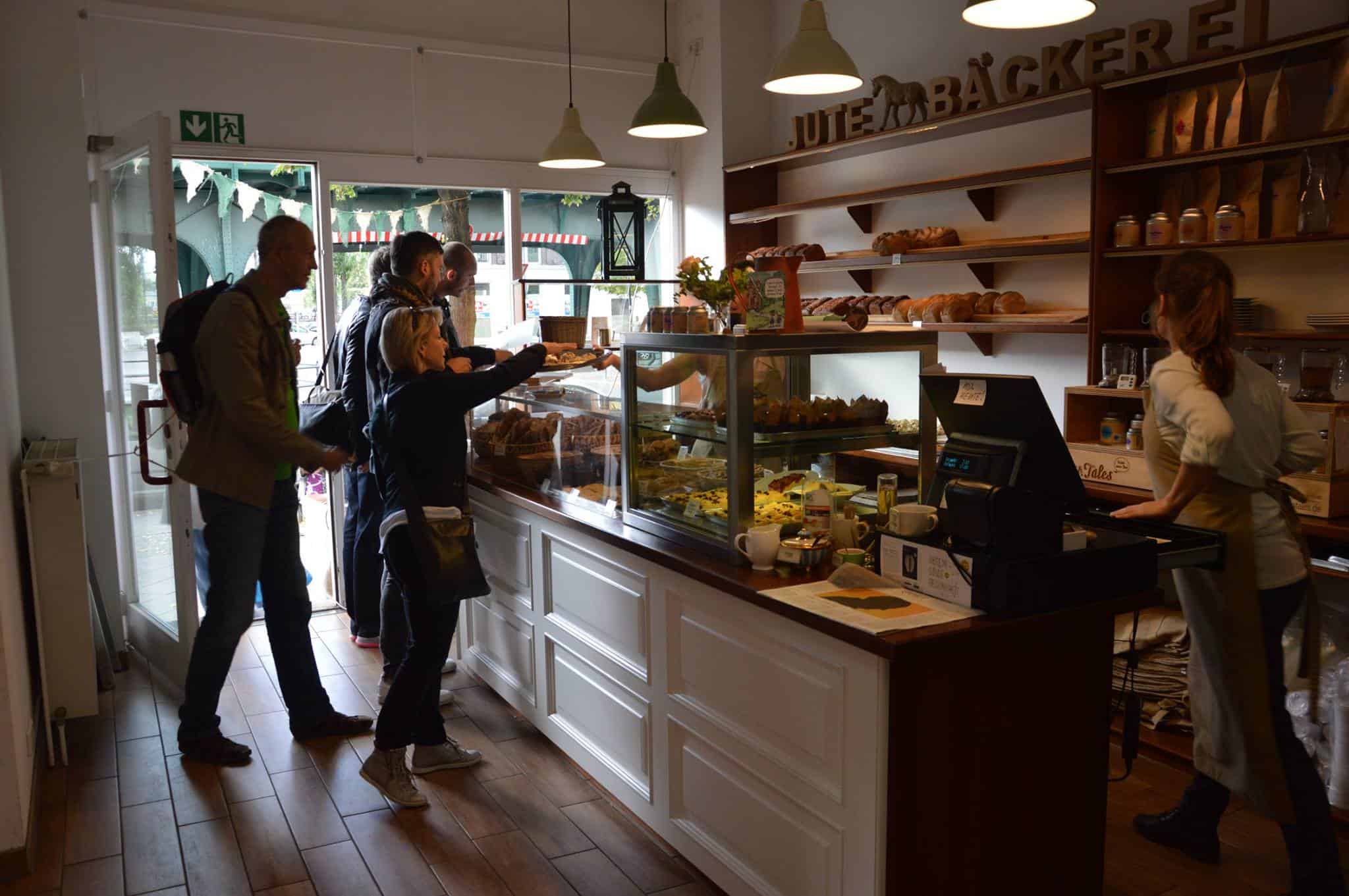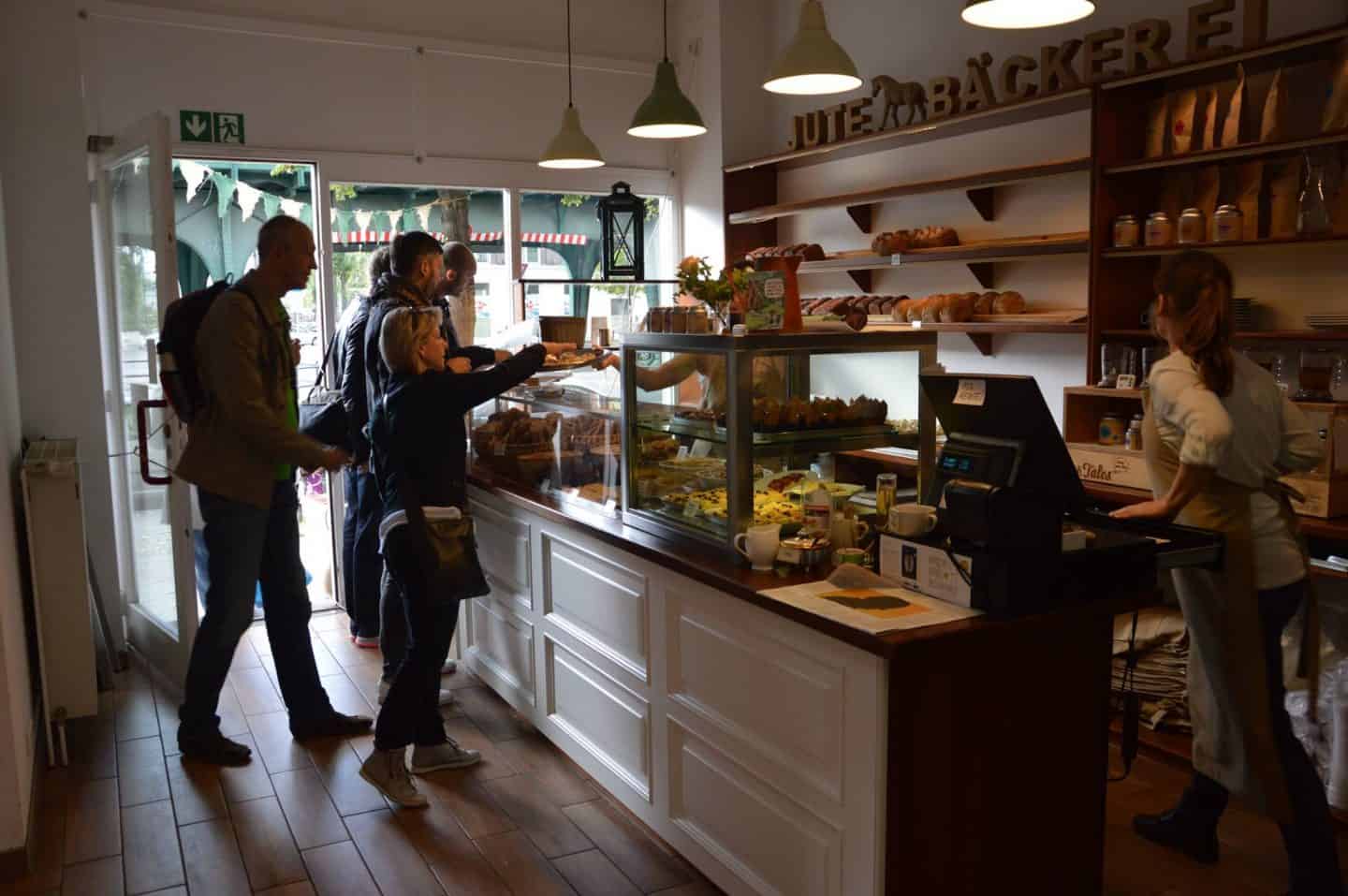 Yes, Berlin has 100% gluten free bakeries! Jute Bäckerei is definitely one that you need to check out. You can sit in and enjoy a sandwich and a cake or takeaway (I'd recommend both!). They have beautifully fluffy yet crusty gluten free bread, cakes, pastries and on Sundays you can go for breakfast (they have more limited options on Sundays). They also offer lactose free options which is a massive bonus 🙂
7) Burgerie, Schönhauser Allee 50, 10437
If you are looking for a big gluten free burger in Berlin then look no further than Burgerie. This is a small restaurant with staff that both understand English very well and understand Coeliac Disease – they get cross contamination and can advise accordingly. The burger buns have sesame seeds on them just like I always think they should and don't fall apart when you pick them up – result! Oh and gluten free beer too – double result!
If you need it they have lactose free cheese as well as a whole host of veggie burger options alongside the meat ones.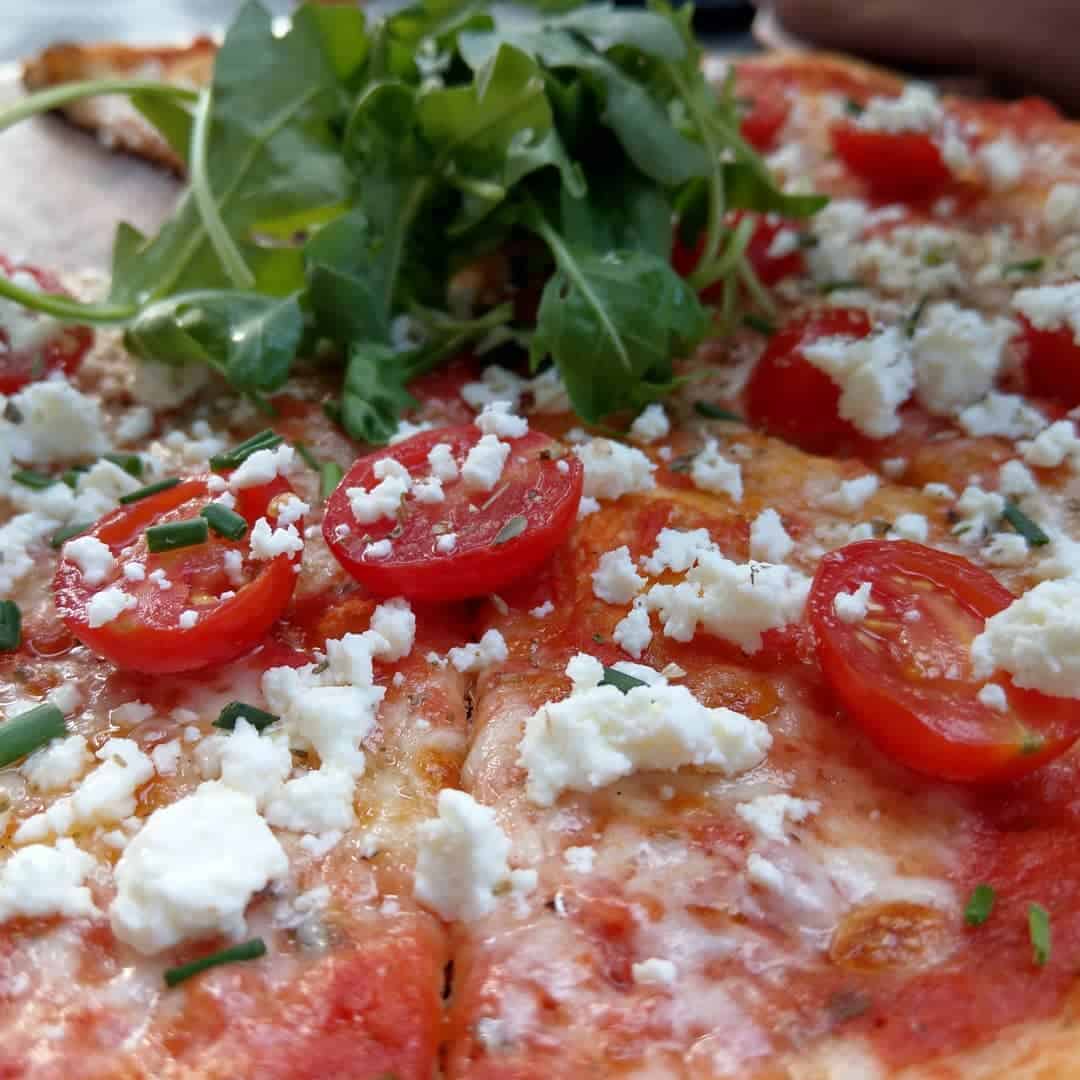 If you are on the hunt for more gluten free pizza in Berlin this is definitely the place to go. They offer a buckwheat gluten free base and also can cater very well for lactose free, dairy free and vegan folk. They also offer gluten free pasta, bruschetta and even gluten free beer. Better still my absolute fave is on the menu… gluten free tiramisu! If I ever see this on a menu I always go for it!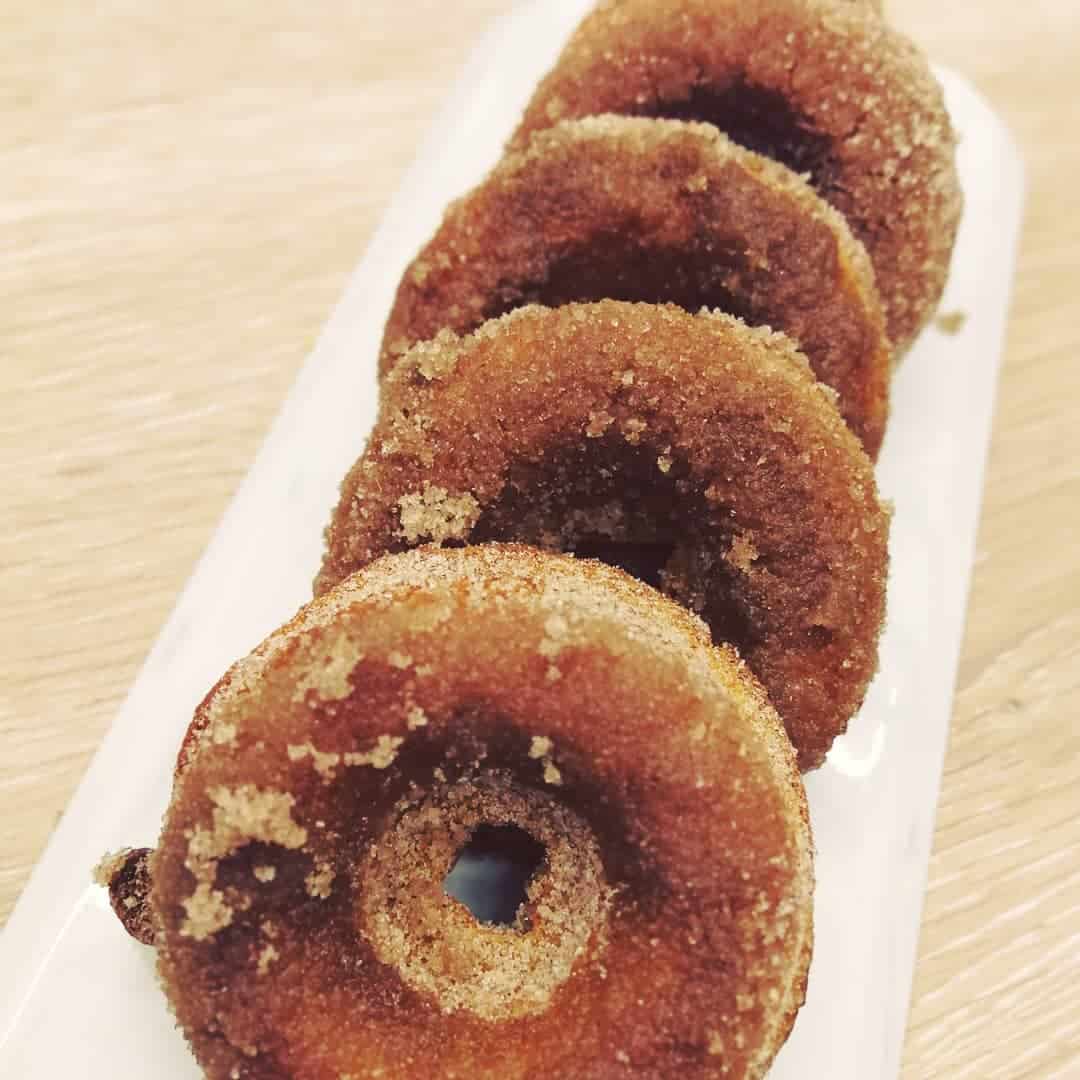 A fully 100% gluten free cafe perfect for brunch, lunch or just a cake and a drink. Löblich has a beautiful interior, small but perfectly formed. For brunch you can enjoy pancakes, eggs and porridge etc. For lunch they even have their own homemade gluten free pasta.
But I'd recommend most of all going in for cake. You never know what will be on offer from visit to visit, but every single cake looks incredible!
They also try to offer as many options that are dairy and egg free, as well as vegan and refined sugar options too.
This cafe is run by Nanni, she has a gluten intolerance and a milk protein allergy. She knows how difficult it can be eating out, so created a cafe that's entirely gluten free as well as being vegetarian. As well as being a lovely host and incredibly passionate, she can really bake!
Pop in for a pastry, a slice of cake or a simple breakfast, you won't be disappointed. Many of the cakes are vegan as well, so suitable for those who are lactose free or dairy free.
If you're planning on going, Café Tante Nanni is closed Tuesday, Wednesday and Thursday.
11) AERA Bread, Fasanenstraße 74, 10719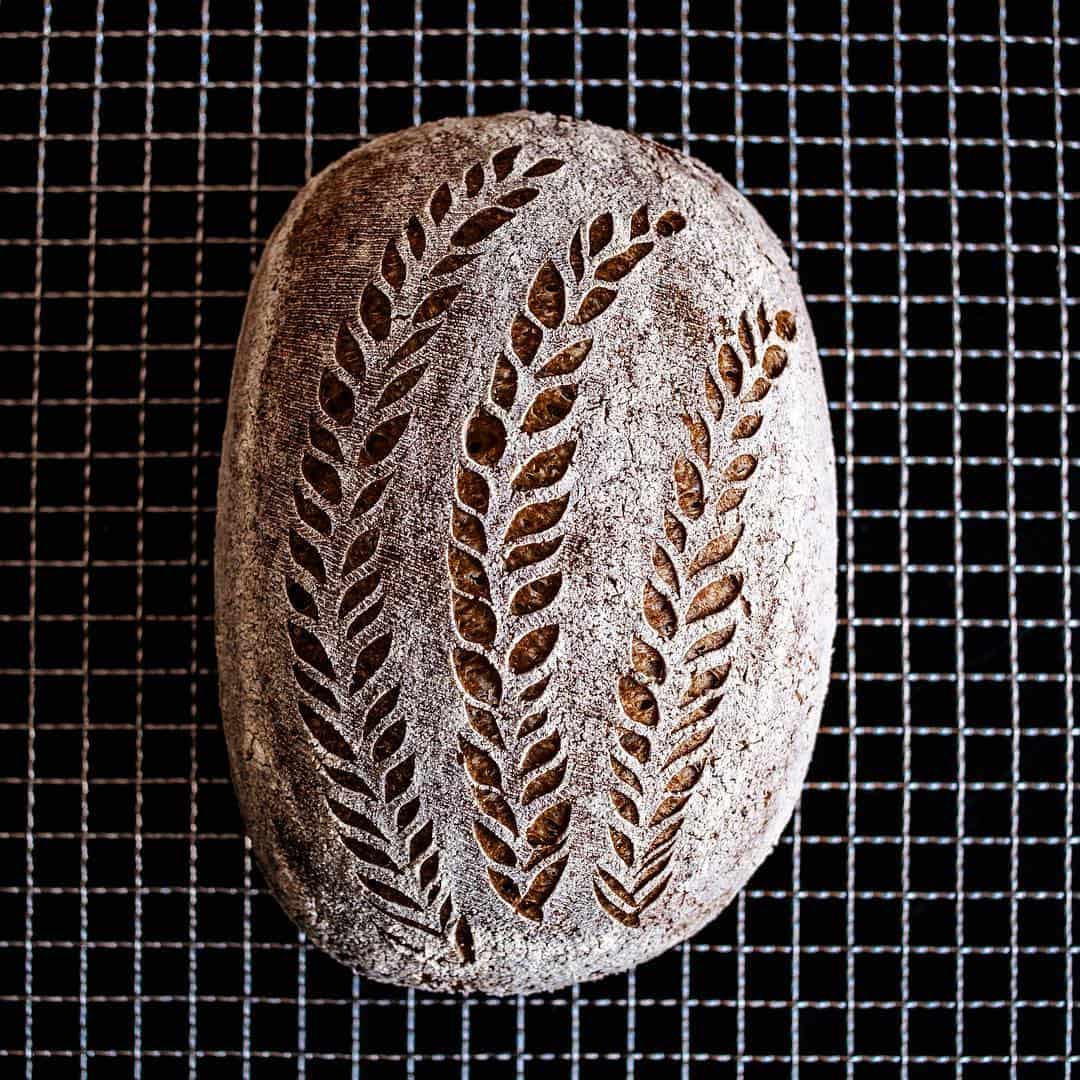 I heard about this place before it opened and have always excited by the sound of it! I'm so glad it's now here… another gluten free bakery in Berlin. It's a very simple bakery compared to most. I'd imagine they go for the phrase quality not quantity. They offer some of the most stunning looking loaves of bread I've ever seen. They have 2 different types of gluten free bread and 4 different types of biscuits.
When you have limited time on a city break to Berlin you might think you don't have time to go to a small bakery… but I urge you to go and try some of the best gluten free bread out there.
12) Brotquelle, Gärtnerstraße 2, 10245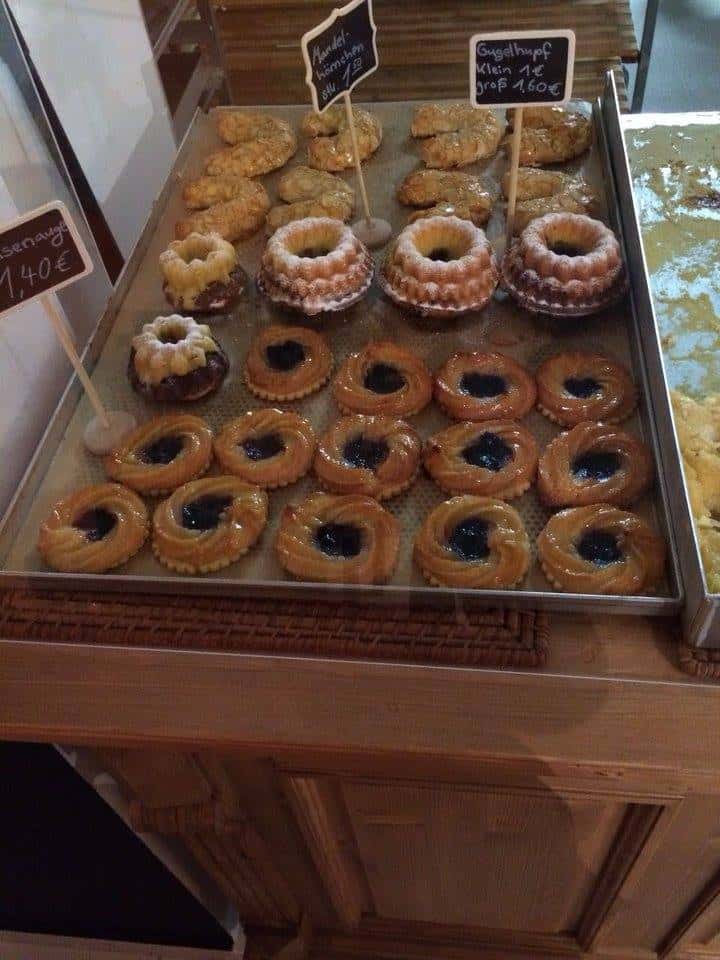 Another 100% gluten free bakery? Yes, it's true! They have a huge selection of breads, cakes and pastries. There is literally something (or lots of things) for everyone! Cream cakes, cheesecakes, bread and plenty of traditional German cakes like Baumkuchen, Mandelhönchen and Mürbeteigkekse.
You can sit in at the bakery, and like quite a few other places in Berlin, you can pop in for a light breakfast to start your day of perfectly 🙂
I love a Hard Rock Cafe, we've been going to them for years – trying to get round as many as we can. For us the drinks are always the biggest pull and the memories but over the last few years the food for gluten free folk has also improved a lot.
Make sure you ask for the gluten free menu and you will find they offer gluten free burger buns and have a dedicated fryer so chips can also be ordered. They also have gluten free beer on the menu. For me, whilst the Hard Rock isn't a cultural hot spot, it's always a safe bet with fab service too.
14) Lily Burger, Am Friedrichshain 34, 10407
If you can eat gluten (I'm assuming you can't if you're reading this guide!) then Lily Burger is crazy. I say this because they offer doughnuts and waffles as your burger bun! I mean, I probably wouldn't go for that anyway but that kind of shows what sort of place this is.
Back to gluten free! They do offer gluten free buns for their burgers. You can also order veggie burgers that are gluten free if you're a gluten free veggie. I've also been told they do gluten free mozzarella sticks and onion rings – I'm not sure if this is true, but might be worth a check!
I'd recommend Burgerie over Lily Burger but if you want to have a second burger option, this is your place.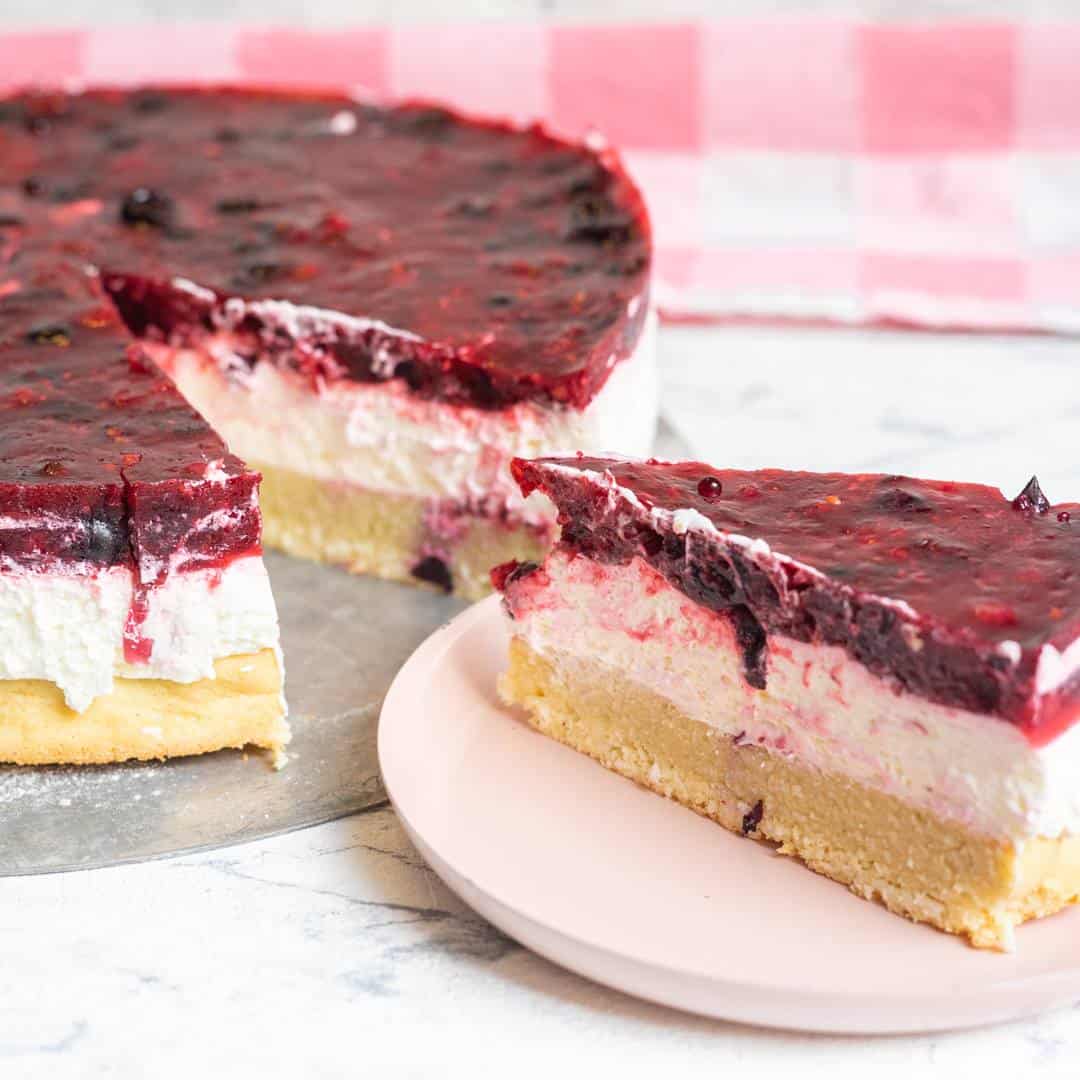 So I don't know a lot about a Keto diet but I believe it involves not eating grains which means it must be very low in gluten? Well this cafe, as the name suggests is keto. It's 100% gluten free and is open all day (till 7pm) Tuesday – Sunday. They serve up pizza (with an almond flour base), sandwiches (with a flaxseed and coconut bread), breakfasts and cakes.
It's a very 'health conscious' place with the menu also being 100% refined sugar free. So if you're looking for something a bit different from the rest of this guide whilst eating gluten free in Berlin then Simply Keto might be a good shout.
So…
I really hope this has been a useful guide to gluten free in Berlin. If you find anymore places that you would recommend just drop me a message in the comments below, or on Instagram. I can't wait to visit again one day… soon!
If this guide helped you, please share it with a friend or with other fellow gluten free folks. I'd love for this guide to help as many people as possible to enjoy the food in Berlin.
Thanks for reading,
Becky xxx