Creamy Tuscan chicken recipe – a weeknight favourite that only takes 30 minutes to make! Gluten-free and Coeliac-friendly as always.
Creamy Tuscan chicken recipe – smoked paprika and sundried tomatoes give this dish a punch you won't forget anytime soon and it's perfect served with pasta, rice or mashed potatoes!
I've been super-duper busy lately, which is where meals like this are a total lifesaver. Not only are they quick to throw together, but a flavoursome, comforting meal like this is exactly what I need when I'm stressed, tired and hungry!
In case you didn't know, Tuscan chicken is an absolute classic and commonly gluten-free anyway (if of course, using gluten-free stock) but my own version is even quicker to make and easier to portion up than most.
Best of all, if you check out the first tip (right before the recipe card below), I'll share how I make a simple adaptation to cook dried pasta in the sauce to make this recipe an all-in-one, one-pot pasta dish. It's actually incredibly simple!
Here's everything you'll need to make it happen:
Creamy Tuscan chicken recipe: What you'll need…
Egg: This helps the coating to stick to the chicken better and form more of a crispy coating. Medium or large eggs work fine here.
Cornflour: This is for coating the chicken, but if you don't have any, gluten-free plain flour works well here too.
Smoked paprika: Needed in both the coating for the chicken and the sauce, this spice is the star of the show here. Make sure yours is smoked for tons of extra flavour!
Dried oregano and thyme: I used dried herbs for this recipe, but fresh (finely chopped) is fine too.
Salt and black pepper: A little seasoning goes a long way, so don't forget these!
Chicken breast, skinless and boneless: Though you'll often see tuscan chicken served as whole chicken breasts or thighs, I prefer to chop mine up to make it easier to serve and eat.
Everything else
Garlic-infused oil: An instant injection of wonderful garlic flavour – no chopping or pre-frying of fresh garlic required. And if your garlic oil doesn't have any bits of actual garlic floating in it, then it's low FODMAP too.
Red pepper: Any colour of pepper will do in reality, but red is a little sweeter than green and works perfectly here. It's not a staple ingredient in common Tuscan chicken recipes, but I like to squeeze in extra veg where I can!
Sundried tomatoes diced: You'll find these in jars in the supermarket along with the other antipasti-type products. Mine was garlic-free in case you were wondering (I'm intolerant to garlic) so yes, they do exist!
Gluten-free chicken stock: Any stock will work, as long it's gluten-free! You'll find these cubes labelled as 'gluten-free' with all the other stock cubes in the supermarket.
White wine: This adds a wonderful depth of flavour, but you could also use more stock instead if you'd prefer.
Cream cheese: This adds a wonderful creamy finish that brings the final dish together.
Baby spinach: A common ingredient in Tuscan chicken, spinach adds welcome colour and it's good for you!
Fresh parsley: This is just for scattering on at the end, so it's essentially optional.
Parmesan: Again, just for a little finishing touch in terms of flavour and optional.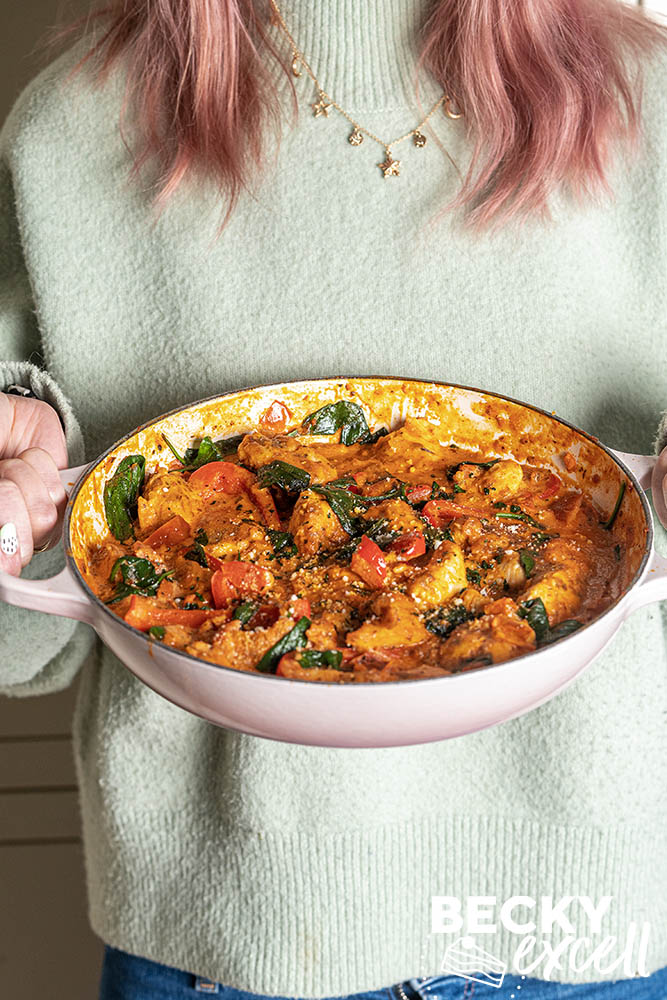 So, what does my creamy Tuscan chicken recipe taste like?
The sauce is the star of the show here, being smoky, herby, creamy and rich in savoury flavour thanks to the stock; not forgetting a welcome punch of Mediterranean flair from those sundried tomatoes.
And that's not even to mention the super tender chunks of herby chicken – made possible by coating and quickly frying it first. In case you didn't know already, coating chicken in this way not only makes it a little crispy in places, but it also makes it super soft, moist and tender in the middle too somehow!
Simply to
Simply serve with pasta, rice, mashed potatoes, jacket potatoes or however you like.
Here's a few frequently asked questions before we get started:
Creamy Tuscan chicken recipe: Frequently Asked Questions
Can I make this recipe gluten-free? Is it suitable for Coeliacs?
It is gluten-free, though nobody would know just by tasting it – trust me!
Bear in mind that minimising cross-contamination is hugely important if you're Coeliac or making this for someone who is. Here's some tips from Coeliac UK on minimising the risk of cross contamination.
Also, make sure that all ingredients used don't have any gluten-containing ingredients. Then make sure that they also don't have a 'may contain' warning for gluten, wheat, rye, barley, oats (which aren't gf), spelt and khorasan wheat (aka Kamut).
Here's some more info from Coeliac UK on identifying safe gluten-free products.
Can I make your creamy Tuscan chicken recipe dairy-free?
Yes! Simply use dairy-free cream instead of cream cheese and finish with grated dairy-free cheese (ideally smoked), if using.
Can I make your creamy Tuscan chicken recipe veggie or vegan?
Yes! To make it vegetarian:
Use 450g extra-firm tofu (ensure gluten-free) instead of chicken, cut into 1in cubes
Use gluten-free vegetable or vegan stock as needed
Use extra-mature cheddar instead of Parmesan, if using
Ensure your wine is vegetarian or vegan-friendly as needed
To make it vegan, combine the dairy-free and vegetarian advice above and skip coating the tofu in egg – just coat it straight in the seasoned flour.
Is this recipe low FODMAP?
See the guidance below! With these changes made, one serving of the finished dish would be a safe low FODMAP serving size:
Ensure your garlic-infused oil doesn't have any actual bits of garlic floating in it (the one in Tesco is safe, but sadly the one in Aldi is not, for example)
Ensure a serving size of no more than 43g of red pepper per person
Use a low FODMAP stock cube
Use no more than 32g of sundried tomatoes for this recipe
Use lactose-free cream cheese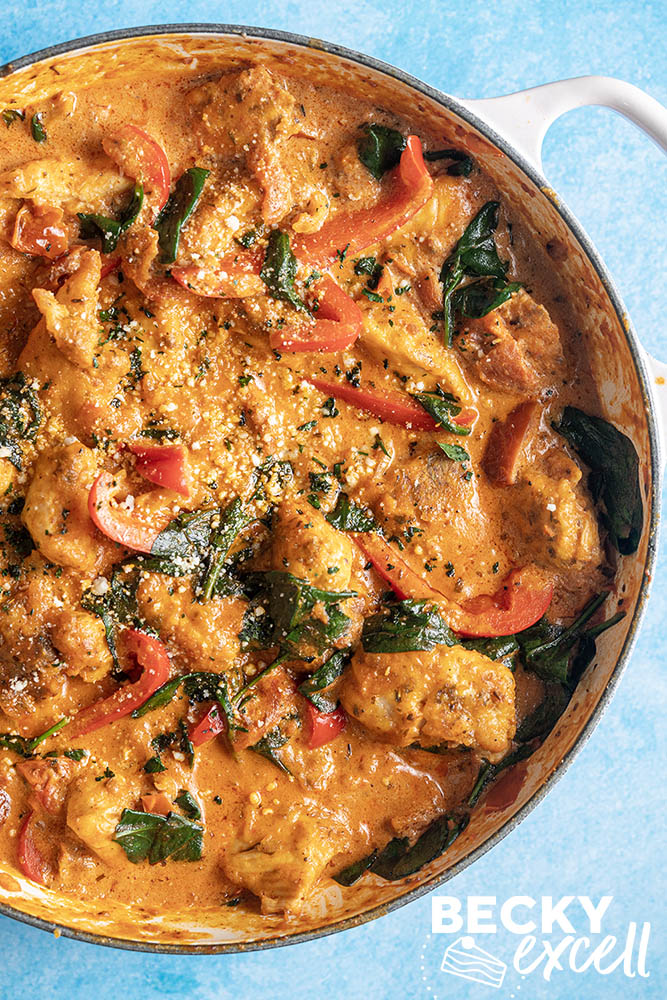 Can I use veg other than peppers and spinach?
Yes, as long as they can reasonably cook in time! Here's a few other veg swaps you could make, as long as they're all finely/thinly chopped:
Onion
Green, yellow or orange peppers
Courgette
Mushrooms
As I mentioned, most Tuscan chicken recipes don't add a lot of veg – I just like to so I can make it a more rounded, all-on-one meal!
What can I use instead of white wine?
Just add more stock!
How can I make this recipe healthier?
I'm all for easy, healthier swaps if you need them, so here's a few simple suggestions:
Use a low-calorie garlic spray instead of garlic-infused oil
Omit the egg when coating the chicken and instead coat it straight in the seasoned flour
Use more stock instead of white wine
Use low-fat cream cheese
Omit the optional sprinkling of Parmesan before serving
Can I freeze your creamy Tuscan chicken?
Yes! Once cooled, simply portion into airtight containers and freeze for up to 2-3 months.
To reheat from frozen, defrost in the fridge overnight then reheat in the microwave until piping hot in the middle.
You can also store this in the fridge for 3-4 days and microwave until piping hot too.
Creamy Tuscan chicken recipe: Tips for quick and easy prep + cooking
To make this the ultimate all-in-one, one-pot pasta dish, add 300g of dried gluten-free pasta and an extra 200ml of boiling water when you add the stock. Pop a lid on and simmer until the pasta is perfectly cooked.
Before starting, chop the chicken and veg, ready a large pan (place over a low heat with the oil) and add the egg and coating ingredients to two separate bowls. A little prep goes a long way in making cooking feel simple!
Fry the chicken until it has a crispy coating. Though it'll lose a little crispness when plunged into the sauce to reheat, coating the chicken and frying it makes it super tender and succulent and you'll still get a few crispy bits too.
The key to a thicker sauce is simple – allow it to simmer (gently bubbling) without a lid on the pan. Don't accept thin, watery sauces! Being patient during step 6 is crucial.
If serving with pasta, rice or mashed potato that's prepared separately, get this going at the very beginning. If they finish early, then just keep warm until later. A microwave packet of rice or ready-made mashed potato can make this part even easier too.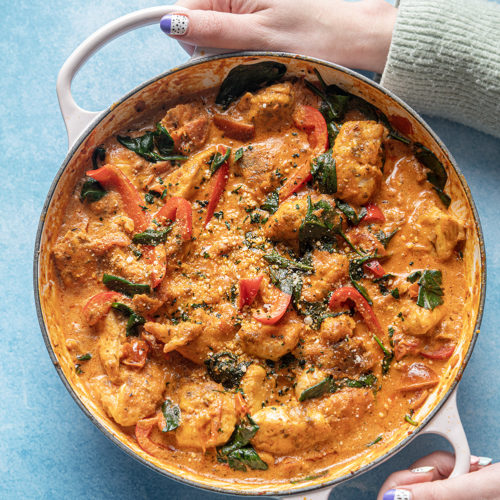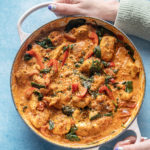 Tuscan Chicken Recipe
Tuscan chicken recipe – smoky, creamy, herby and incredibly easy to make. Coeliac-friendly and gluten-free as always. See the FAQ section for advice on making this dairy-free, low FODMAP, veggie or vegan.
Ingredients
For the chicken
1

large

egg

3

tbsp

cornflour

1

tsp

smoked paprika

1

tsp

dried oregano

1/2

tsp

dried thyme

pinch

salt and ground black pepper

450

g

chicken breast

diced into 1in chunks
Everything else
2

tbsp

garlic-infused oil

1

red pepper

diced into 1in chunks

1/2

tsp

dried oregano

1

tsp

smoked paprika

170

g

sundried tomatoes

diced

300

ml

gluten-free chicken stock

100

ml

white wine

pinch

salt and ground black pepper

3

tbsp

cream cheese

2

big handfuls

baby spinach

roughly chopped

1

tbsp

fresh parsley

roughly chopped (optional)

1

tbsp

Parmesan

grated (optional)
Instructions
Beat the egg in a small bowl and then in a separate bowl, mix together the cornflour, smoked paprika, oregano, thyme, salt and pepper.

Dip the chicken into the egg and then into the flour mix until well-coated.

Heat garlic oil in a pan and then add the coated chicken. Allow it to cook and crisp up the coating. Then remove from the pan.

Add a little extra garlic oil then add in the red pepper and allow to soften briefly. Add the oregano, paprika, sun-dried tomatoes and tomato puree, then mix well.

Pour in the chicken stock and white wine and allow to bubble and simmer for just under 10 minutes or so, or until the sauce has thickened a little.

Stir in the cream cheese so it's well combined and creamy. Add in the chopped spinach. Simmer for a couple of minutes until further thickened and the spinach is wilted.

Add the chicken back in and simmer for a couple more minutes to warm it up.

Remove from the heat and sprinkle with chopped parsley and grated cheese to finish, if using.
Nutrition
Calories:
431
kcal
|
Carbohydrates:
36
g
|
Protein:
35
g
|
Fat:
18
g
|
Saturated Fat:
5
g
|
Polyunsaturated Fat:
2
g
|
Monounsaturated Fat:
8
g
|
Trans Fat:
0.02
g
|
Cholesterol:
133
mg
|
Sodium:
363
mg
|
Potassium:
2102
mg
|
Fiber:
7
g
|
Sugar:
19
g
|
Vitamin A:
2214
IU
|
Vitamin C:
58
mg
|
Calcium:
110
mg
|
Iron:
6
mg
Thanks for reading all about my cream Tuscan chicken recipe! If you make it, I'd love to see how it turned out so don't forget to take a snap of your creations and tag me on Instagram!
Any questions about the recipe? Please do let me know by following me on Instagram and leaving me a comment on a recent photo!
Thanks for reading,
Becky xxx
Don't forget to pin this for later!