15-minute Drunken Noodles recipe – a healthy, super speedy weeknight meal using simple ingredients from the supermarket – no alcohol involved! Nobody would ever know its gluten-free and Coeliac-friendly.
15-minute drunken noodles recipe, anyone? This meal in a hurry is the perfect one to flash fry in your wok and get onto your plate ASAP. The flavour is divine and unlike anything I've ever tried before!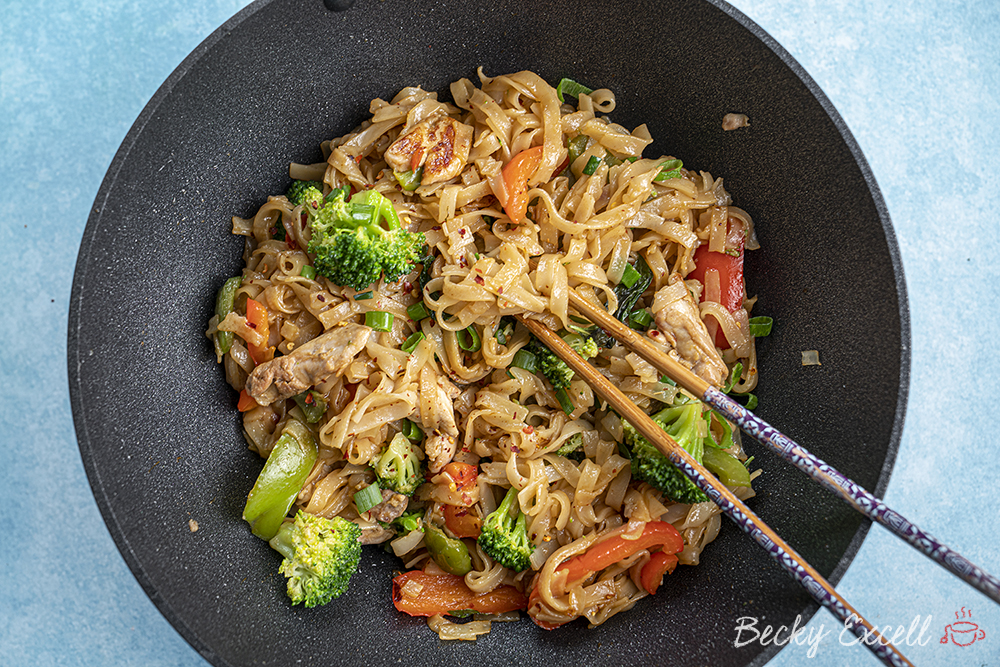 What do you cook when you don't feel like cooking dinner? That's the question I've been answering in my 30-minutes (or less) meals series over on Instagram and TikTok this week.
And yes, you guessed it – this is one of them! And it can actually be made in way less than 30 minutes if you get a little prep out of the way beforehand.
Not only does it not taste gluten-free, but it also doesn't taste like it was made in 15 minutes either! This is our version of the Thai dish Pad Kee Mao that we often make at home.
Here's everything you'll need to make it possible – the international aisle of supermarkets is your friend for this one…
15-minute Drunken Noodles recipe: What you'll need…
Gluten-free soy sauce: This is often found in both supermarket free from aisles and international aisles – sometimes it's also called tamari. This is the only ingredient in this recipe you won't find in Aldi, so make sure you have this already.
Fish sauce: This adds a divine sour, salty flavour to the dish that can't be matched, so don't be put off if you don't like the smell! You'll find it down the international aisle of supermarkets and generally, the bigger bottles of it are better quality.
Miso paste or gluten-free oyster sauce: You'll find miso paste and oyster sauce with the rest of the Asian ingredients – I use miso paste as oyster sauce usually contains onion or garlic (I'm intolerant to both), but oyster sauce is the traditional choice. Ensure your miso paste is gluten-free as not all are.
Ginger paste: You'll find this with the spices in little jars or tubes – it's not ground ginger (the spice), it's fresh ginger that has been minced into a paste.
Dark brown sugar: The natural molasses in dark brown sugar bring a lovely dark soy sauce flavour to the dish.
Cornflour: This helps to thicken our homemade sauce so it's thick and sticky, not a 'wet' coating.
Garlic-infused oil: An instant injection of wonderful garlic flavour – no chopping or pre-frying of fresh garlic required. And if your garlic oil doesn't have any bits of actual garlic floating in it, then it's low FODMAP too.
Bell peppers: The perfect veg for this recipe, which cooks quick and adds a lovely colour.
Skinless and Boneless chicken thighs: Chicken breast also works fine here, but chicken thighs are a little meatier and more flavoursome.
Dried rice noodles: Flat ribbon rice noodles are preferred over the thinner vermicelli noodles here. Make sure they're prepared according to the packet instructions ahead of time.
Broccoli: To ensure it's cooked throughout, you'll need to boil it or microwave it ahead of time so ensure you've done that before you start.
Thai basil: I found this in Sainsburys with all the other fresh herbs, but not all supermarkets stock it. Regular basil works instead but has an entirely different flavour.
Dried chilli flakes: I've gone for a mild spice for this dish, but feel free to double it if you like a little more heat.
Spring onion: This is used as a garnish, yet adds an instant hit of onion flavour. If you use just the green parts, then it'll be low FODMAP too.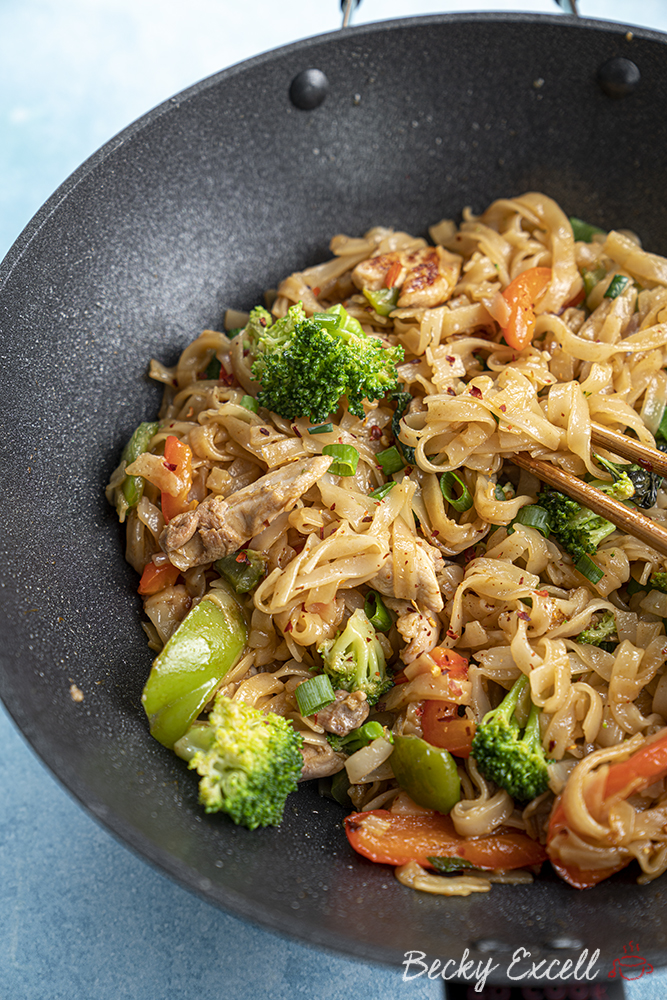 So, what does it taste like? The homemade sauce means the noodles are lovely and sticky, coated in a sweet yet sour, savoury sauce, packed with bold flavours and a mild spice.
Then, there's flash-fried peppers and tender chicken chunks with Thai basil and bright green broccoli stirred in for good measure.
Trust me, this is definitely one of those meals that you'll make again and again once you try it for the first time. So let's get that first time out of the way, shall we?!
Here's a few frequently asked questions before you get started:
15-minute Drunken Noodles recipe: Frequently Asked Questions
Can I make this recipe gluten-free? Is it suitable for Coeliacs?
It is gluten-free, though nobody would know just by tasting it – trust me!
Bear in mind that minimising cross-contamination is hugely important if you're Coeliac or making this for someone who is. Here's some tips from Coeliac UK on minimising the risk of cross contamination.
Also, make sure that all ingredients used don't have any gluten-containing ingredients. Then make sure that they also don't have a 'may contain' warning for gluten, wheat, rye, barley, oats (which aren't gf), spelt and khorasan wheat (aka Kamut).
Here's some more info from Coeliac UK on identifying safe gluten-free products.
Can I make your drunken noodles recipe dairy-free?
It is dairy-free!
Can I make your drunken noodles recipe veggie or vegan?
If you use a veggie/vegan alternative to fish sauce, miso paste instead of oyster sauce and closed cup mushrooms (halved) instead of chicken, then yes!
Is this recipe low FODMAP?
It can be! Here's the swaps you'll need to make:
Ensure your garlic-infused oil doesn't have any actual bits of garlic floating in it (the one in Tesco is safe, but sadly the one in Aldi is not, for example)
Use miso paste instead of oyster sauce.
Use one small green pepper (instead of two) and use one carrot (thinly sliced) instead.
Use no more than 150g of broccoli, ensuring you use only the heads of the florets, not the stalks.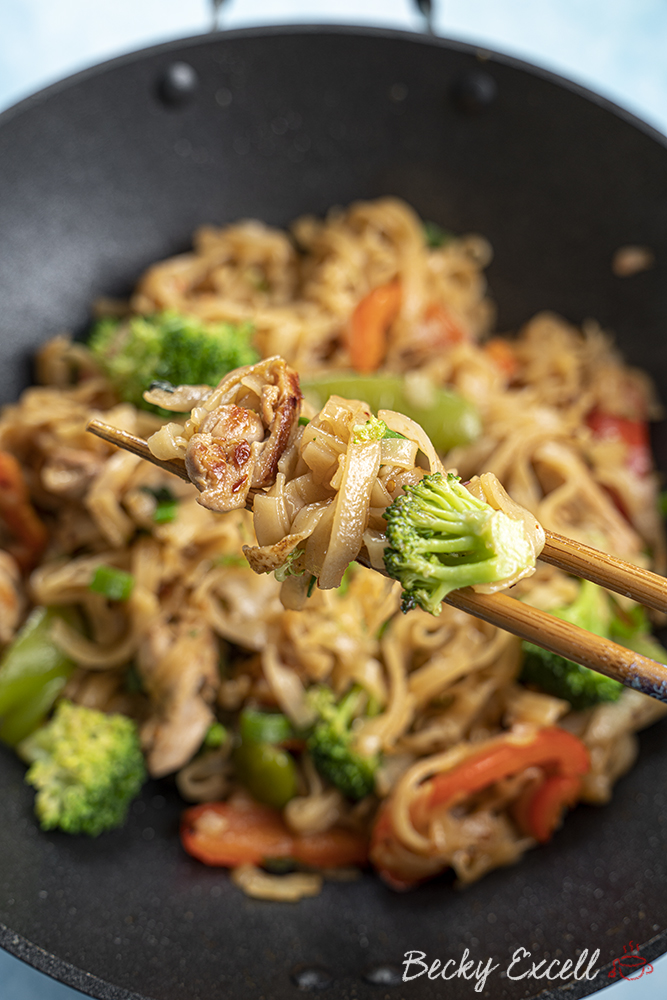 Can I swap up the veg?
Of course! Thinly sliced carrot or mushrooms both work well instead of peppers and any any pre-cooked veg works in place of the broccoli.
How can I make this healthier?
This is already a very lean, healthy meal! But if you want to make it even healthier you can always:
Use a low calorie garlic-flavoured cooking spray instead of garlic oil
Use chicken breast instead of chicken thighs
Why are they called drunken noodles if there's no alcohol in them?
Drunken noodles is a translation of the Thai name Pad Kee Mao, which affectionately means 'drunkard noodles'. And the reason there's no alcohol in them is because this dish is recommended to be enjoyed with a nice, cold (gluten-free) beer!
There's also rumour that this dish is traditionally so spicy that it's a great hangover cure – don't worry though, my version won't blow your socks off!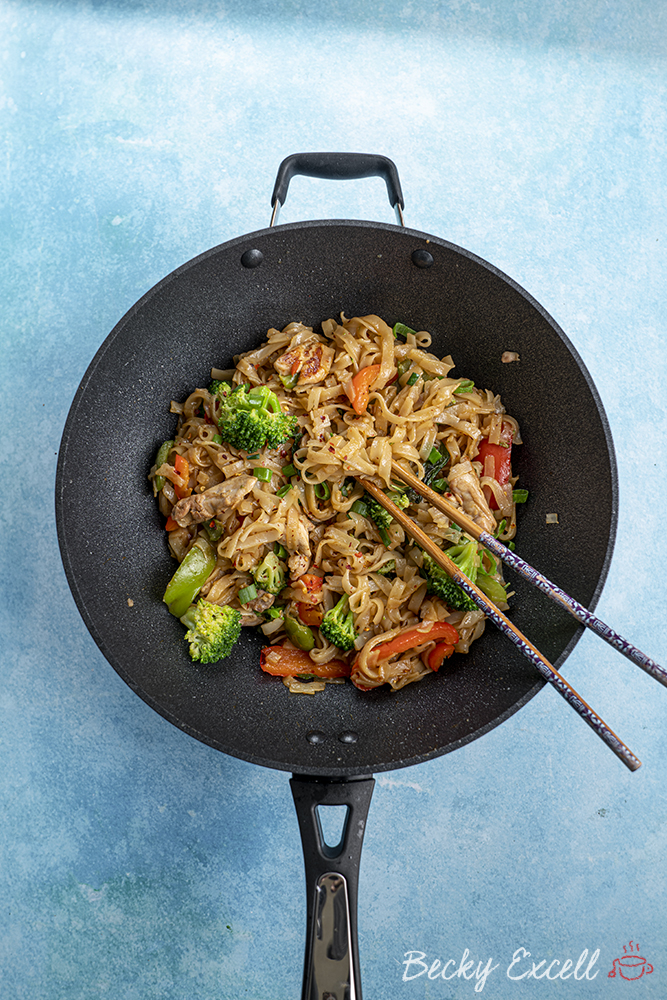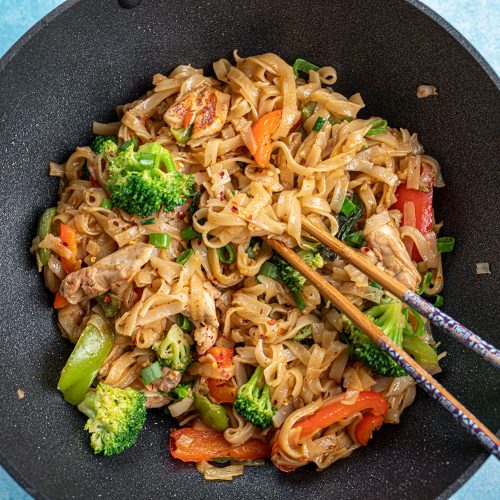 15-minute Drunken Noodles Recipe
15-Minute Drunken Noodles recipe – a healthy, speedy dish that's ready in a flash. Nobody would know it's gluten-free and Coeliac-friendly!
Ingredients
For the sauce:
4

tbsp

gluten-free soy sauce

1

tsp

fish sauce

1

tsp

gluten-free white or red miso paste

or 2 tsp gluten-free oyster sauce

1

tsp

ginger paste

1

tsbp

dark brown sugar

1

tsp

cornflour

1

tbsp

water
Everything else:
1

tbsp

garlic-infused oil

2

small (bell) peppers

chopped into thin strips

250

g

skinless, boneless chicken thighs

chopped into strips

200

g

dried flat rice noodles

prepared according to pack instructions

1/2

half a head broccoli

cut into small florets and boiled

1

handful

Thai basil

or regular basil (roughly chopped)

1/2

tsp

dried chilli flakes

for a mild heat

1

small handful

spring onion greens

finely chopped
Instructions
Mix together all the ingredients for the sauce in a small bowl. Set aside.

Add garlic oil to a wok on a high heat. Add the peppers and allow to fry for a few minutes.

 Add the chicken, and stir fry until slightly golden.

Add the cooked rice noodles and toss them to combine.

Pour in the sauce and continue to stir fry until it's mixed through and coating everything.

Add the cooked broccoli and basil leaves, stir fry so the basil leaves wilt a little and everything is combined.

Finish with a sprinkling of chilli flakes and spring onion greens.
Thanks for reading all about my 15-minute drunken noodles recipe! If you make it, I'd love to see how it turned out so don't forget to take a snap of your creations and tag me on Instagram!
Any questions about the recipe? Please do let me know by following me on Instagram and leaving me a comment on a recent photo!
Thanks for reading,
Becky xxx
Don't forget to pin this for later!