Beef burger stroganoff recipe – a super simple 30 minute meal that's perfect served with pasta, rice or mashed potato. Nobody would ever know its gluten-free and Coeliac-friendly!
Beef burger stroganoff recipe, anyone? If you always find yourself using beef mince for the same old recipes (like I do!) then here's a new recipe to add to your repertoire.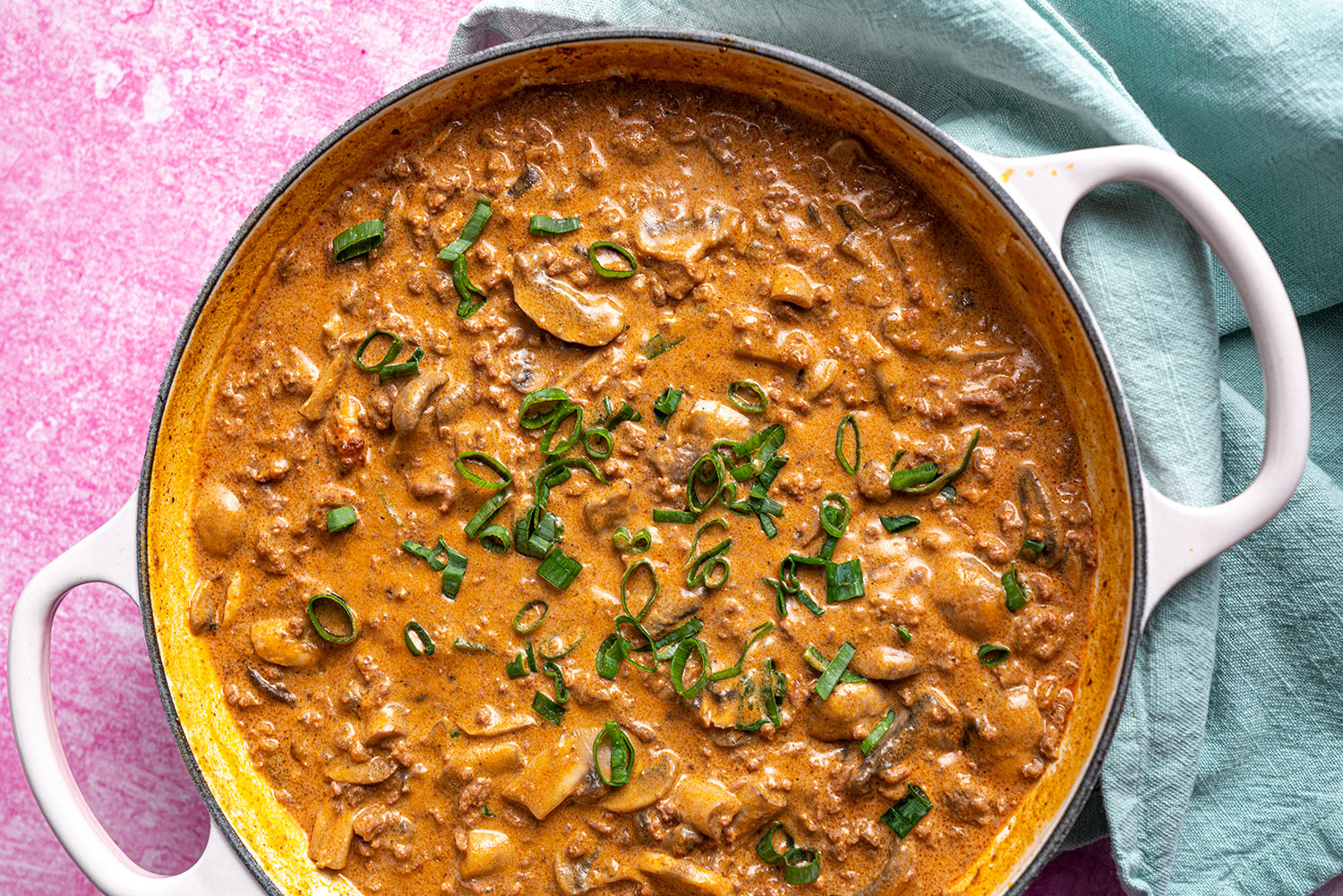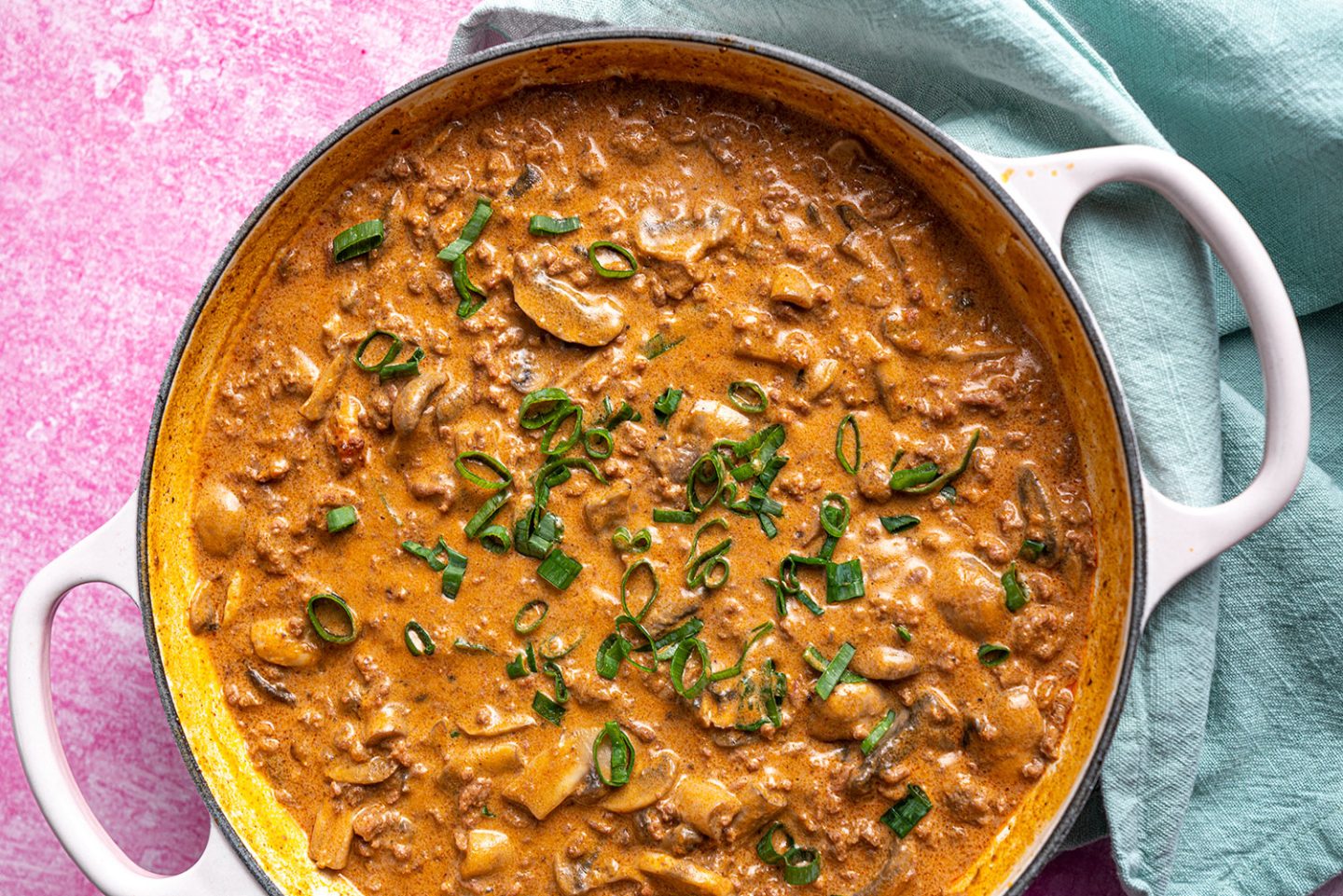 Yes, that's right – when I think of beef mince, I automatically think of chilli con carne, lasagne, spag bol and cottage pie.
So that's all I ever make with it! But actually, it works perfectly in a stroganoff, which would traditionally used diced beef steak.
Hence why I've named this my 'beef burger' stroganoff recipe as, with the mince added, it undoubtedly has that beef patty flavour amongst all that beautiful sauce and mushrooms.
You might not be able to get it between a gluten-free bun, but it's beautiful serve with pasta, rice or mashed potatoes. Here's all the simple supermarket ingredients you'll need to make it happen:
Beef burger stroganoff recipe: What you'll need…
Garlic-infused oil: An instant injection of wonderful garlic flavour – no chopping or pre-frying of fresh garlic required. And if your garlic oil doesn't have any bits of actual garlic floating in it, then it's low FODMAP too.
Beef mince: I tend to use leaner beef mince (around 10% fat) as less fat and liquid comes off it as it cooks. If you do have a lot of liquid in your pan, feel free to drain it off.
Mushrooms: These are a staple in a stroganoff and any you can get your hands on will do – I used closed cup mushrooms, but chestnut or button mushrooms work well too.
Gluten-free plain flour: I use a commercial blend that's available in supermarkets, but you can also use cornflour (corn starch) instead too as it's just for thickening purposes.
Smoked paprika: Being the only spice used in this recipe, this make it even important than usual! So make sure you've got this ready in your cupboards.
Dijon mustard: Not all mustard is gluten-free so please make sure you double check the ingredients on yours first.
Tomato puree: Not only does this ramp up the tomato flavour, but it also helps to thicken the sauce too.
Salt and pepper: These flavour enhancers make more of a difference that you think, so please don't skip adding these – they're the fighters of bland flavour!
Gluten-free beef stock: Gluten-free stock cubes are usually clearly labelled as being gluten-free in supermarkets – you'll find them with all the regular stock cubes. Not all stock cubes are GF, so choose carefully.
Sour cream, yoghurt or creme fraiche: I usually use sour cream, but I've included other options depending on your preference.
Spring onion: This is used as a garnish, yet adds an instant hit of onion flavour. If you use just the green parts, then it'll be low FODMAP too.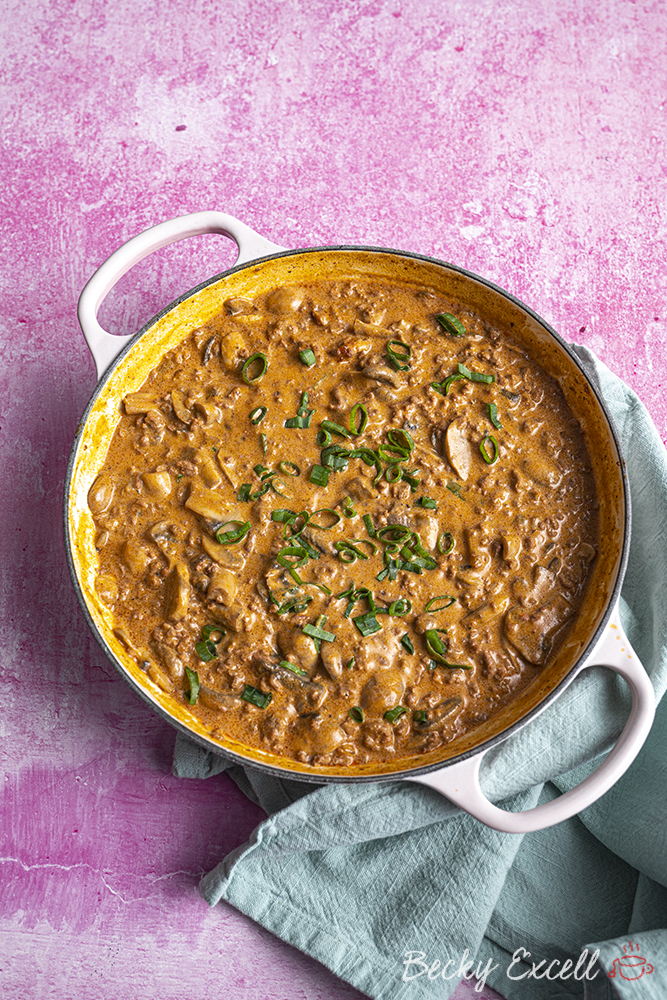 So, what does it taste like? The sauce makes this dish – the combo of the dijon mustard, smoked paprika and beef stock makes the most wonderful, rich, savoury, creamy, gravy-like sauce.
The mushrooms absorb all that wonderful flavour and the beef mince adds that lovely burger patty-like flavour and texture that makes this dish unique.
We usually serve ours with gluten-free tagliatelle, but often mix it up a bit by serving it with rice and mashed potatoes.
Here's a few frequently asked questions before you get started:
Beef burger stroganoff recipe: Frequently Asked Questions
Can I make this recipe gluten-free? Is it suitable for Coeliacs?
It is gluten-free, though nobody would know just by tasting it – trust me!
Bear in mind that minimising cross-contamination is hugely important if you're Coeliac or making this for someone who is. Here's some tips from Coeliac UK on minimising the risk of cross contamination.
Also, make sure that all ingredients used don't have any gluten-containing ingredients. Then make sure that they also don't have a 'may contain' warning for gluten, wheat, rye, barley, oats (which aren't gf), spelt and khorasan wheat (aka Kamut).
Here's some more info from Coeliac UK on identifying safe gluten-free products.
Can I make your beef burger stroganoff recipe dairy-free?
Simply use dairy-free yoghurt instead of sour cream. That's it!
Can I make your beef burger stroganoff recipe vegan?
Simply omit the beef and use one small onion (finely diced) instead, use gluten-free vegetable stock and dairy-free yoghurt instead of sour cream.
Is this recipe low FODMAP?
It can be! Here's the swaps you'd need to make:
Ensure your garlic-infused oil doesn't have any actual bits of garlic floating in it (the one in Tesco is safe, but sadly the one in Aldi is not, for example)
Use oyster mushrooms instead of regular mushrooms
Use a low FODMAP stock cube
Use lactose-free cream cheese or Greek yoghurt instead of sour cream
Use the green parts of spring onion only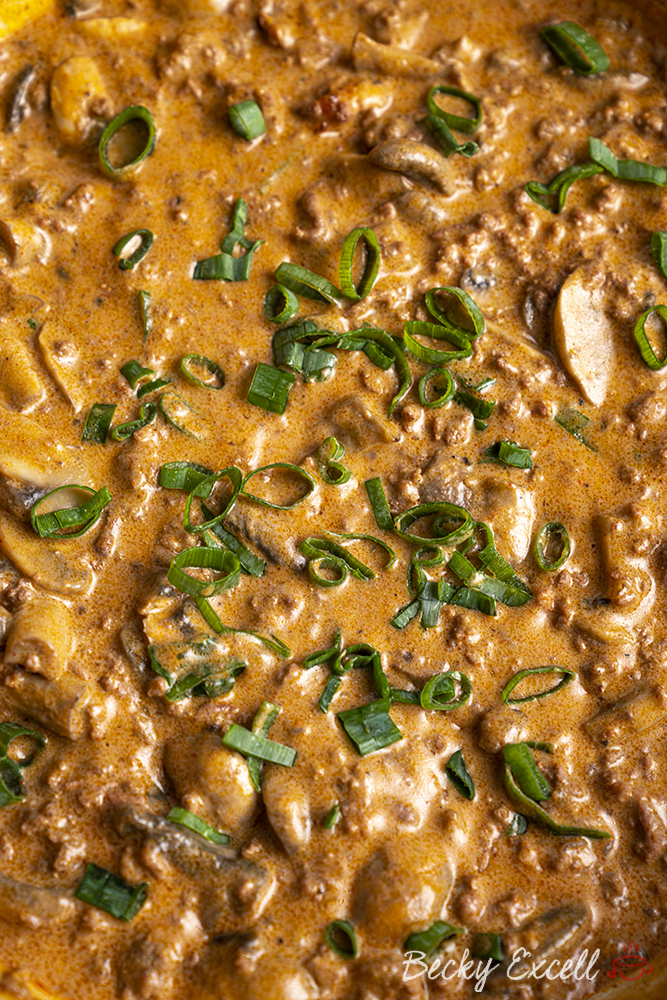 I've made it – what do I serve it with?
It's totally up to you – pasta, rice or even mashed potatoes are perfect. If you go with pasta, use 250g of dried gluten-free pasta and once cooked, drain and add straight to the finished stroganoff.
If serving with rice, simply plate up and serve on top of the rice. For mashed potato, pile up as much mash as you like and serve up the stroganoff next to it, drizling some of the sauce on the mash.
Can I swap up the veg?
Of course! Mushrooms are a staple in a stroganoff but if you can't tolerate them then there's no reason you can't swap them out.
Courgette (diced into thin discs) or steamed broccoli florets would work well, as would a generous handful of spinach. You can really mix this one up as much as you like.
How can I make this healthier?
If you want to make it even healthier you can always:
Use a low calorie garlic-flavoured cooking spray instead of garlic oil
Ensure you use a lean, low-fat beef mince
Use creme fraiche instead of sour cream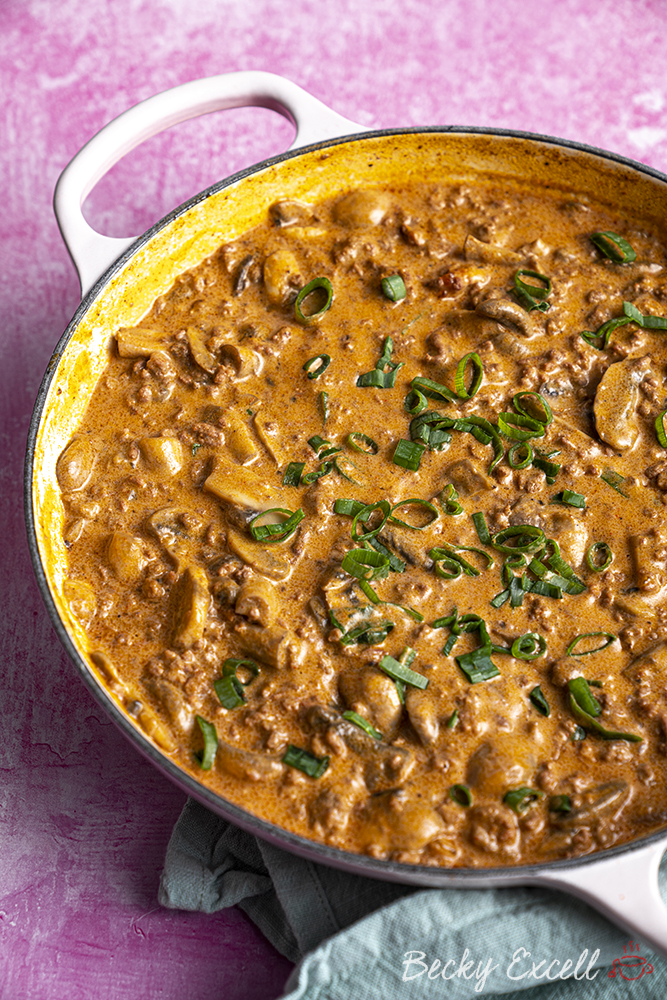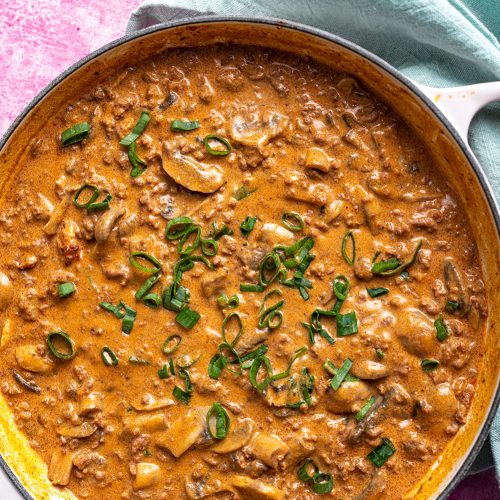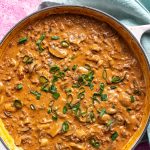 Beef Burger Stroganoff Recipe
Beef burger stroganoff recipe – an easy 30 minute meal that you can serve with rice, pasta or mashed potatoes. Nobody would know it's gluten-free and Coeliac-friendly!
Ingredients
2

tbsp

garlic infused oil

500

g

beef mince

250

g

mushrooms

chopped

1

tbsp

gluten-free plain flour or cornflour

1 1/2

tsp

smoked paprika

1 1/2

tsp

dijon mustard

1

tbsp

tomato puree

salt and pepper

350

ml

gluten-free beef stock

95

g

sour cream

yoghurt or creme fraiche (use dairy-free yoghurt if necessary)

handful spring onion greens

finely chopped
Instructions
Heat garlic oil in a large pan over a medium heat, once heated, pop your beef mince in, cook until it starts to brown.

Add your chopped mushrooms and cook so they become smaller and softened.

Stir in the gluten-free plain flour, smoked paprika, mustard and tomato puree.

Pour in the stock and season with a little salt and pepper. Bring to the boil, then turn down the heat and allow to simmer briefly – it will start to thicken.

Next, stir in the sour cream and cook on the lowest heat till thickened even more.

Finish with a sprinkling of spring onion greens and then serve with pasta, rice, mashed potato – whatever you fancy!
Thanks for reading all about my beef burger stroganoff recipe! If you make it, I'd love to see how it turned out so don't forget to take a snap of your creations and tag me on Instagram!
Any questions about the recipe? Please do let me know by following me on Instagram and leaving me a comment on a recent photo!
Thanks for reading,
Becky xxx
Don't forget to pin this for later!