Easter egg cheesecake recipe – a biscuit base, vanilla and Mini Egg filling crammed into an actual chocolate egg. Nobody would ever know it's also gluten-free, promise!
Easter egg cheesecake recipe – not only is this super simple to make with just 15-20 minutes of effort and 8 simple ingredients, but it's no-bake, so there's no need to even switch the oven on. Plus, who could resist the sight of one of these beauties?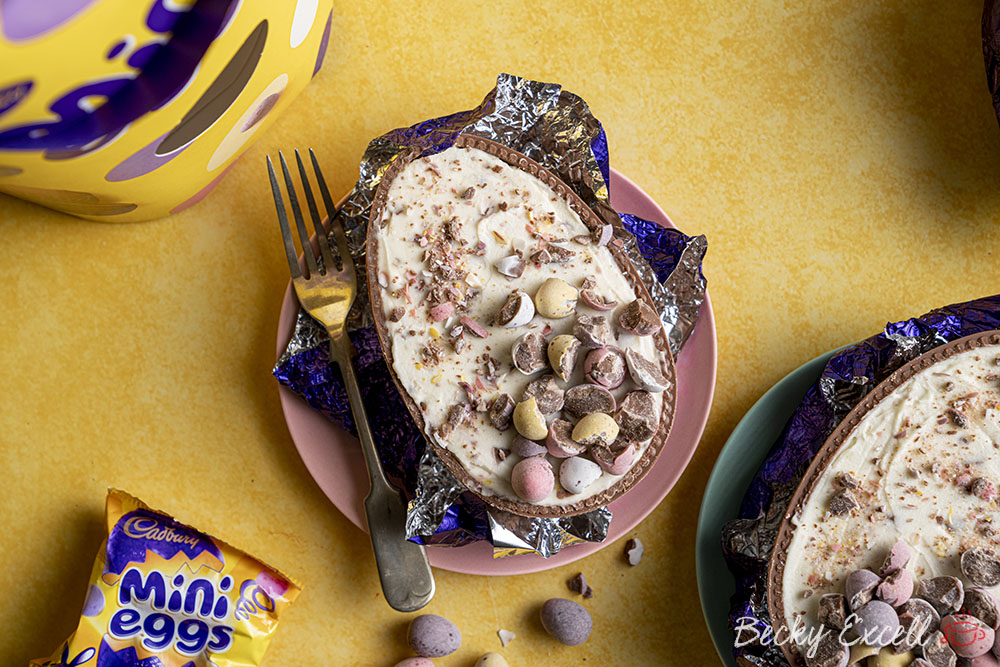 As if an Easter egg wasn't enough of a treat already, right?
Well, with this recipe, it's about to go from Easter treat aaaaall the way over to Easter dessert. And yes, there's a biscuit base hiding underneath that Mini Egg cheesecake filling too!
Best of all, it's outrageously easy to make, no-bake and 100% beginner-friendly. The hardest part is making sure you haven't already eaten the Easter egg before you start!
So here's the 8 simple ingredients you'll need to make it possible:
Easter egg cheesecake recipe: What you'll need…
Large Easter Egg: I used a large Mini Eggs Easter egg (230g), which is gluten-free here in the UK. Ensure it's not too small or you'll end up with way too much filling!
Gluten-free digestive biscuits: You can find these down the free from aisle in nearly all supermarkets, but here's a link so you know what you're looking for.
Butter: As we'll be melting the butter, you can use either cold (straight from the fridge) or room temperature (softened) butter. Salted or unsalted is fine too.
Full-fat cream cheese: I use mascarpone for this one, but Philadelphia cream cheese works great too and is a little softer. Low fat cream cheese doesn't have a high enough fat content to set in the fridge, so I wouldn't recommend swapping this!
Icing sugar: This sweetens the cheesecake filling and simply vanishes when mixed in, meaning no grainy texture.
Double cream: Only double cream has the adequate fat content to whip and set in the fridge, so single cream won't work here.
Vanilla extract: The better quality yours is, the better the filling will taste. Otherwise, any will do!
Mini Eggs: Yes, they're gluten-free here in the UK! You'll find them down the seasonal Easter aisle in supermarkets.
So, what does it taste like? The filling is super-thick and creamy, flavoured with sweet vanilla; not forgetting tons of crushed Mini Eggs dotted throughout.
There's a generous layer of buttery biscuit base hiding beneath that and of course, a thick layer of milk chocolate Easter egg containing the lot, which has a lovely snap to it.
And of course, who could forget to add even more Mini Eggs on top?! Honestly, you just need to try this for yourself!
Here's a few frequently asked questions before we get started…
Easter egg cheesecake recipe: Frequently Asked Questions
Can I make this recipe gluten-free? Is it suitable for Coeliacs?
It is gluten-free, though nobody would know just by tasting it – trust me!
Bear in mind that minimising cross-contamination is hugely important if you're Coeliac or making this for someone who is. Here's some tips from Coeliac UK on minimising the risk of cross contamination.
Also, make sure that all ingredients or products used don't have any gluten-containing ingredients. Then make sure that they also don't have a 'may contain' warning for gluten, wheat, rye, barley, oats (which aren't gf), spelt and khorasan wheat (aka Kamut).
Here's some more info from Coeliac UK on identifying safe gluten-free products. Don't forget to check my gluten-free guide to Easter eggs too to ensure you select one that's safe.
Can I make your Easter egg cheesecake recipe dairy-free?
Easily! (with some very specific swaps you can easily find in supermarkets) Stick to these swaps and you'll be enjoying a gluten-free AND dairy-free Easter egg cheesecake in no time!
It's important to use the dairy-free cream cheese/double cream alternatives I listed as they need to have a high enough fat content to set in the fridge. Oh and I also have a dairy-free vanilla cheesecake over here if you fancy too.
Can I make your Easter egg cheesecake recipe vegan?
Follow the steps above to make this dairy-free and you've only gone and made a gluten-free, dairy-free AND vegan Easter egg cheesecake!
Is this recipe low FODMAP?
Unfortunately, as this recipe relies on products that are high in lactose, this isn't an easy one to make low FODMAP. It's definitely possible if you can find the right products, so let me know if you'd like me to make a low FODMAP version!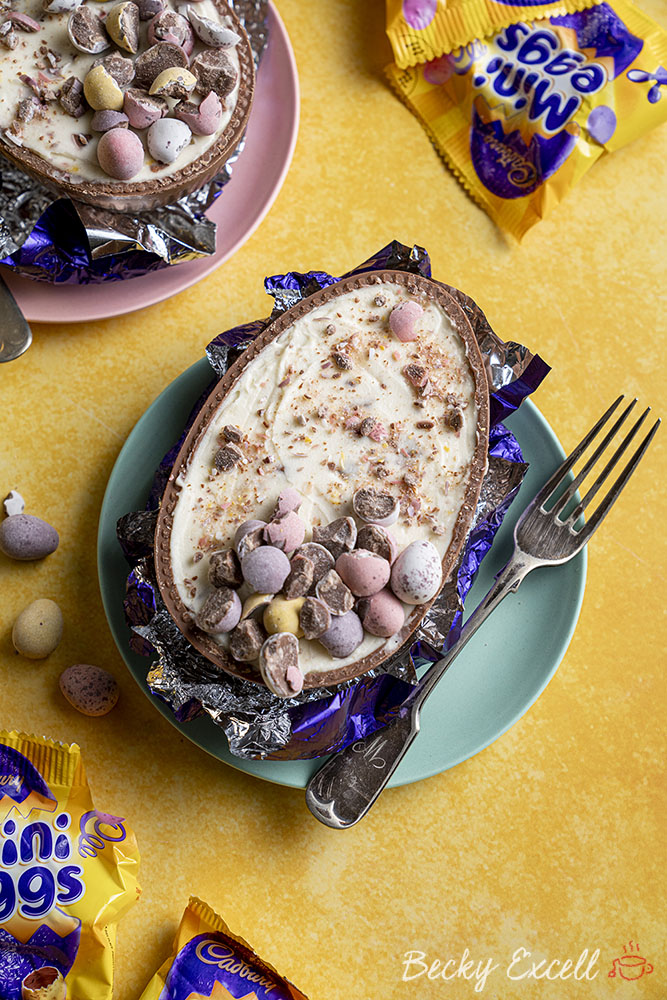 Which Easter egg did you use?
I used a large Mini Egg Easter egg, which is not only the perfect size, but is also gluten-free. Although it shows as XL in the photo on the Tesco website, there's an XL one that's even bigger – that's why I'm calling it large instead!
Anything around 230g will do – if you use a smaller egg, you'll have excess filling… but you can always use that to fill more, smaller eggs. But please be careful when choosing your Easter egg for this recipe as not all of them are gluten-free!
Fortunately, I've made a complete list of all the gluten-free Easter eggs in supermarkets this year, so please check that before you head out.
Do I need any special equipment to make your Easter egg cheesecake recipe?
Nope! You can actually make this entirely by hand. However, using an electric hand mixer to whip up the filling and a food processor to blitz up the biscuits can save a ton of time and elbow grease.
Of course, neither are mandatory for this recipe.
Can I make your Easter egg cheesecake using light cream cheese or reduced fat mascarpone?
I'd recommend sticking to the full-fat versions. As the fat content is much lower in lighter alternatives, your cheesecake won't have much hope of setting properly in the fridge.
Fortunately in this recipe, the egg will support the filling so it wouldn't leak out everywhere (like it would with a regular cheesecake) but it will likely be much softer and not especially like a thick, creamy cheesecake filling should be.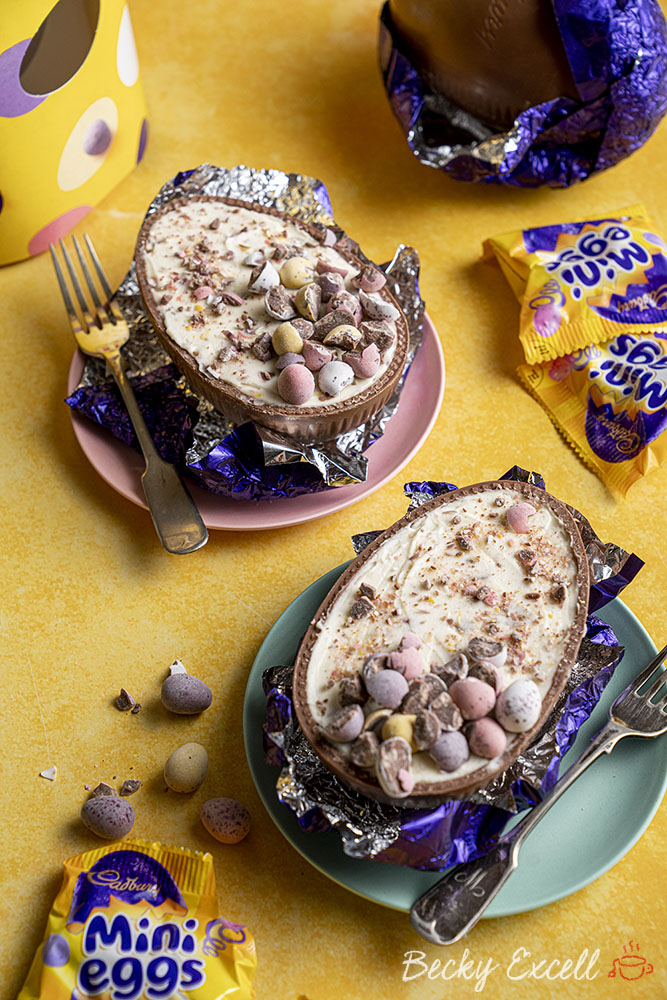 Easter egg cheesecake recipe: Tips for the perfect no-bake dessert every time
Don't overmix the cheesecake filling. It can split, become very grainy-looking, thin and won't ever set in the fridge. In this case, you can always try freezing it to make it set (it'll still taste the same!) but ideally, avoid overmixing entirely.
Give the cheesecake filling a generous amount of time to set. There's no baking required for this recipe, so the chilling stage becomes even more important.
Ensure you use a large Easter egg if possible. A smaller egg will mean you'll have a lot of filling leftover. So instead of letting it go to waste, use it to fill another smaller egg, if that's the case.
Be delicate with the egg when handling it and chill it in the fridge before filling if it's a particularly warm day. You don't want the egg to break after all.
To separate the egg in half without breaking it… carefully score the seam of the egg with a sharp knife. Use a small knife if you're worried you might slip! Once it's scored reasonably deep, poke the knife into the egg and it should just pop in half.
Easter Egg Cheesecake Recipe (No-Bake)
Easter egg cheesecake recipe – biscuit base and no-bake vanilla and Mini Egg filling in a chocolate egg! Coeliac-friendly and gluten-free.
Ingredients
Large Easter egg

230g, split in half

150

g

gluten-free digestive biscuits

70

g

butter

melted

250

g

mascarpone or full-fat cream cheese

70

g

icing sugar

1

tsp

vanilla extract

150

ml

double cream

150

g

mini eggs

crushed + extra for decoration
Instructions
Break the Easter egg perfectly in half – see the tips above for doing this.

In a large mixing bowl, crush the biscuits using a rolling pin or food processor and mix in the melted butter.

Carefully press half of the biscuit mixture into the base of each half of the egg and chill briefly.

In another large mixing bowl, mix together the cream cheese, icing sugar and vanilla to combine.

Add in double cream and mix for 1-2 minutes until thick and smooth – don't overmix or it will split. Fold in the crushed mini eggs.

Spoon the mixture into the eggs, smooth it over and decorate with more mini crushed eggs.

Chill in the fridge for 1-2 hours, or enjoy immediately if you're impatient!
Thanks for reading all about my Easter egg cheesecake recipe! If you make it, I'd love to see how it turned out so don't forget to take a snap of your creations and tag me on Instagram!
Any questions about the recipe? Please do let me know by following me on Instagram and leaving me a comment on a recent photo!
Thanks for reading,
Becky xxx
Don't forget to pin this for later!