Domino's gluten-free pizza – a few words that I could have only dreamed about when I first went gluten-free! But now they exist, should you be ordering one? And are they Coeliac-friendly? Here's what you need to know before ordering…
Domino's gluten-free pizza always generates a lot of questions, so today, I'm here to answer them. I'm gonna simply provide you with all the juicy info so you can make your own mind up on whether or not you want to eat there!
Disclaimer: This post is definitely not some sort of promo for Domino's or my own personal seal of approval – I'm just here to provide helpful info! And FYI – this post refers to Domino's pizza in the UK only. All info was correct as of 22/06/21.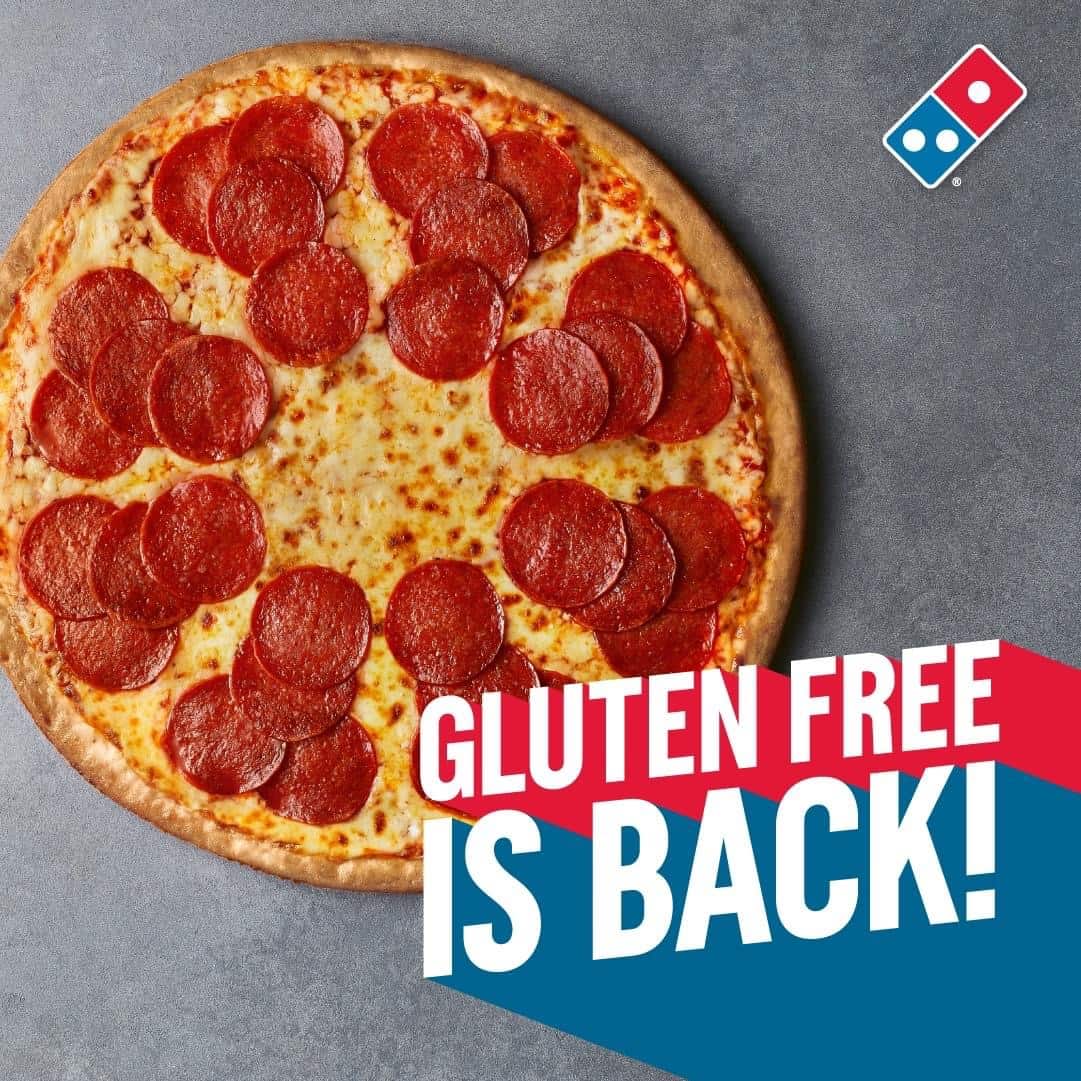 As I'm sure you might have noticed, Domino's halted serving gluten-free pizza during the pandemic as a result of scaling back to a more limited menu. But not only are they now back, they're a little different! So here's everything you need to know BEFORE you order…
How much does a gluten-free pizza at Domino's cost?
What's classified as a 'small' pizza (on a 9.5″ base) is £14.99 with any of the set toppings. Or, it's £13.99 for a plain cheese (no toppings) gluten-free pizza.
Believe it or not, a pepperoni pizza on a small, 9.5″ 'muggle' base is the same price (£14.99) as the gluten-free version.
So no, it doesn't cost any extra, though you don't get the option of a personal (7″), medium (11.5″) or large (13.5″) base like everyone else – ours only comes on a small, 9.5″ base.
In terms of deals, there is…
So if you can get one on a deal, that seems to be the better option for your bank balance!
What gluten-free pizza bases do Domino's use?
Up until now, it's been a bit of a mystery. But recently, Domino's have now started advertising that they'll be using Schar gluten-free pizza bases.
Domino's get these pre-made and packaged from Schar, meaning they don't need to make them from dough, nor do they need to be rolled in flour etc.
The change in base happened very recently, so please let me know how they taste in the comments below if you do happen to try one.
Unfortunately, customisation of gluten-free toppings is limited outside of adding more of the topping that's already on your pizza.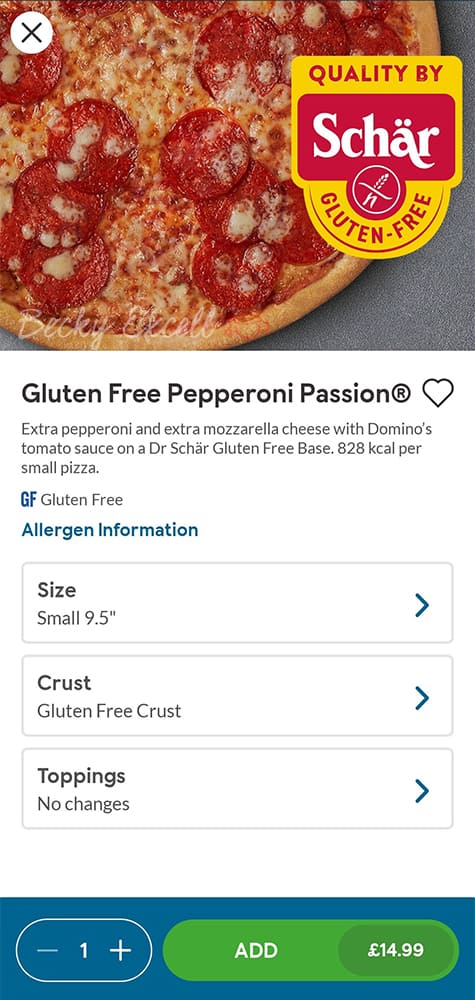 Are Domino's pizza Coeliac UK accredited?
Yes, according to Domino's website and the Coeliac UK venue guide, all of their in-store procedures have been verified by Coeliac UK and they are Coeliac UK accredited.
In case you didn't know, the Coeliac UK venue guide (linked above) lets you find Coeliac UK accredited restaurants near you.
So yes – in terms of being Coeliac-friendly, according to Coeliac UK, Domino's is.
How likely is cross-contamination at Domino's pizza if you're gluten-free?
Well, I've got a bit of an exclusive for you today! I've got the actual info provided to staff who will be preparing gluten-free pizza in Domino's (no, I've never worked there ?) so you can judge for yourself. How did I get them? Well, let's just say they fell off the back of a lorry…
As these are screenshots and a little small, I'll retype the info below each image to save you getting your magnifying glasses out.
To be honest, I wish companies were more transparent about this information with the public as the more info we have, the better! But of course, I'll let you read it for yourself so you can decide…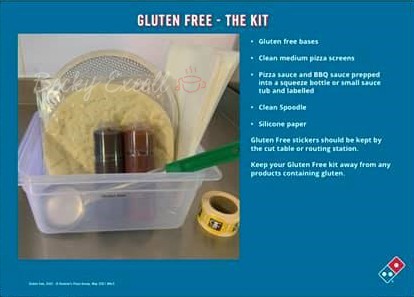 Gluten Free – The Kit
Gluten free bases
Clean medium pizza screens
Pizza sauce and BBQ sauce prepped into a squeeze bottle or small sauce tub and labelled
Clean Spoodle
Silicone paper
Gluten Free stickers should be kept by the cut table or routing station
Keep your Gluten Free kit away from any products containing gluten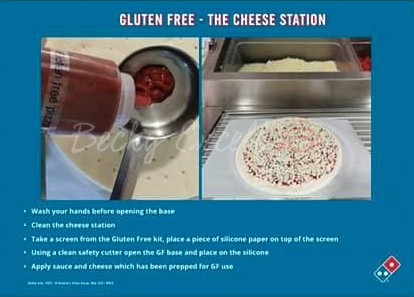 Gluten Free – The Cheese Station
Wash your hands before opening the base
Clean the cheese station
Take a screen from the Gluten Free kit, place a piece of silicone paper on top of the screen
Using a clean safety cutter open the GF base and place on the silicone
Apply sauce and cheese which has been prepped for GF use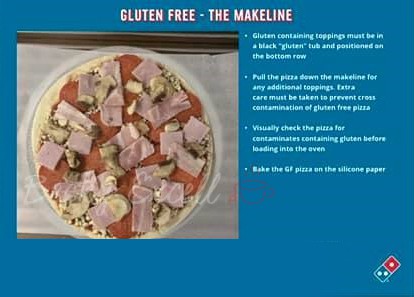 Gluten Free – The Makeline
Gluten containing toppings must be in a black "gluten" tub and positioned on the bottom row
Pull the pizza down the makeline for any additional toppings. Extra care must be taken to prevent cross contamination of gluten free pizza
Visually check the pizza for contaminates containing gluten before loading into the oven
Bake the GF pizza on the silicone paper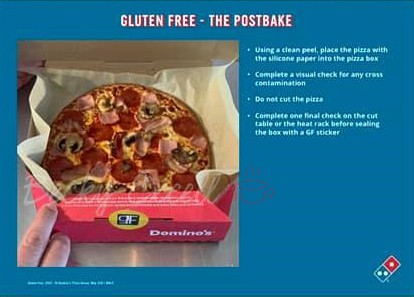 Gluten Free – The Postbake
Using a clean peel, place the pizza with the silicone paper into the pizza box
Complete a visual check for any cross contamination
Do not cut the pizza
Complete one final check on the cut table or the heat rack before sealing the box with a GF sticker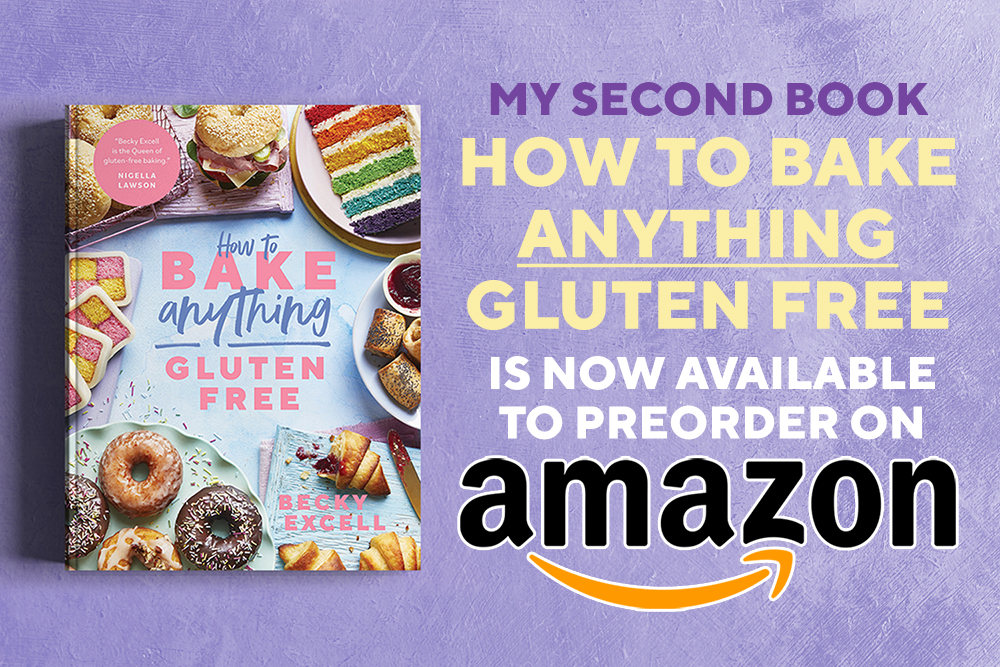 How do I order a gluten-free pizza from Domino's?
I'm pretty sure they've got a billion ways to do it – so either via the website, their app, over the phone or in-store to name a few, if not all.
What are my other options for gluten-free pizza?
Both Pizza Express and Pizza Hut are also both Coeliac UK accredited. Don't forget that other restaurants with good gluten-free options exist, but will obviously vary depending on where you live.
Where do you get your gluten-free pizza from? Let me know in the comment below as I'm sure your recommendations will help others!
That's all folks!
So, what do you think? I would love to hear your good or bad experiences ordering gluten-free at Dominoes in the comments below this post. As you might of noticed, this post is very free of my own opinion on the matter.
But that's mainly because I just wanted to present you with all the possible information so you can make your own mind up. I'm certainly not here to influence your decision or 'endorse' any restaurant as being safe or not – I think that's Coeliac UK's job! Of course, as I personally can't eat onion and garlic, I can't even eat anything at Domino's, so I would love to hear your own personal experiences.
If you'd like me to do a post like this for any other restaurants, please let me know – I only chose to do Dominoes because I already had the info and you guys kept asking!
All I'll say is, keep being vigilant when placing your trust in a restaurant, do your research and never be afraid to ask too many questions.
Becky xxx