I don't know about you, but when it comes to gluten free cereal, I just usually add milk and errrrm… that's about it. To be honest, that's all I've ever needed to get me out on the right side of bed! But today I thought I'd share 5 gluten free cereal hacks to make your morning EVEN better.
Yep, if you love gluten free cereal with a simple splash of milk like I always have done, then I've got a little breaking news for you. You are allowed to enjoy your cereal in other ways!! *gasp* Since this news might be a little bit of a shock to you, I've prepared 5 gluten free cereal hacks to make your morning even better…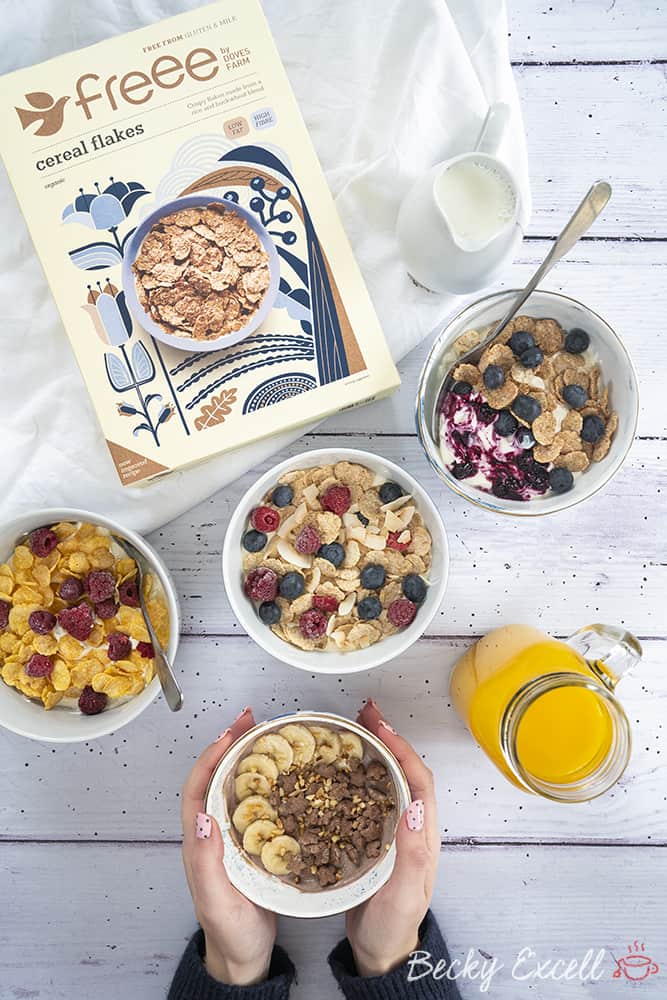 So before we get started, what's my gluten free cereal of choice in the morning?
(this isn't a quiz on my favourite cereal by the way, I will tell you in literally the next sentence ?)
It's the FREEE by Doves Farm range! All of their cereals are gluten free, organic, made in Wiltshire and are a delicious way to start the day. Across the four products in their range, there's something for every mood and every member of the family.
Plus they're all dairy free now and suitable for a bunch of different free from diets. Oh and those looking for high fibre, low fat or low sugar products too.
But they're my cereal of choice, mostly just because they taste awesome!
Ok so here's 5 simple ways to instantly spice up your gluten free cereal in the morning…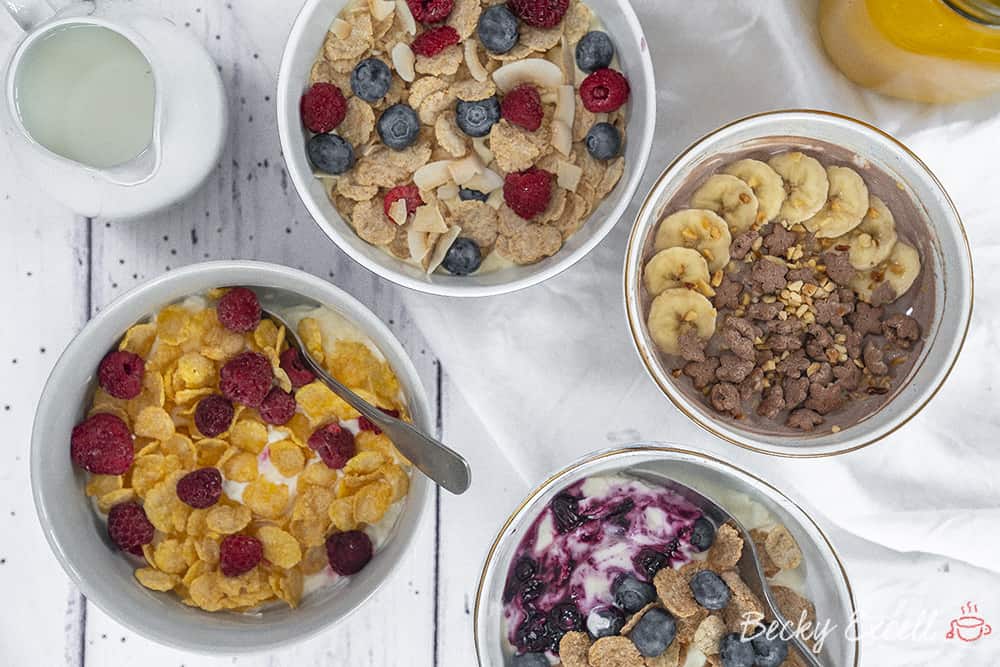 1. Frozen berries.
Frozen berries are the easiest, quickest and healthiest way to instantly spice up your gluten free cereal.
You can buy them frozen (or just freeze your fresh berries before they go off) and throw them onto your cereal straight from the freezer. Boom!
They taste amazing and add a different element of texture and temperature.
I just threw a few frozen raspberries onto my FREEE by Doves Farm gluten free corn flakes it just totally transformed it… trust me – you just have to try it!
As they're frozen, it gives it a bit of a dessert-like feel that I am definitely all for – even for breakfast!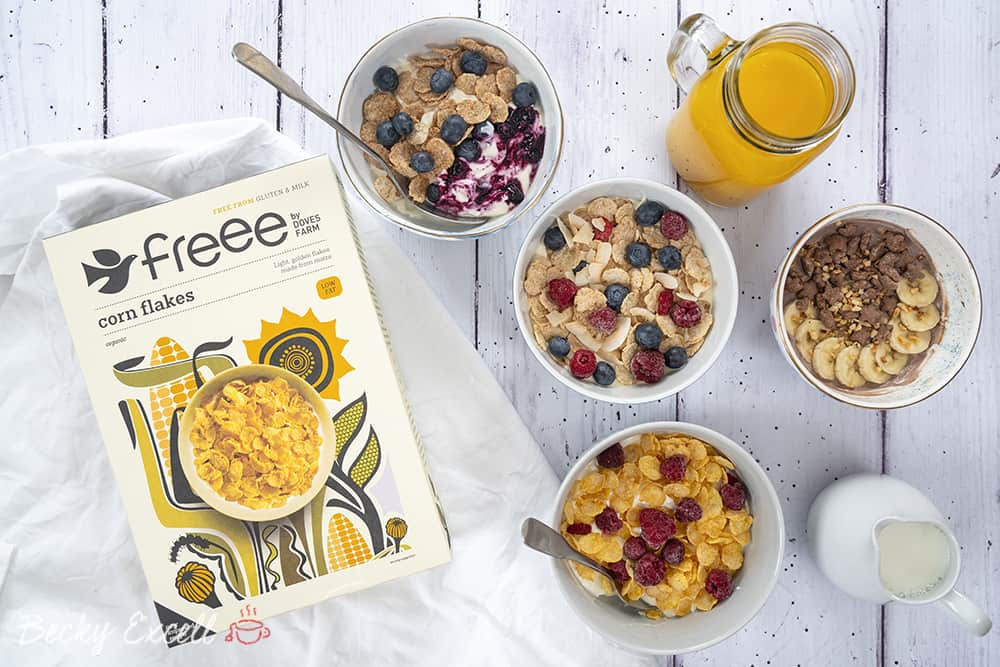 2. Introduce your favourite flavour combos.
This is basically my secret to creating any new recipe: try and bring in those classic flavour combinations that you already love.
Not sure where to start? Well, I'm thinking chocolate and hazelnut, peanut butter and jam, cinnamon and apple etc. Know what I mean?!
But how do you inject those flavour combos into your humble cereal bowl?
Case in point! I took a bowl of FREEE by Doves Farm's chocolate stars, combined them with some fresh banana (chocolate and banana are amazing together) and then I sprinkled some chopped hazelnuts for that ultimate chocolate and hazelnut combo.
I never thought I could nail two of my favourite flavour combinations with just two extra ingredients… but there ya go!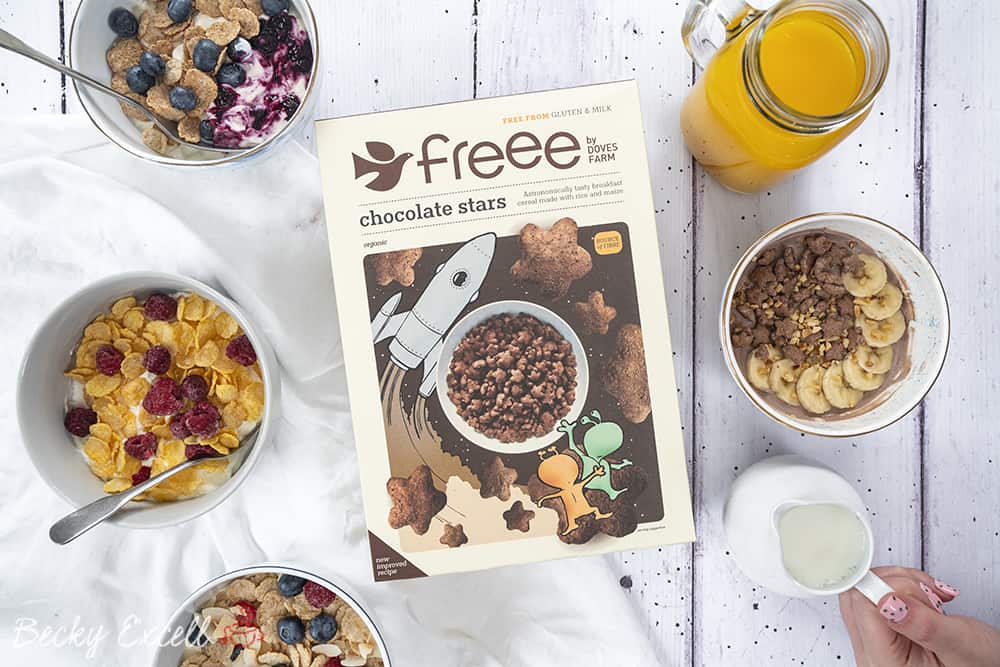 3. You don't always have to have milk with your cereal.
Ok, I might have blown some minds there, so I'll just give you a moment to read that again if you need to.
(and no, I don't mean eat them dry!!)
Yes, even though it literally never happens, cereal is amaaaazing with a little natural yoghurt (or a plain dairy free yoghurt if you need it) and it's really good for you too. Yoghurt is a great alternative to milk to spice up your cereal in a flash.
It totally transforms cereal and gives it more of like a granola feel – especially if you then go on to top it with fresh/frozen berries. Just don't be afraid to mix it all around instead of your having your cereal and berries sitting on top of the yoghurt!
I actually used yoghurt in all of the bowls in the photos and they all tasted lovely. I think I'm addicted!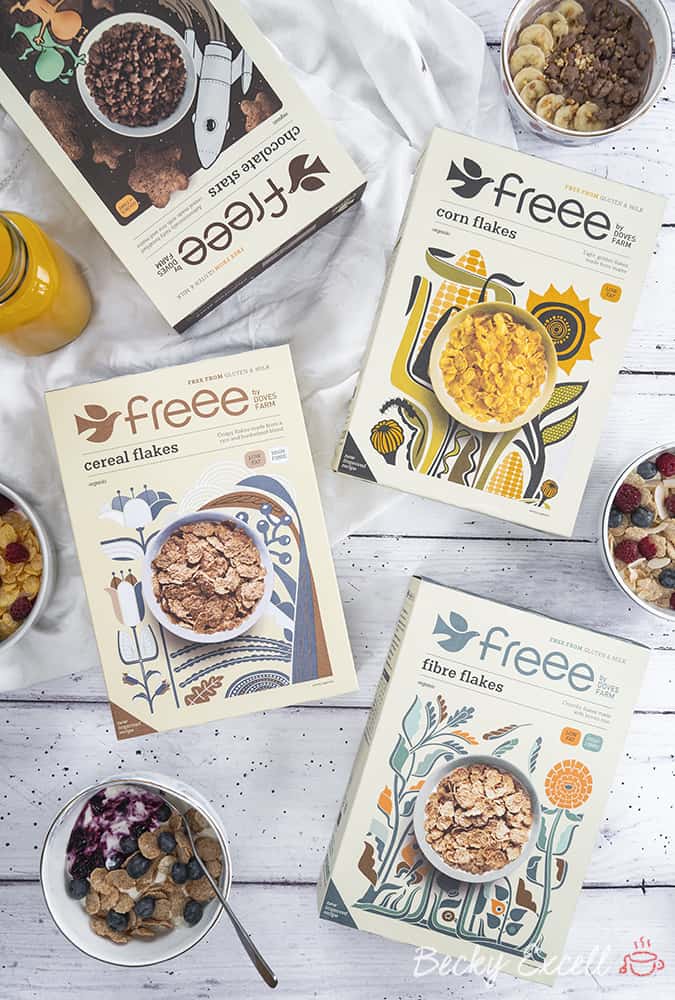 4. Create some quick compotes.
I know this might seem like effort when you're in a massive rush in the morning…
(if you're like me, you're always running about 5 minutes late to everything ever)
But you can easily make compote in a big batch on Sunday – then you'll have more than enough to get you through the week. It's only takes around 10 minutes as well!
Just take 90g of blueberries, 3 tsp of lemon juice, 3 tsp of maple syrup and 3 tsp of water. Throw it all into a saucepan and simmer until it looks like compote… job done.
I combined my blueberry compote with FREEE by Doves Farm's cereal flakes (my fave), some fresh blueberries and some natural yoghurt as you can see below. Honestly, cereal never tasted so good and I just love how it looks swirled into the yoghurt.
I actually have a blog post for 3 different compotes here that you can try with your cereal, if you like.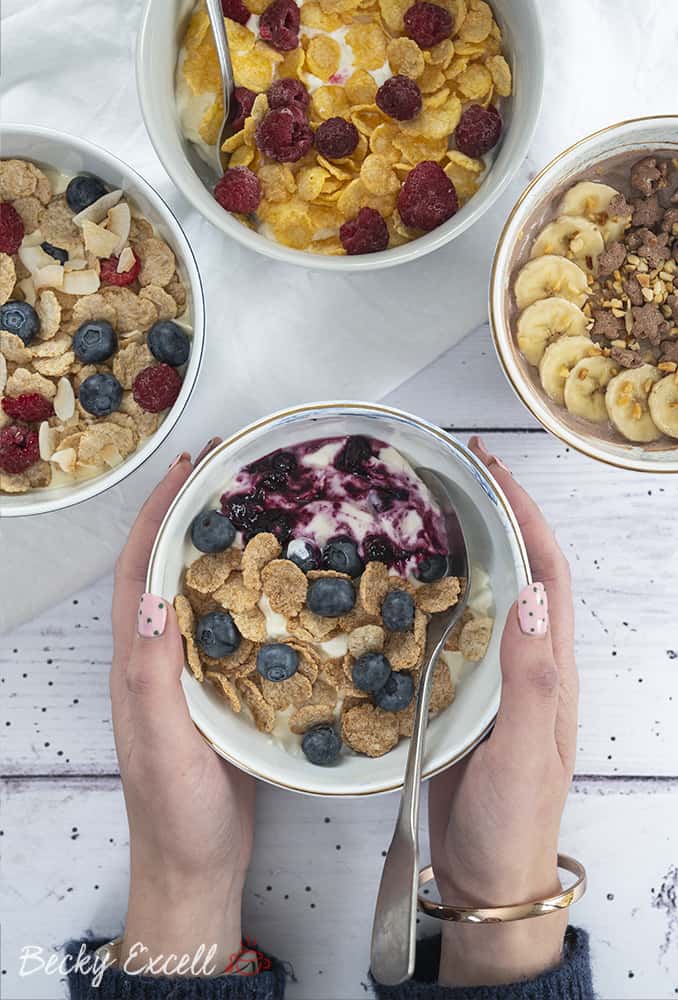 5. Add a little crunch.
My fave thing about all of my cereal hacks, is all the different textures you can bring to a humble bowl of cereal. I'm all about the different textures on the same plate/bowl when it comes to food!
So yoghurt brings a lovely creamy aspect over milk, whilst fruit brings a softer texture along with the crunch of your cereal.
But if you're like me, I love letting my cereal go a little soggy before digging in!
(anyone else the same?!)
So sprinkling on an extra few little crunchy finishing touches (like the chopped hazelnuts with my chocolate stars and banana) is the icing on the cake. Or erm… the nuts on the cereal!
But it doesn't always have to be nuts either – I combined my FREEE by Doves Farm fibre flakes with frozen raspberries, fresh blueberries AND toasted coconut chips. Oh and not forgetting that yoghurt hiding beneath too. It's a party of different textures that I know you'll love.
Just try it for yourself and let me know what you think!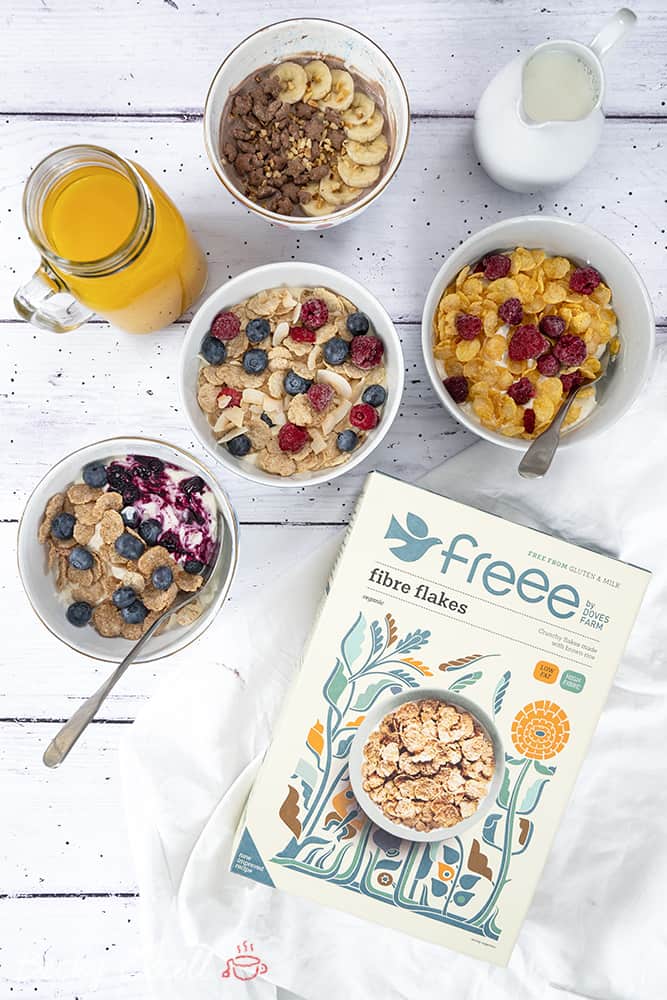 But of course, sometimes you just can't beat enjoying cereal with milk… ??? It just has to be said!!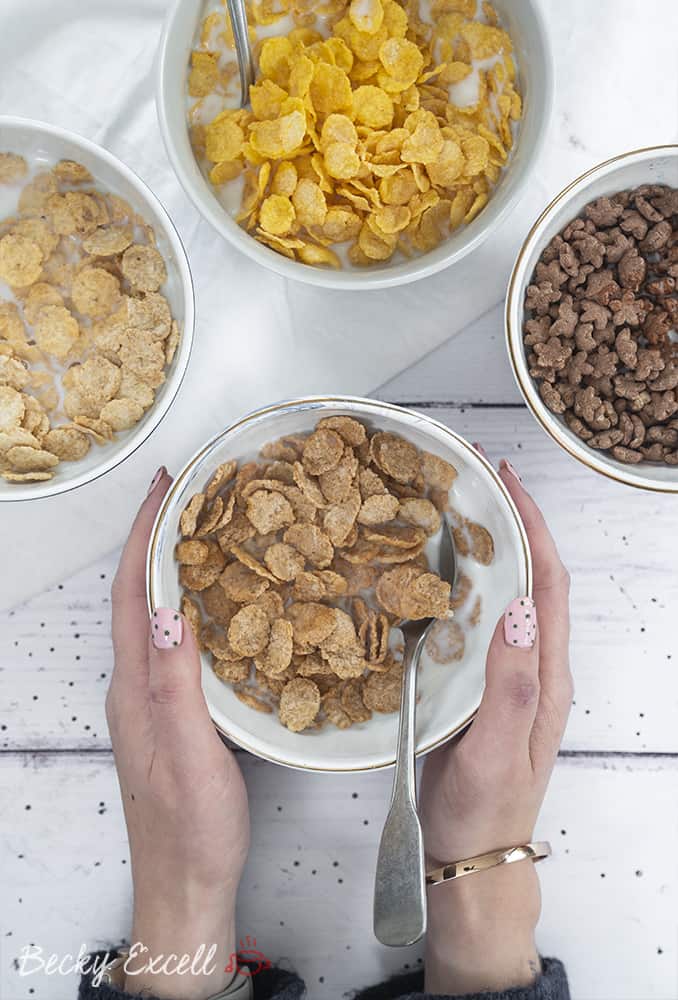 Thanks for reading all about the 5 gluten free cereal hacks to make your morning even better! How do you spice up your gluten free cereal in the morning? Any questions? Please do let me know by following me on Instagram and leaving me a comment!
Wanna know where you can pick up your FREEE by Doves Farm gluten free cereal and give some of these hacks a go? Here's where you can find them…
This is a sponsored post with FREEE by Doves Farm.
Thanks for reading,
Becky xxx