My gluten free spaghetti and meatless balls recipe is a fave in our house and you only need 6 ingredients to create it. It's also totally dairy free and vegan too.
Ok, but how on Earth do you make meatballs without meat? Well, my gluten free spaghetti and meatless balls recipe is about to show you exactly how!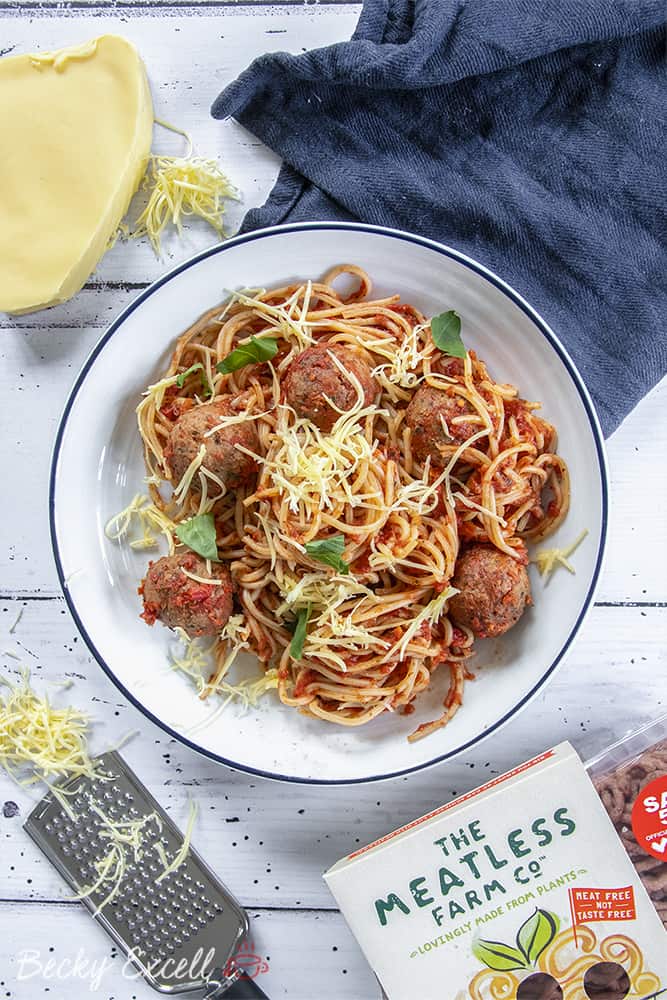 The answer to making meatballs without meat has fortunately already been answered by The Meatless Farm Co.'s meat-free mince.
It's made from plants (with lots of love and protein, I'm informed) and it's just what you need if you're trying to eat less meat during 2019.
It can be used in place of conventional mince in soooo many scenarios as it has an awesome texture, taste and it actually looks a lot like meat too!
So instead of ditching the meat entirely or swapping them for more veggies, you can still enjoy all your fave meals just as they are without feeling like anything is missing. After all, what's spaghetti and meatballs without the meatballs?
And hats off to The Meatless Farm Co. – their meat-free mince is perfect for rolling into meatballs. You don't even need egg to bind the mince together, making this 100% vegan and needing one less ingredient already.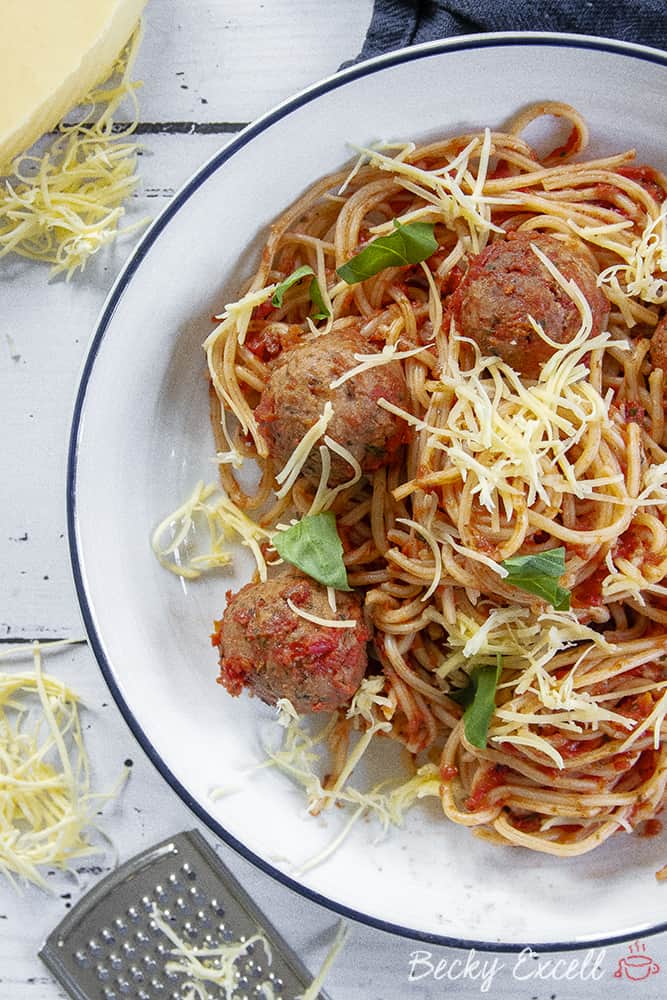 But yeah, you genuinely only need 6 simple ingredients to create this dish.
And when you consider that two of those ingredients are meat-free mince and spaghetti, that's pretty crazy, isn't it?
I'm always on a mission to prove that gluten free cooking/baking doesn't need to be complicated and call for a billion ingredients that you've never heard of. And there's certainly no exceptions during Veganuary either!
Apart from your mince, all of the other 5 ingredients are simple store-cupboard ingredients too. Now you know why this has been such a go-to meal in our house!
Oh and reenacting Lady and The Tramp is totally optional though…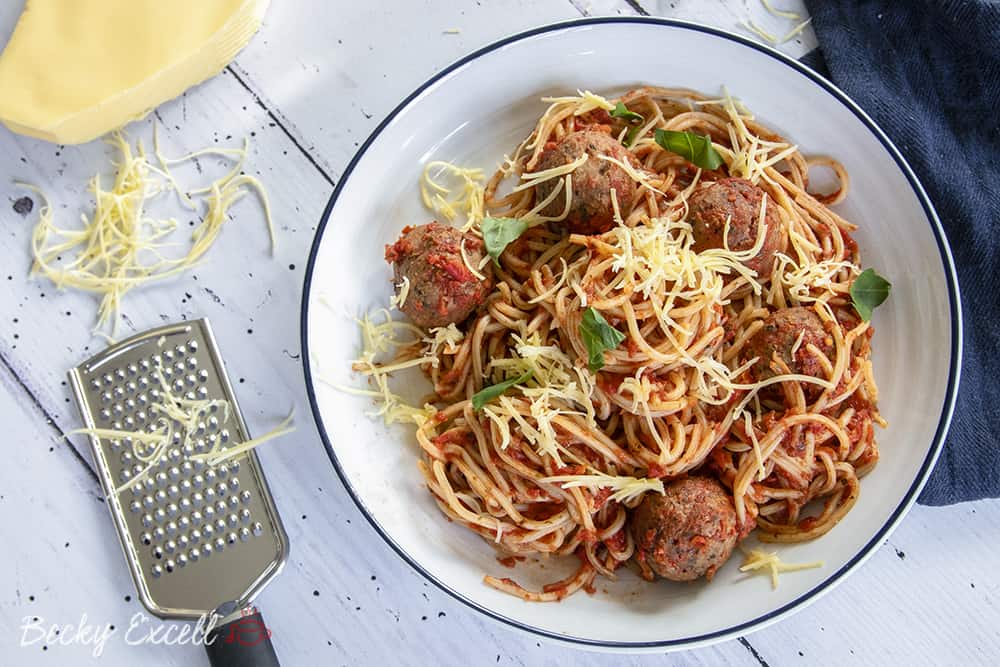 So whether you're a meat eater, vegan or anything in between, I promise that not only will this recipe be a doddle to make, but you'll absolutely love it too.
Ok, so here's my gluten free and vegan spaghetti and meatballs recipe…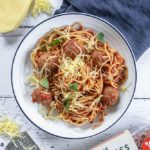 My Gluten Free Spaghetti and Meatless balls Recipe (dairy free, vegan)
My gluten free spaghetti and meatless balls recipe is so easy to make and you'd never know it was meat-free! It's dairy free and vegan too.
Ingredients
160

g

gluten free spaghetti
For the meatballs
1

pack

400g The Meatless Farm Meat-free Mince

1

tbsp

mixed herbs

1

tsp

garlic-infused olive oil

1

tsp

basil puree
For the pasta sauce
1

400g tin of finely chopped tomatoes

1

tsp

basil puree

1

tbsp

garlic-infused olive oil

1

tsp

mixed herbs
Optional
dairy free cheese

(to grate on top)

fresh basil leaves

(torn on top)

salt and pepper to taste
Instructions
Preheat the oven to 200c (fan).

In a big mixing bowl, add in your Meatless Farm meat-free mince, mixed herbs, garlic-infused olive oil and basil puree. Give it a good mix with a spatula or wooden spoon.

Roll the balls into a golf ball size and place onto a baking tray. Place in the oven for 10 minutes.

While your meatballs are in the oven, cook your gluten free spaghetti according to the instructions on the pack.

Grab a large frying pan and add in all the ingredients for your pasta sauce. Simmer until it's less watery and nice and thick.

Add in your gluten free spaghetti, and mix it all around in the sauce until well coated. Add your now cooked meatballs and mix around again.

Serve up with dairy free cheese and fresh basil leaves if you fancy. Enjoy!
Thanks for reading how to make my gluten free and vegan spaghetti and meatballs recipe! If you make it, I'd love to see how it turned out so don't forget to take a snap of your creation and tag me on Instagram!
Plus, I'm giving away a £50 supermarket voucher every month to my fave pic, so get baking!
Any questions about the recipe? Please do let me know by following me on Instagram and leaving me a comment!
Thanks for reading,
Becky xxx
The is a sponsored post with The Meatless Farm Co.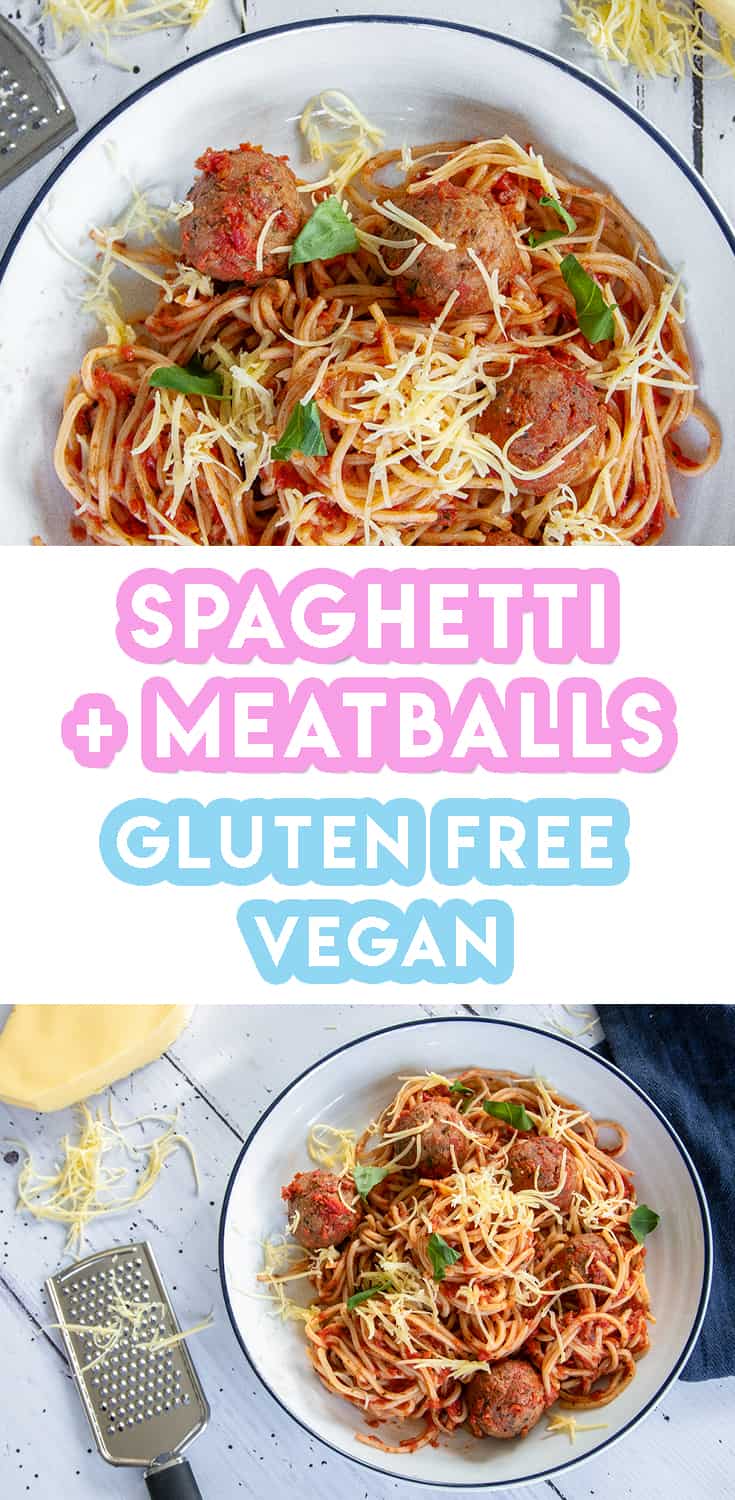 Comments