I have always been a massive Egg Custard Tart fan but haven't eaten one in a very long time. That was until the other day when I made my own Gluten Free Egg Custard Tarts!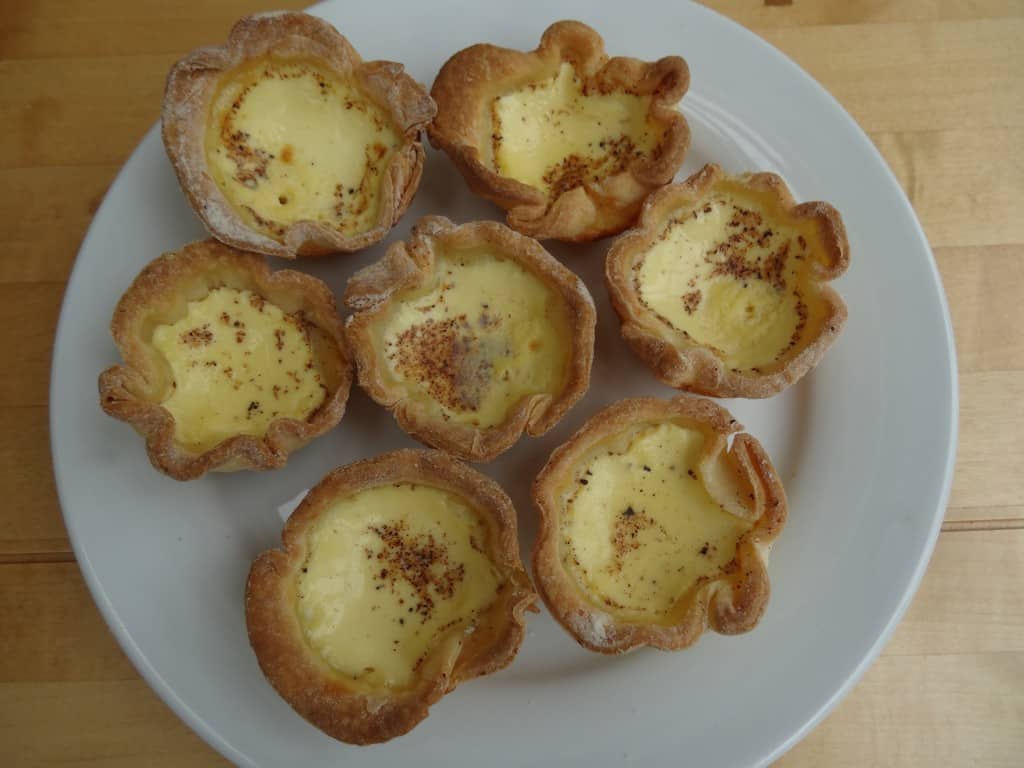 You might have recently seen that I put up a post, reviewing Silly Yak Gluten Free Pastry. Well, finding that pastry in my local Tesco was the very reason that I decided to make these Gluten Free Egg Custard Tarts. I am a poor pastry chef, & very rarely get the consistency right, especially now I have to make gluten free pastry! This Silly Yak pastry was so easy to use and I would highly recommend it if you find some in Tesco! (it's in the chilled pastry section!)
This recipe of course would work with any gluten free pastry you can make or find yourself. It is incredibly simple too. Once the pastry is ready in the tins, the filling is only made up of a few store cupboard ingredients. Egg yolk, sugar & Milk (oh & a little nutmeg for the tops). I am embarrassed to say that before a couple of days ago I had never made my own custard, but this was very straightforward.
My only slight error when making my tarts was forgetting to glaze the pastry with egg before putting them in the oven. Of course this doesn't matter but it makes the pastry look extra golden!
Anyway here is the recipe, enjoy!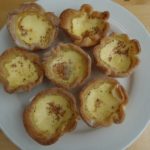 Gluten Free Egg Custard Tarts
For this recipe I decided to try out the Silly Yak Gluten Free Pastry. You could make your own pastry, or use a different brand of Gluten Free Ready Made Pastry if you like 🙂
Ingredients
1

Pack of Silly Yak Gluten Free Pastry

7

Egg Yolks

700

ml

Full Fat Milk

90

g

of Caster Sugar

you could reduce this a little if you want to

Whole Nutmegs

for grating on top

Extra Gluten Free Flour for rolling out your pastry
Instructions
Preheat your oven to 190C.

Lightly grease some individual muffin/cake tins.

Roll out your pastry on a lightly (gluten free) floured surface so that you can cut out around 12 discs. My cutter was 11cm across, a slightly smaller one wouldn't matter but 11cm was ideal.

Gently fit each of the discs into the moulds, make sure the pastry overlaps the top of the moulds a little.

To make the egg custard filling beat together 7 egg yolks with the caster sugar until its creamy and slightly paler in colour.

Warm the milk in a saucepan gently, but don't let it boil.

Pour the warm milk over the egg & sugar mix and stir thoroughly. There will likely be lots of bubbles on top.

Place the mixture into a jug so it is easier to pour.

Pour the custard into each of the pastry cases, you can fill them almost to the top if you like!

Grate nutmeg over the top of each tart.

You might also like to glaze the pastry with a little egg yolk to make it golden!

Carefully place the tarts in the oven for about 25 minutes. Make sure you don't overcook them, they will cook in their tins a little more once they are taken out!

Leave the egg custard tarts to cool for about 30 minutes before removing them from the tin. (Very gently ease them out!)

Enjoy! I guarantee they will taste amazing 🙂
Recipe Notes
A gluten free egg custard tart can easily be made dairy free too by either creating your own pastry without dairy... or by using a vegan & gluten free ready made pastry. I can recommend Voakes Free From who make Gluten Free & Vegan Pastry.
For the filling you will just need to use a high fat dairy free alternative to cows milk.
The Gluten Free Egg Custard Tarts emerged looking beautiful. There is nothing better than a homemade tart & I am really proud of my first attempt at making them. The egg custard filling had the exact consistency I was looking for. The grated nutmeg provided the perfect flavour to the custard too.
The Egg Custard Tart is something traditional that I used to enjoy getting from a local bakery & enjoying with the rest of the family. I am so glad that I can do that again now with this Gluten Free Egg Custard recipe. & trust me, even those who can eat gluten will love the gluten free pastry from Silly Yak. (or any other gluten free pastry you make or buy!)
Let me know if you get round to making some gluten free egg custard tarts. & let me know if there are any other pastry dishes you miss.. maybe I can try to recreate some more. Leave your comments below, or on Facebook/Twitter.
Thanks for reading,
Becky xxx
Comments