Have you heard of The FreeFrom Eating Out Awards? Well if you haven't you should of! The Awards are a great way to learn all about the best places to eat out on a Free From diet (Gluten Free, Dairy Free, Egg Free etc!) You might find some hidden gems you never knew existed!

The FreeFrom Eating Out Awards had it's first outing in 2014 after many successful years of the FreeFrom Food Awards. The FreeFrom Eating Out Awards 2015 is all about celebrating the very best Free From Food options when out & about.
In the past it was incredibly difficult for those needing to follow any sort of Free From diet to find suitable options at restaurants, cafes, hotels or even in schools. Whilst this might still be the case in some areas of the country, the improvements made over the last few years has been outstanding. Now, in 2015, we find restaurants & cafes that are 100% gluten free, chain restaurants that are accredited by Coeliac UK, plus fish & chip shops that cater for gluten intolerances, & other free from needs every day of the week!
In December 2014 new regulations were put in place making the food service industry have a legal responsibility to inform customers if any of their foods contain any of the 14 most common allergens. Many restaurants, cafes & other food service establishments are now coming to realise that being aware of the allergens can open up untapped, exciting and lucrative new business. The Free From market is a booming sector in the UK, with so much potential & promise for those willing to take the time to understand the importance of the regulations.
With so many establishments now doing this so well, The FreeFrom Eating Out Awards 2015 seems the perfect way of rewards the best for their hard work. The awards also have the ability to show those who still have work to do, the benefits of catering better for the Free From Food market.
The Category list has had to expand this year with so many amazing places deservedly needing recognition. Here is the Category list for The FreeFrom Eating Out Awards 2015 which opened on the 8th June & closes on the 28th August 2015. Anyone wishing to enter needs to fill out an entry form before the closing date on the awards website. Click here for the details.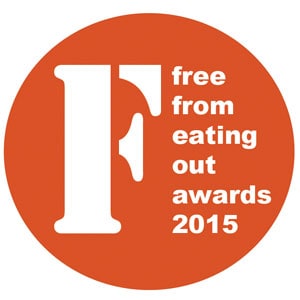 • Cafés and teashops
• Pubs and pub restaurants
• Independent restaurants and restaurant chains
• Hotels and guests houses
• Schools, colleges and universities
• Foods manufactured for food service
• Street food and takeaways
• Fish and chip shops
• Corporate hospitality and catering
I can already think of loads of different places that I think deserve an award in The FreeFrom Eating Out Awards 2015, can you?
It would be great if you have any ideas for any of the categories listed that you leave a comment below. I would love to hear of your favourite Free From hot spots. Who deserves recognition for providing delicious food in an environment that you love & trust?
Also why not let your favourite cafe/restaurant etc know about The Free From Eating Out Awards 2015… they might not even know about it! They do not have to be solely a Gluten Free Restaurant for instance, they just need to offer a certain amount of dishes & have great Free From knowledge! Click here for the entry rules.
If you want to have a look at the 2014 winners and runners up of The FreeFrom Eating Out Awards then click here, you might even find some places you haven't even tried!
I loved reading and researching all those shortlisted last year & eating at some of them too! It really is a great way to celebrate the positives of the Free From Eating Out industry. The positives are so often overlooked, (especially online) & we are often too quick to shout about establishments that have done a bad job. The FreeFrom Eating Out Awards is the perfect way to find out about whats great… whats positive… whats fabulous, in terms of eating out on any free from diet.
As I said, leave a comment below with your favourite free from places to eat out… whether that be for gluten free, wheat free, dairy free, nut free, soya free, egg free… etc or a combination of many!
Thanks for reading,
Becky xxx
Comments