Now I live incredibly close to a McDonalds (as most of the world does). Not a Gluten Free McDonalds though!
I often walk past & look back to my childhood, when I enjoyed some of their meals as a treat after swimming lessons! But living a Gluten Free diet in the UK means McDonalds is not an easy 'Fast Food' option. So I've decided to recreate one of the Big Daddy's of McDonalds… A Gluten Free Egg McMuffin. Homemade Gluten Free McDonalds tastes so much better!
I must admit I was never much of a McDonalds breakfast eater. I think I may have only had it a couple of times & that was many, many years ago, probably at an airport! But I know of many folk who do love a cheeky Egg McMuffin on a semi-regular basis… most of them don't get what they want with breakfast stopping at 10:30am. However with this tasty little number you can:
1. Get a McDonalds style Breakfast all day long
2. You can guarantee it is Gluten Free!
3. So… it's suitable for Coeliacs!
4. You can make it with whatever bacon you wish, whatever eggs you wish.. animal welfare folks!
5. You can choose any cheese.. So for the Dairy Free eaters amongst us, using a tasty slice Violife is perfect!
6. You can serve it with whatever you like, I grilled my hash browns, no frying thanks!
What made me crave the idea of making my own Homemade Gluten Free McDonalds Egg McMuffin was finding Genius Gluten Free English Muffins in my local Sainsbury's. I've never really eaten English Muffins, & the thought of being able to eat a Gluten Free McDonalds Style Egg McMuffin seemed a good reason to try a one out!
The Genius Gluten Free English Muffins (which are also Dairy Free) actually taste amazing. I've since used them to have a Gluten Free Bacon Muffin & one lightly toasted with some margarine. Both of these were delicious; however, nothing will ever beat my very own… Homemade Gluten Free McDonalds Egg McMuffin!
The recipe below gives you all the details of how I made mine. I used a poachette ring to make my egg perfectly round, this ensured it fit perfectly into the english muffin. If you haven't got one, they are really easy to find, I just bought mine in the supermarket on the day I had my craving! Another thing, I actually used 2 eggs. As you can see from the picture the egg was really thick, which was exactly how I wanted it; one egg would work fine too though! In terms of bacon, use whatever you fancy! I chose to use bacon medallions as they were fairly round and wide – perfect to fit in the muffin! I think turkey bacon would work really well too, if you are looking to go a little healthier! Finally, I decided to make my Gluten Free Egg McMuffin Dairy Free too! I did this by using Dairy Free Cheese. My cheese of choice was the delicious Violife. Violife do a range of different Dairy Free flavours, but for me, I had to choose the cheddar as it tastes amazing & it's the perfect colour!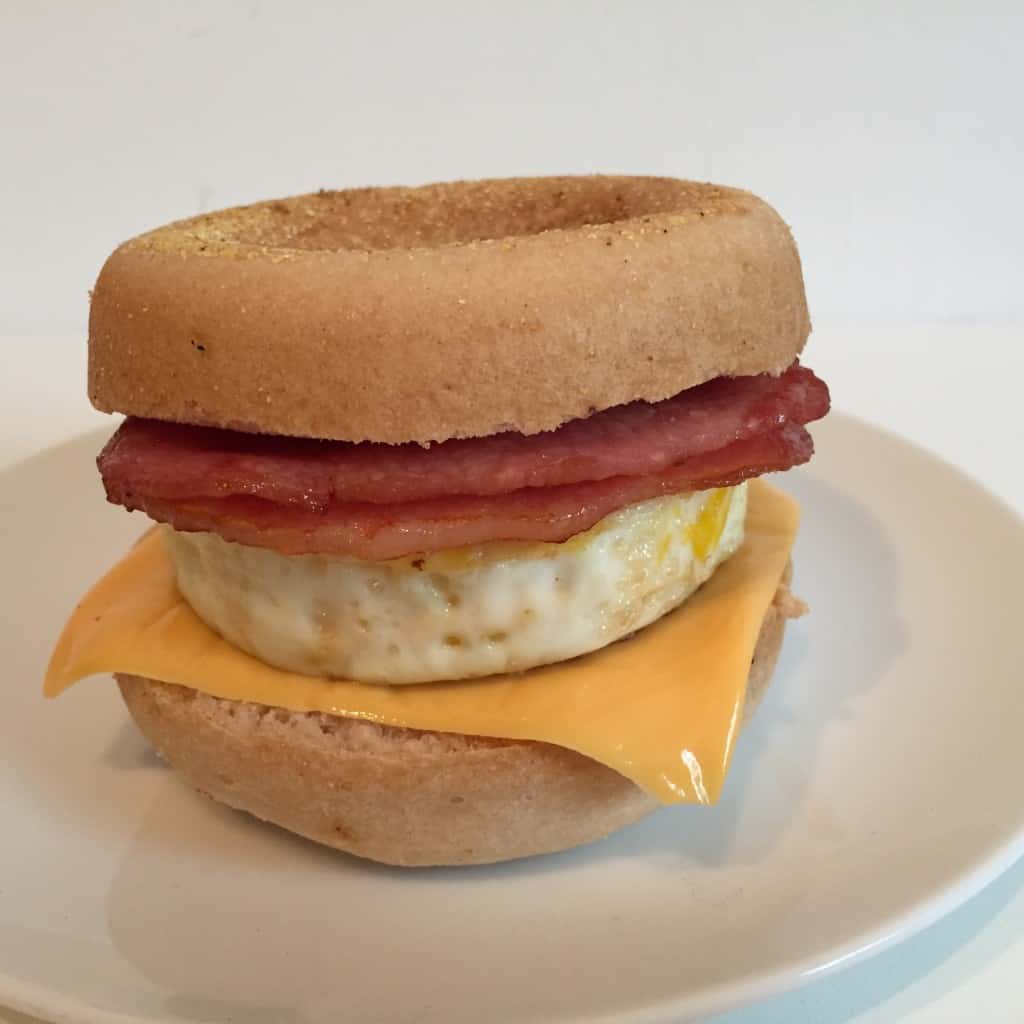 Well enough gluten free waffle… here's the recipe you've been waiting for! The Gluten Free McDonalds Egg McMuffin! I highly recommend using Genius Gluten Free English Muffins for this… I've been ensured by a Gluten eater that they taste incredibly similar and the texture is on point too. You can grab them in nearly all supermarkets across the UK in the Free From section. So if you haven't before, keep your eyes peeled. They are well worth it!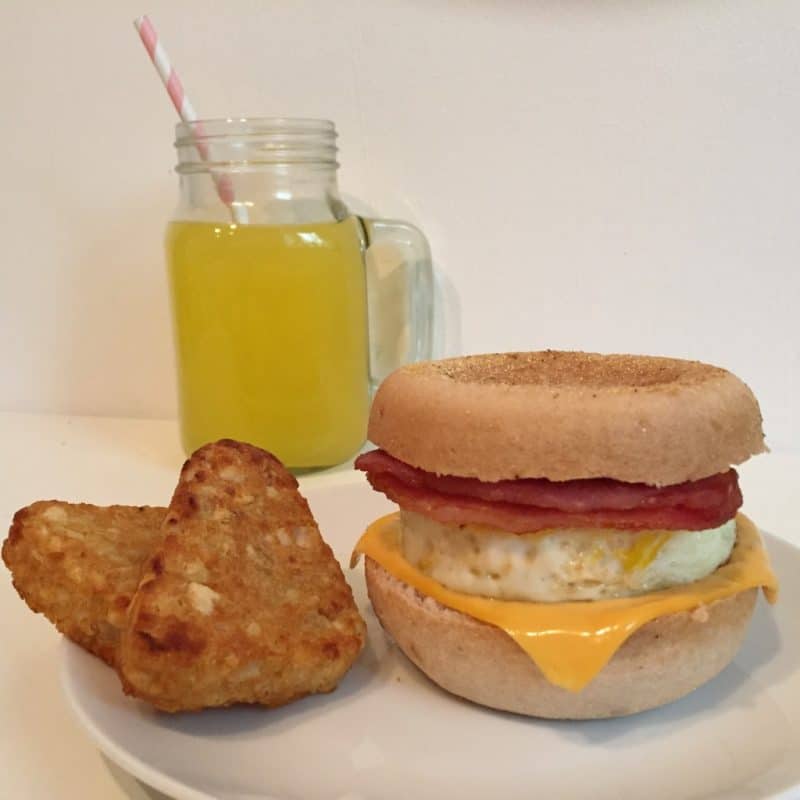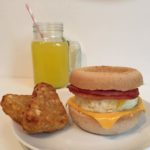 Gluten Free McDonalds Egg McMuffin
Ingredients
1

Gluten Free English Muffin

toasted (I recommend the Genius Gluten Free English Muffins)

1-2

Eggs

2 eggs works great for a really thick egg!

1

Slice

of Cheese

For Dairy Free, I recommend Violife Cheddar Slices

1-2

Bacon Medallions

I chose Medallions as they are a better shape & less fatty

Butter or Dairy Free Spread

optional if you like to butter your muffin!
Instructions
Turn your oven on to ensure you can keep everything warm as things might finish at different times!

Get your bacon medallions and grill them for a couple of minutes on each side (or however long you cook your bacon for!) & Place in the oven to keep warm.

Heat a small amount of oil in a frying pan (I used a spray as you really do not need a lot)

Once the pan is hot place your poachette ring in the centre of the pan & crack your egg(s) into it.

Break the yolk of the egg(s)

To ensure a fluffy egg, add a small amount of water to the outside of the ring mould.

Cover the pan with a lid to allow the egg to steam a little, this will ensure it cooks on both the top and the bottom. (I didn't have a lid for my frying pan, instead I used a saucepan lid that rested on the poachette ring, this worked fine)

Like cooking any eggs this won't take very long, slightly longer if you are using two eggs, but not much.

Once the egg is cooked take it off the heat and carefully remove the poachette ring, you might need a knife to lightly ease it from the sides of the ring, although mine was non stick.

Get your toasted muffin and lightly butter it.

Place a slice of your preferred cheese on the bottom of the muffin.

Place your 'egg patty' onto the cheese.

Then place your bacon on top of that!

Finish it off by placing the other half of your toasted gluten free english muffin on top.

Serve with some grilled hash browns (you could have cooked these when you grilled your bacon)

Enjoy!
Notes
Poachette Rings are the best way to make sure the egg comes out McMuffin style!
I like to serve mine with a couple of hash browns, grilled in the oven & a large glass of fresh orange juice.
Have any of you guys tried to make your own Gluten Free Egg McMuffin? Let me know by leaving a comment below, or on
Facebook
/
Twitter
. Also if there are any other Gluten Free McDonalds meals you would like me to attempt to make… you can also leave a comment below or on social media!
I am now incredibly hungry!
Thanks for reading,
Becky xxx