Fried Rice is such a simple meal & can be created so easily using store cupboard items and whatever you have in your fridge! But what's better than Fried Rice? … Gluten Free Fried Rice!
One of our simple go to dishes that tastes great and we can often make using items we have in the cupboard is our gluten free fried rice dish. Mark and I have renamed this dish 'Chicken & Prawn Fan Dabby'. We chose this name after referring to how wonderful our meal was as 'Fan Dabby Dozy'! Ever since that day it has been known as Chicken & Prawn Fan Dabby in our house!
We love eating rice dishes and regularly make dishes where rice is the accompaniment. Often we end up cooking too much rice and therefore have some left over. This is what initially made us turn to gluten free fried rice dishes as cold cooked rice works perfectly in this dish.
So initially this dish was created to use up leftovers but since then we have enjoyed it so much we often cook fresh rice and then just leave it to cool a little before frying it up.
We cook our rice in the microwave which works very similar to a rice cooker by steaming the rice. 1 cup of rice to 2 cups of boiling water cooked on a the the second lowest heat setting on our microwave for around 27 minutes. You can of course cook your rice however you are comfortable doing it.
Alterations can definitely be made to this gluten free fried rice dish as well. For example just prawns could be used instead of chicken & prawns or just chicken! .. or any meat/veg you enjoy stir fried. Another tip if you are using prawns is to butterfly them… they taste even better!
The sauce that we currently use is something we found in our local Chinese supermarket, Wing Yip in Manchester. The sauce is called Nona SOS Fried Rice Sauce – we loved the simplicity of the name and the fact compared to many sauces we have used in the past the sugar content in much lower. It is by no means super low in sugar but it is often tricky to find oriental sauces that have a low sugar content at all. We have only started using the Nona SOS Fried Rice Sauce recently but prior to this used some more easily available supermarket based sauces. For example we have always liked the taste of the Blue Dragon Stir Fry Oyster and Spring Onion Sauce or even the Blue Dragon Stir Fry Sweet Chilli and Garlic Sauce for a slightly different but equally delicious taste!
You could add different veg to what we pick. Mark and I do not eat onions or peppers in our dishes but they would work great if your body allows you to eat them (my IBS doesn't let me sadly!).
Right I will give you the recipe for our Gluten Free Fried Rice below before I waffle on too much…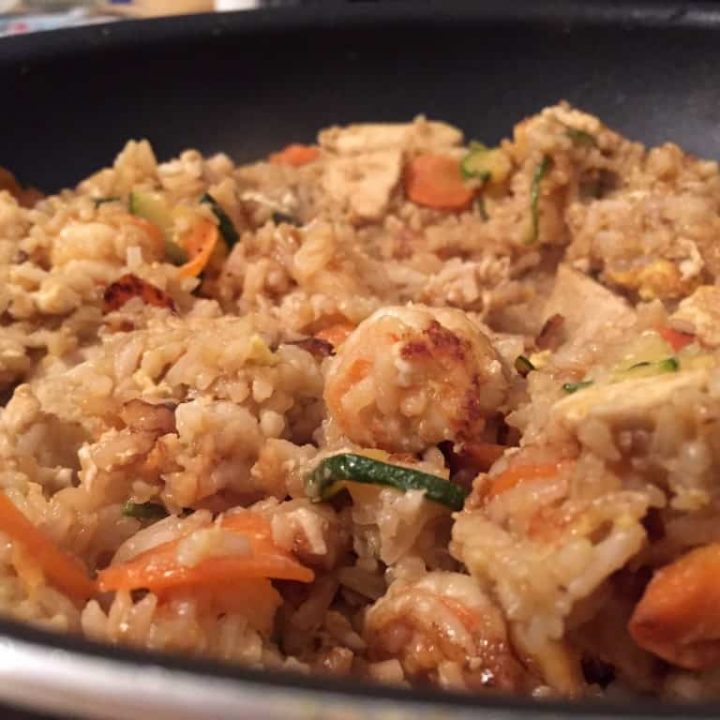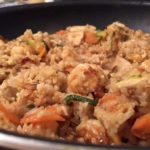 Gluten Free Fried Rice with Chicken & King Prawns
Ingredients
- Oil for frying

We go with rapeseed oil

- Tablespoon of Garlic Paste

or crush a clove of garlic

- Tablespoon of Ginger Paste

or grate a small amount of fresh ginger

- 1 Large Carrot chopped very thinly

- Half a Courgette sliced

- 2 Chicken Breasts

you don't need to have this much or you can have more if you wish.. however much chicken you think you can eat!

- Raw Prawns

Butterflied (Optional!)

- 2 Eggs

- Cooked Rice enough for 2

beneficial if it is cold but it isn't the end of the world if it isn't completely cold(we use Thai coconut rice but any would work really)

- A few teaspoons of gluten free soy sauce

Add to taste

- A few table spoons

but do it to taste Nona SOS Fried Rice Sauce or another fried rice sauce such as the Blue Dragon Stir Fry Oyster and Spring Onion Sauce Packet (You can use the whole packet if you like 120g packet).
Instructions
Heat some oil in a wok.

Add your garlic and ginger pastes and allow them to cook for about a minute before adding your carrots. (Make sure your carrots are chopped thinly)

Gently fry your carrots with the garlic and ginger on a medium heat until slightly softened.. probably about 5 minutes. (We like our carrots quite soft but if you don't mind them a bit firmer you can fry them for less)

Chop the chicken into pieces and add it to the wok, half way through add the courgettes to the wok. (Fry until the chicken is almost cooked.)

Add the raw prawns if you are using them.. make sure they turn pink & are cooked... it won't take long!

Add in the cold rice, break it up and spread it out. (Make sure the wok is pretty hot at this stage)

Make a hole in the centre of the wok where the eggs can be cracked in and crack both eggs!

Don't touch the wok once the eggs have been put in.Leave it so they can fry.

Once eggs are cooked fairly well on one side try and turn over everything in the wok so that the eggs and rice etc can fry on the other side too.. leave it again until the egg fries. (The key is to be patient)(It is nice to see some browning on the rice and chicken too)

Once you have done this add the soy sauce and the fried rice/stir fry sauce and mix it around. Break the cooked eggs into pieces roughly with you cooking utensil if you can so everyone gets some. Cook through on a high heat.

Make sure the dish is all nicely coated and taste to see how the flavours are.

If you are happy with the taste, remove from the heat and serve up... enjoy!

You could easily have some thai/prawn crackers on the side with a little sweet chilli dipping sauce too.
I hope you will get the chance to try this, it is seriously epic and very delicious.
Thanks for reading,