A tasty sponge cake is perfect for any occasion, it is so versatile. What makes it even more perfect is when everyone can eat it.. heres my Blueberry Gluten Free Sponge!
I made this Blueberry Gluten Free Sponge Cake as a birthday cake but it is the perfect cake for Mother's Day, Father's Day, Easter or just a day with no occasion at all. Love cake!
So it was Mark's birthday yesterday and seeing as there are only a few amazing places where Mark can enjoy a cake, (due to his lactose intolerance) and even fewer where me and him can together enjoy a cake (gluten free and dairy free combined is so rare at cake shops!); I decided to get up early and bake a gluten free, dairy free birthday cake!
When I headed downstairs I wasn't exactly sure what I was going to make, some sort of sponge but that was as far as it went. Upon looking in the fridge I noticed we have a large punnet of fresh blueberries, one of Mark's favourite fruit, and I decided they had to be involved in the celebrations!
I have never been the greatest fan of using gluten free flour to bake cakes with. If the cake is for an occasion in the past I have used regular flour and just opted out of eating it so that others can enjoy it. But not anymore; if I bake a cake… I want to eat cake too!
So basically to make the cake edible for me I opted for using Dove's Gluten Free Self Raising Flour and some Xanthan Gum; and to make it edible for Mark I used Pure Soya Spread and a small amount of Almond Milk.
I'll describe the gluten free sponge cake briefly before I put down the recipe… Essentially it was a classic all in one vanilla gluten free sponge cake which I then added fresh blueberries to before baking. I sandwiched the two layers together with a soya based buttercream and a thick helping of blueberry jam. The fresh blueberries stick out and look very attractive on top of the gluten free sponge cake so I then just dusted it with icing sugar.
I really was surprised at how tasty the gluten free sponge cake looked and smelt upon coming out of the oven. The cake had a lovely golden colour with swirls of purple oozing out of the visible blueberries. The use of the Xanthan Gum clearly did its job as the cake was incredibly sponge like and had no chance of crumbling as soon as it is touched.
The gluten free sponge cake was light, airy and flavoursome, and upon cutting a slice the fresh blueberries were visible throughout each piece. Using soya spread instead of butter in the cake really didn't make any noticeable difference in my opinion and the few drops of almond milk I added for extra moisture worked perfectly instead of regular cows milk.
The buttercream was possibly better and tastier, in my opinion, from using the soya spread than it usually is. It came together just as easily and was a delight to liberally spread. I added a few drops of vanilla to the butter cream and the flavour went really well with the blueberry jam. I must say, if you haven't ever had blueberry jam before, try it… it's a great change from standard raspberry or strawberry I think!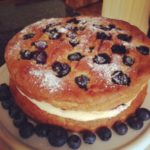 Blueberry Gluten Free Sponge Cake (Dairy Free)
Ingredients
6

oz

Doves Gluten Free Self Raising Flour

6

oz

Caster sugar

6

oz

Dairy Free Margarine

I used Pure Soya Spread, but any will do!

3

Large Eggs

Few drops of Vanilla Extract

2

tbsp

of Almond Milk

if deemed necessary

1 1/2

tsp

Baking Powder

1/4

tsp

Xantham Gum

Fresh Blueberries

However many you wish as a guide I used about 150g

3

oz

Dairy Free Margarine

6

oz

Icing Sugar

Few drops of Vanilla Extract

Blueberry Jam
Instructions
Heat the oven to 180 degrees celsius and thoroughly grease your baking tins.

In a mixing bowl add the flour, sugar, dairy free margarine, eggs, vanilla extract, baking powder and xantham gum.

Using an electric whisk mix them all together until combined and light. (I found that by using the xantham gum, the mixture came together a lot more and thus sticking to the whisk quite a bit, don't worry though the cake won't crumble later as a result!)

Add a little almond milk to give a little extra liquid to the mixture and continue to mix till combined.

Evenly pour/spoon the cake mix into the greased tins and spread so its fairly level.

Lightly cover the fresh blueberries with a dusting of flour so that they don't sink in the cake, and then as randomly or evenly as you like place the blueberries into the cake mix, gently pushing them in.

Place the cake tins in the centre of the preheated oven for about 25 minutes, the cakes should come out looking golden and risen.

After about a minute carefully turn the cakes out onto a cooling rack and leave to completely cool.

In the mean time, make the dairy free butter cream! Cream the dairy free margarine in a glass bowl.

Gradually add the icing sugar and drops of vanilla until all has been added.

Once the cakes are cool turn them over onto the plate/board/dome you wish to serve the cake from.

On the bottom layer liberally spread the butter cream and on the top layer liberally spread some blueberry jam.

Sandwich the two together and dust the top with a small amount of icing sugar.

Slice and enjoy ☺
I was really pleased with the result seeing as I had never made a gluten free sponge cake exactly like this before. I hope if you give it a try you are equally as taken by it. Please feel free to give me any tips as to how I could improve the gluten free sponge cake or if you have any of your own recipes – I would love to try!
Thanks for reading,
Happy Birthday Mark!
Love Becky xxx
Comments