Honey mustard chicken traybake recipe – a super lazy all-in-one meal that you can make in just one roasting tray. Nobody would ever know its gluten-free and Coeliac-friendly!
Honey mustard chicken traybake recipe, anyone? If you're looking for an easy-peasy, lazy dinner that requires no more prep than chopping veg, then this is the recipe for you!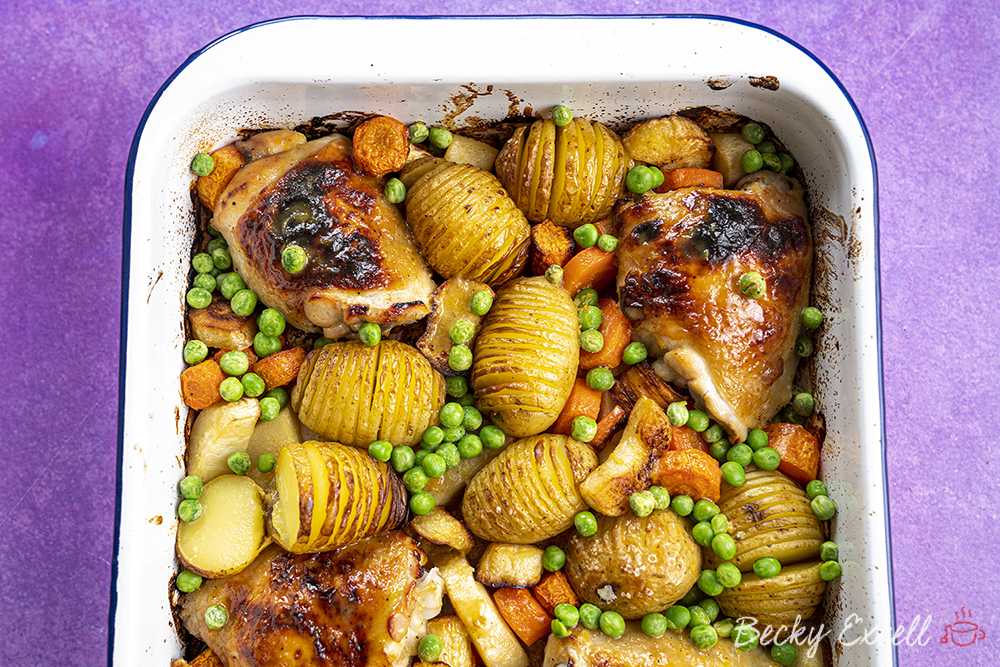 Ever feel like you don't want to cook dinner? Yes, I know that feeling!
When you're gluten-free, it's often not as simple as phoning for a takeaway or reaching for a ready meal. Not only is choice limited when it comes to both of the above… but sometimes there's just no where/nothing that's safe to eat!
So instead, simply chop up a bit of veg, coat some thicken thighs and whack it all into a roasting dish.
Then, all that's left to do is put it in the oven and put your feet up! Here's all the super simple ingredients you'll need to make it possible:
Honey mustard chicken traybake recipe: What you'll need…
Gluten-free dijon mustard: Not all mustard is gluten-free as they sometimes like to thicken it with wheat flour – so ensure that yours is first!
Garlic-infused oil: An instant injection of wonderful garlic flavour – no chopping or pre-frying of fresh garlic required. And if your garlic oil doesn't have any bits of actual garlic floating in it, then it's low FODMAP too.
Honey: The perfect touch of sweetness to balance out that fierce mustard flavour. Maple syrup also works well too.
Lemons: You'll need lemons for the zest and juice to ensure you get that vibrant, zesty lemon flavour.
Salt and pepper: These flavour enhancers make more of a difference that you think, so please don't skip adding these – they're the fighters of bland flavour!
Chicken thighs: Skin-on and bone-in chicken thighs work best here as they cook at the exact same speed as the rest of your veg. Chicken breast would be way too dry by the time your veg is finally cooked!
Baby potatoes: I like to hasselback mine, giving them a wonderful crispy finish. If you don't have baby potatoes however, you could always just use large potatoes chopped into 1in chunks.
Carrots and Parsnips: I chose this veg not only because I love them, but also because they all cook at the same speed!
Frozen peas: This rounds off the entire meal for me, giving you a nice mix of veg and colour.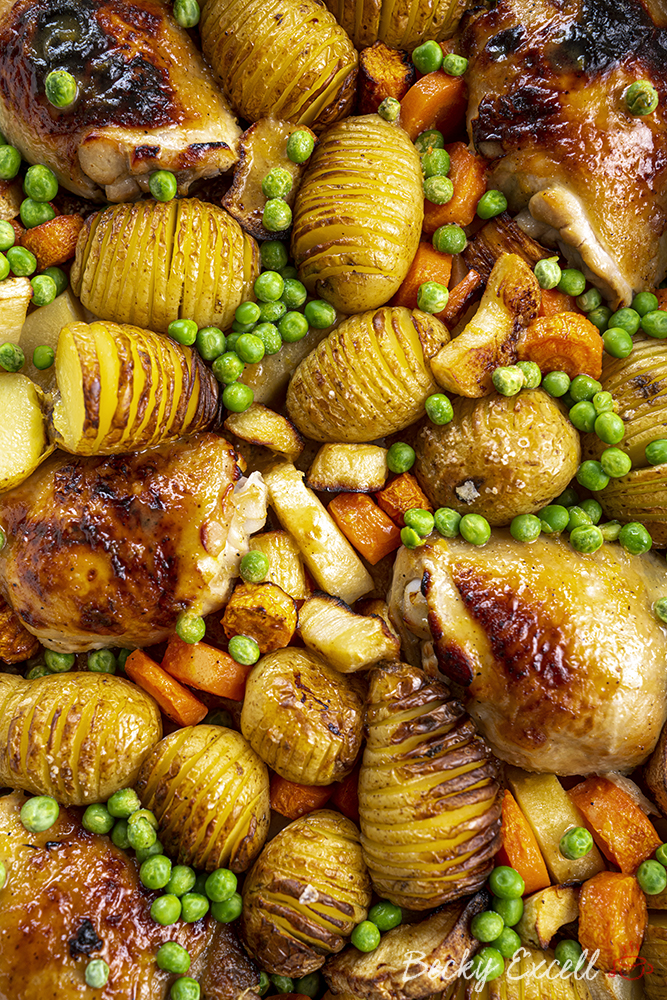 So, what does it taste like? Like the ultimate alternative to a traditional roast dinner!
The chicken is perfectly roasted, with crispy skin and lots of zingy lemon, punchy mustard and a subtle garlic flavour.
The hasselback potatoes are wonderfully crisp on the outside, yet soft in the middle and the carrots and veg absorb all the lovely juices from the chicken. All together, it's a hearty warming meal that everyone would expect took a lot of effort!
Here's a few frequently asked questions before you get started:
Honey mustard chicken traybake recipe: Frequently Asked Questions
Can I make this recipe gluten-free? Is it suitable for Coeliacs?
It is gluten-free, though nobody would know just by tasting it – trust me!
Bear in mind that minimising cross-contamination is hugely important if you're Coeliac or making this for someone who is. Here's some tips from Coeliac UK on minimising the risk of cross contamination.
Also, make sure that all ingredients used don't have any gluten-containing ingredients. Then make sure that they also don't have a 'may contain' warning for gluten, wheat, rye, barley, oats (which aren't gf), spelt and khorasan wheat (aka Kamut).
Here's some more info from Coeliac UK on identifying safe gluten-free products.
Can I make your honey mustard chicken traybake recipe dairy-free?
It is dairy-free!
Can I make your honey mustard chicken traybake recipe vegan?
There isn't a simple substitute to make this veggie/vegan-friendly, however I'd instead suggest omitting the chicken and continuing with the recipe as normal and serving with gluten-free, veggie/vegan sausages.
Is this recipe low FODMAP?
It can be! Here's the swaps you'd need to make:
Ensure your garlic-infused oil doesn't have any actual bits of garlic floating in it (the one in Tesco is safe, but sadly the one in Aldi is not, for example)
Serve no more than 15g of frozen peas per person
Use maple syrup instead of honey
Use lactose-free cream cheese or Greek yoghurt instead of sour cream
Use the green parts of spring onion only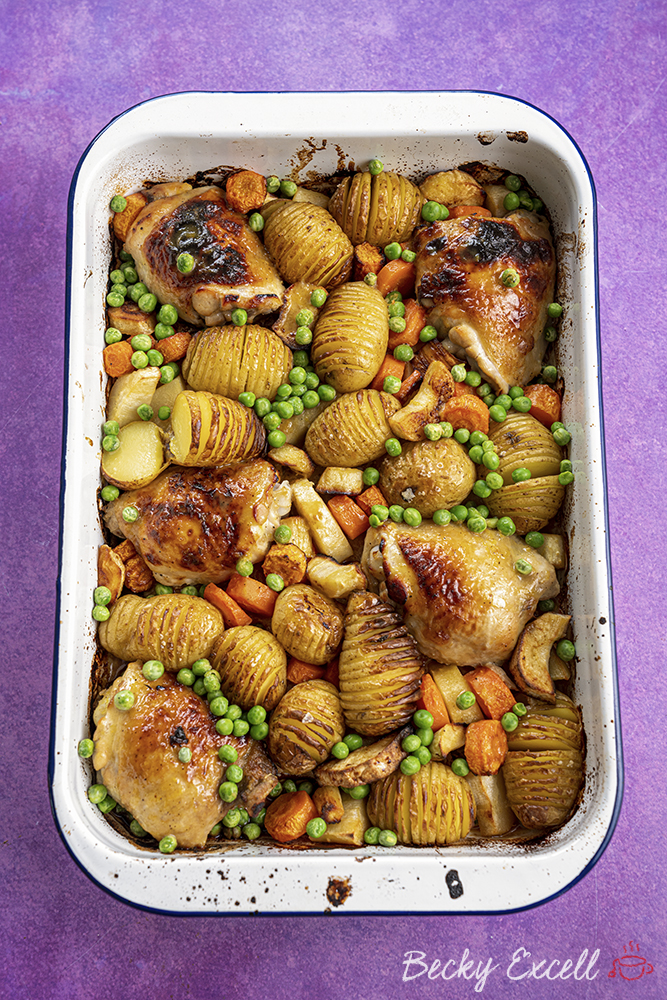 I've made it – what do I serve it with?
A little gluten-free gravy works wonders, though I find ketchup will more than suffice. A few gluten-free Yorkshire puddings never go amiss if you're asking too!
Can I swap up the veg?
Of course! As this is in the oven for a little longer than usual, any sort of 'roasting veg' works well – such as butternut squash, sweet potato or chunky courgette.
Just ensure you can poke a fork through them to ensure they're done before serving!
How can I make this healthier?
If you want to make it even healthier you can always:
Use a low calorie garlic-flavoured cooking spray instead of garlic oil
Use skinless, boneless chicken thighs instead of skin-on, bone-in chicken thighs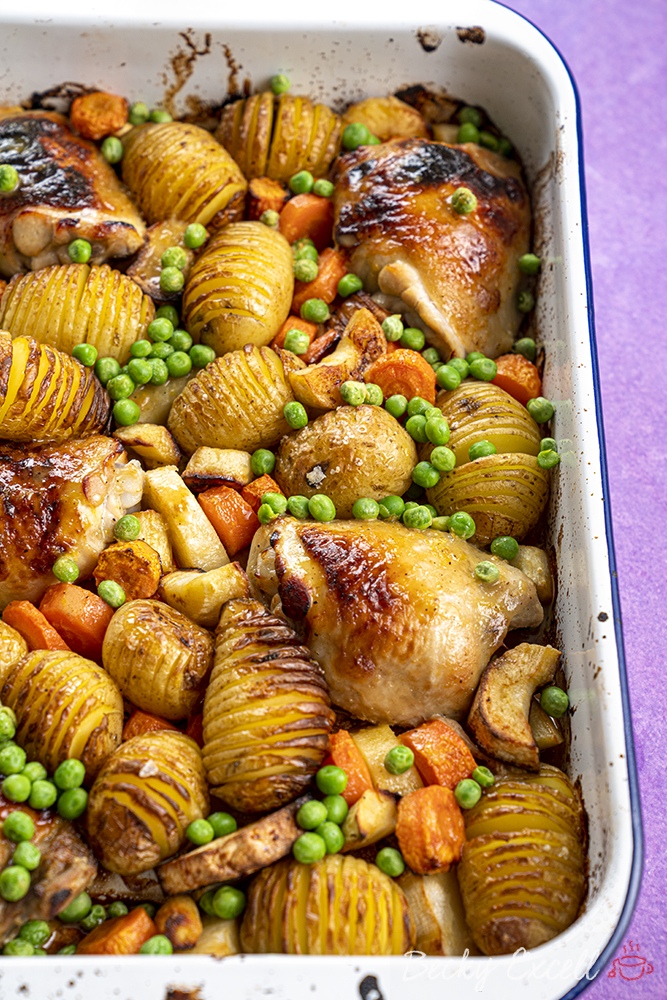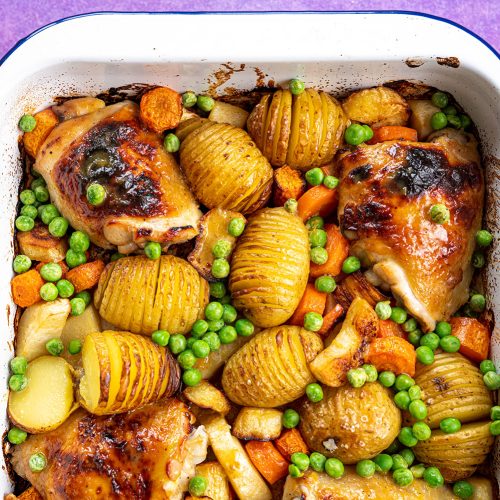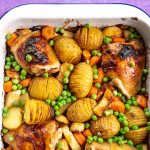 Honey Mustard Chicken Traybake Recipe
Honey mustard chicken traybake recipe – an easy one tray recipe that serves 4 people. Nobody would ever know it's gluten-free and Coeliac-friendly!
Ingredients
For the marinade:
2

tbsp

dijon mustard

(ensure gluten-free)

3

tbsp

garlic-infused oil

2

tbsp

honey

zest and juice of 2 lemons

salt and pepper
For the rest:
1

kg

chicken thighs

skin-on, bone-in

1

kg

baby potatoes

3-4

carrots

3-4

parsnips

100

g

frozen peas
Instructions
Preheat the oven to 200C (fan).

In a large bowl mix together the mustard, garlic oil, honey, lemon zest, lemon juice, salt and pepper.

Add in the chicken thighs – mix them into the marinade. Allow to sit whilst you prepare everything else. This could be for 15 minutes or could be as long as you want, even overnight.

Hasselback your potatoes – place your potatoes onto a wooden spoon and use a sharp knife to cut slits, the spoon means you won't go all the way through.

Peel and chop the carrots and parsnips into 1cm thick chunks; place them into a bowl with the potatoes and drizzle with some garlic oil. Mix them to coat.

In a large roasting tin, place the chicken and dot your veggies in the gaps. Place into the oven for about 35-40 minutes until the chicken is starting to go golden and the veg is almost cooked.

Remove from the oven. If there's excessive liquid in the bottom of your pan, carefully drain it before continuing. Next, sprinkle on the frozen peas and drizzle with any leftover marinade left in the bowl. Cover with foil and cook for a further 10 minutes.

Check everything is cooked and serve it up straight away or with gluten-free gravy.
Thanks for reading all about my honey mustard chicken traybake recipe! If you make it, I'd love to see how it turned out so don't forget to take a snap of your creations and tag me on Instagram!
Any questions about the recipe? Please do let me know by following me on Instagram and leaving me a comment on a recent photo!
Thanks for reading,
Becky xxx
Don't forget to pin this for later!