Puff pastry Mini Egg Plait recipe – an easy 4-ingredient Easter treat that's dangerously easy to make in less than 30 minutes. Nobody would ever know it's also gluten-free, promise!
Puff pastry Mini Egg plait recipe, anyone? This beauty can be made in less than 30 minutes using simple ingredients that are easily accessible in supermarkets – I'm just here to tell you how to throw them together!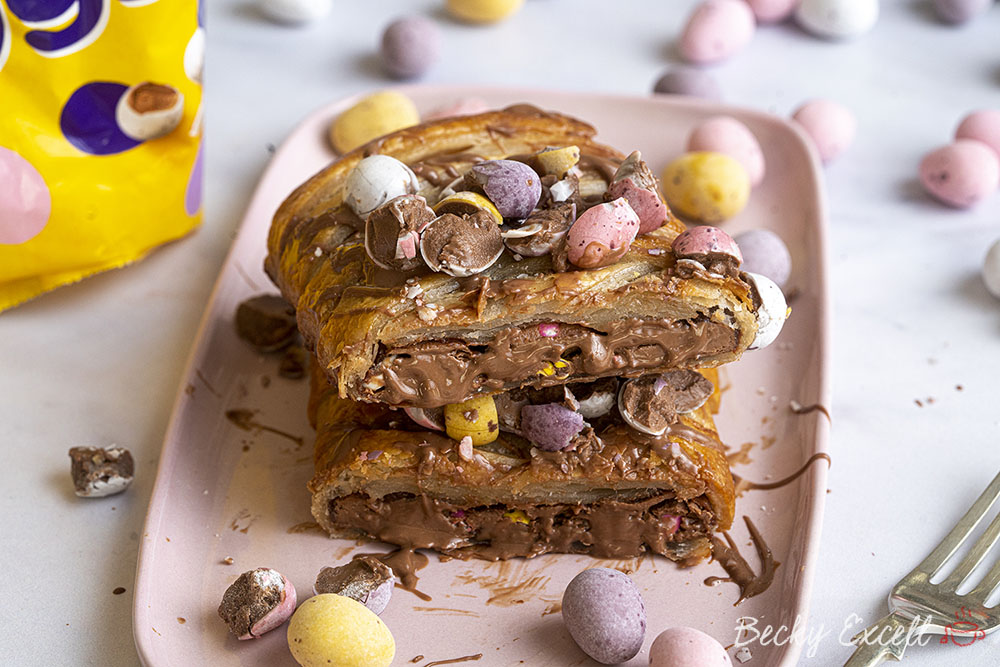 Yep, I'm back taking Mini Eggs to places you couldn't have ever imagined!
This time, it's to the land of ready-made puff pastry, which automatically means so much of the hard work has been done for you already. And if you follow this recipe, you'll get the best out of it too!
This is one of those recipes that's so simple that it doesn't even feel like baking – which is a real luxury when you're gluten-free and usually have to make everything from scratch.
So enjoy this little 'baking' hack that can be thrown together in next to no time. Here's what you'll need:
Puff pastry Mini Egg plait recipe: What you'll need…
Gluten-free puff pastry: I used gluten-free Jus-Rol pastry for this recipe which you can find in chilled free from sections in Tesco, Waitrose and Sainsburys.
Mini Egg chocolate bar: This special bar has teeny-tiny Mini eggs in it, making it perfect for this recipe. You'll find it down the seasonal Easter aisle in supermarkets, though any 110g bar of chocolate will do (as long as it's gluten-free!).
Egg: This is just for egg-washing the pastry, so a small, medium or large egg will do here.
Mini Eggs: Yes, they're gluten-free here in the UK! You'll find them down the seasonal Easter aisle in supermarkets.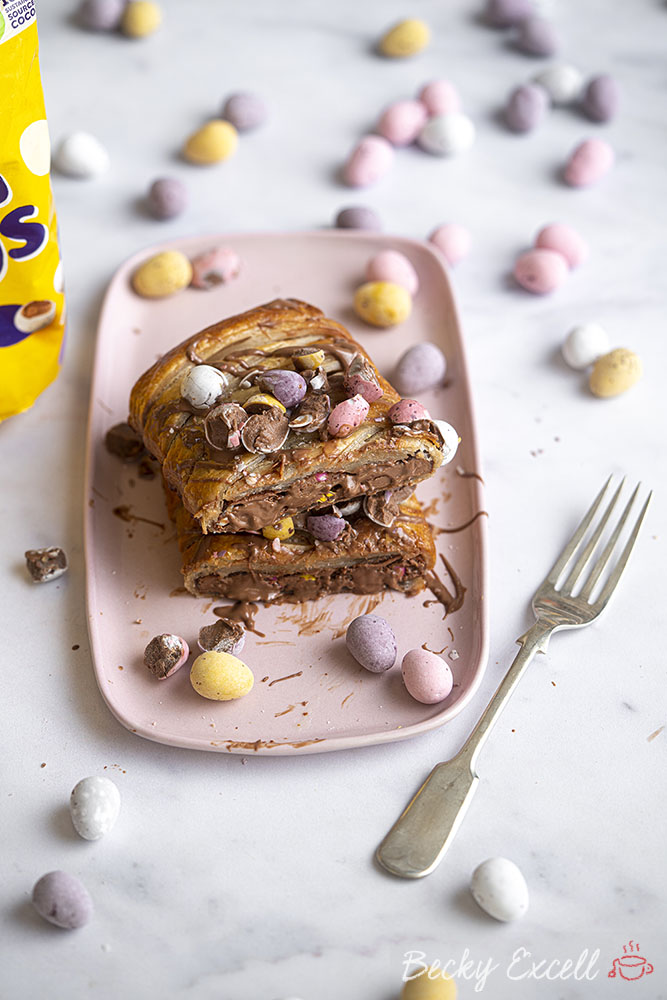 So, what does it taste like? This is an indulgent treat for certain! The middle is oozing with gooey, melted Mini Egg milk chocolate and all those little colourful, crunchy bits hiding inside.
All of that is wrapped in golden puff pastry with a lovely crisp exterior and soft layers concealed beneath. It's then finished with proper Mini Eggs and a drizzling of milk chocolate, if you fancy.
Each bite is an explosion of milk chocolate with the pastry bringing all those Danish pastry and croissant vibes – especially if you follow the baking instructions!
Here's a few frequently asked questions before we get started…
Puff pastry Mini Egg plait recipe: Frequently Asked Questions
Can I make this recipe gluten-free? Is it suitable for Coeliacs?
It is gluten-free, though nobody would know just by tasting it – trust me!
Bear in mind that minimising cross-contamination is hugely important if you're Coeliac or making this for someone who is. Here's some tips from Coeliac UK on minimising the risk of cross contamination.
Also, make sure that all ingredients or products used don't have any gluten-containing ingredients. Then make sure that they also don't have a 'may contain' warning for gluten, wheat, rye, barley, oats (which aren't gf), spelt and khorasan wheat (aka Kamut).
Here's some more info from Coeliac UK on identifying safe gluten-free products. Don't forget to check my gluten-free guide to Easter eggs too to ensure you select one that's safe.
Can I make your puff pastry Mini Egg plait recipe dairy-free?
Since JusRol gluten-free pastry is also vegan and dairy-free, you can certainly make a few swaps to make it happen. Though it might differ from its original 'Mini Egg' essence, it's still possible if you're determined and find the right products.
Instead of using a Mini Egg chocolate bar, use: a dairy-free chocolate bar
Instead of using Mini Eggs, use: dairy-free mini eggs or any other dairy-free Easter chocolate
If using chocolate to drizzle on top, use: any dairy-free chocolate, melted.
Can I make your Easter egg cheesecake recipe vegan?
Follow the steps above to make this dairy-free and all you have to do is brush the pastry with a sweetened dairy-free milk instead of using the egg.
Is this recipe low FODMAP?
Unfortunately, as this recipe relies on products that are high in lactose, this isn't an easy one to make low FODMAP. It's definitely possible if you can find the right products, so let me know if you'd like me to make a low FODMAP version!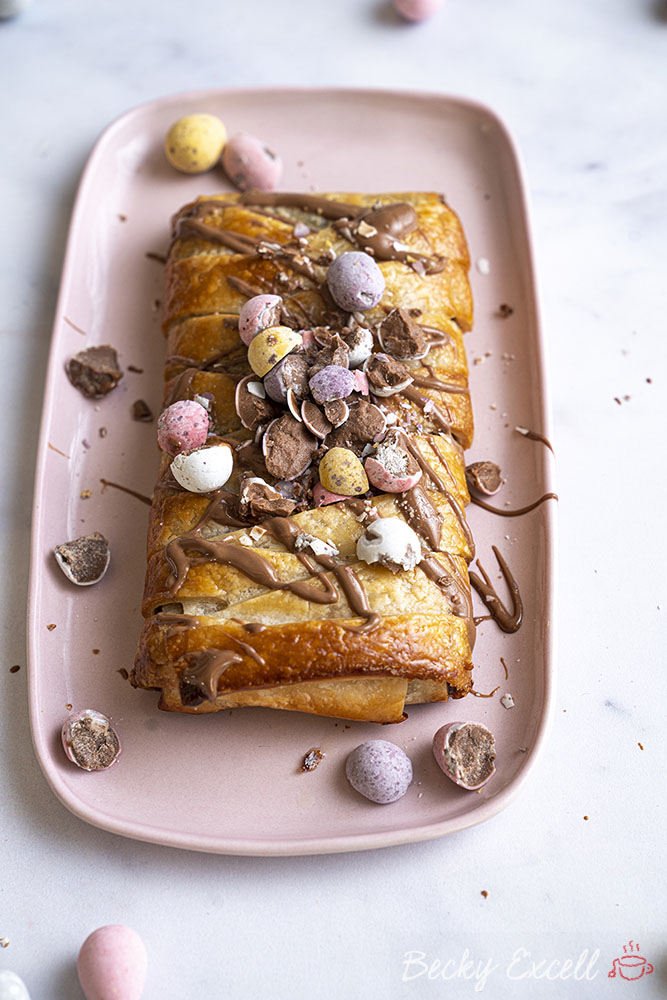 Where can I buy gluten-free Jus-Rol puff pastry?
You can buy it in Tesco, Waitrose and Sainsburys in the chilled free from sections.
Are Mini Eggs and Mini Egg chocolate bars gluten-free?
Yes, they are in the UK! They don't have any gluten-containing ingredients or a 'may contain' warning for gluten.
Tap here to read the ingredients label for yourself on the Mini Eggs or tap here to check the ingredients on the chocolate bar – it never hurts to double-check! You'll find them down the seasonal aisle in the supermarket.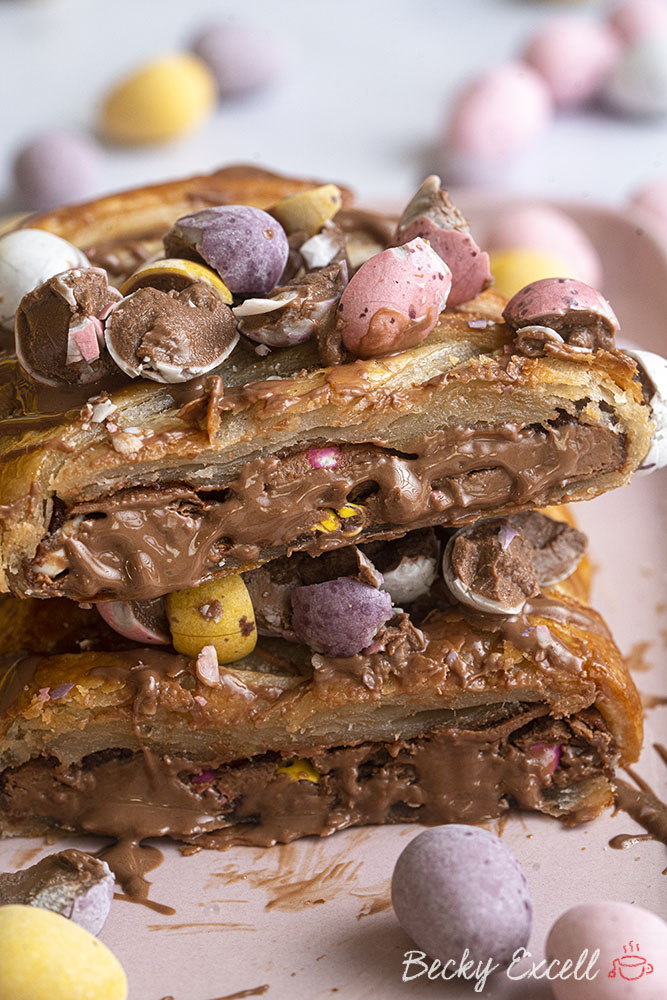 Puff pastry Mini Egg plait recipe: Tips for the perfect bake every time
Allow the puff pastry to rest at room temperature before using. If it's too cold, it can be very brittle and break easily when folded.
Use the baking paper the pastry was rolled in to work on. It's proper non-stick baking parchment, so why not make good use of it?
Watch my Instagram video to better understand the cutting and folding. It's hard to sometimes explain things in writing and so much easier when a video says a million words!
Ensure the pastry is on a solid work surface or board when cutting. You need to use a sharp knife to cut the pastry, so ensure you don't scratch the surface underneath!
Cover the plait in foil after 10-12 minutes in the oven. The JustRol gluten-free puff pastry can get quite dark, crunchy and crispy after 10 minutes or so in the oven, becoming rather hard. A little foil solves this and the pastry comes out crisp on the outside but still soft and delicate underneath!
Puff Pastry Mini Egg Plait Recipe
Puff pastry Mini Egg plait recipe – a 4-ingredient Easter bake that takes less than 30 minutes to make! Gluten-free and Coeliac-friendly.
Ingredients
1

sheet of gluten free puff pastry

1

bar of mini egg chocolate

the bar is 110g – you could use any chocolate bar really

1

egg

beaten, for egg wash

Extra chocolate and crushed mini eggs to decorate
Instructions
I'd highly recommend watching my Instagram video (linked in the tips above) before making this. It makes the cutting and folding process so much easier to understand!

Firstly, place the sheet of puff pastry down and, with the longest side of the pastry sheet facing you, place a whole bar of mini egg chocolate right in the centre. I trimmed the edges of my pastry a little so I didn't have excess – the sheet should essentially be the width of 3 of the chocolate bars.

Cut out the corners out of the pastry so you're left with a '+' shape and your chocolate bar perfectly in the middle. Then cut 1.5cm horizontal strips down the left and right flaps of pastry.

Fold over the very top and bottom pastry flaps and then alternate folding over the left then right strips all the way down – this will create the plait effect.

Brush the top all over with beaten egg.

Bake in a preheated over (200C fan / 220C) for 20-22 minutes, covering with foil after 10-12 minutes.

Melt extra chocolate, if you fancy (50g should do it) and drizzle it all over the top along with some crushed mini eggs.

Slice it up and enjoy warm. Enjoy!
Thanks for reading all about my puff pastry Mini Egg plait recipe! If you make it, I'd love to see how it turned out so don't forget to take a snap of your creations and tag me on Instagram!
Any questions about the recipe? Please do let me know by following me on Instagram and leaving me a comment on a recent photo!
Thanks for reading,
Becky xxx
Don't forget to pin this for later!