So, so many of you have messaged me wishing you could gift someone my debut recipe book 'How To Make Anything Gluten-free' for Christmas 2020. But since it's not out until Feb 18th 2021, here's how to gift someone a preorder instead!
Yep, that's right – myself (and my lovely publisher) have created 3 printable gluten-free Christmas cards which you can use to gift someone a preorder of my recipe book. The hardest part is making sure your printer has enough ink! Simply follow the 3 steps below for the ultimate gluten-free gift this Christmas…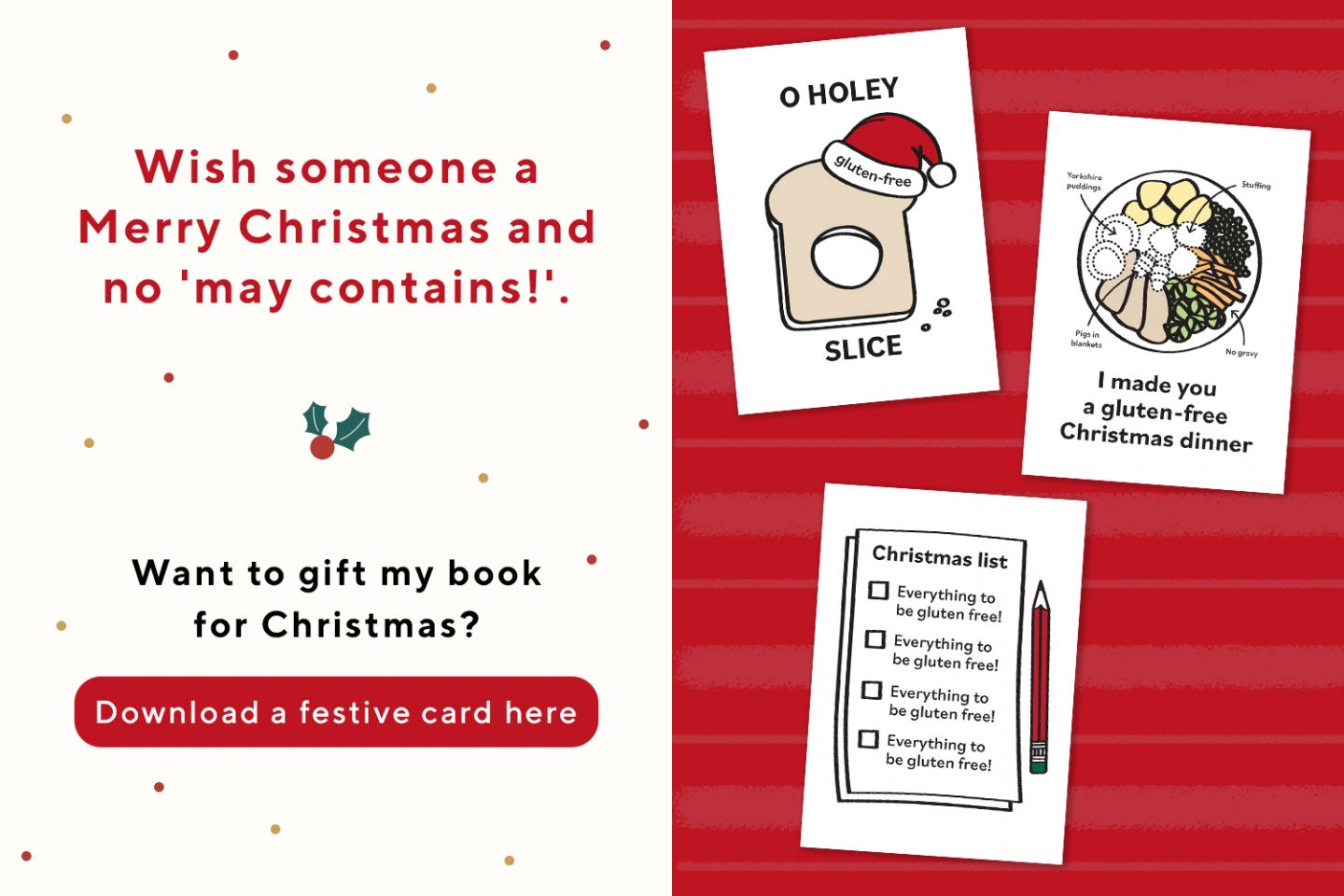 But wait! Not even sure if you want to preorder my book for someone yet?
Click the image below to find out all about 'How To Make Anything Gluten-free' first – it's basically a gluten-free bible of all the things gluten-free people NEVER get to eat! 👇🏻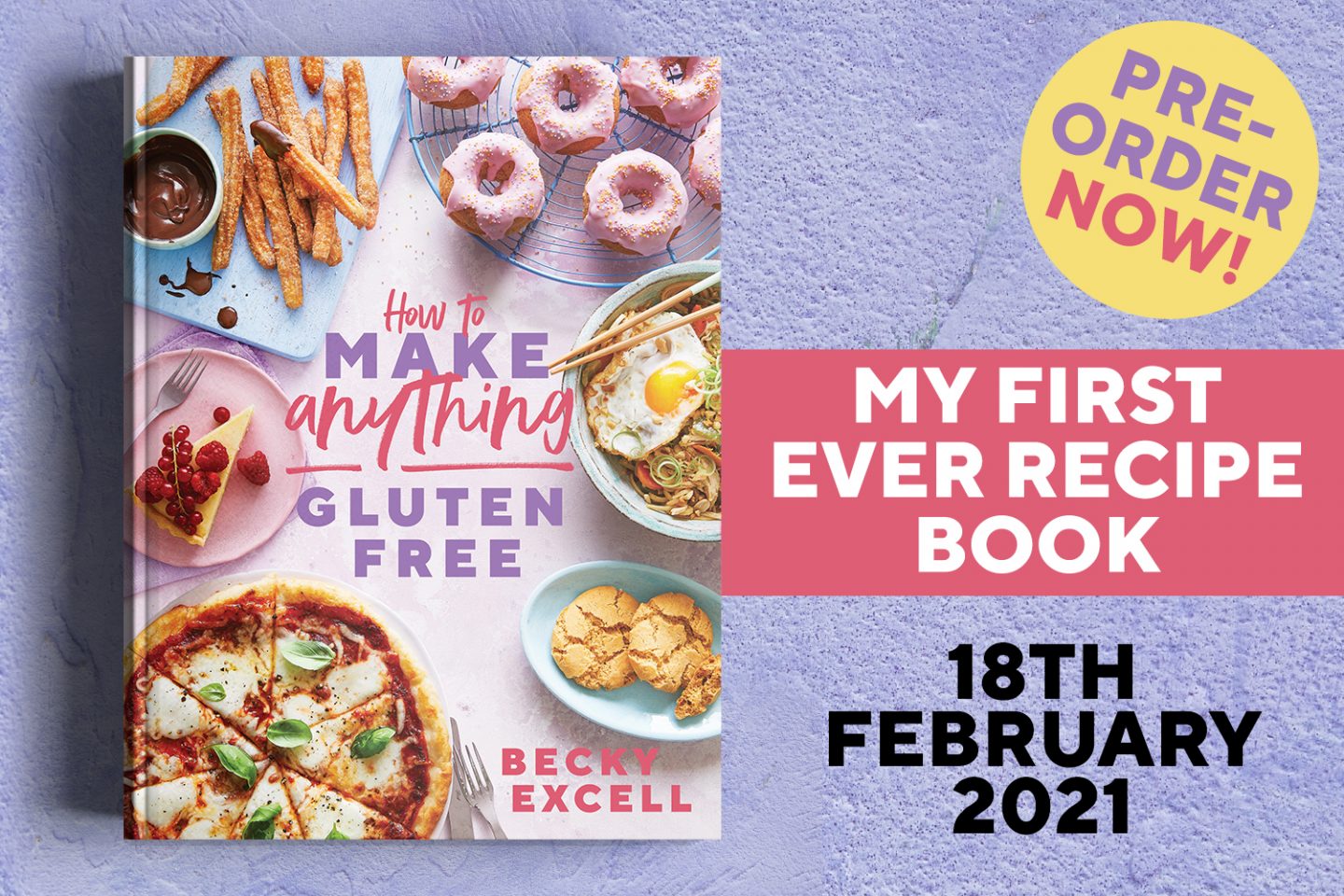 Step 1: Preorder 'How To Make Anything Gluten-free' using the links below.
First of all – you'll need to preorder my recipe book using the links below. You'll need to ideally know their address so that when February 18th rolls around, it'll be sent straight to their door, not yours!
Done that? Thank you so much! Ok, here's the fun part…
Step 2: Choose your FREE gluten-free Christmas card
I really wanted to create cards that would make gluten-free people smile after all we've all been through in 2020, and here they are! Simply click the image below of which one you want, then hit print.
The first one is a festive homage to gluten-free bread which always has tons of holes in the middle! The second one is a 'gluten-free Christmas dinner' (that I have unfortunately been served many times) which is only gf because it's missing all the good stuff. The last one is just a literal copy of my actual Christmas list. That's not asking for much, right?
Step 3: Fold up your Christmas card and write your greeting.
Once printed, here's how to fold it:
Place the A4 sheet onto a flat surface with the design facing down.
With the shortest side of the paper facing you, simply fold in half.
Then fold shut like a book so that the design is on the front.
(bonus points if you use a little pritt stick to glue the card flaps down)
Simply write your message inside, pop it into a small envelope if you have one – you can always steal one from another Christmas card if they'll fit!
Then, all that's left to do is give it to them. But wait a sec, what's this bonus step down below?
*surprise bonus step* Want me to record a FREE Christmas video message for your lucky preorder recipient too?
This might be a bit cringe (sorry not sorry) but I will happily record a short video message saying Merry Christmas (plus whatever you want too) to the recipient of your preorder.
You can then send this to them on Christmas day, right when you give them the card. Now that's what I call a good Christmas gift! 😂
Sound good and not too cringe? Then just e-mail me (bex@glutenfreecuppatea.co.uk) with the following:
An attachment with a screenshot of your 'How To Make Anything Gluten-free' preorder confirmation.
Your name and the name of the person you'll be sending the card/video message to.
Something about them that only you would know! Or anything you'd like me to say in particular.
Do they have a favourite recipe of mine? Let me know!
I'll record a short video message and send it back to you ASAP. I thought it would be a little fun during a very glum 2020!
That's it – oh and thank you so much for supporting me!
Needless to say, thank you so much for supporting me enough to actually buy my book. And how kind that you'd even buy it for another gluten-free person too 💜
You're clearly an awesome person! Any problems? Just let me know.
Thanks and Merry Christmas!
Becky xxx
Comments