I've lost count of how many times I've been given a Christmas gift that I can't eat… hopefully the Biscuiteers gluten free festive biscuit tin will change all of that this year though!
Whilst I've been practising my 'thanks so much but I'm not going to mention that I can't eat this' face ready for Christmas 2019, hopefully I won't need to use it this year… That's because I was kindly gifted the Biscuiteers gluten free festive biscuit tin – the early Christmas present I've been waiting for!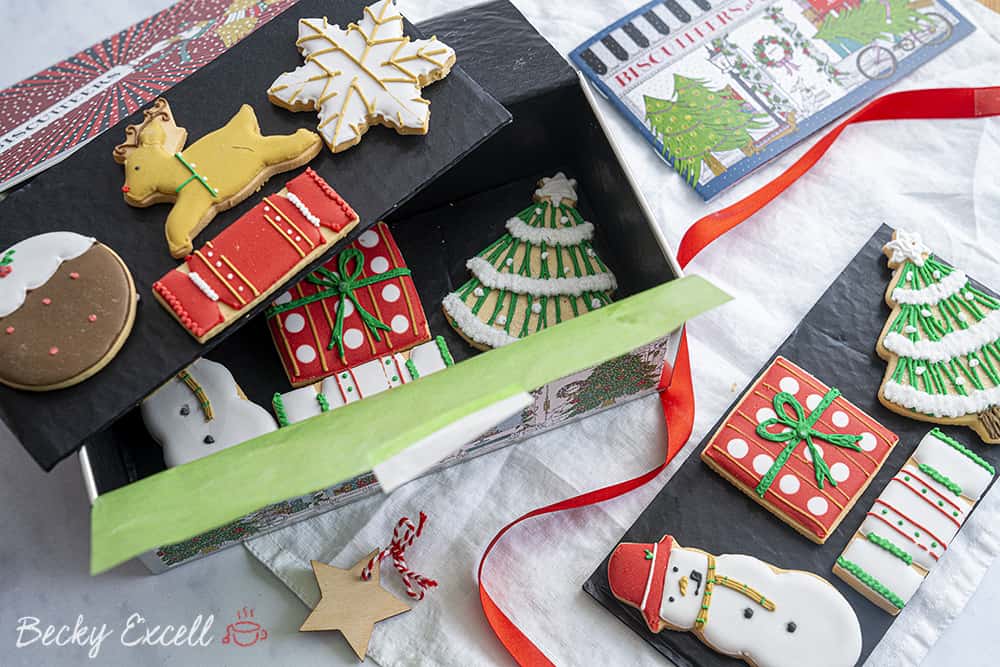 In case you didn't know, Biscuiteers make and sell some of the most beautifully iced biscuits that money can buy from their two cafes in London.
One is in Notting Hill (194 Kensington Park Road, Notting Hill, W11 2ES) and the other is in Battersea (13 Northcote Road, Battersea, SW11 1NG).
(not everything is gluten free in the cafes of course, but I'm pretty sure they have some gf options)
I've never been to their cafes personally, but I've always dreamed of going to one of their icing classes with Mark one day – even though my icing skills are pretty terrible!!
But I do own their amazing recipe book which has been a massive help – there's even a great gluten free biscuit recipe in there.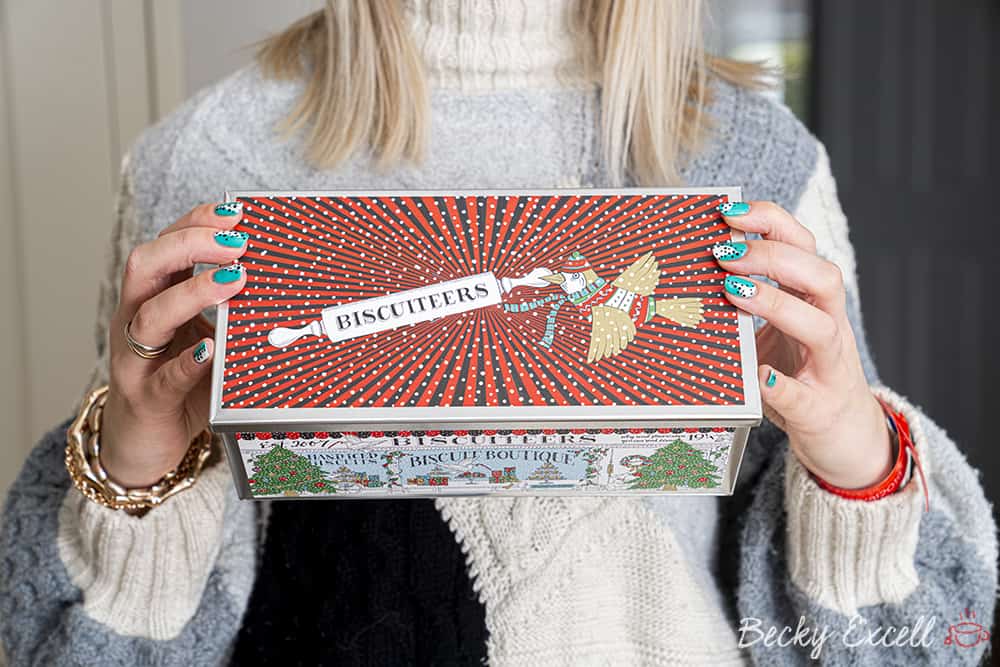 But until I'm able to get down there myself, I was totally over the moon that to receive a surprise Christmas gift in the post…
My very own Biscuiteers gluten free Christmas biscuit tin!! Yep, it's packed with the most beautifully iced biscuits you've ever seen and they're all gluten free.
And it's not just a one-off gift for me either – you can buy this from their website right now! Here's the link.
So I thought that in this post, I'd show you what's inside mine before you maybe buy one. After all, it is £45, so you probably wanna know what you're buying first!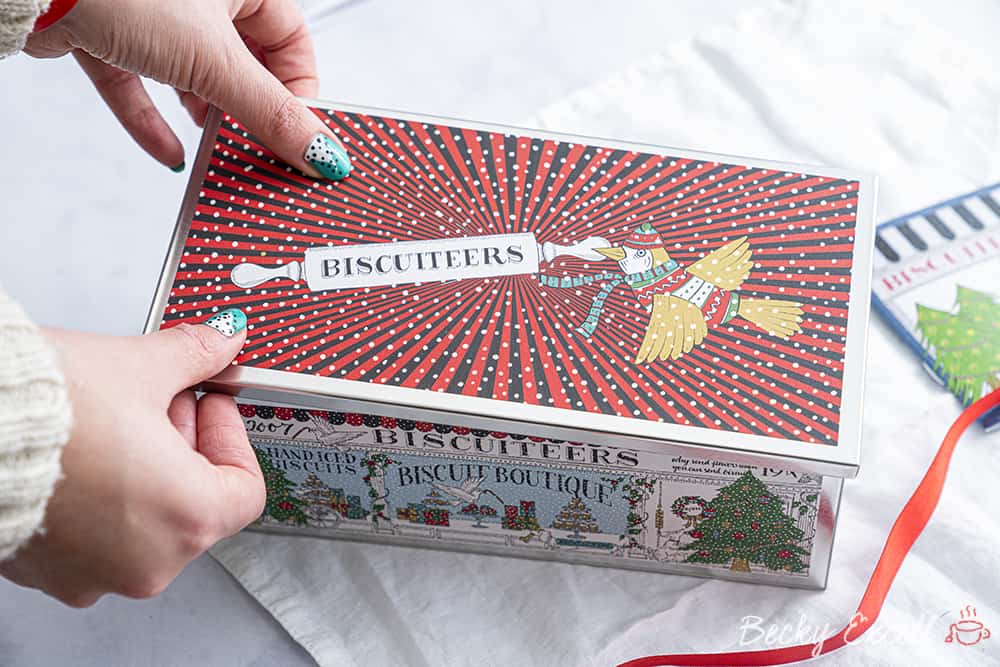 Voila!
I mean, how perfect are these cute little biscuits? Almost too good to eat, right? Almost! Each biscuit is like a little edible work of art.
As someone who is so used to missing out on all the 'special stuff' at Christmas, this really just blew my mind. And I know that any gluten free person would have the exact same reaction when opening this on Christmas day.
And no, it's not just four biscuits for £45 btw ? There's quite a few more layers to show you in the next few photos..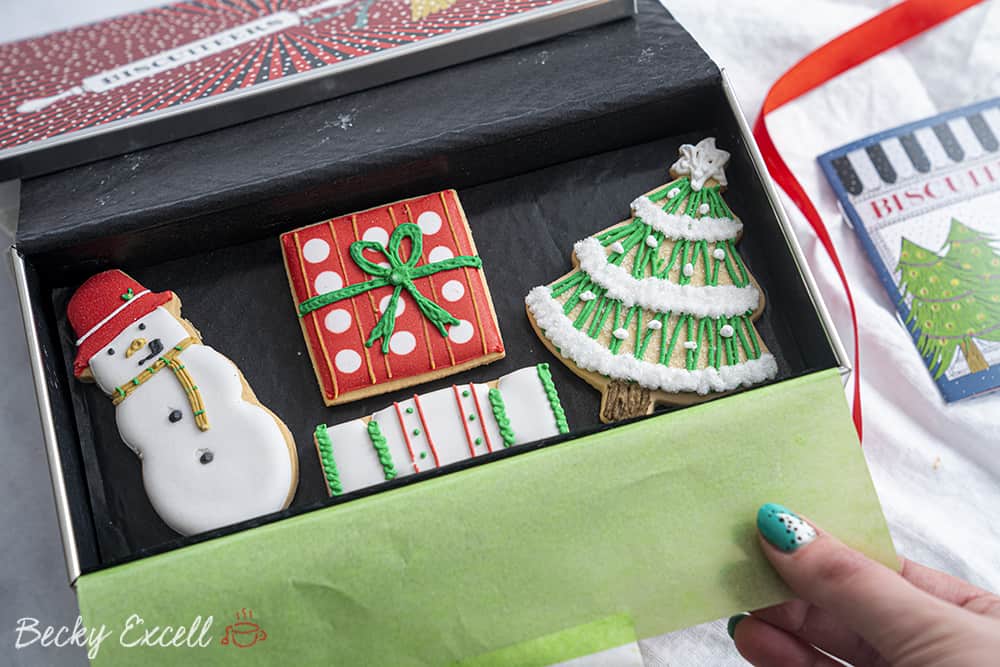 There you go!
(there's even another layer below the one you can see deepest in the tin too, making it 16 biscuits in total)
So that's four layers of pure edible wow-factor right there in probably the coolest biscuit tin ever… which I am definitely keeping!
But how do they taste? Well – absolutely divine if you're asking.
Each biscuit has such a nice snap and a subtle yet sweet, vanilla taste. And then, the icing is just the icing on the cake… or should I say biscuit?!
They just taste like lovely, freshly baked biscuits just as I'd expect if I went in the store and bought one myself.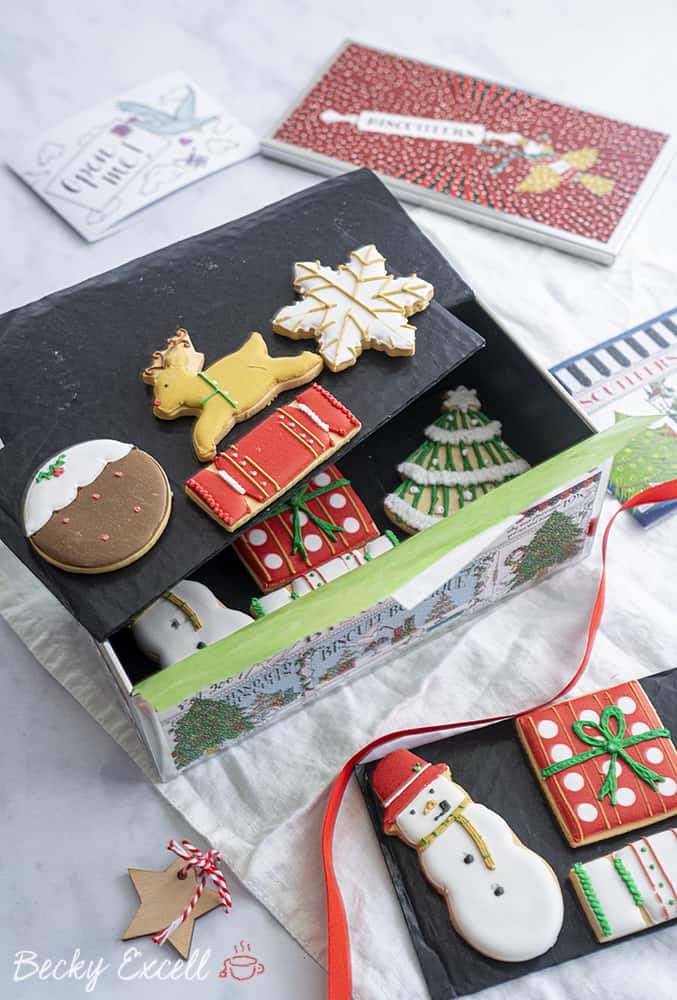 Mark is actually pretty gutted that I was gifted this by Biscuiteers… they beat him to it!
Because if he'd have known about this existed, he said he would have definitely bought it for me in a heartbeat! But that's ok by me because he'll still have to get me something else instead ?
So yeah – I thought I'd share this little gem here on the blog, just in case you know someone who might love it as much as I do.
(even if that person is you!!)
Honestly, I can say without a doubt that this is the best gluten free gift I've ever seen and received.
Excuse me now while I go watch Elf for the first time in 2019 whilst eating these biscuits and wearing a Christmas jumper.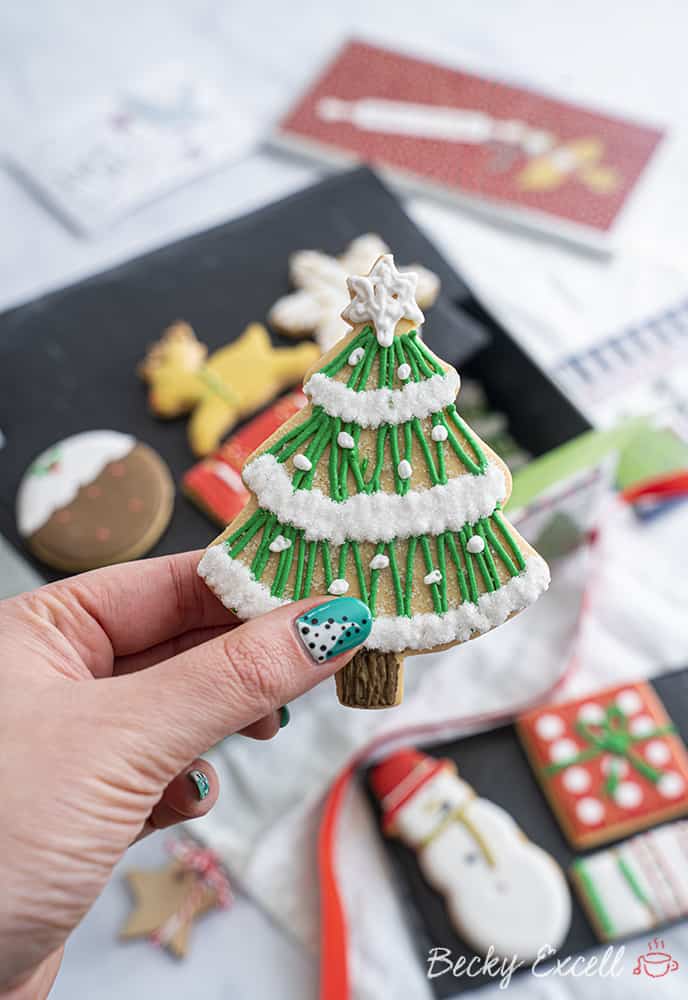 What did you think? Any questions? Wanna know anything about the Biscuiteers gluten free festive biscuit tin before you buy it? Feel free to ask by leaving a comment below this post ??
Oh and don't forget to follow me on Instagram for more gluten free finds over the festive period and beyond.
Thanks for reading,
Becky xxx
Comments