I'm always sharing recipes here on the blog, but I never really get to share what I get up to… until today! So I recently popped up to London to brush up on my baking skills with Tala. Was I a disaster chef or a master chef?! Read on to find out!
When I heard we were making choux pastry swans – yes, I said swans – I was instantly a little worried. I've *never* made gf choux pastry successfully, let alone making it into a swan!! Everyone else in the class was making them with gluten, but mine and Laura's (of My Gluten Free Guide) had to be gluten free. I felt like we had a very steep hill to climb!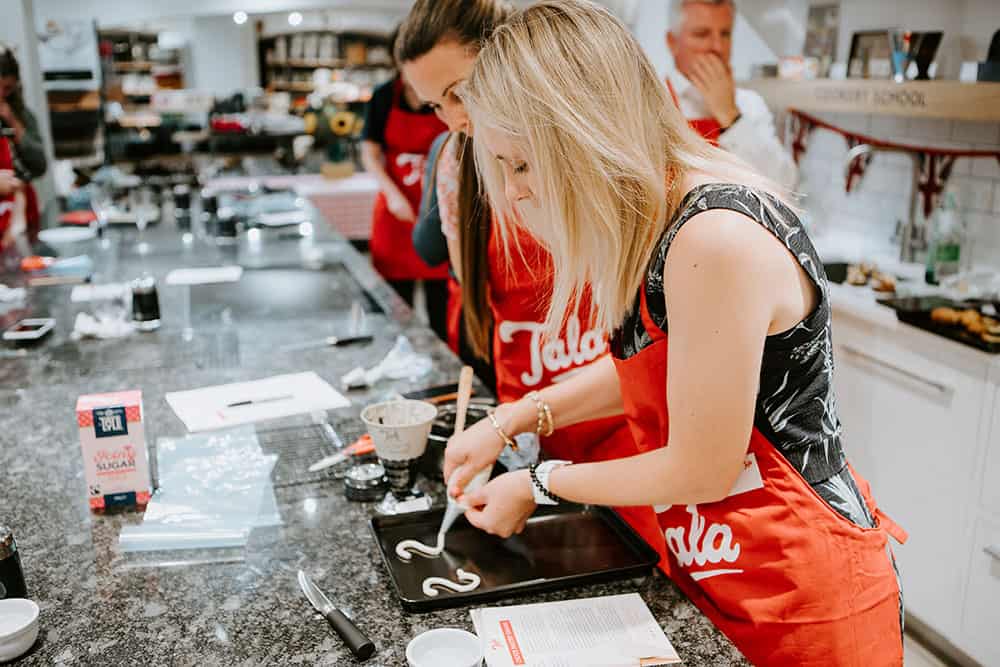 But now I'm home, I thought I'd share 5 things I learned from baking gluten free with Tala at Divertimenti Cookshop in London. And of course – at the end of this post, I'll share how our swans finally came out!
1. I need to be more adventurous with my baking.
When I was a little kid, I used to stand on a chair to help my Mum bake all those classic bakes I still love today: lemon drizzle cake, Victoria sponge and mini butterfly cakes. And without a doubt, I've definitely stuck to those classic bakes very closely as I've developed my own style of baking here on the blog.
Funnily enough, choux pastry swans weren't something my Mum taught me how to bake when I was a kid!
But at the Tala event I realised that there's definitely no need to fear something that's a little out of your baking comfort zone. So from now on, I'm definitely gonna try and be more adventurous with my baking!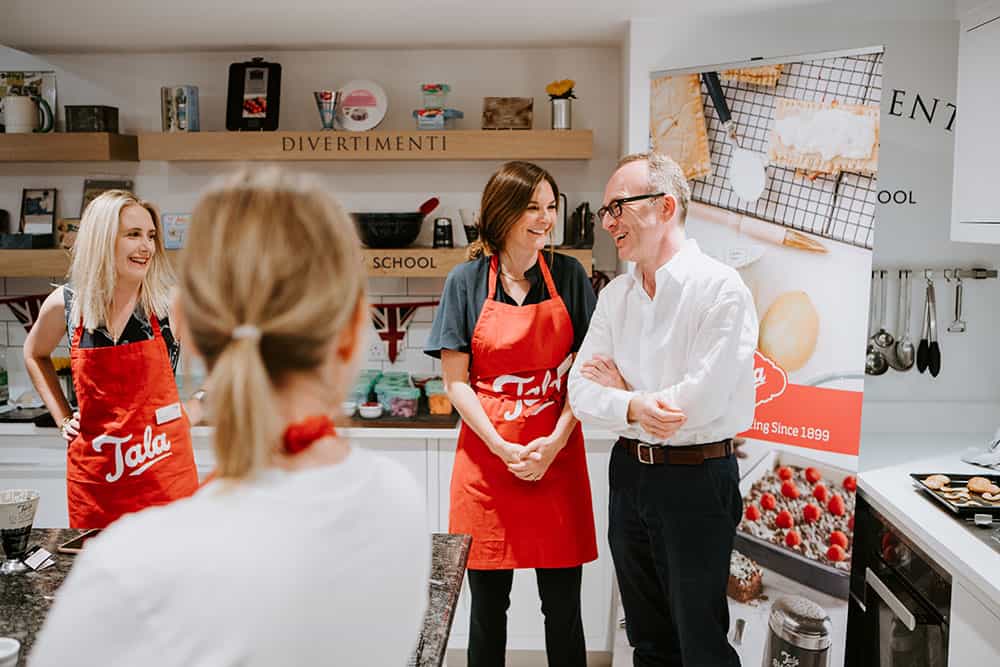 Trust me on this one: there's baking tins… and then there's baking tins! Obviously, we got to try out all the latest and greatest Tala bakeware at the event and wow. I clearly need to upgrade my baking equipment!
(I've already bought a couple of Tala loaf tins and baking trays since coming back from this event!)
They're really nice and heavy duty which means that they don't go all mis-shapen when you put them in the oven at a high temperature. I always thought that baking tins were baking tins… but clearly not!
Plus, with the baking trays, you don't need to line them with grease-proof paper either… nothing sticks to them!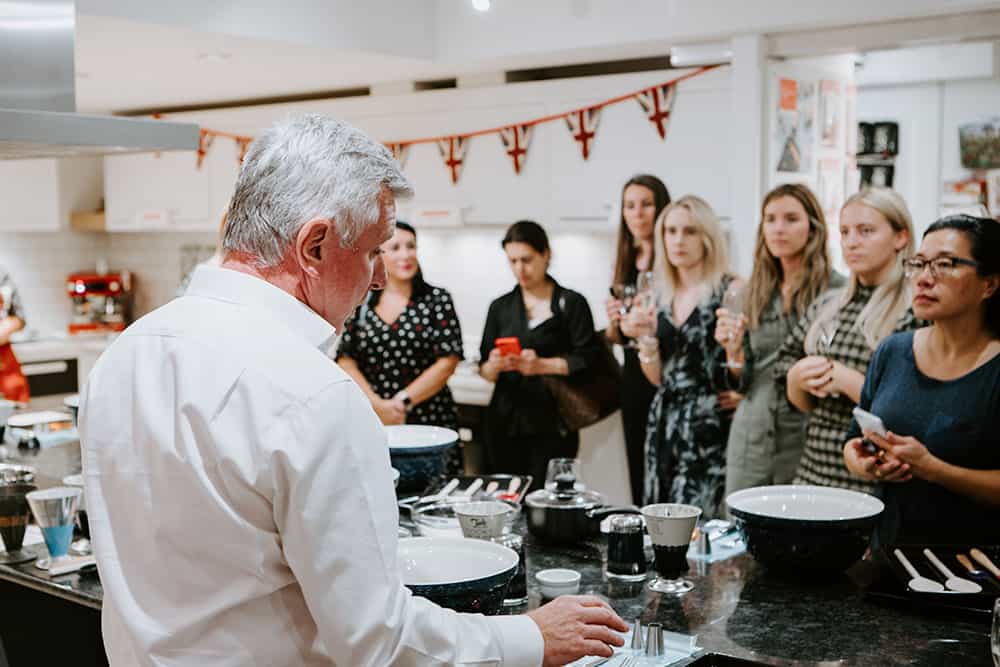 3. Gluten free choux pastry is actually very easy to make!
And despite all my concerns… gluten free choux pastry was actually really easy to whip up. So yep, being a little more adventurous definitely paid off!
There's no need to roll anything out – you just pipe it onto the baking tray – there's no need to add any gluten replacement like xanthan gum… it's essentially just creating a batter in a saucepan and piping it. Pretty straightforward!
Oh and trust me – I'm no whizz at piping anything and I managed to do it, so you definitely can too!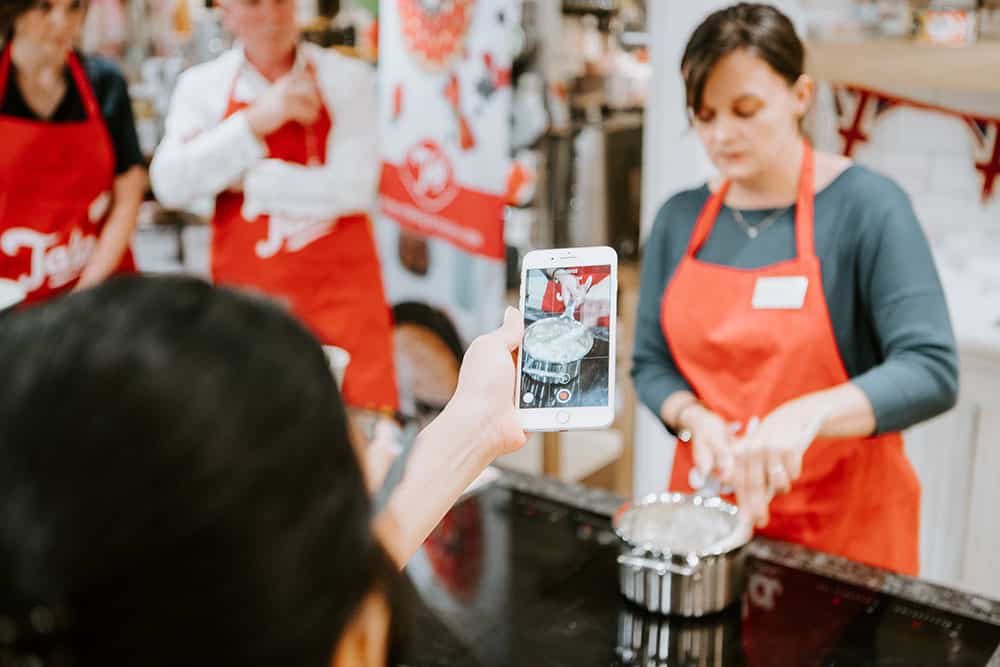 4. When it comes to decorating cakes, bakes and pastries, let your imagination run wild.
I mean, you'd think something like a choux pastry swan would be the type of thing you'd find in a fancy restaurant for dessert. All elegant, refined and an edible work of art.
But actually, the team that won Tala's bake off was the team that use tons of glitter and put mini party hats on their swans 😂
So clearly when it comes to decorating, the sky is the limit!
This made me realise how much I love quirky little touches in baking and I'll definitely be trying to incorporate more of that into my bakes. Keep on eye on my Instagram to see what I get up to! I especially liked using the flower cutters for decorating our base.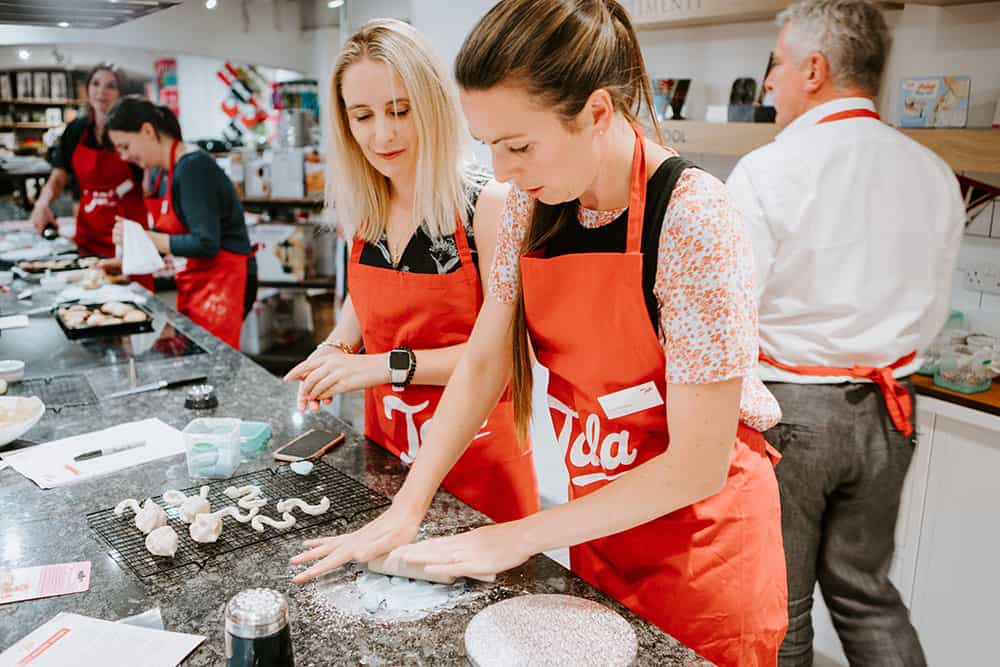 5. Tala has everything you need when it comes to baking.
I don't know about you, but my cupboard of baking equipment is a hotch-potch of some really random stuff, in all manner of different colours, designs etc.
So to see that Tala stock an entire range of baking equipment from mixing bowls to measuring cups, timers, baking beans – it made me want to have a clear out of all my old, battered gear ASAP.
Their Indigo and Ivory range will probably be my first starting point – I absolutely love the style and retro look of their mixing bowl. All my mixing bowls are now all chipped so I might make few a cheeky upgrades soon!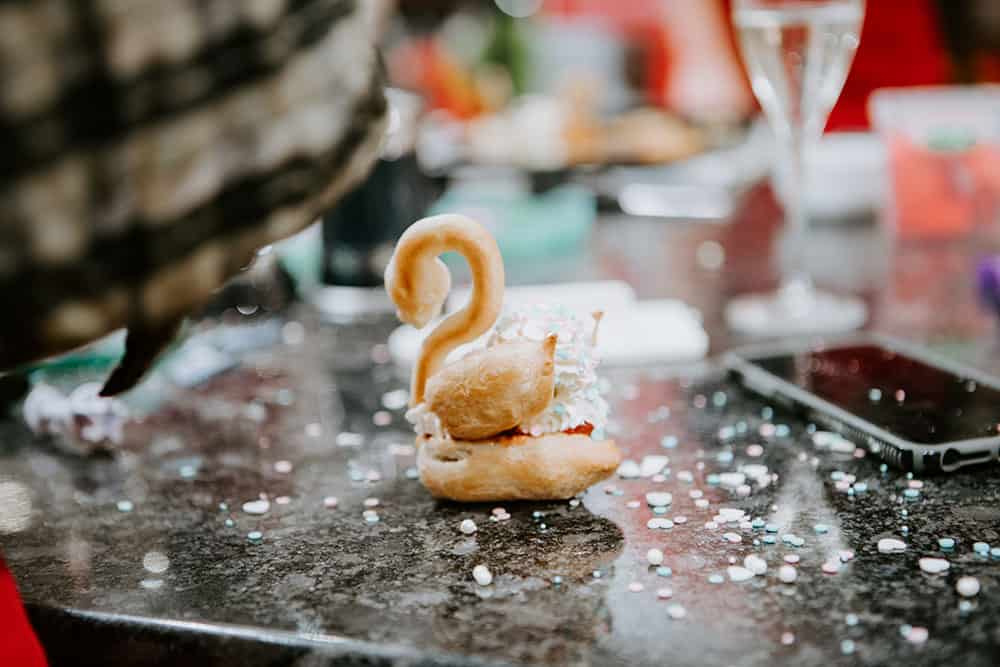 Oh and here's the recipe we used for the swans if you fancy giving it a go yourself at home 👇🏻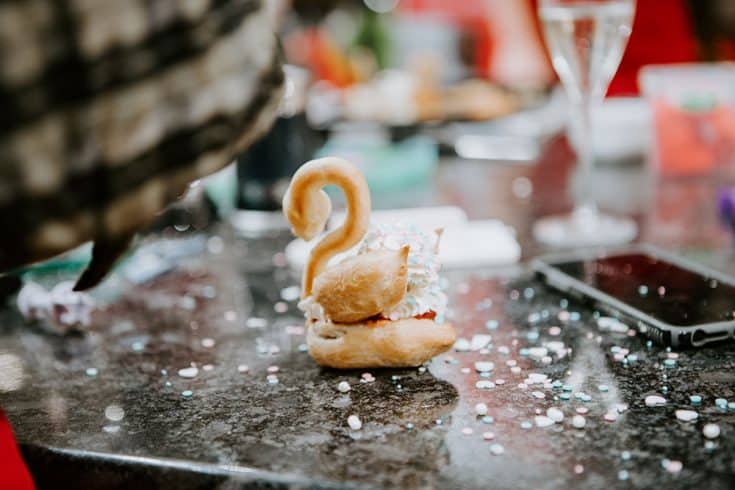 Choux Pastry Swan
Prep Time: 30 minutes

Cook Time: 20 minutes

Total Time: 50 minutes

Here's the recipe we used to make our choux pastry swans. Bonus points if you can get it to look like ours did!
Ingredients
80ml water
25g butter
50g gluten free plain flour
1 egg
Whipped cream to sweeten the taste 
Strawberry jam 
Icing sugar
Instructions
1. Preheat oven to 210C (410f)
2. Place water and butter in a pan and bring it to boil .

3 . Turn off heat and add flour , stirring with a wooden spoon until mixture comes away from the sides of pan.

4. Remove from heat and cool for a minute . Whilst cooling , beat the egg and prepare two piping bags - one with the smallest , and one with the largest writer tip nozzles.

5. Add beaten egg to the pan a little at a time until mixture comes together . Transfer a little over three quarters of the mixture into the large nozzled bag,and the remaining mixture into the small nozzled bag.

6. Using the large nozzled bag, pipe four large teardrop shapes onto the baking tray. Bake for 10 minutes.

7. Meanwhile , on a second baking tray and using the small nozzled bag, pipe four large, elegant 'S' shaped swan necks ( tip:at the top end , pipe the head of the swan,puling bag away sharply to make pointed beak).

8. After 10 minutes , add swan necks to oven and bake with teardrops for a further 8-10 minutes (choux pastry is ready when golden brown and well puffed).

9 . Remove from oven and allow to cool.

10. Assemble the swan as directed . Cut off the top third of one tear drop with a serrated knife, horizontally and lengthways , to create two wings . Fill with jam and whipped cream and position the wings and head as shown . Dust with icing sugar and personalise as desired .

So that's the 5 things I learned from baking gluten free with Tala! I have to admit, ours didn't turn out especially perfect 😂 But it's definitely encouraged me to be a little more adventurous and open-minded when I next get my bake on.
Any questions? Anyone got any tips on making the perfect gf choux pastry? Please do let me know by following me on Instagram and leaving me a comment on a recent photo!
Thanks for reading,
Becky xxx
This is a sponsored post with Tala.
Comments