Here's my gluten free mini chocolate crumble cakes recipe – the easiest way to bake little bars of light chocolatey heaven with a crispy, crumbly top. Oh and they're easy to make dairy free too!
My gluten free mini chocolate crumble cakes recipe takes me straight back to my school dinner days. Just add chocolate custard for the ultimate nostalgia!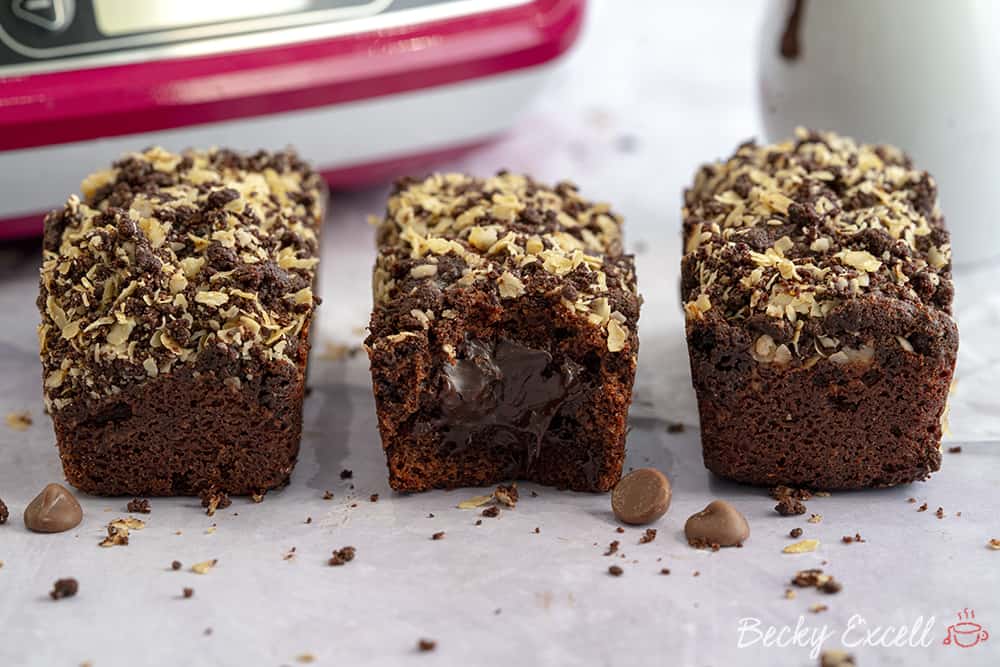 Of course, not all parts of school dinner were as amazing as chocolate cake with chocolate custard!
(I won't even get started on my least favourite dinner: turkey stew stodgy mash from a packet – blergh!)
But that chocolatey dessert was always a huge highlight of my primary school life so I thought I'd bake something filled with aaaall those nostalgic flavours and textures.
And funnily enough, mini chocolate crumble cakes were perfect as they're a combo of my two fave school dinner desserts: chocolate cake and crumble ? Plus, you don't have to go back to class after eating it!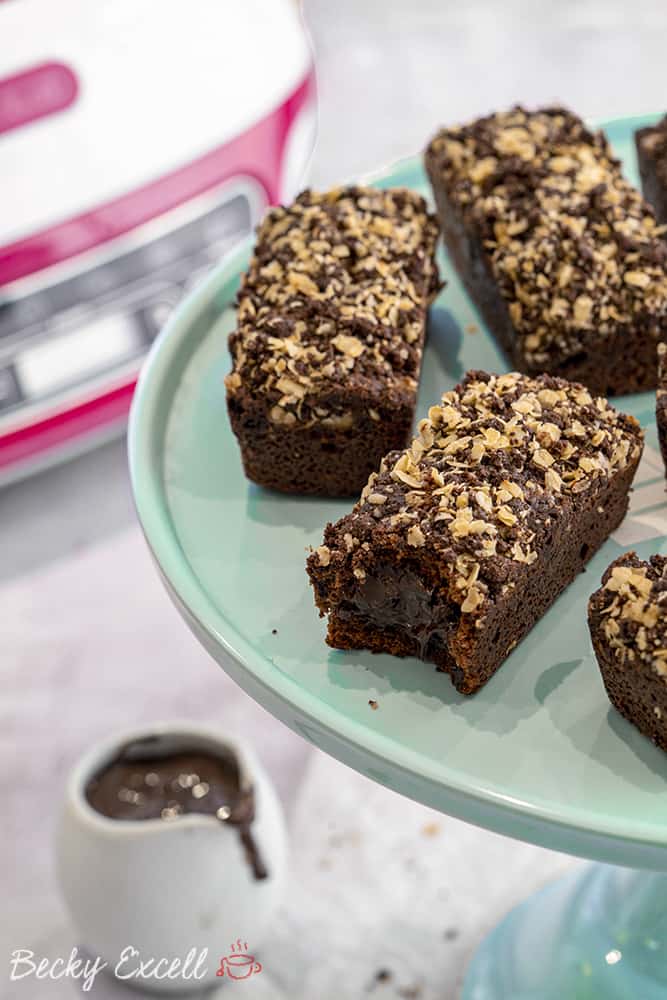 But there is a little plot twist!
I baked these without using an oven. Nope, I didn't use the microwave either! So how did I do it? On the BBQ?!
Ok, I've given you enough guesses now – I baked these using Tefal's Cake Factory ? It's an incredibly simple to use cake making machine that can bake everything from cookies to lava cakes and obviously… gluten free mini chocolate crumble cakes!
And of course, it can satisfy all of your gluten free baking needs too. All of my gluten free cakes that have been baked in this have come out perfect every time!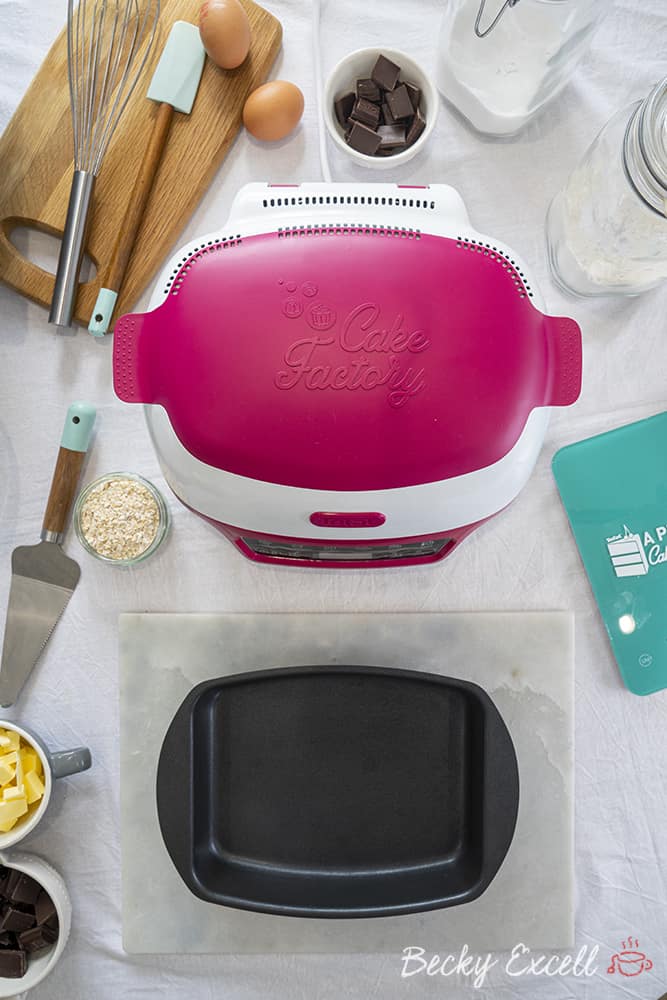 It's so incredibly easy to use with 5 different settings for all different cakes and even for melting chocolate, which I did in this recipe.
(that means you don't even need the hob or microwave to melt chocolate either!)
And armed with the Cake Factory app, there's over 200 recipes and ideas to inspire your next bake – this recipe included! Just search for 'gluten free mini chocolate crumble cakes recipe' and you'll see it pop up.
Some of them are specifically gluten free, but I found that you can easily adapt 99% to be gf by using gf flour instead of regular flour etc. So far so good for me!
But the best thing about the Cake Factory, combined with the recipe app, is that it takes all of the guesswork out of baking.
In any recipe you follow, whether it's on the Internet, in a book, there's always one main variable… we all have different ovens. And as you'll know if you've ever had to bake a cake in someone else's oven, you just never know quite how something will come out!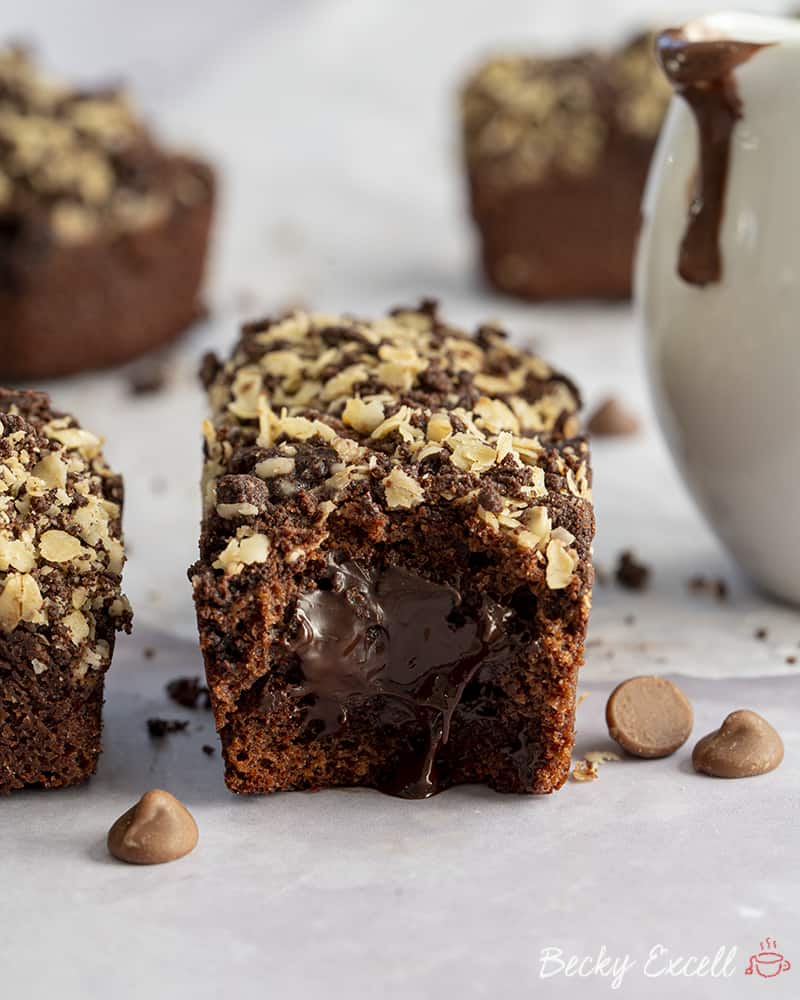 I mean, at least several times a year on the Bake Off, you'll hear someone say 'it worked fine in my oven at home…' and I now know exactly what they mean!
But with the Cake Factory, you don't have to worry about that because you're using the exact same machine that all the app recipes were created on.
So you can be confident that when the instructions tell you to 'bake something for x amount of time on this setting' – it will come out exactly the same. Every time.
And that's been my exact experience when testing the Cake Factory. Something like lava cakes are really hard to make for example, because they need an incredibly specific bake time at a specific temp. Otherwise the middle can either be a molten mess, or overdone like volcanic rock.
But even lava cakes came out with the perfect molten middle… honestly, it just takes all the stress out of baking!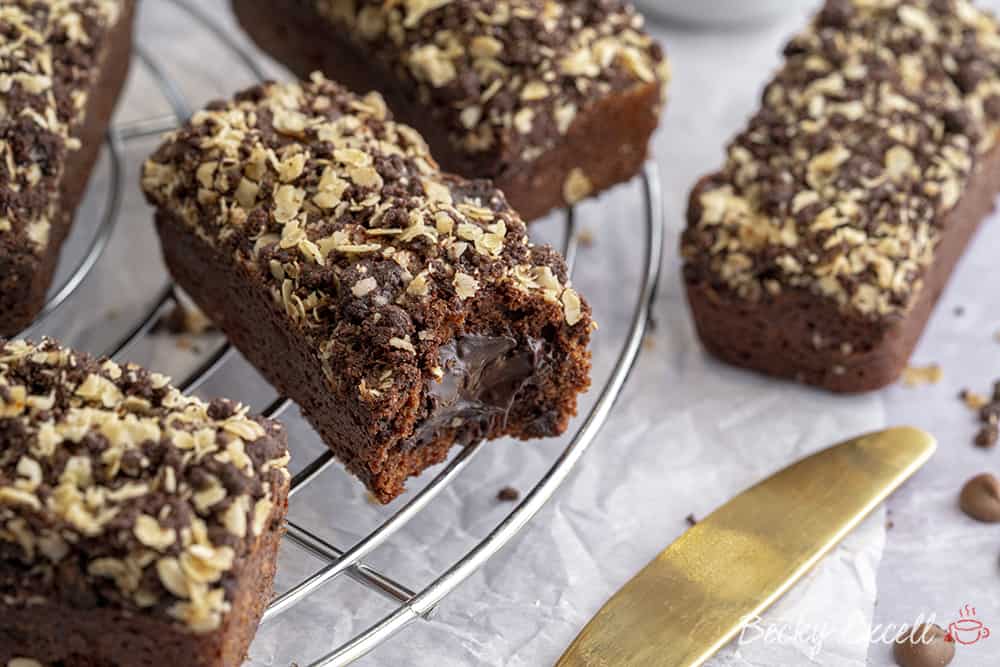 And for us gluten free folks, there's one extra thing I loved the idea of… owning an exclusively gluten free Cake Factory ???
That's right – no gluten-cakes shall be made in my Cake Factory, so I can be confident that everything I bake is safe to eat for me!
Unlike the oven of course, where Mark regularly cooks his own gluten-containing food on occasion. So I've briefed him already… if there's any Cake Factory use, it's gluten free ingredients only!
Plus, if there's any cakes being baked in the house, it would be a crime that I'd not be able to have a slice anyway!!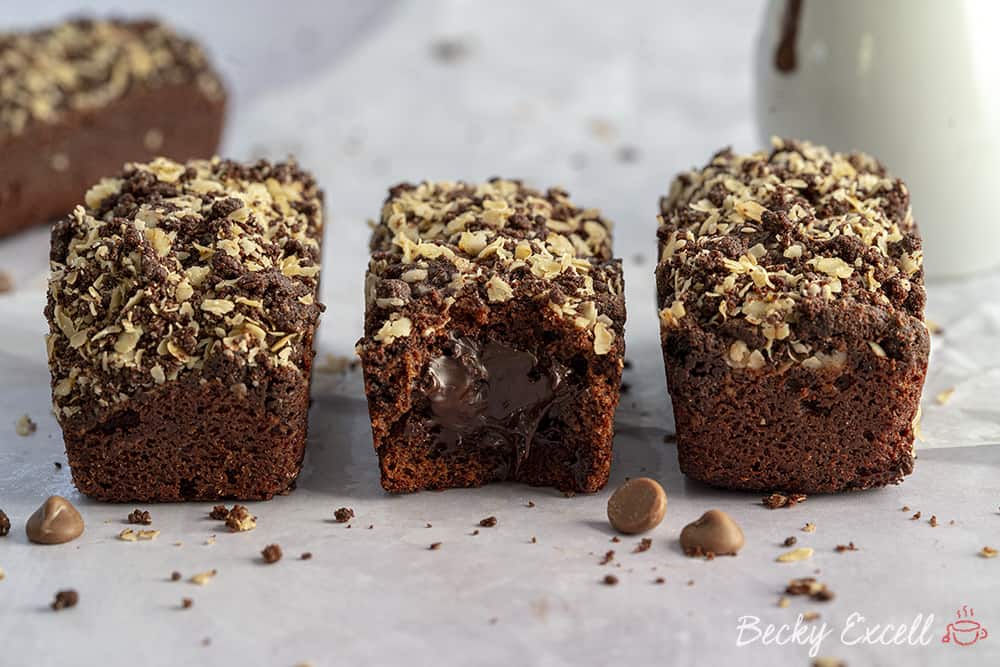 Ok, so here's my gluten free mini chocolate crumble cakes recipe, which I adapted a little from the Cake Factory app! ?? Since you'll need the Cake Factory for this recipe, you might want to go and take a look at it here.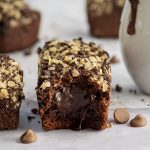 My Gluten Free Chocolate Crumble Mini Cakes Recipe (dairy free option)
A delicious chocolate crumble cake recipe using the Tefal Cake Factory. It takes me back to my school dinner days mixing my two favourite desserts - chocolate cake and crumble. Serve it up with chocolate custard for the ultimate nostalgia!
Ingredients
For the cake
110

g

dark chocolate

(52% or higher is ideal, dairy free if necessary)

90

g

butter, cubed

(dairy free alternative if necessary)

2

eggs

70

g

caster sugar

40

g

gluten free plain flour
For the crumble
25

g

caster sugar

15

g

cocoa

(dairy free if necessary)

25

g

gluten free plain flour

25

g

butter, cold and cubed

(dairy free alternative if necessary)

25

g

gluten free oats
Instructions
Place your chocolate and butter into the tin, then place into the Cake Factory. Use the chocolate melting setting to melt for 7 minutes. Once the time is up, open the lid, mix to fully combine and leave to one side to cool a little.

Whilst your chocolate mixture cools, make your crumble. In a small bowl add all your crumble ingredients except the oats. Rub the butter in to the dry ingredients using your fingers until a crumble consistency.

Stir in your gluten free oats to the crumble mixture and put to one side whilst you continue with the cake mix.

Separate your egg whites from your yolks. Put your whites to one side briefly. Place your egg yolks in a bowl with your caster sugar and mix until combined and paler in colour (I did this with an electric hand whisk but you could do it by hand).

Add in your chocolate mixture and mix once more until combined.

Then add your gluten free plain flour and mix in to fully combine.

In a separate bowl whisk your egg whites together until they turn white with stiff peaks. Once stiff add your egg whites in 3 stages to your cake mixture. Folding the whites in thoroughly before adding the next bit.

Spoon your cake mixture equally into the six moulds.

Sprinkle your crumble mixture on top of all the cakes.

Place your tray into the Cake Factory and turn to the Individual cakes setting for 30 minutes.

Once time is up, remove the tray from the Cake Factory and leave to cool briefly before pushing the cakes out.

Serve up warm or cold. I like some extra melted chocolate and chocolate custard with mine. Enjoy!
Thanks for reading how to make my gluten free mini chocolate crumble cakes recipe! If you make it, I'd love to see how it turned out so don't forget to take a snap of your bakes and tag me on Instagram!
Any questions about the recipe? Feel free to leave a Facebook comment below this post ??
Thanks for reading,
Becky xxx
This is a sponsored post with Tefal.
Comments