I'm sure a lot of you guys know that the list of things I can't eat is longer than my arm! So does that mean I have to miss out on all my fave day-to-day meals?
Not at all! I can still enjoy fresh bread when I fancy, convenient little sweet treats AND I can even recreate my own takeaway favourites at home. After all, in my own kitchen is where my dietary requirements are catered to the best… by moi! So to prove it's possible, I thought I'd share my own personal 'what I eat in a day', right here…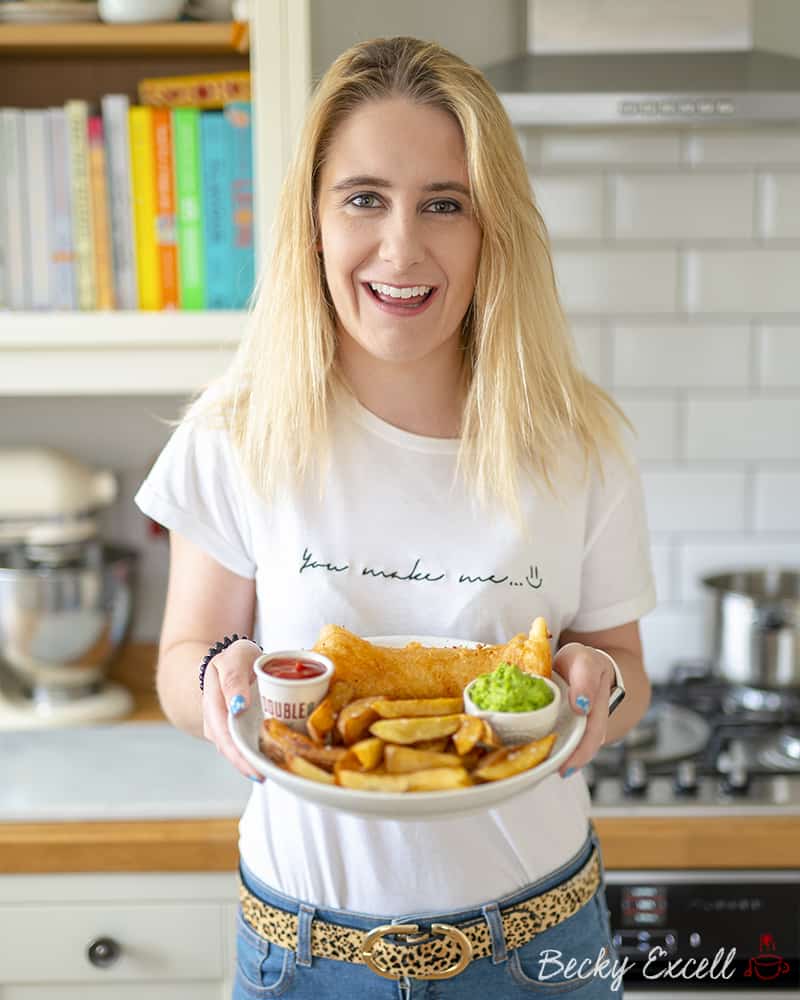 But I can't take all the credit here… some of that has to go to FREEE by Doves Farm. So many of their products help to make my free from life so much less stressful!
Everything they create is manufactured in a gluten free facility and of course, they're all naturally gluten free too. As this post goes on, you'll see just how easily their products fit into my daily eating and make living a gluten free life so much easier.
Their huge range ensures that there will always be a FREEE by Doves Farm product that'll slot into what YOU eat in a day, at any time of day. Think cereal, baking mixes, biscuits, oat bars, pasta and flour – it's all there!
So if you were wondering how I'm able to enjoy all my fave day-to-day meals despite my dietary restrictions… now you know how! So here's what I eat in a day… or what I ate yesterday!
Breakfast: Frozen berries, pumpkin seeds and FREEE by Doves Farm Fibre Flakes.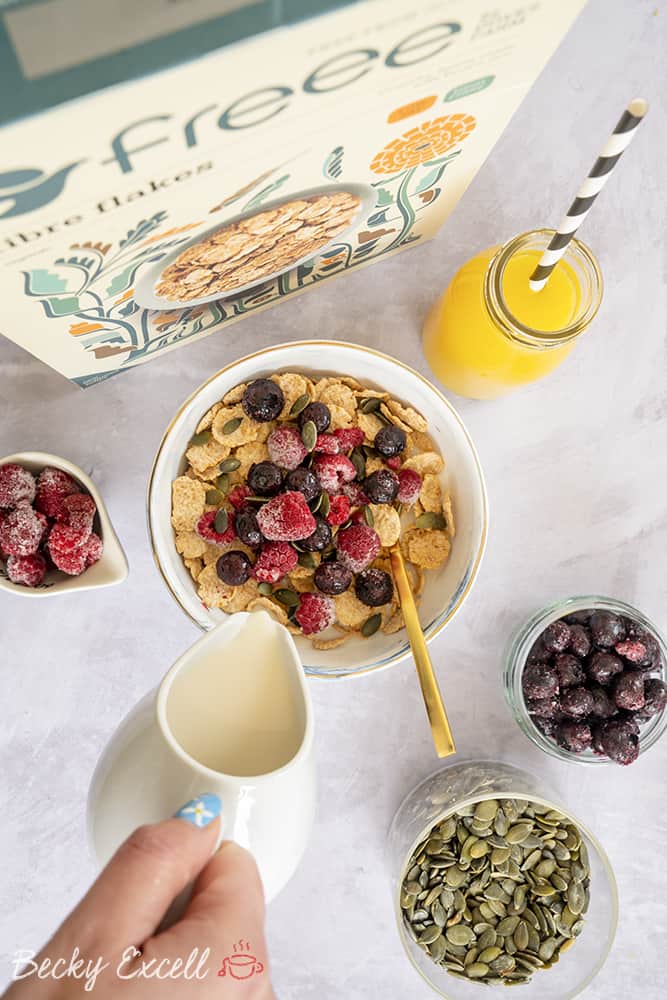 Apart from being gluten free, breakfast has also got to be three things for me: quick, tasty and nutritious.
(and if possible, edible whilst I'm drying my hair – so I guess that's four things!)
So it's no surprise that my breakfast of choice has been either FREEE by Doves Farm Fibre Flakes or their Cereal Flakes with a splash of unsweetened almond milk ever since I wrote this blog post. They just tick all the boxes for me!
Plus, I've been really struggling to get enough fibre into my diet (a lot of fibrous things disagree with me – anyone else the same?) so a breakfast like this is a very important part of my day. Otherwise my body just doesn't function correctly!
I absolutely love mixing up my breakfast a little with a few added finishing touches like frozen berries and pumpkin seeds too – trust me, you just have to try it! It only takes an extra couple of seconds ?? Oh and FREEE by Doves Farm's cereal range is all organic too FYI.
Lunch: Open BLT sandwich with FREEE by Doves Farm Fresh Seeded Bread.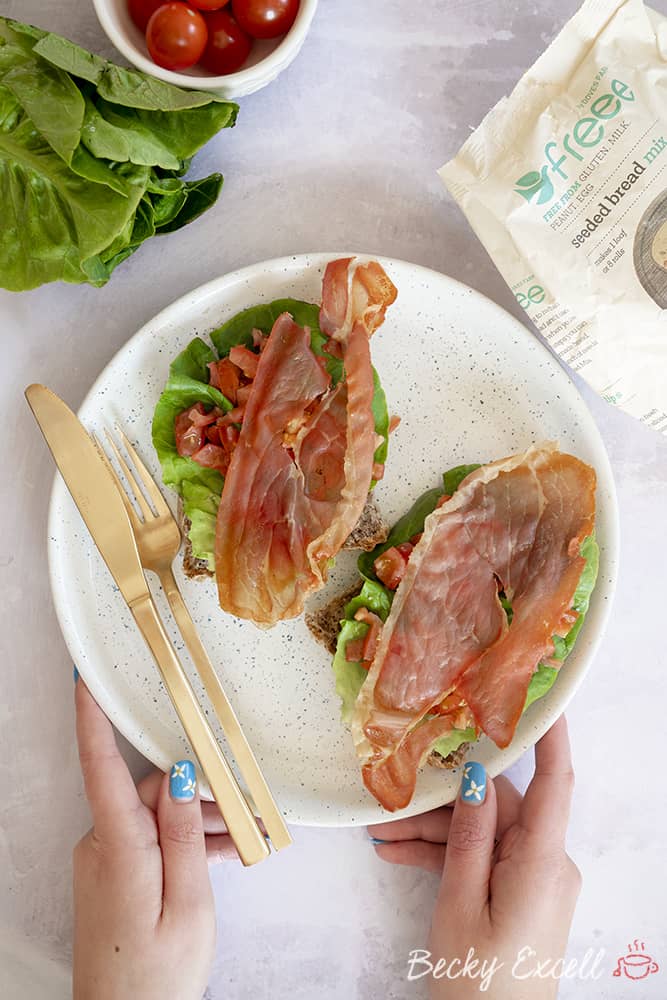 Hands up if you miss fresh bread.
(I'll assume that includes everyone reading this post)
I mean, just the smell, the taste and the texture… it's just not something that us gluten free folks get to enjoy often at all. I'm not ashamed to admit that I often have serious bread envy whenever I walk past the bakery in the supermarket!
But with FREEE by Doves Farm's Seeded Bread Mix, fresh gluten free bread can be yours whenever you fancy. All you need to is add water and oil and you're well on your way to a fresh loaf ready in time for lunch.
And I was soooo pleased with how my loaf turned out – every slice was so incredibly soft and springy with a crusty crust… just like bread should be! So I cut myself a couple of chunky slices and made another speedy lunch: my open BLT sandwich. Here's how to make it ??
Oh and instead of bacon, I love to use a couple of slices of prosciutto baked in the oven for 5 minutes. They turn out a lot lighter, crispier and to be honest… it's a lot quicker with less mess to clear up after too!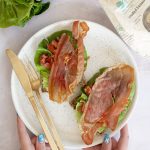 Open BLT Sandwich with fresh seeded bread
Here's the incredibly simple recipe to make your own fresh gluten free bread and create my open BLT sandwich!
Ingredients
For the bread:
1

500g

FREEE by Doves Farm Seeded Bread Mix

430

g

Tepid water

3

tbsp

oil
For the BLT topping:
2

slices

proscuitto

2

tsp

mayonnaise

2

baby gem lettuce leaves

4

chopped cherry tomatoes
Instructions
Grab a large mixing bowl and pour in your FREEE by Doves Farm seeded bread mix, tepid water and 2 tbsp of oil. Given it a good mix with a wooden spoon until it forms a thick batter.

Add your last tbsp of oil and give it one last mix before pouring it into an oiled 2lb loaf tin.

Smooth the top and cover loosely with oiled cling film.

Place in a warm place until the rough rises slightly proud of the loaf tin. This should take around 45-90 minutes.

Pre-heat the oven to 220c fan.

Once proved, remove the cling film and immediately place into your hot oven for 45-50 minutes.

Turn out your cooked loaf onto a wire rack until completely cooled before slicing.

After your loaf has now cooled, cut yourself a couple of slices and spread with 1 tsp of mayo on each.

Layer with one baby gem lettuce leaf and chopped cherry tomatoes.

Place two slices of prosciutto onto a baking tray and bake in the oven at 200c fan for 5 minutes until crispy.

Place on top of your open sandwich slices and enjoy!
Snack: FREEE by Doves Farm Lemon Zest Cookies.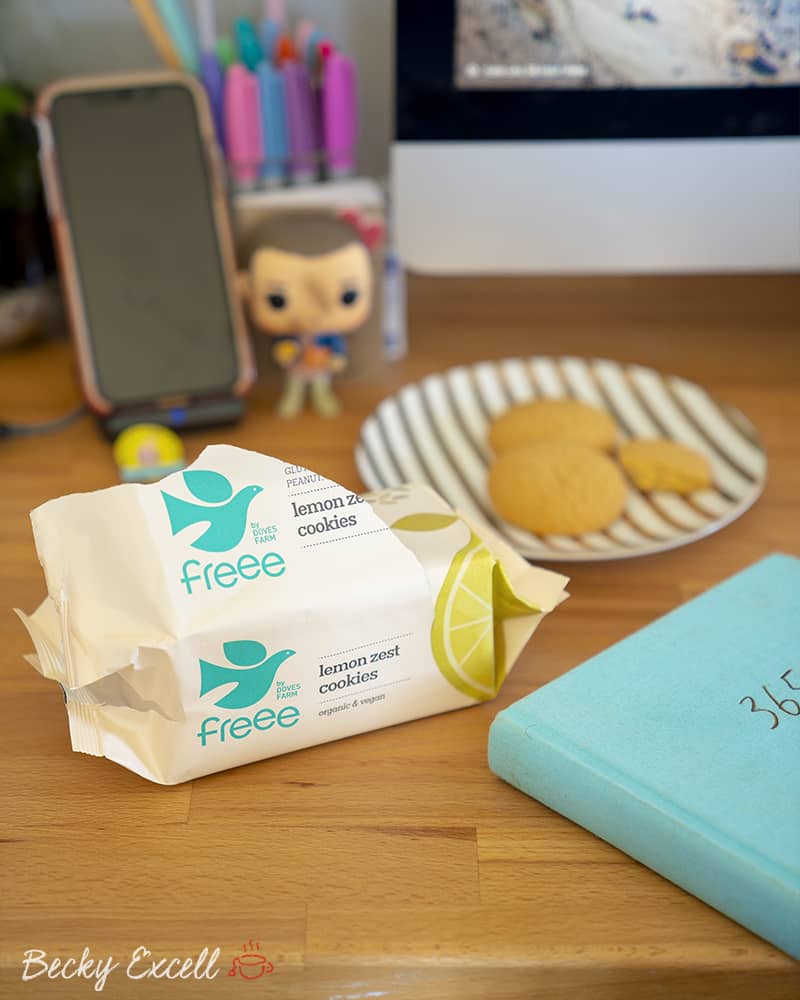 I don't know about you, but during a long working day, the thought of having a little snack to look forward to just keeps me going!
So a couple of FREEE by Doves Farm's Lemon Zest cookies are the *perfect* little pick me up when I'm snowed under a pile of e-mails.
(or more than just a couple of cookies by the looks of the photo – oops ?)
They're basically like little shortbread biscuits with a zesty, lemon-y twist – they're sooo incredibly moreish! If you're more of a cereal bar kinda person then make sure you check out FREEE by Doves Farm oat bars too. Like the cookies, they're organic as well.
Dinner: Tempura-battered Fish and Chips using FREEE by Doves Farm Self-Raising Flour and Baking Powder.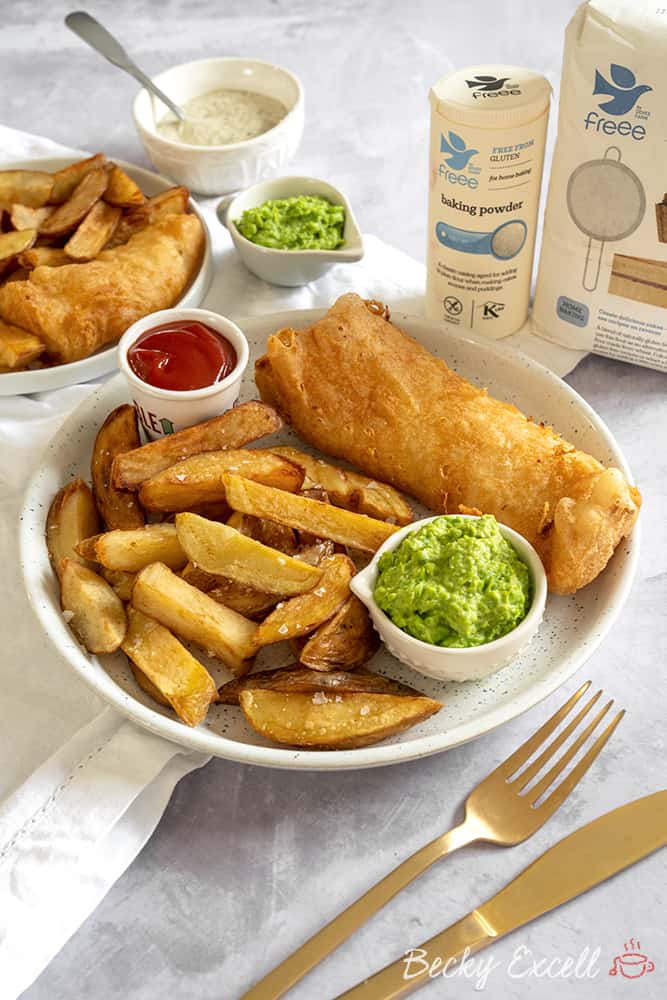 Wow. Every time I look at that photo, it's hard to imagine that we actually made this all at home ??
I was talking to Mark about aaaall my fave foods that I miss eating, which inevitably led to us talking about fish and chips. So he said… well, why don't we just make it at home?
So we did! And it was awesome. We made our own light and crispy tempura batter along with our own chunky chips AND mushy peas – all gluten free and dairy free.
The batter is one of Mark's own recipes and FYI – he's always used FREEE by Doves Farm's self-raising flour and baking powder for absolute perfect results. It tastes exactly like what you'd get from the fish and chip shop!
As promised, here's the recipe we used: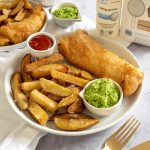 Gluten Free Tempura Fish and Chips with Mushy Peas
Say hello to my gluten free temnpura-battered fish and chips recipe! It's golden, light and crispy, just like what you'd get from a fish and chip shop.
Ingredients
2

skinless, boneless, cod loins
For the batter
110

g

FREEE by Doves Farm self-raising flour

150

ml

fizzy water

1/2

tsp

FREEE by Doves Farm baking powder

1

tsp

salt

1

litre

vegetable oil for frying

A little extra gluten free flour for dusting later
For the chips
4

medium

maris piper potatoes
For the mushy peas:
150

g

frozen peas

50

g

margarine

(dairy free if needed)

7-8

fresh mint leaves

1

tbsp

yoghurt

(dairy free or lactose free if needed)

half

lemon juice
Instructions
Pour up to 1 litre of vegetable oil into a large saucepan (approx 20cm wide) so it's half full. Put this on at a medium heat and allow it to reach 180-200c.

Start preparing your chips. Cut your potatoes in half, then cut each half into 1cm strips, lengthways. Place in cold water and bring to the boil in a saucepan, then allow to simmer for 4 minutes before draining. Allow these to drain and dry on kitchen roll.

Get a mixing bowl and add all your dry ingredients needed for making your gluten free batter. Add your fizzy water to the bowl. Take a big whisk and whisk it all together, getting as much air into it as possible.

Roll your cod loins in gluten free flour (important to do this so the batter sticks!) before placing them in the batter mix. Then ensure that they're evenly coated.

Hopefully your oil has reached 180-200c by now, so slowly lower your coated cod loins into the hot oil. It might spit a little so be careful and don't drop it in in case it splashes. When the batter looks crisp and slightly golden, it's done. This should take about 5 minutes. Remove the fish with a slotted spoon and place it on a plate with kitchen roll and allow to drain.

Next, you can either add your chips to the hot oil for 5-10 minutes or until golden. OR you can place them onto a baking tray, drizzle with oil and bake in the oven for 15-20 minutes.

For super quick and easy mushy peas, fry your frozen peas in dairy-free margarine in a frying pan on a medium heat for 5 minutes. Add freshly chopped mint leaves, squeeze half a lemon and add your yoghurt. Blend it with a hand blender until smooth.
And that's what I eat in a day! So hopefully you believe me now when I say that anything is possible when you're in charge of what's on the menu – along with a helping hand from FREEE by Doves Farm of course! Any questions? Please do let me know by following me on Instagram and leaving me a comment.
Not sure where you can find FREEE by Doves Farm products? They're available online on their own website, Ocado and all all major retailers (Sainsbury's, Waitrose, Asda, Morrison's, Tesco) and at independent health food stores and farm shops too.
This is a sponsored post with FREEE by Doves Farm.
Thanks for reading,
Becky xxx
Comments