My gluten free Milkybar mini egg and raspberry cheesecake recipe is a little Easter twist on my white choc and raspberry cheesecake. I didn't think that recipe could get any better… until now!
Yep, that's right, Milkybar mini eggs are gluten free in the UK. Actual Milkybars have a 'may contain gluten' warning, so it's best to steer clear of those, but these mini eggs don't – yaaaas! So that's how my gluten free Milkybar mini egg and raspberry cheesecake recipe came to exist…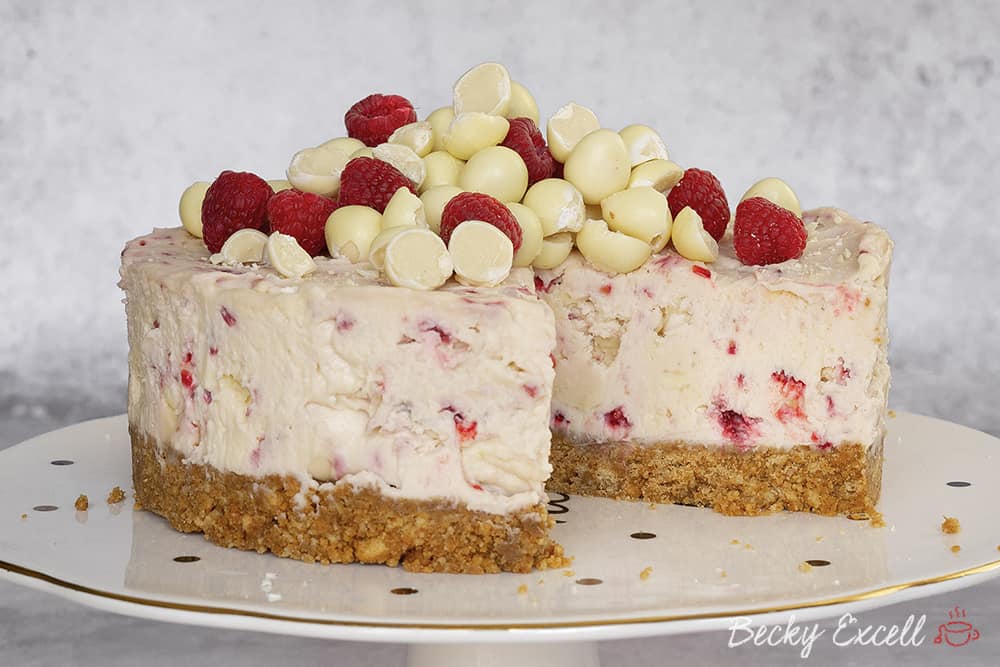 Here's a link to Milkybar mini eggs just in case you want to check the ingredients for yourself!
As always, a product doesn't need to be labelled 'gluten free' to be safe for us to eat.
As long as the product has no gluten-containing ingredients and no 'may contain gluten' (or similar statement) then it's suitable for those of us on a gluten free diet.
(so that explains why actual Milkybars in bar form aren't safe – whilst they have no gluten-containing ingredients, they do have a may contain warning)
You can thank Coeliac UK for my knowledge on that!
Looking for more gluten free Easter baking recipes? Check out this post: 10 gluten free Easter recipes you need to try ASAP.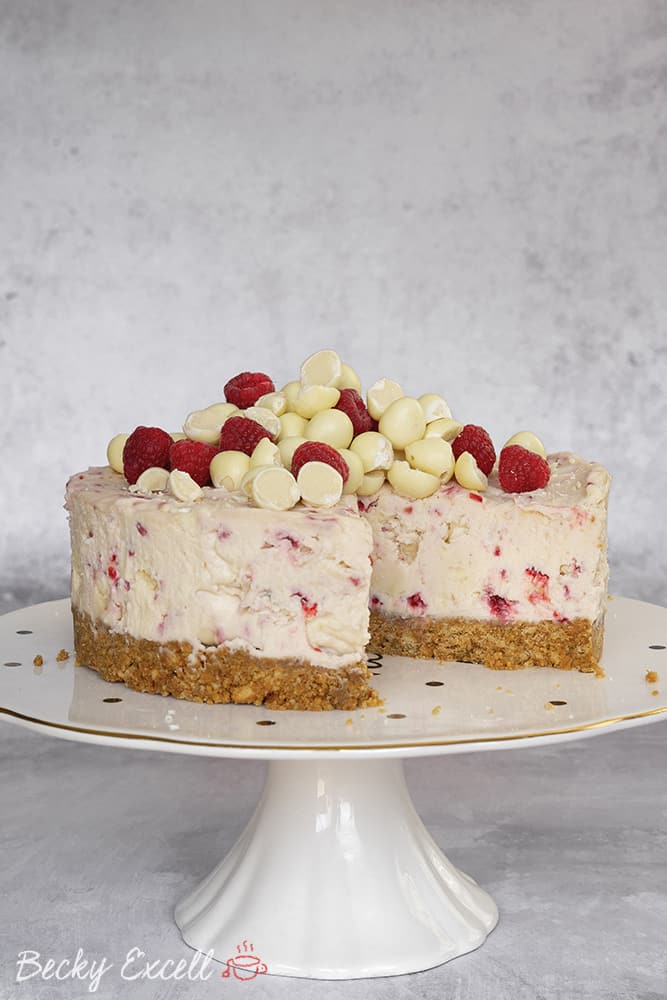 So yeah, with great knowledge comes great power… or more literally – with great knowledge comes my gluten free Milkybar mini egg and raspberry cheesecake recipe!
White chocolate and raspberry is an amaaaazing combo when it comes to cheesecakes. But I defo don't need to tell you that if you've already tried this recipe.
So why is this recipe even better than one of my fave recipes?
Well, Milkybar mini eggs not only bring lovely, creamy, chunky white chocolate, but they also have a crisp sugar shell coating. So when you bite into one inside this cheesecake… you definitely know about it!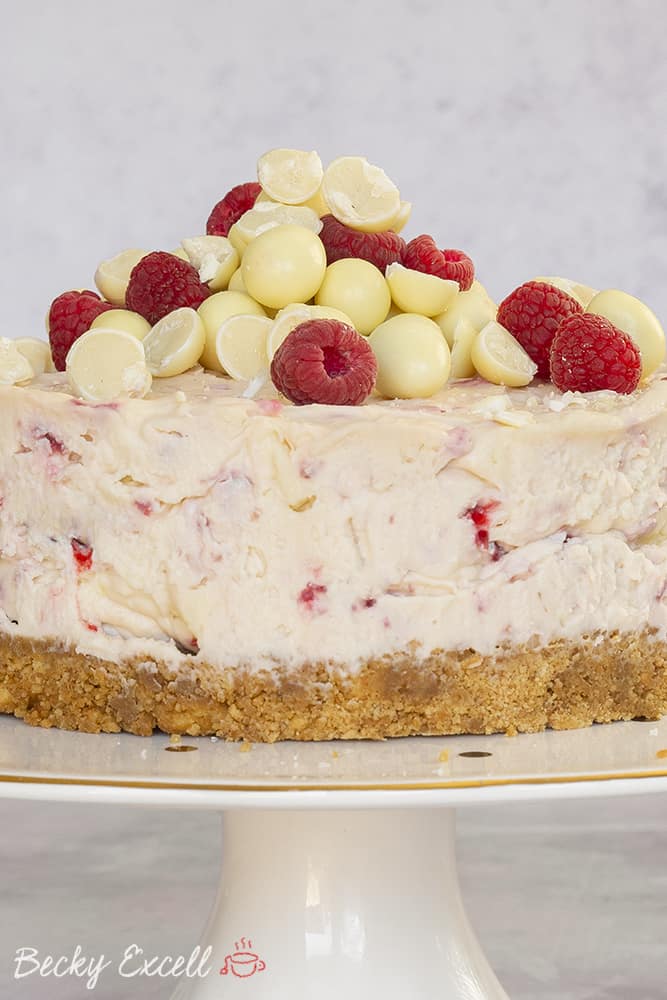 It just adds a whole new level of texture and now I'm not sure I can live without it. Then you've got that buttery biscuit base, super-creamy filling with sharp raspberries… it's just pure Easter goals!
I've made a couple of other Easter cheesecakes recently too, like my gluten free mini egg cheesecake and my gluten free creme egg cheesecakes…
(can you tell how much I bloody love cheesecakes at the mo?!)
And they're both such an easy way to make an Easter showstopper that nobody would know is gluten free. After all, it's just the biscuit base that's gluten free!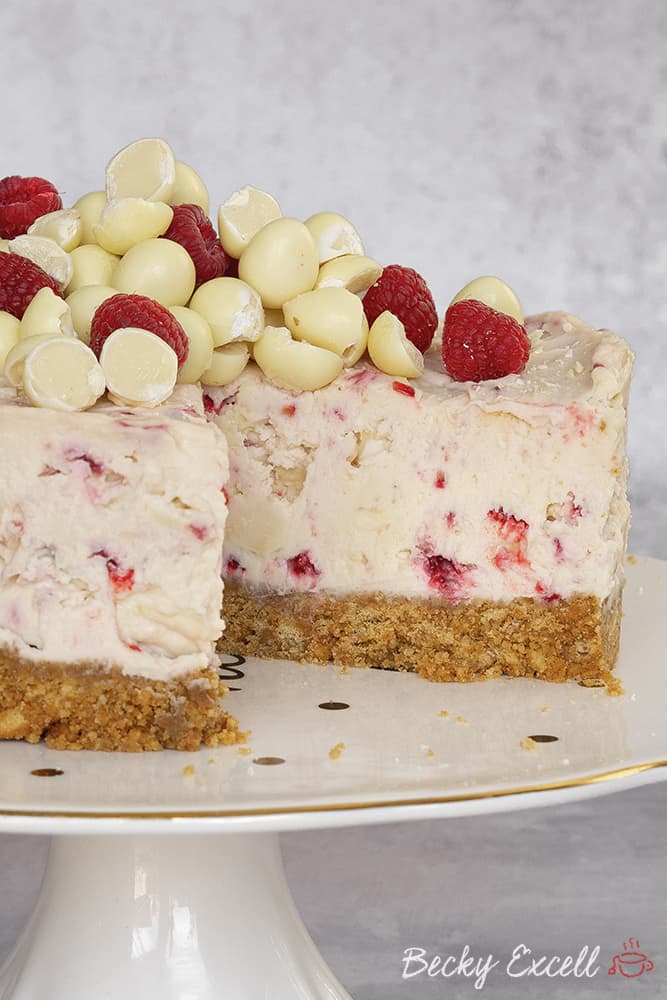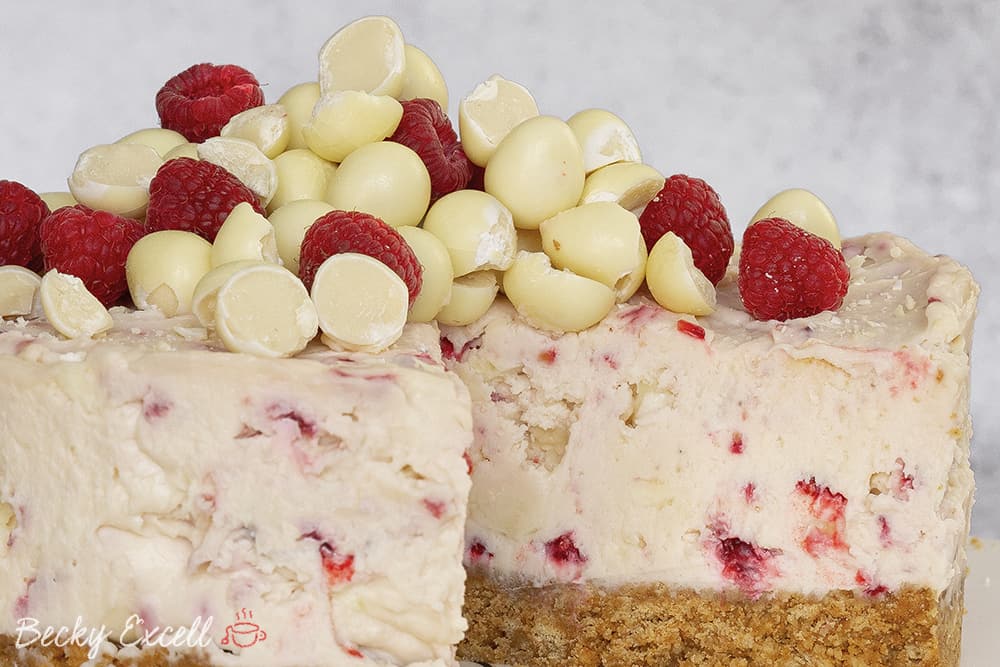 Ok, so here's my gluten free Milkybar mini egg and raspberry cheesecake recipe…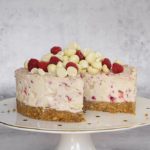 Gluten Free Milkybar Mini Egg and Raspberry Cheesecake Recipe (No-Bake)
My gluten free Milkybar mini egg and raspberry cheesecake recipe is the perfect Easter treat! Plus, it's no-bake too and so easy to make.
Ingredients
For the biscuit base
320

g

gluten free digestive biscuits

100

g

hard margarine / butter
For the cheesecake filling
500

g

mascarpone

100

g

icing sugar

250

g

white chocolate

300

ml

double cream

1/2

tsp

vanilla extract

125

g

fresh raspberries

150

g

crushed Milkybar mini eggs
For the topping
extra fresh raspberries

extra Milkybar mini eggs
Instructions
Crush your gluten free digestives. I place mine in a sandwich bag and hit them with a rolling pin. You can make them quite small or have some chunkier bits.

Melt your margarine or butter - I do this in the microwave.

Pour your melted margarine/butter into your crushed biscuits and mix together.

Press your biscuit mixture into the tin you are going to be making your cheesecake in. Press it down nice and firmly.

Place it in the fridge to chill whilst you make your cheesecake top. (I leave mine in the fridge for at least 30 minutes)

Melt your white chocolate, either in the microwave or over a ban marie. Leave to cool.

To make your cheesecake filling mix together your cream cheese, icing sugar and vanilla extract. I use my KitchenAid to do this on a low/medium setting for only about 10-20 seconds. You could you an electric hand mixer too.

Add in the double cream and keep mixing until it firms up a little. (I had the KitchenAid on a medium setting for just under 2 minutes for this - try not to over mix though... don't let it split!)

Pour in your melted white chocolate and mix in briefly to combine.

Crushed your Milkybar mini eggs in another sandwich bag and crush them with a rolling pin until they're smashed into small chunks. Fold these into the cheesecake mixture.

Fold through your fresh raspberries. (I kept some whole and also crushed some down)

Spread your mixture on top of the biscuit base and place in the fridge to chill overnight.

To decorate, place some crushed Milkybar mini eggs and raspberries on top in a messy pile.

Keep refrigerated until serving and if you have leftovers. Enjoy!
Recipe Notes
I use a 20cm loose bottom deep tin, but you could also use a springform tin.
Thanks for reading all about my gluten free Milkybar mini egg and raspberry cheesecake recipe! If you make it, I'd love to see how it turned out so don't forget to take a snap of your creations and tag me on Instagram!
Plus, I'm giving away a £50 supermarket voucher every month to my fave pic, so get creating!
Any questions about the recipe? Please do let me know by following me on Instagram and leaving me a comment!
Thanks for reading,
Becky xxx
Oh and don't forget to pin this for later!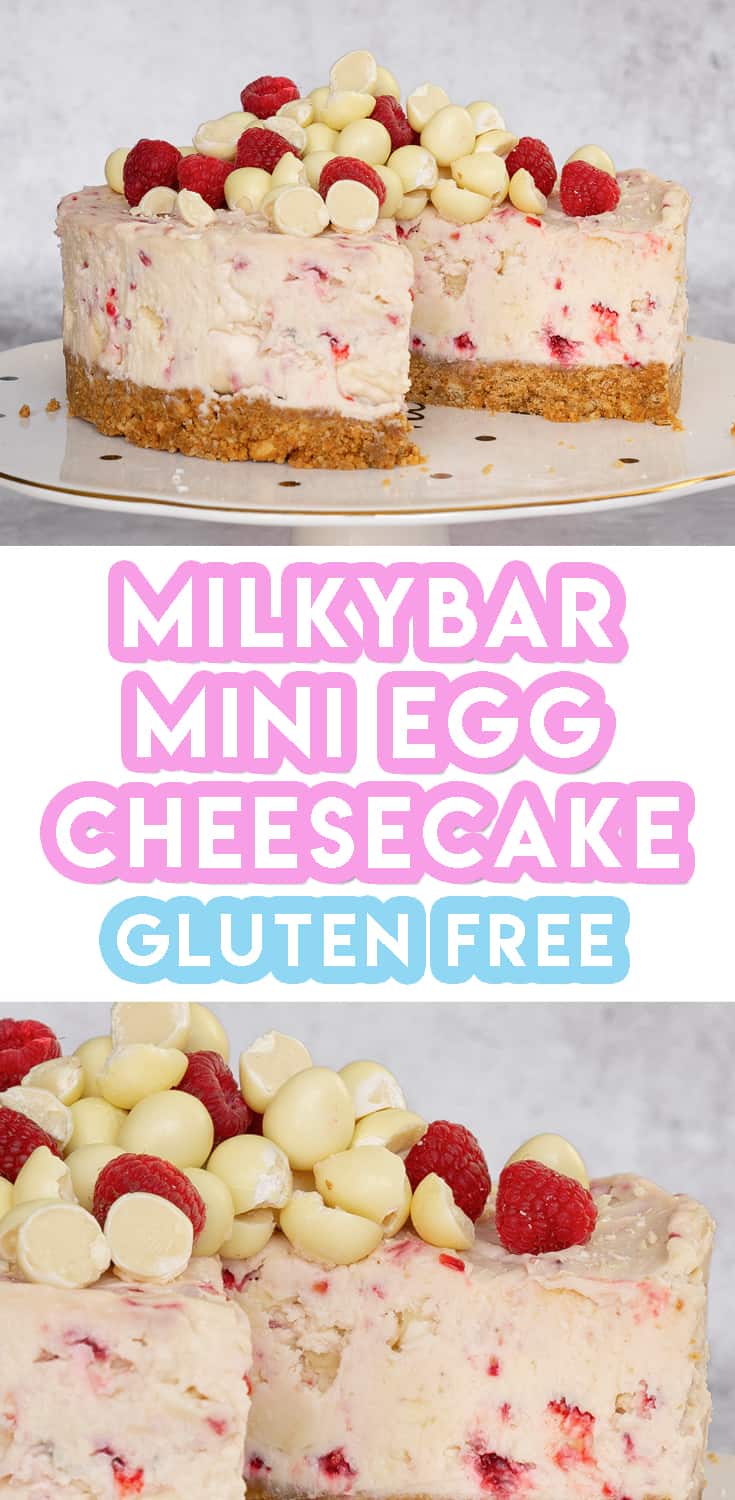 Comments