Don't you just miss those chewy, gooey cookies which are NEVER gluten free? Well here's my gluten free peanut butter choc chip cookies recipe AND it's vegan, dairy free and low FODMAP too!
Mark and I enjoyed probably about 6 months of enjoying gluten together before I couldn't tolerate it anymore. What I remember most is sharing lovely chewy, soft and sweet cookies – that's why my gluten free peanut butter choc chip cookies are waaaay overdue!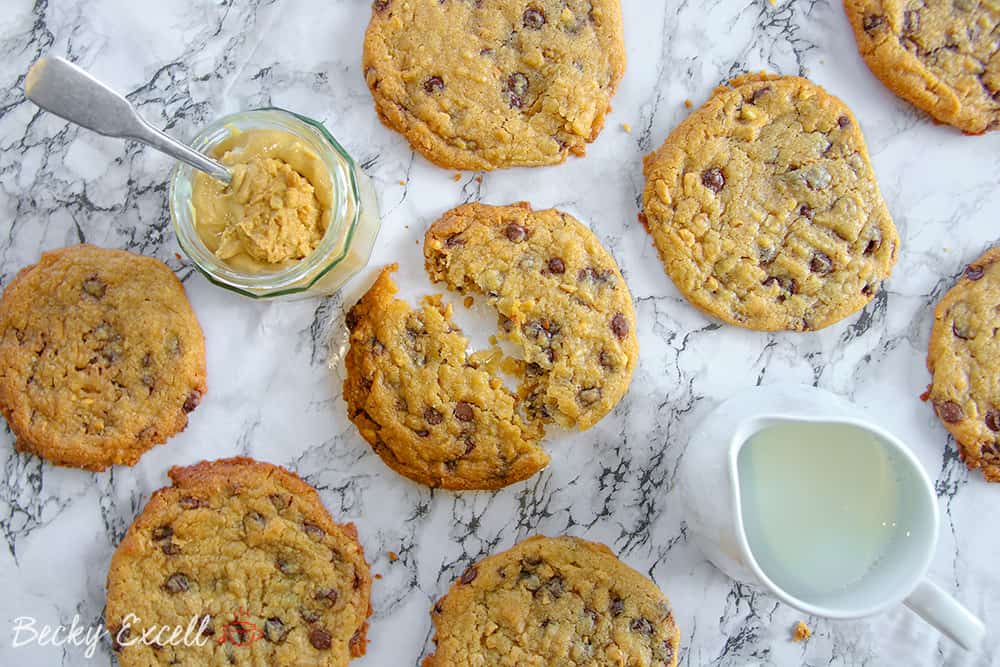 I've probably said this a billion times before but I really hate that food intolerances/dietary requirements dictate what you do and don't do.
Before I've even decided what I want to do and where I want to go – bam – what I can and can't eat has usually already decided 80% of my decisions for me.
I base my holidays on where I've heard the gluten free food is good, I turn down social occasions where I won't be able to eat anything and I can't eat 70% of the meals on any given menu.
Who's really in charge here?!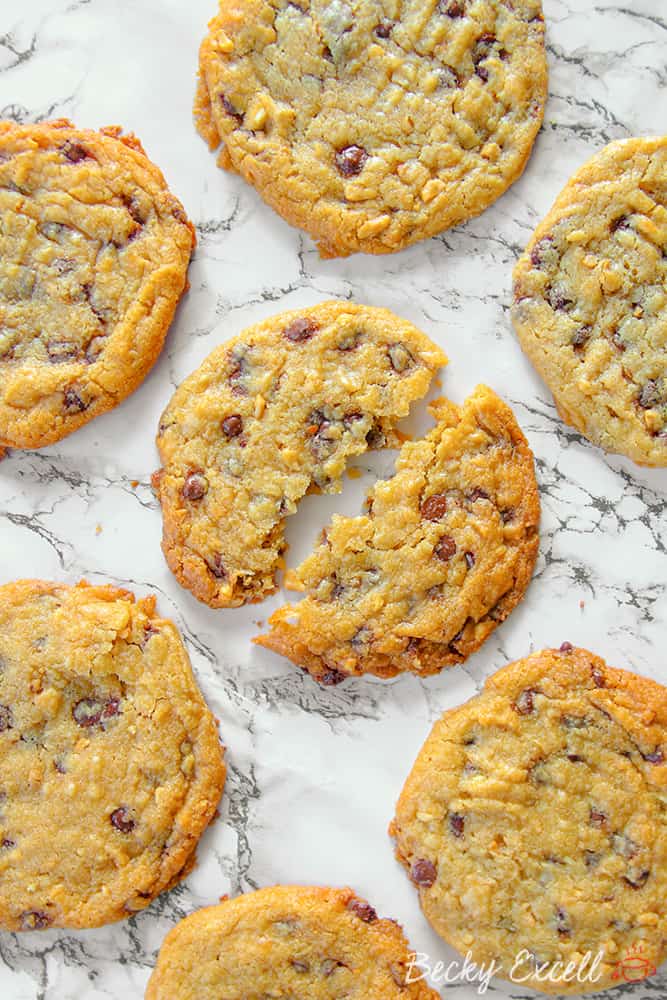 So I hope it sorta makes more sense to you when I say how much I miss just sharing a cookie with Mark.
(it's not so bad, because they always contain dairy too, so he had to give up eating them soon after I did!)
But we almost never share anything when we're out and about these days and it's simple, but I just really miss that.
There's something about eating separate food all the time that is a little sad really!
That's why I decided to create my gluten free peanut butter choc chip cookies recipe and make it dairy free too.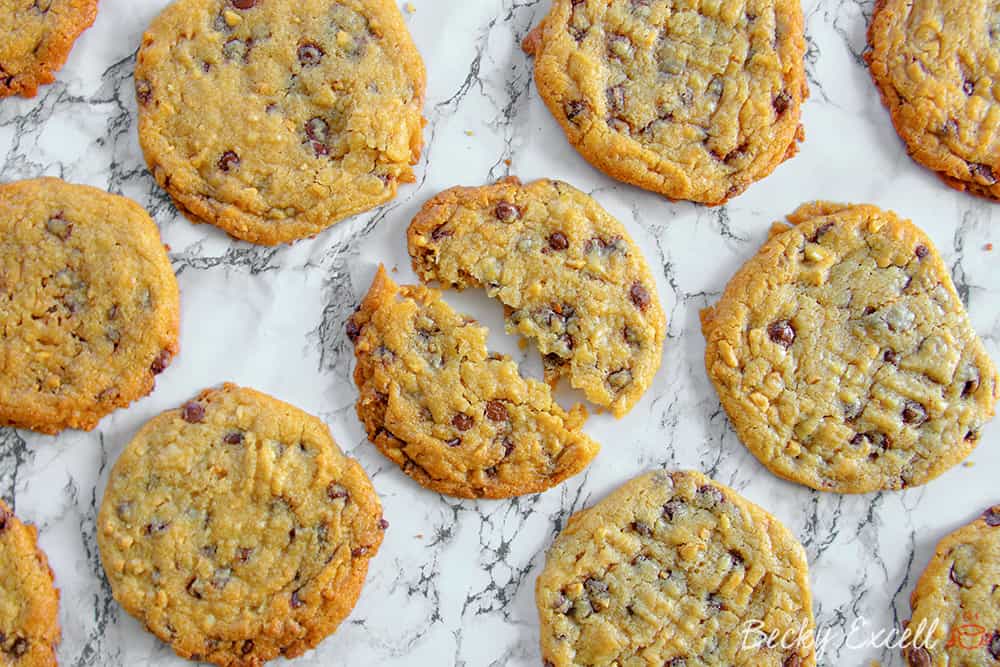 So this recipe had a lot of boxes to tick – chewy and soft yet no gluten, no dairy, vegan (so, no eggs) and low FODMAP too.
But it turns out, that my gluten free peanut butter choc chip cookies taste insanely awesome without any of that!
Peanut butter cookies are mine and Mark's weakness, but throw in a few dairy free chocolate chips too and you're definitely on to a winner!
I probably say this a lot too, but I wouldn't say it lightly – nobody would ever know that these were free from anything. That's what I always strive for with my recipes, so I'm always super proud to say so.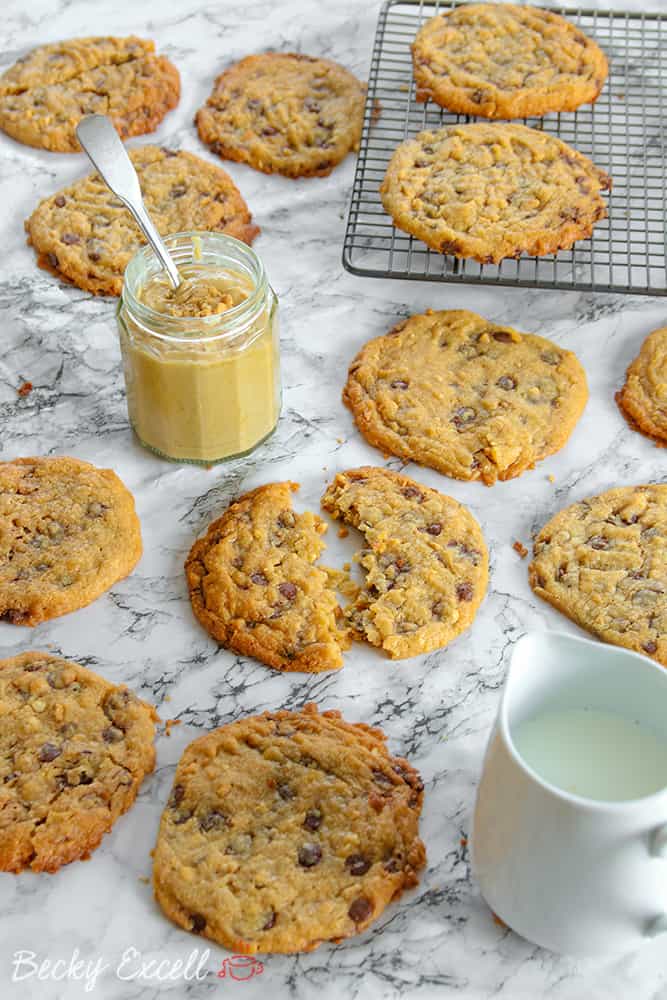 So I really hope you enjoy this recipe as much as Mark and I did. It just feels so much like the good old days and we even took a few of these out and about to make us feel normal!
Here's my gluten free peanut butter choc chip cookies recipe!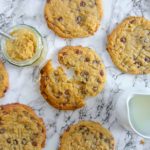 My Chewy Gluten Free Peanut Butter Choc Chip Cookies (vegan, dairy free)
Say hello to my gluten free peanut butter choc chip cookies recipe! It's 100% vegan, dairy free and low FODMAP too, plus it's easy to make at home!
Ingredients
205g crunchy peanut butter

95g dairy free spread / margarine

105g maple syrup

65g caster sugar

50g brown sugar

3/4 tbsp vanilla extract

180g gluten free plain flour

115g dairy free chocolate chips
Instructions
Preheat your oven to 160C and grease two baking trays.

Place all your ingredients in a bowl except your flour and chocolate chips. Mix together until full combined and smooth. I used my electric hand whisk for this, but you can do it by hand too.

Gradually add the flour and mix until combined. Then add in your chocolate chips and mix once more so they are evenly within the mix.

At this point your mixture should be quite an oily dough. Using your hands or a spoon form round balls of the dough and place them on the baking sheet. Leave plenty of space between each ball as they will spread. I wanted large cookies so my balls were slightly larger than a golf ball. But you can go even bigger or smaller!

Press each ball down with the back of a fork slightly.

Place in the oven for around 15-17 minutes.

Remove from the oven and leave for a few minutes of the trays to cool and harden a little. Then transfer to a cooling rack to finish cooling.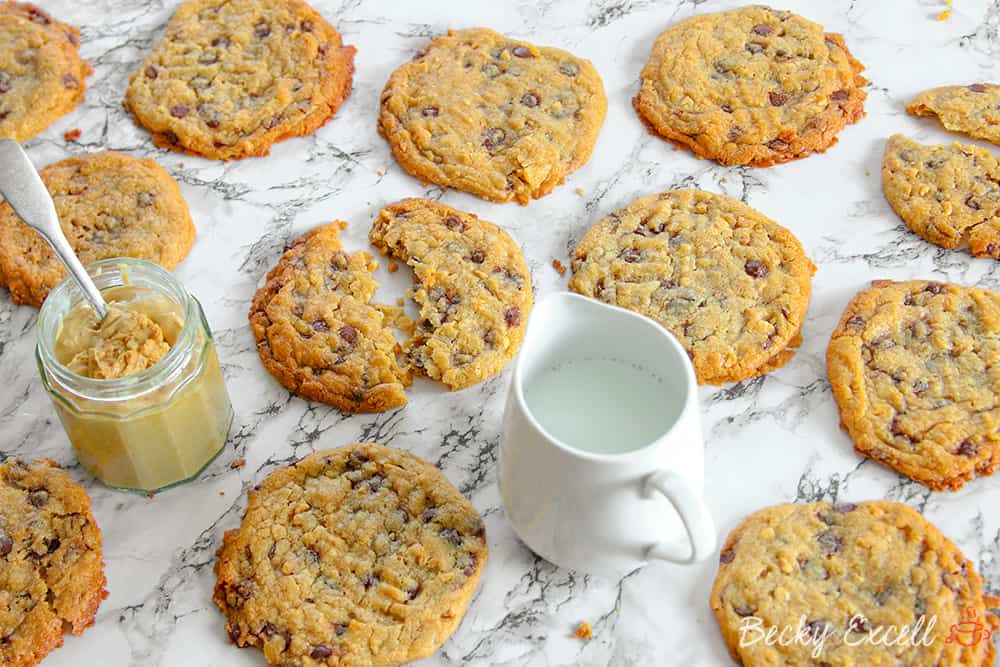 Thanks for reading how to make my gluten free peanut butter choc chip cookies recipe! If you make them, I'd love to see how they turned out. So absolutely make sure that you send me a pic using my social media links below…
Any questions about the recipe? Please do let me know by leaving a comment below or on Facebook / Twitter / Instagram!
Thanks for reading,
Becky xxx
Oh and don't forget to pin this for later!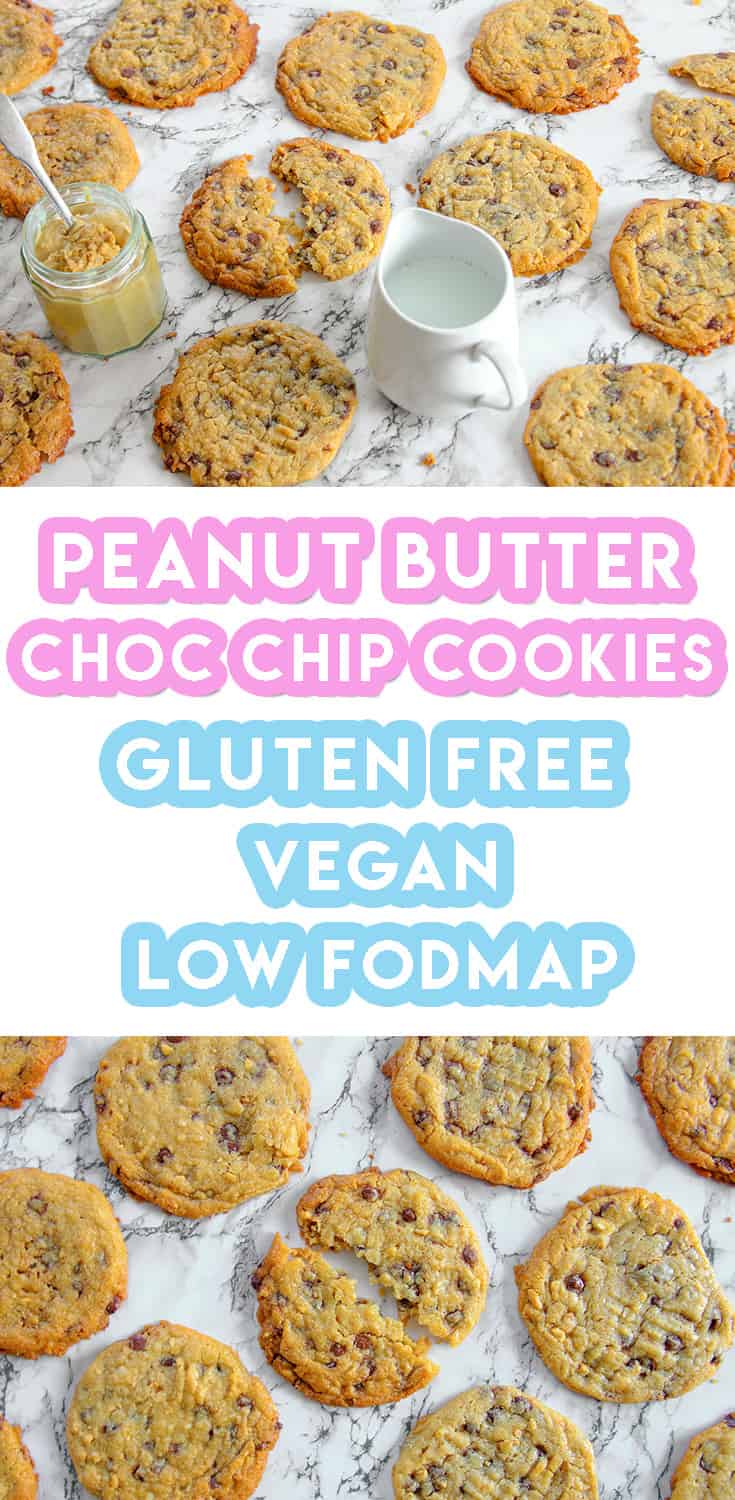 Comments