My gluten free and vegan chocolate chip cookies recipe makes the most chewy, chocolatey cookies on Earth. Plus they're low FODMAP and perfect for Veganuary 2018!
My first challenge of 2018 was to make gluten free, dairy free, vegan, low FODMAP AND egg free cookies. Surely, that's more coming out of them than going into them, right?! After many test-runs here's my ULTIMATE gluten free and vegan chocolate chip cookies recipe.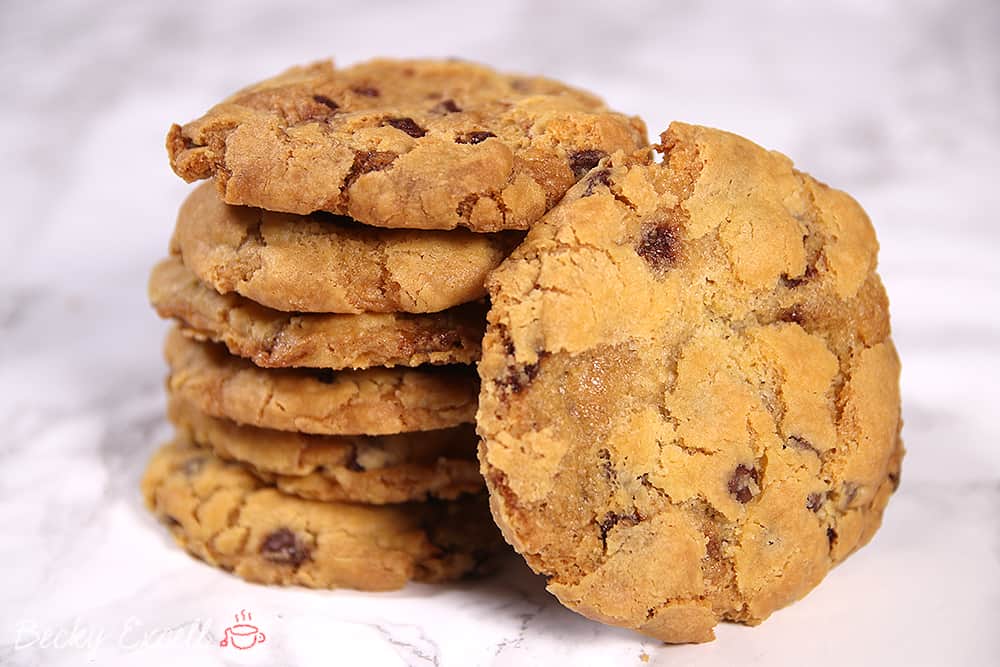 One thing I've really, really missed since going gluten free all those years ago is chocolate chip chewy cookies that melt in your mouth.
I'm not talking your regular hard, crunchy cookies here, I mean those sticky, soft American-style cookies you see everywhere – but can never eat, obviously.
I guess that's just how the cookie crumbles (ok, no more bad jokes, promise.)
Making these cookies gluten free was tough enough as it is, but vegan too? These types of cookies always rely heavily on eggs, so I had no idea where to start initially.
I guess I should probably egg-splain (ok, I lied.)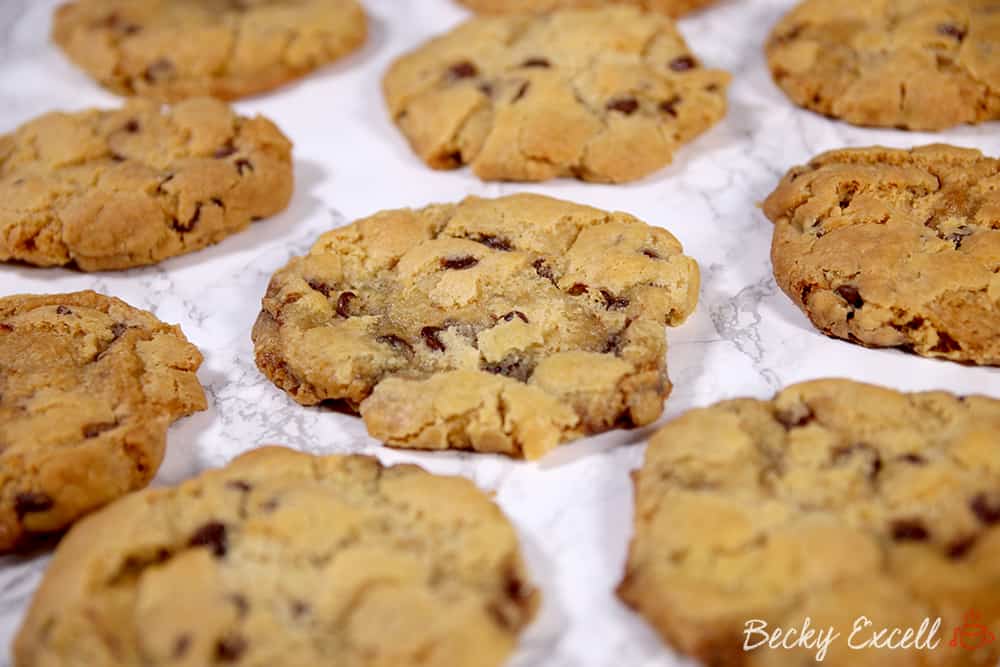 When you think about it, in most baking recipes, eggs are just used to give a little added moisture and a light and fluffy rise. Surely there's something else that can act as an understudy for egg?
The easiest route would be those egg replacer products I always see in the free from aisle but never actually buy.
But like all my recipes, I really wanted to keep things as simple as possible. So in the end, I opted against using egg replacer. I just don't feel like it's the kind of thing you'd have in your cupboard and hey – they ain't cheap!
Instead, I made my own egg replacement for my gluten free and vegan chocolate chip cookies using a few simple ingredients.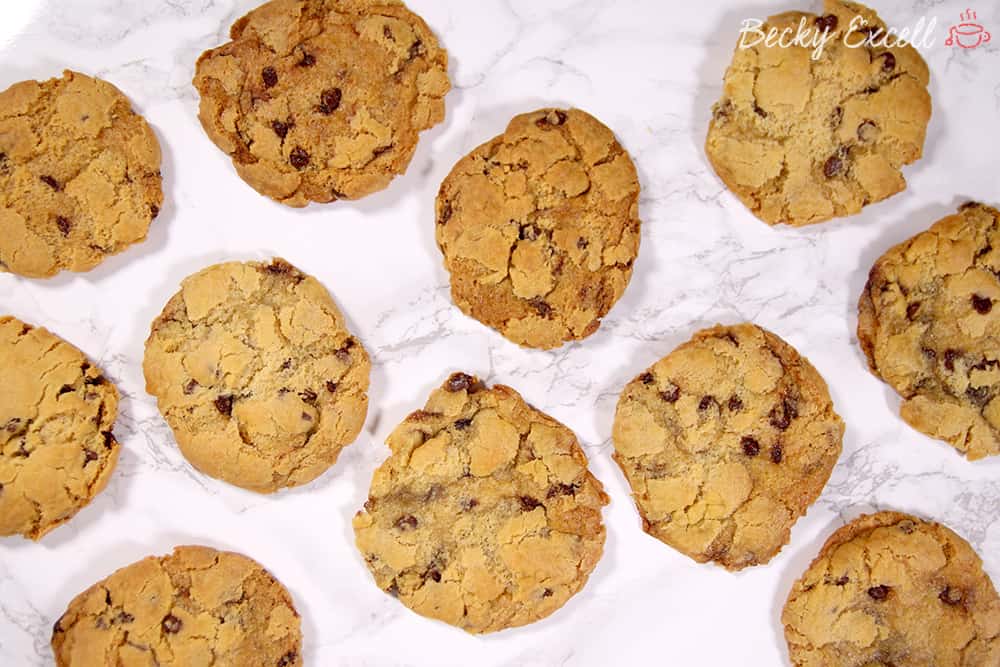 All it took was mixing up a little water, oil and baking powder in a separate dish and hey presto – one pretend egg!
Ok, so it wouldn't make very nice egg and soldiers when you're hungover on a Sunday morning. But it does produce exactly the effect we want in my gluten free and vegan chocolate chip cookies.
It fizzes nicely as soon as you mix it all up, which gave me a little confidence that this recipe would actually turn out to be edible! So how did my gluten free and vegan chocolate chip cookies turn out?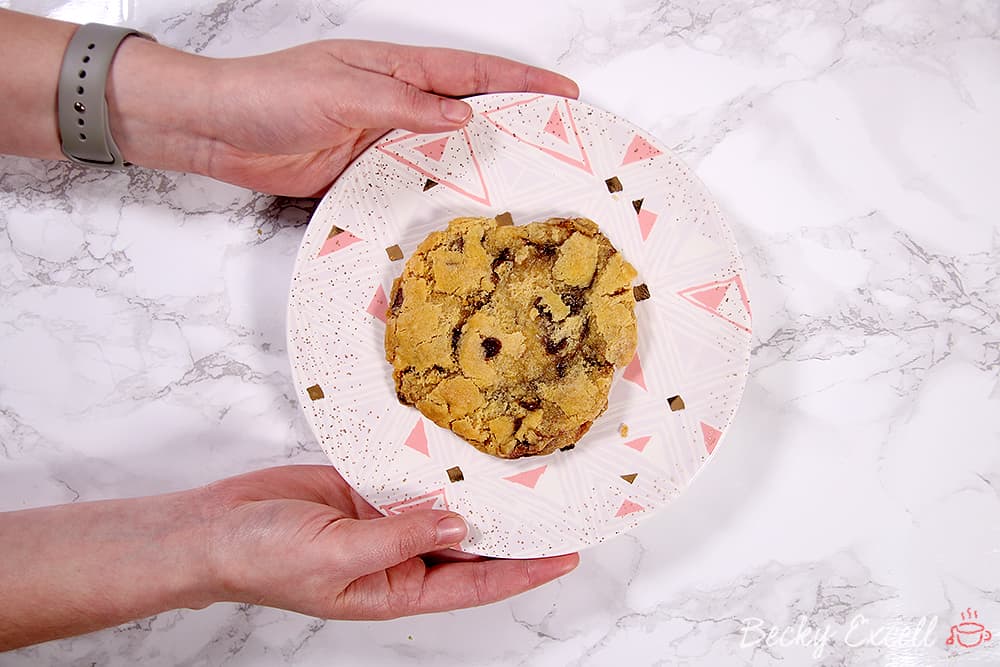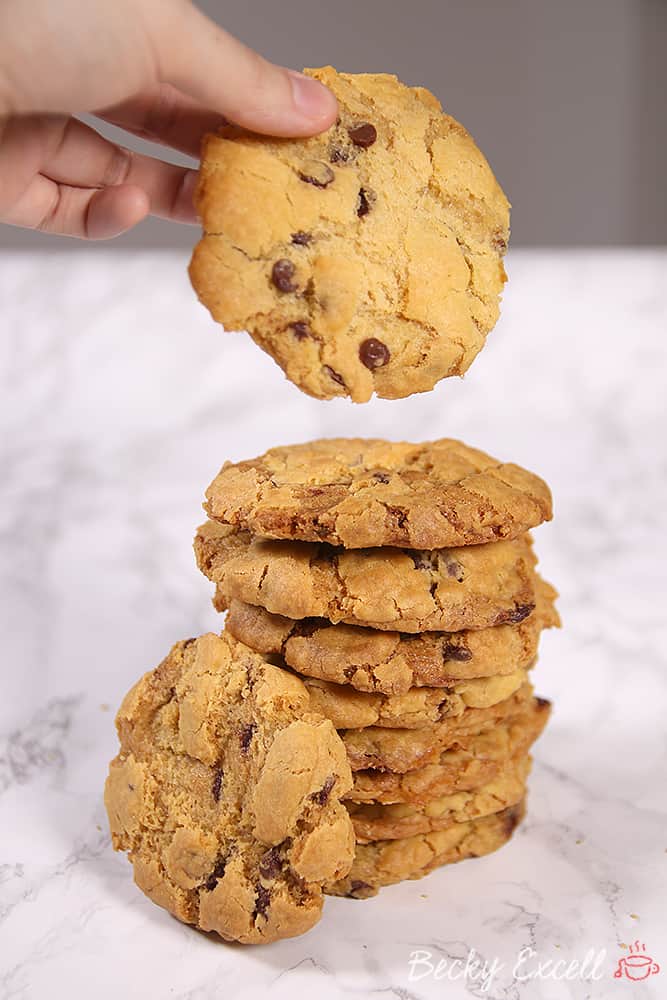 The result was ever so slightly mind-blowing. No gluten, no dairy, no eggs, vegan and low FODMAP too. But honestly (and I don't say this a lot) you'd never be able to tell.
Each cookie emerged soft, golden with melty chunks of chocolate heaven in every bite. Honestly, I hope I don't sound full of myself when I say that I would happily sell these one day!
Besides, I can't be too full of myself when I'm actually full of my gluten free and vegan chocolate chip cookies. Mmm!
But don't take my word for it! Give 'em a try…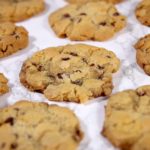 My Chewy Gluten Free and Vegan Chocolate Chip Cookies Recipe (low FODMAP, egg free)
Say hello to my chewy Gluten Free and Vegan Chocolate Chip Cookies Recipe! It's simple to make, low FODMAP and egg free too.
Ingredients
For the main mixture
400g gluten free plain flour

150g dairy free chocolate chips or chunks

150g caster sugar

170g soft brown sugar

light or dark

75g hard margarine

I used Stork

150g dairy free spread

I used Pure

2 tsp baking powder

1 tsp bicarbonate of soda

1 tbsp vanilla extract
For the 'pretend' egg - pick one of these three options or just use a regular egg if you're not vegan!
2 tbsp water

replaces using an egg

1 tbsp oil

replaces using an egg

2 tsp baking powder

replaces using an egg
Instructions
Preheat your oven to 180C.

In your first bowl, (a large one!) pour in your gluten free flour, bicarbonate of soda and baking powder. Add in your chocolate chips too and mix together.

In your second bowl, cream together your hard margarine, dairy free spread, sugars and vanilla extract. For this I used my Kitchen Aid mixer but a electric hand whisk would do the job too. Cream until combined and lovely and light.

In your final bowl (a small one) mix together your 'pretend' egg ingredients. Mix together 2 tbsp of water, 1 tbsp of oil and 2 tbsp of baking powder. It should fizz a little!

Next up add your 'egg' mixture to your large flour bowl followed by your creamed sugar and margarine.

Mix together thoroughly. I started off using a spoon but then also got my hands in there to ensure there was no dry flour not combined.

If you haven't already, get your baking tray(s) and grease/line with baking or parchment paper.

Roll your cookie dough into balls. I made my balls fairly large as I wanted big cookies but any size will do. Place them on your baking tray and leave space between each as they will spread. (You can press your balls down a little if you like but trust me, give them time and they will spread!)

Bake for about 15 minutes. When you get them out they should have spread and be very soft to touch. (They will harden up when they cool)

Want a little tip? Upon taking your cookies out of the oven, hit your tray on a hard surface straight away when still hot. (Obviously be careful!! I did this on a granite worktop saver we have) This will help them spread as much as poss.

Allow to cool a little and then remove from your baking tray onto a cooling rack to completely finish cooling.
Recipe Notes
This makes quite a lot of cookies so feel free to half the mixture if you only want to make a few.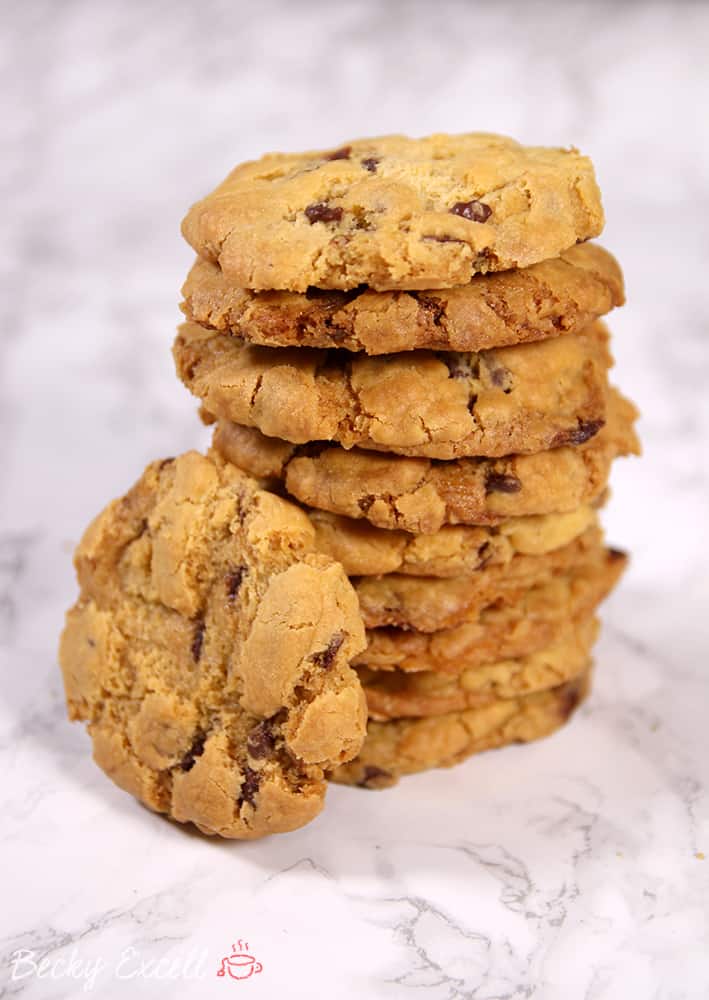 Thanks so much for checking out my gluten free and vegan chocolate chip cookies recipe!
Looking for more Veganuary recipes that are gluten free, dairy free and low FODMAP too? Check out my buckwheat pancakes recipe, it's a good'un!
Any questions about the recipe? How did yours turn out? I'd love to see a photo of your chocolate chip chappies! Please do let me know by leaving a comment below or on Facebook / Twitter / Instagram!
Thanks for reading,
Becky xxx
Oh and don't forget to pin this for later!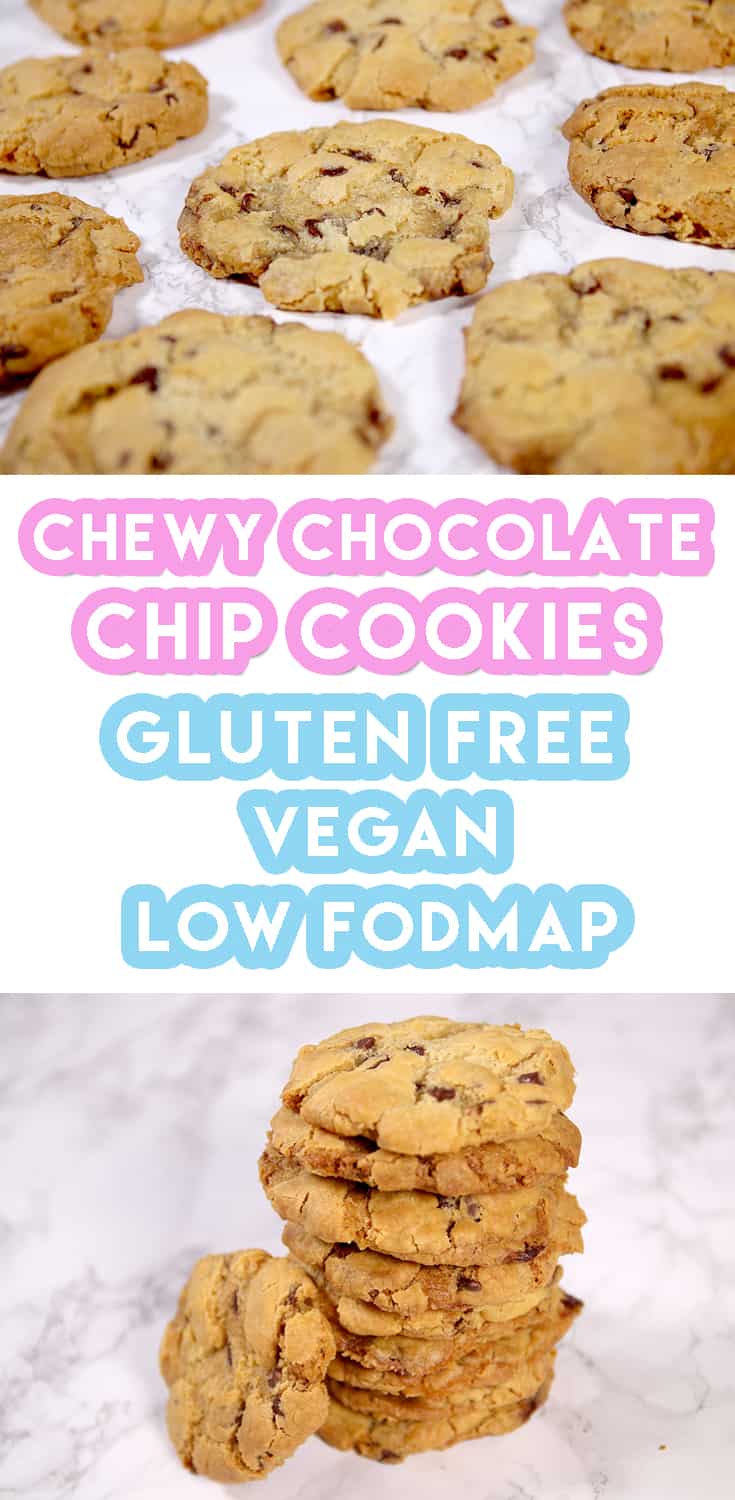 Comments