It's the perfect time of year to try my fancy (yet super-simple and quick) gluten free canapé ideas. Believe it or not, all of them are dairy free and low FODMAP too.
Whether its Christmas day, Boxing day or you're bringing in the new year, these gluten free canapé ideas should always be a VIP guest at your buffet. But wait! What's on the menu?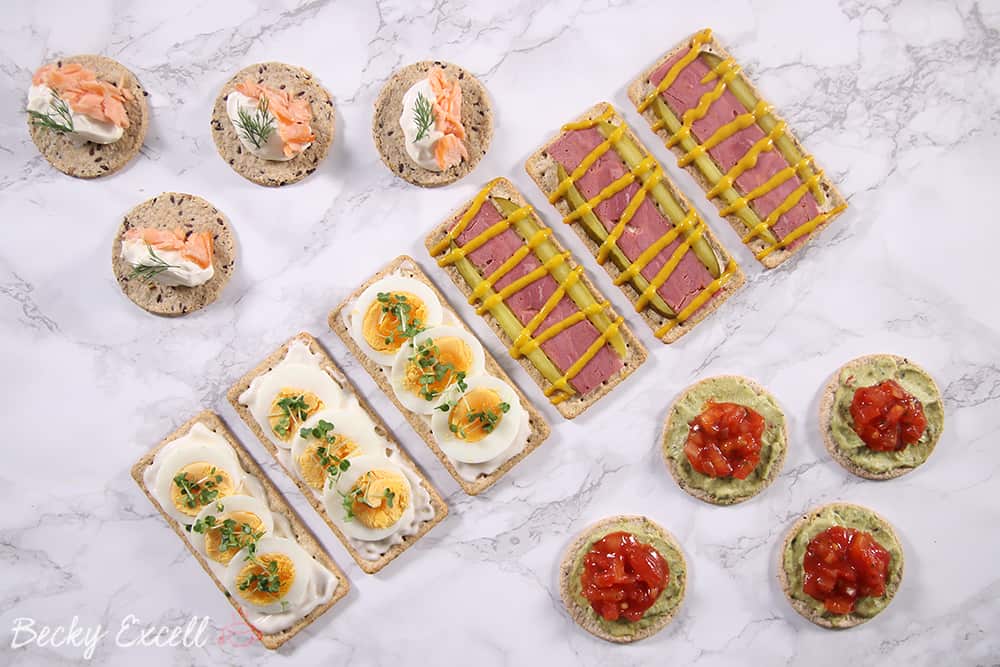 Well first of all, to make things easy and quick, I picked up a bunch of Nairn's gluten free oatcakes and flatbreads as my canapé base.
There's a ton of different varieties and flavours, in all different shapes and sizes. Trust me, they make the perfect base for quick canapés, then all you need to worry about is the toppings.
For my toppings, I really wanted to go for classic flavour combos, with lots of colour, that everyone would love. So here's what I came up with…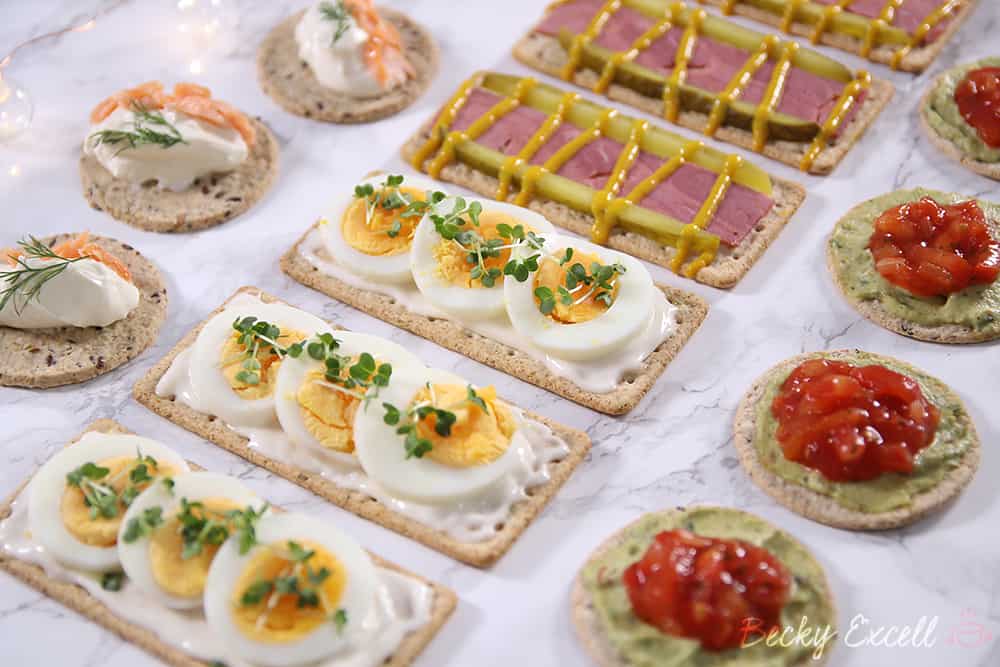 In the top left, we've got a timeless combo: dairy free cream cheese with maple syrup-glazed roasted salmon flakes and a little dill.
In the bottom right, I went for a modern classic: guacamole and salsa. It's like a fiery nacho, but with the added wholegrain flavour that the oatcake delivers.
(In case you didn't know, you can eat an eighth of an avocado on the low FODMAP diet, hooray!)
In the middle on the left, we've got my absolute favourite of the bunch: egg, cress and mayo on a rosemary and sea salt flatbread. So simple, yet sososo good.
Lastly, we've got an old fave of mine: pastrami, American mustard and sliced gerkins. This flavour combo just takes me back to our first trip to New York in 2012.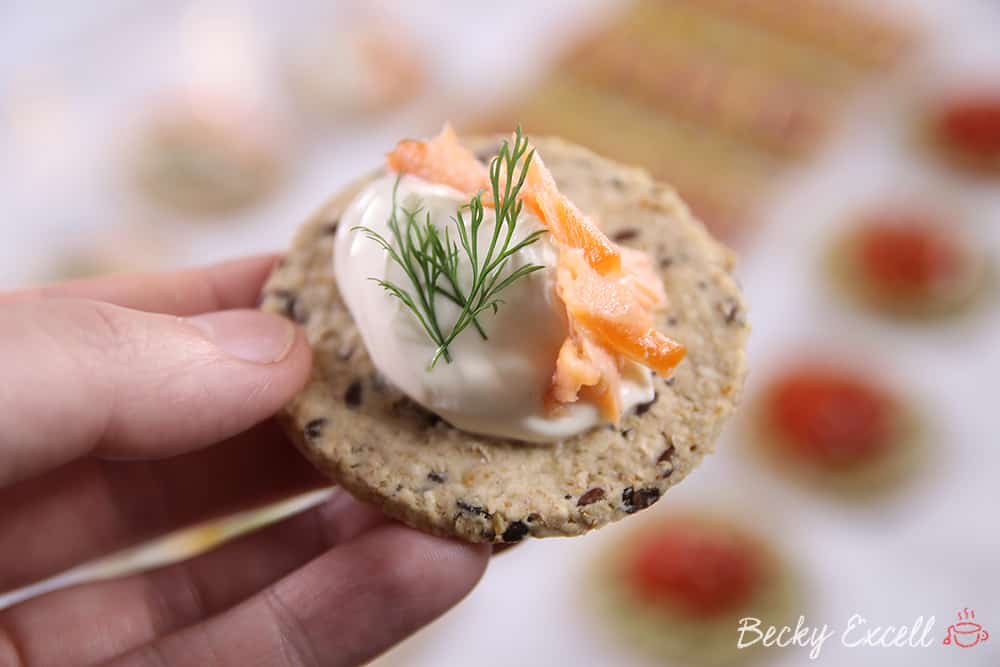 So how do you make my gluten free canapés, I hear you ask?
Well, I'm not gonna patronise you by giving you a recipe that instructs you how to boil an egg, place pastrami onto a flatbread or cook salmon in the oven for your gluten free canapés.
Making all of these canapés are pretty self explanatory! If you're here for my maple syrup-glazed roasted salmon, low FODMAP salsa or guacamole recipes, then do let me know in the comments below and I'll happily share them here on the blog asap.
But in the next section, I will give you a little bit of advice on how to present your canapés. Because let's be honest: the key to making beautiful gluten free canapés is all about the presentation.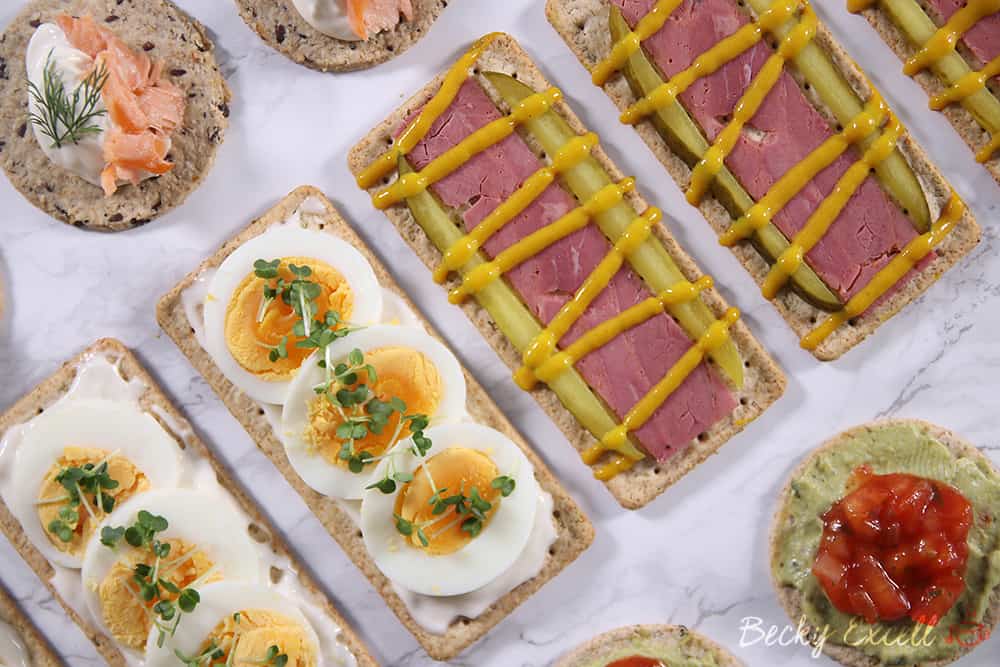 Using my Nairn's oatcakes and flatbreads, I had both circular and rectangular shapes to contend with in terms of presentation.
For the rectangular shaped oatcakes, you just can't go wrong with laying your topping in a line, like my egg, cress and mayo canapé. Or instead, you can always stick to the neat, clean lines of the flatbread shape, much like my New York canapé.
I got the effect with the mustard simply by (rather messily) squirting gluten free American mustard across them on a separate board. Then when you remove the canapé from the board, you'll be left with a nice, neat pattern and none of the mess.
With a circular oatcake, things are pretty simple. When adding your topping, you can't go wrong by just sticking to the circular shape. Then, you can always add a little dollop of contrasting colour on top too, like I did with the salsa.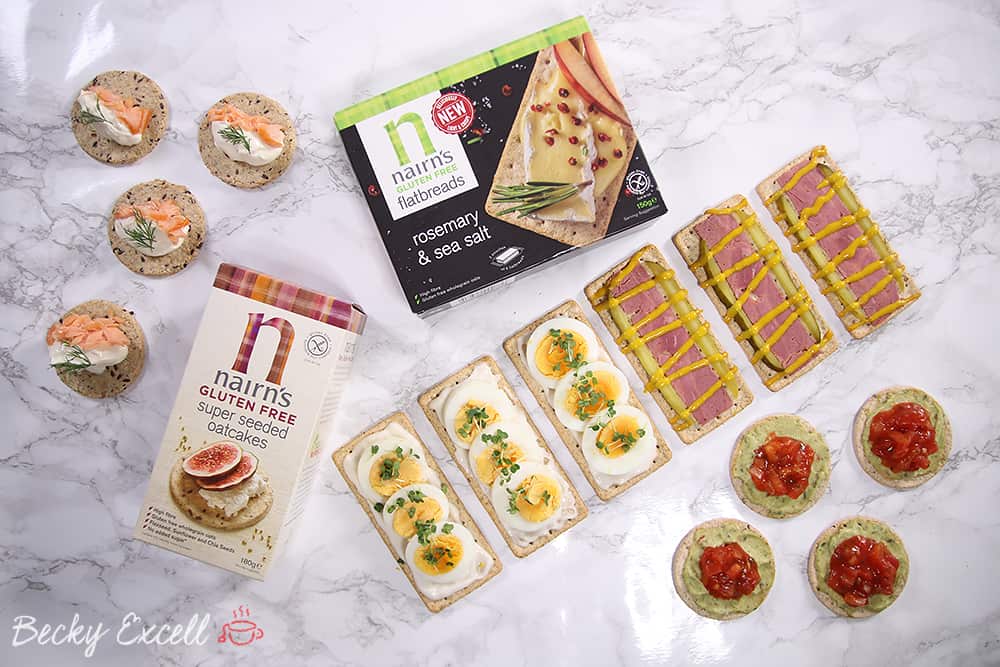 But then, there really are no rules if you're feeling creative!
I like to think that I went full-on fancy with my salmon and cream cheese canapé. I tried my best to create a neat dollop of dairy free cream cheese (or failed Quinelle as I like to call it) which was slightly off-centre, then used my roasted salmon flakes to re-centre the full picture.
A work of art by my standards!!!
But in all honesty, anything goes as long as you promise to add a little garnish on top, like fresh herbs or cress. Anything green is great, as long as its quite light and small.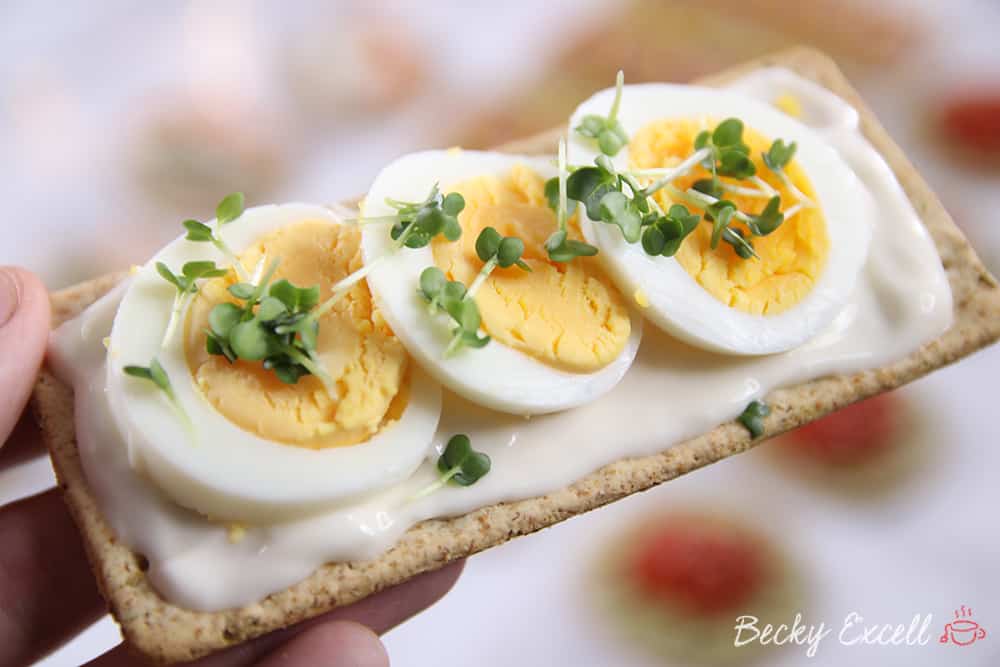 I hope you found inspo from my gluten free canapés! Like I said, this post was more for ideas you can take away and get creative with, rather than full-on recipes.
There really is no need to despair at a lack of variety or luxury in gluten free party food when you can do so much with a pack of oatcakes!
However, like I said, if you reeeeally want me to nail these down in recipe form, then just let me know by leaving a comment below. Or feel free to ask me any questions or clarifications on how I put these together. I love to chat with you lot!
What are your favourite gluten free canapés ideas? How do you best present them? Please do let me know by leaving a comment below or on Facebook / Twitter / Instagram!
Thanks for reading,
Becky xxx
Oh and don't forget to pin this for later!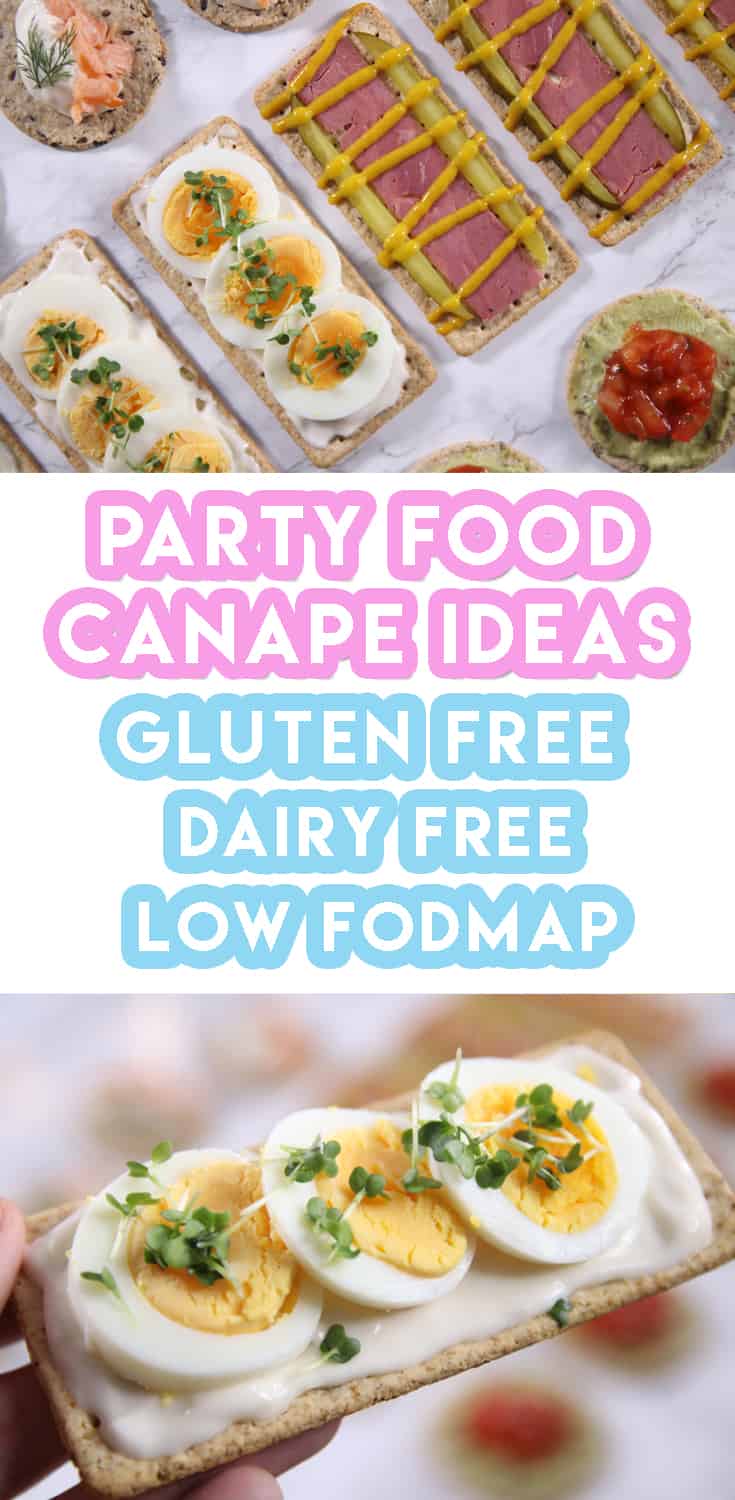 Comments