I've been dying to try out one of HelloFresh's naturally gluten free recipe boxes. Fresh, pre-portioned ingredients and exciting new recipes delivered to your door, weekly. What's not to love?
Ever since I saw that episode of The Apprentice where they were challenged to make their own recipe box, I absolutely had to try one for myself.
(But not one of theirs personally though, they were absolutely atrocious and made me want to cry.)
I thought HelloFresh would be a much better place to start!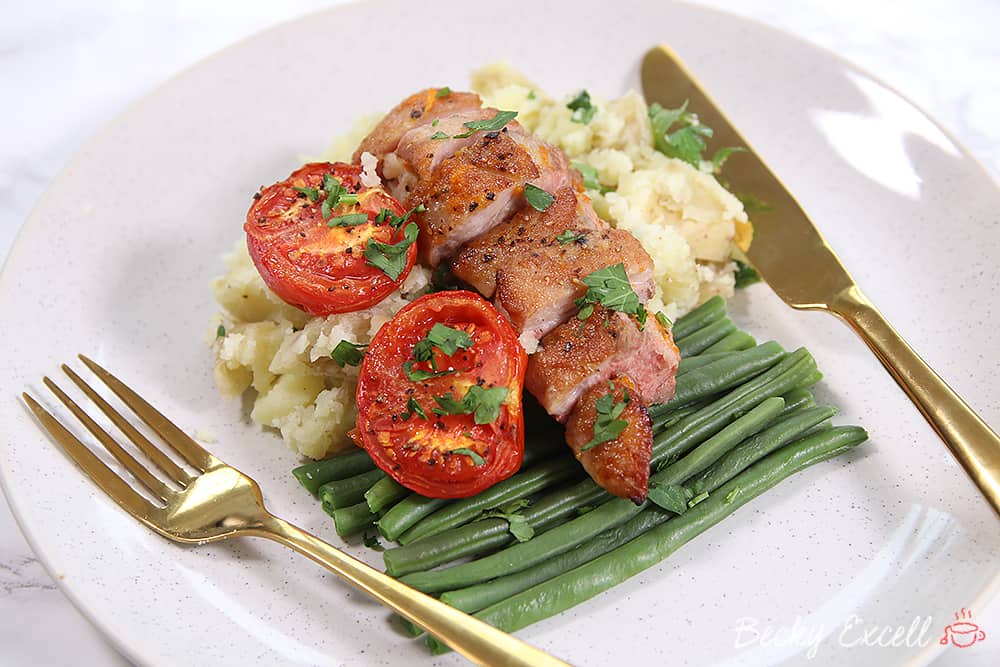 So in terms of gluten free, there's a huge bunch of HelloFresh recipes without gluten to choose from. Being mostly comprised of fresh produce, protein and a few extra herbs and spices, these dishes never even had gluten in them to start with.
However, HelloFresh do state that there may be cross-contamination when when packing your box as they do handle gluten-containing products at HelloFresh. This isn't an issue for me, being gluten intolerant, but do bear this in mind if you need to.
After cooking up my first dish (I went for orange glazed duck!) I thought I'd tell you the 5 reasons why I absolutely loved the experience.
1. It stops you getting stuck in a rut with meals.
I don't know about you, but after the working day is done, I don't have a lot of time (or energy) to research and come up with exciting, new meal ideas.
I wish I did! But the reality is that I'm either too knackered or too hungry/hangry to do so. Definitely more hangry than hungry.
So because of that, we probably have about 10-12 go-to recipes that we just rotate through randomly from day-to-day.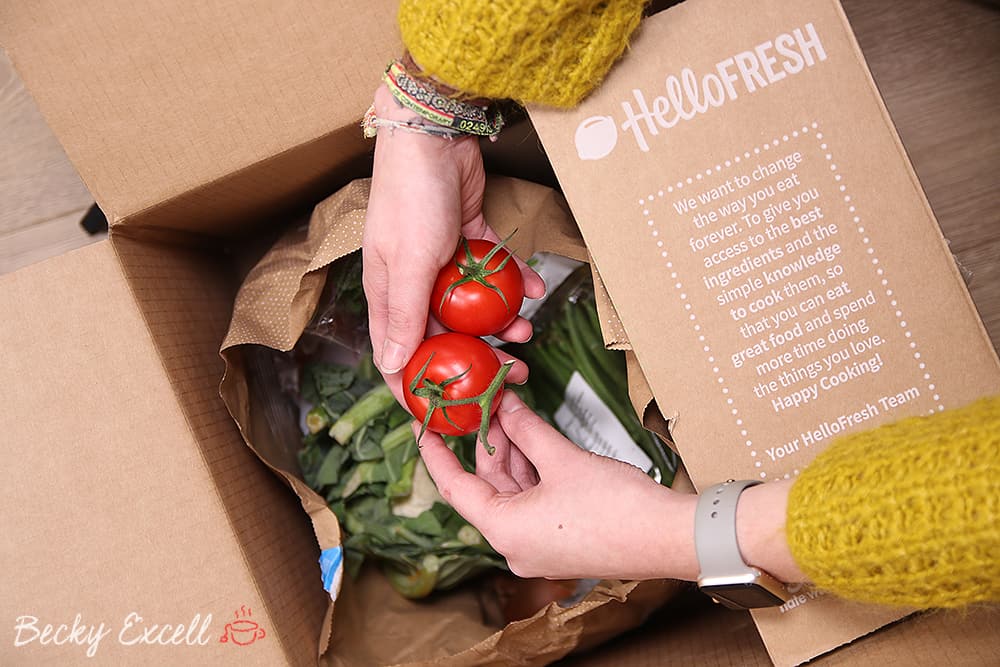 But even with 10-12 different meals on rotation, you do just get stuck in a rut of eating the same meals, day-in-day out.
HelloFresh really shook up meal time for us and had us using ingredients we've never really tried or thought to try before. We never cook with duck… but we do now!
2. You get tried and tested recipes.
HelloFresh's recipes clearly aren't chosen by someone with their eyes closed who then points at an open recipe book. Did you expect that? I'm guilty as charged!
All three recipes cards I received were totally different (orange glazed duck, warming cauliflower dal and butterflied chicken) but they all had a lot in common.
The recipes were all totally foolproof in their execution, yet the end result tasted and looked like something you'd happily be served in a restaurant. Trust me, as someone who creates recipes myself, that isn't an easy task!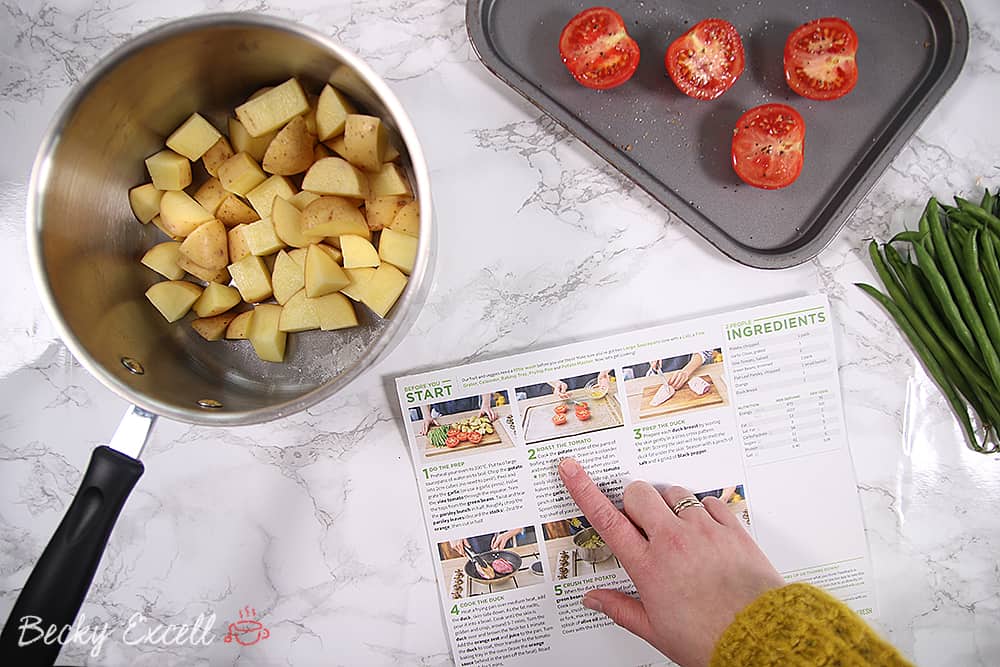 Clearly a lot of time and thought has gone into selecting the recipes for HelloFresh. The instructions even extend to how you should present it on a plate so it actually looks like it does in the photos.
It just left me thinking "gosh, this is so much better than using some of the recipes you come across on the first page of Google."
Because let's be honest, there's more terrible recipes out there than good ones on the Internet (my recipes excluded obviously!!!)
3. You learn new skills.
In the creation of my orange glazed duck, I actually learned a little something new from the recipe card. Wait, I just thought I was making dinner, not taking a cooking class!
Before frying the duck skin-side-down, you use a knife to create a criss-cross pattern. This helps to melt the fat under the skin when you fry it, so it's lovely and super crisp.
Apparently, this is a term which chefs refer to as 'rendering'.
I've already filled in my application for the next series of Master Chef.
4. Less food waste.
I recently did a little collaboration with Love Food, Hate Waste and I was so pleased to see their logo emblazoned on HelloFresh's box too. And for good reason.
All of your food arrives perfectly portioned out for you. You don't get shipped an entire kilogram of carrots if you only need two… just simply receive the amount you need.
The amount of potatoes I received in this recipe was perfect for two people, because that's all the recipe calls for.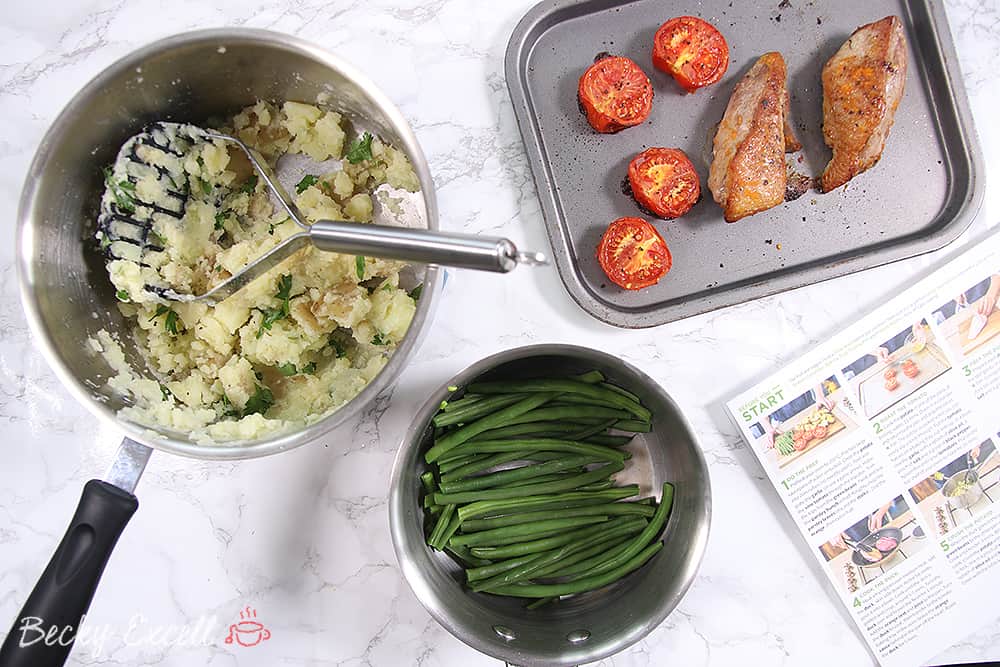 When we cook at home, excess food waste is inevitable, even though we try to minimise it as much as possible.
But in supermarkets, buying more than we need is often actually cheaper than buying less (think half loaves of bread for example.)
We're almost fiscally encouraged to buy too much food and waste some, or all of it. HelloFresh is a nice counterbalance to that.
5. It's fun!
Isn't it the simple pleasures in life, really? When my HelloFresh box turned up, it was like Christmas had come early as I raided it to see what was inside. I love receiving packages in the mail, after all!
But most importantly, creating the dish and following the recipe card was so much fun to do with Mark. HelloFresh recipes are easy to cook on your own of course, but they're even more enjoyable with a cooking partner in crime too (as long as Mark knows that I'm the head chef!)
The recipe card is much bigger than you'd expect, making it so much easier to share it between two. Then, with the helpful step-by-step photos, you can both easily see what step each other is on/where you both are in the recipe.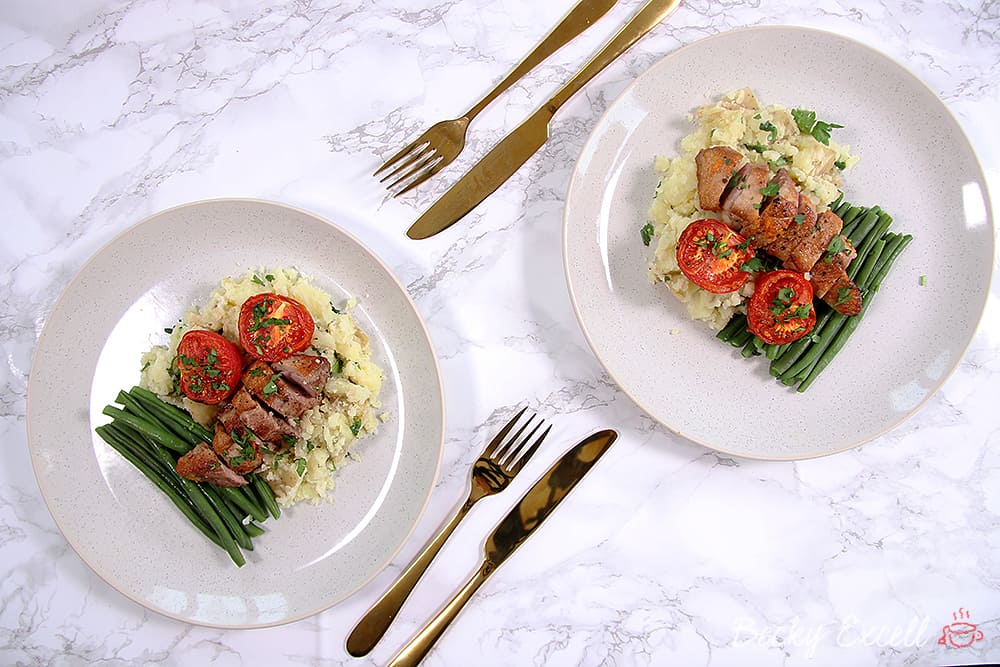 It certainly both beats crowding around a small smartphone with only one photo of the finished product to go on!
So what do you think of our orange glazed duck with smashed potatoes, green beans and roasted tomatoes? Did we do a good job?
So that's 5 reasons I love my HelloFresh recipe box! I don't think I got a chance to big up the actual, literal HelloFresh recipe card enough now that I think about it. I mean, how many recipes do you find with step-by-step pictures? Like, none. Ever.
I'm a person who immediately groans when a recipe book features a few recipes without even a photo to their name. How the hell am I even supposed to know what I'm aiming for here?! Thankfully, HelloFresh's recipe cards are the polar opposite of that.
Interested in signing up? Just head over to HelloFresh and start selecting your recipe box. Don't forget to let me know what recipes you chose!
ALSO… if you want to get £20 off your first box just click here and use my unique link!
Any questions about this recipe or HelloFresh? Please do let me know by leaving a comment below or on Facebook / Twitter / Instagram.
Thanks for reading,
Becky xxx
This is a sponsored post in collaboration with HelloFresh.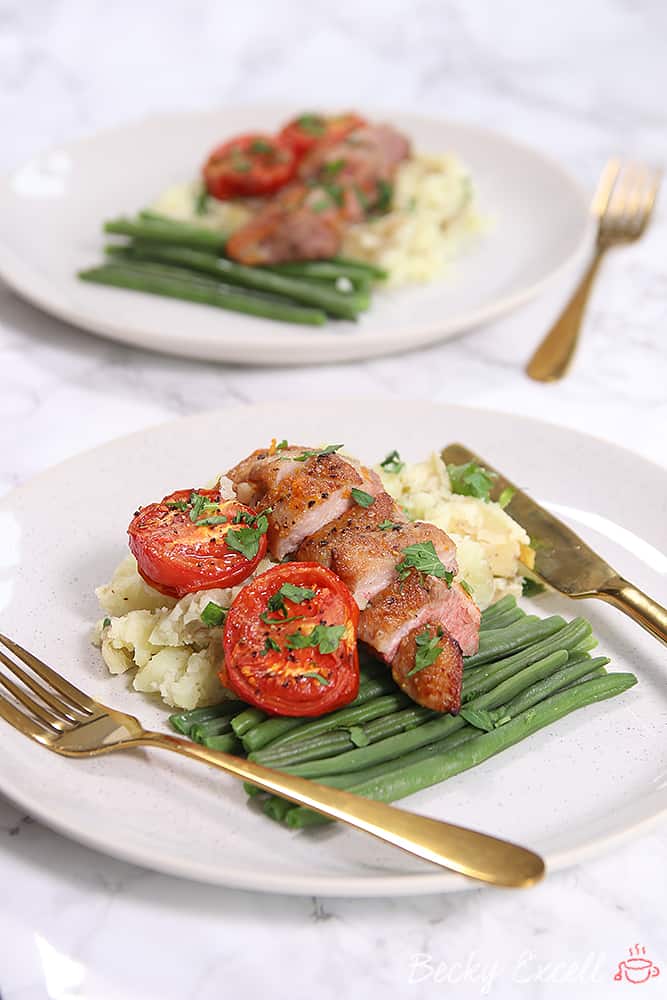 Comments