What would Christmas be without a trifle? Well, pretty disappointing if you're wondering! Too many Christmas days have gone by where I've missed out on eating trifle. But that's all about to change…
In the past, I've focused so much on making Christmas lunch gluten free, that I've neglected to prepare for afters. Trust me, there's nothing worse than sitting there with nothing whilst everyone digs into dessert!
But my simple trifle recipe isn't only gluten free, but it's made with Splenda sweetener instead of sugar too. Maintaining a modest sugar intake during the festive season can be tough, but that doesn't mean you have to miss out on your favourite desserts…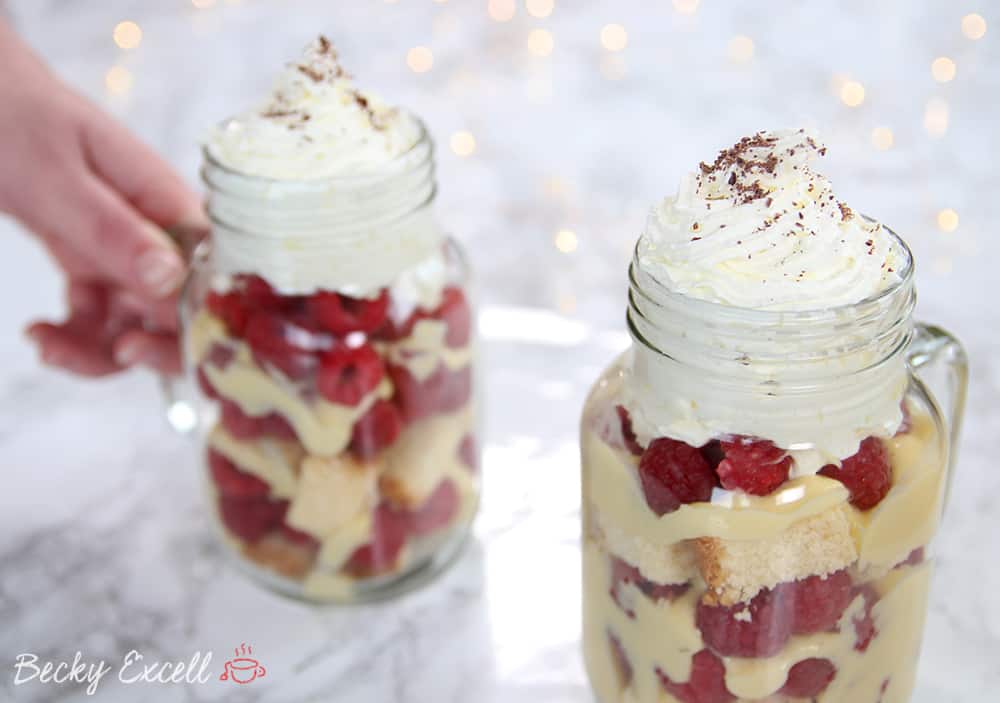 I never thought of using Splenda in anything other than a cup of tea, but did you know it's actually fantastic for baking too?
Unlike other sweeteners, it can be heated up to 230+ degrees so it makes a great replacement for sugar in baking. Now that is a real game-changer for me!
Whilst a million different festive dessert ideas raced around my mind when I heard that, there was only one true contender.
Trifle. Let's do this!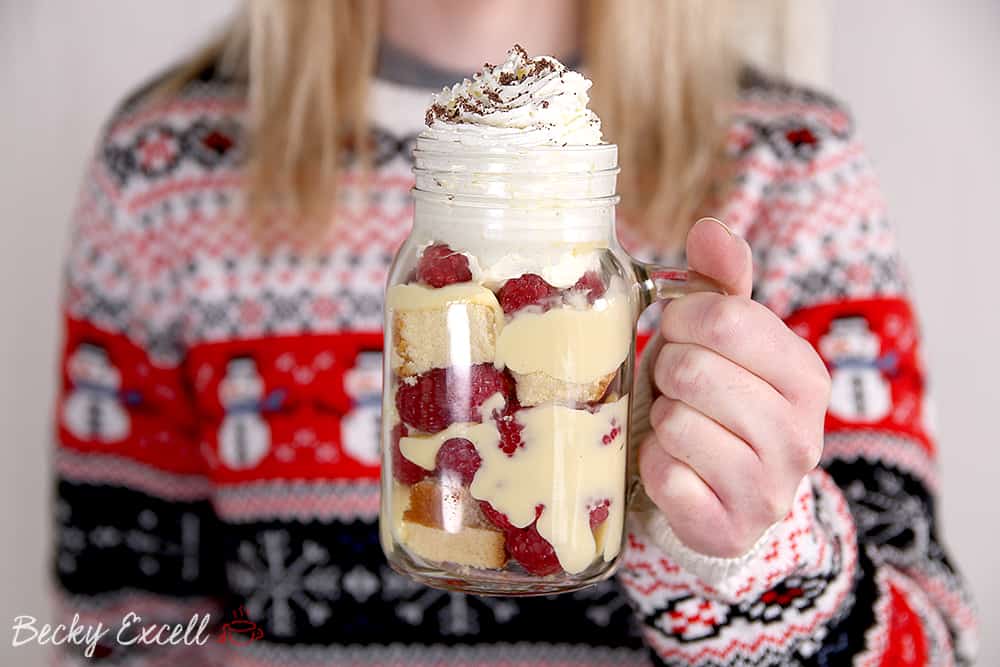 So I set out to make my own custard, whipping cream and sponge cake chunks, all whilst using Splenda instead of sugar.
Being my first time using Splenda in baking, I really wasn't sure what to expect.
But it literally worked as a like-for-like substitute for sugar and honestly, nobody would ever be able to tell the difference.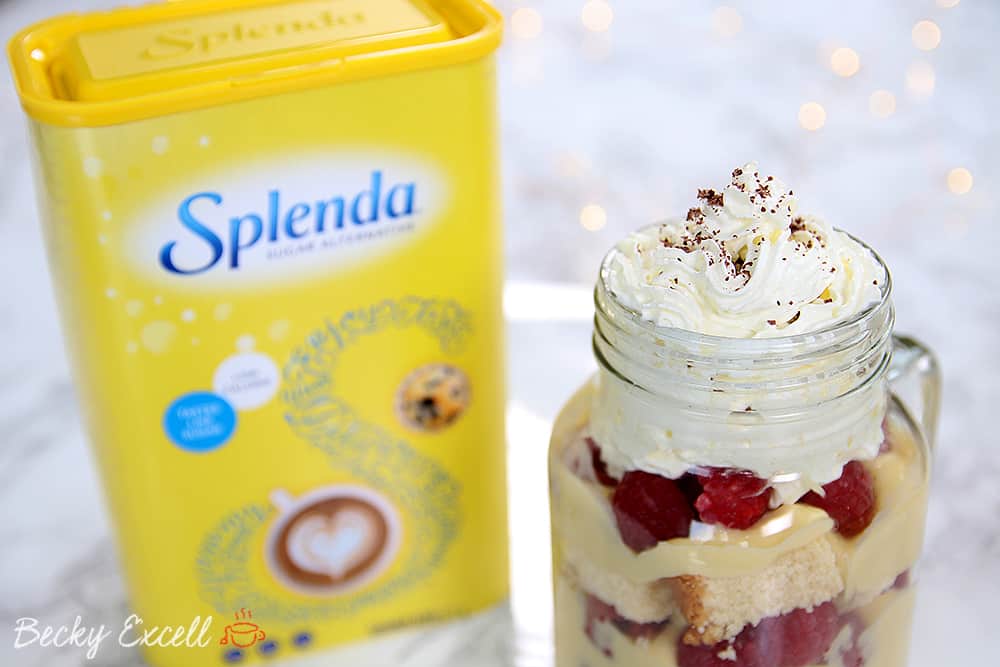 Needless to say, it turned out extremely well! It does make you think twice about using sugar in baking when obviously, Splenda makes a perfect alternative to sugar.
Sugar is another one of those things that like gluten, just doesn't agree with me. I have to severely limit how much of it I eat all year round, but that's pretty tough at Christmas.
So it's just a little mind-blowing to me that Splenda allows you to ditch adding sugar without compromise.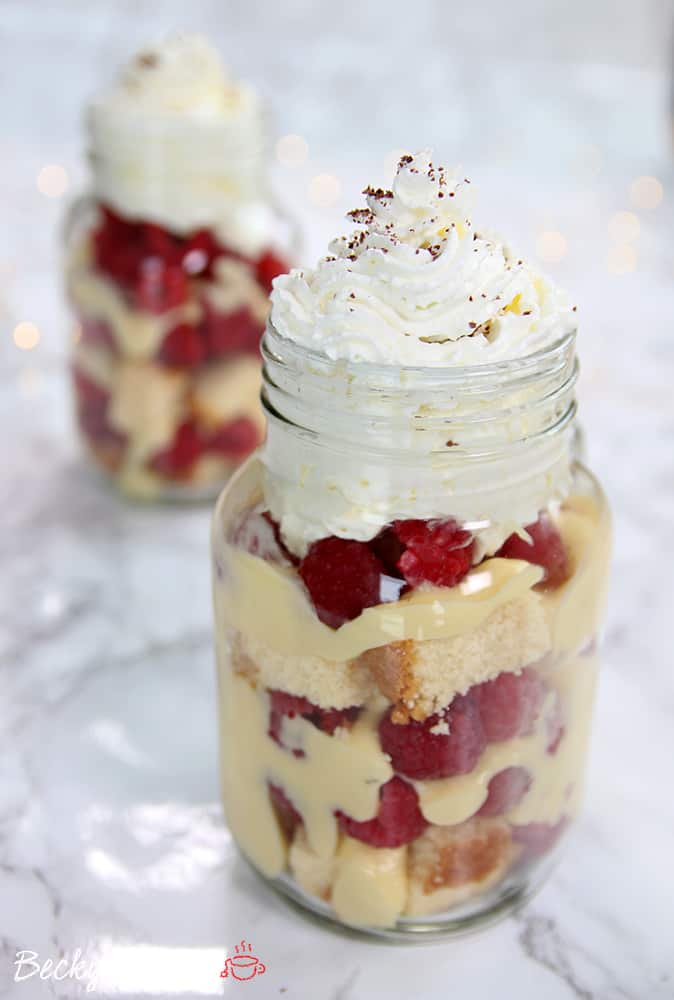 I decided to make mine in my fave jam jar mugs as a little quirky finishing touch. Trust me, they're guaranteed to make everyone jealous and even more jealous when they find out that you made them with Splenda!
Using these jam jar mugs is a great way of making a trifle for one too. As I'm sure we all know, when you're gluten free, you often end up with your own full-sized gluten trifle whilst everyone else shares one. I wanted a serving of trifle, not an entire one to myself – that's very dangerous for me!
Anyway, here's how to make my gluten free trifle with Splenda…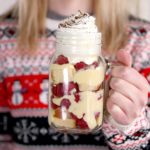 My Festive Gluten Free Individual Trifles
Ingredients
For the sponge
125g spread / margarine

2 eggs

5 tbsp Splenda® Granulated

1 tsp vanilla extract

125g gluten free self raising flour
For the custard
600ml skimmed milk

3 egg yolks

1 tsp vanilla extract

2 tsp corn flour

5 tsp Splenda® Granulated
For the whipped cream
285ml whipping cream

3 tbsp Splenda® Granulated

1 tsp vanilla extract
Extras
fresh raspberries

25ml sherry

for soaking the sponge when assembling

grated dark chocolate
Instructions
Start by making the sponge. Preheat your oven to 180C and prepare a cake tin (I used a 22cm square tin).

Place your flour, eggs, Splenda, spread and vanilla into a large bowl and mix together thoroughly (I used an electric hand whisk for this).

Pour your cake mixture into your cake tin and bake for 15-20 minutes, until golden. Allow to completely cool.

Next make your custard. Place the milk and vanilla into a saucepan and bring to the boil. Whilst your milk is heating, whisk together your egg yolks, Splenda and cornflour.

Next, very gradually (& stirring constantly), pour your hot milk into your egg mixture.

Pour the whole mixture back into the saucepan and heat slowly to boiling and allow to simmer and thicken (try to stir whilst this is happening). Once thickened, set aside to cool.

To make the whipped cream pour your whipping cream into a chilled mixing bowl. Whip using a mixer until the cream starts to thicken a little.

As the cream starts to thicken, slowly add your Splenda and vanilla and keep whipping until it's the right consistency (Try not to over-whip!).

Now it's time to assemble. Cut your sponge into pieces and soak in your sherry briefly. Then add a little to each jam jar.

Next add a handful of raspberries to each jar followed by a few spoonfuls of your custard. Follow this with some more sponge, then a bit more custard and finish your layers with some more raspberries (if you need to you can continue to layer even more!).

Either pipe or spoon some of your whipped cream on top and finish with a grating of dark chocolate!
Recipe Notes
* If you wish to make this dairy free you could use a dairy free alternative milk, a dairy free spread and whip up some coconut cream!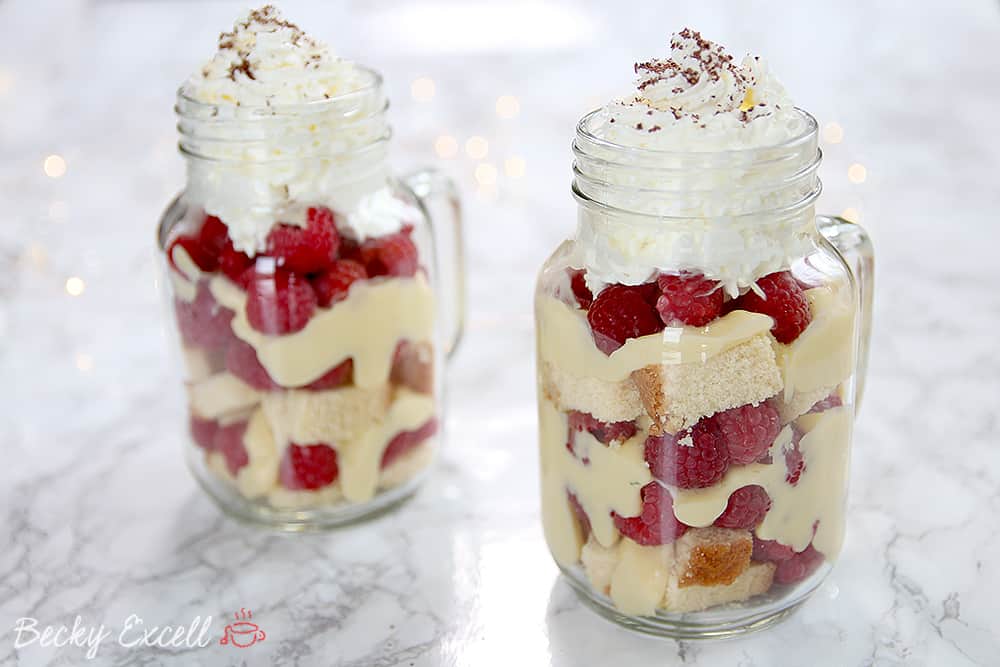 Thanks so much for checking out my gluten free trifle recipe with Splenda! A massive thanks to Splenda for opening my eyes to baking with sweetener.
Interested in baking with sweetener? There's tons more ideas over on Splenda's website in their recipes section. Not all of them are gluten free, but they can easily be adapted to be and give lots of great examples of how Splenda can be used.
Any questions? Did you try this recipe? Please do let me know by leaving a comment below or on Facebook / Twitter / Instagram.
Thanks for reading,
Becky xxx
This is a sponsored post in collaboration with Splenda.
Oh and don't forget to pin this for later!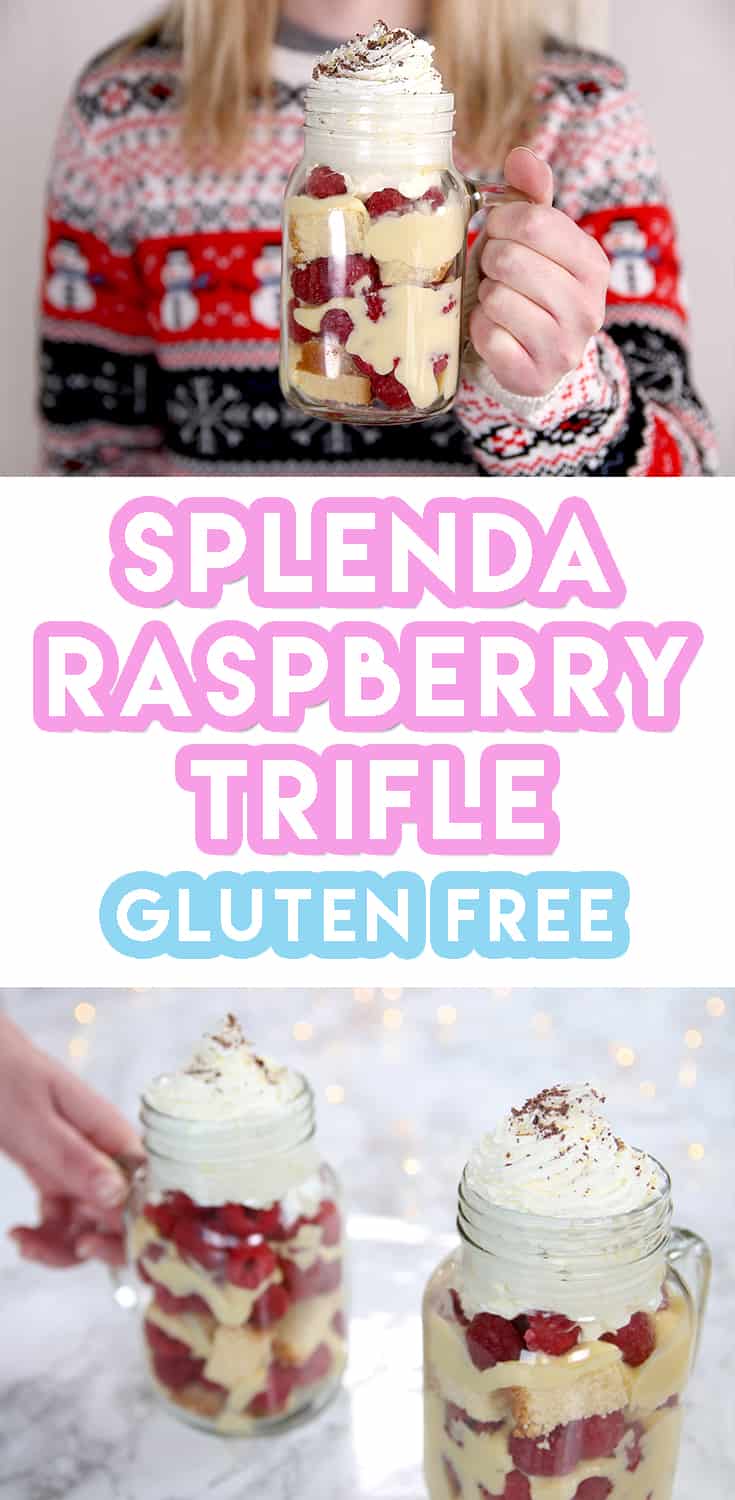 Comments