With Christmas fast-approaching, The Co-op has given us all an early present. It's the Co-op free from range, of course!
Christmas has definitely come early now that Co-op's free from range has just arrived down the chimney of all your local stores. With Co-op spreading free from festive cheer nationwide, it looks like Santa might just need to step his game up.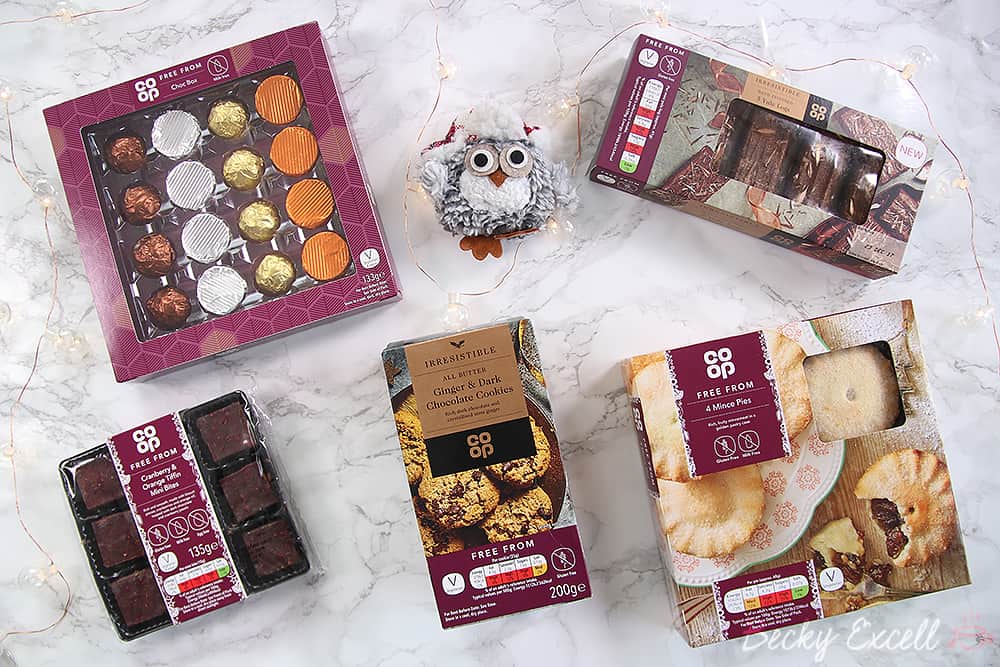 So what's in the range I hear you ask? Well, there's definitely something for everyone with all the wonderful gluten free, milk free and egg free festive treats on offer.
Every product in the range goes that little extra mile to add a little festive sparkle too and it definitely hasn't gone unnoticed here.
Here's a little round-up of what's in the Co-op free from range…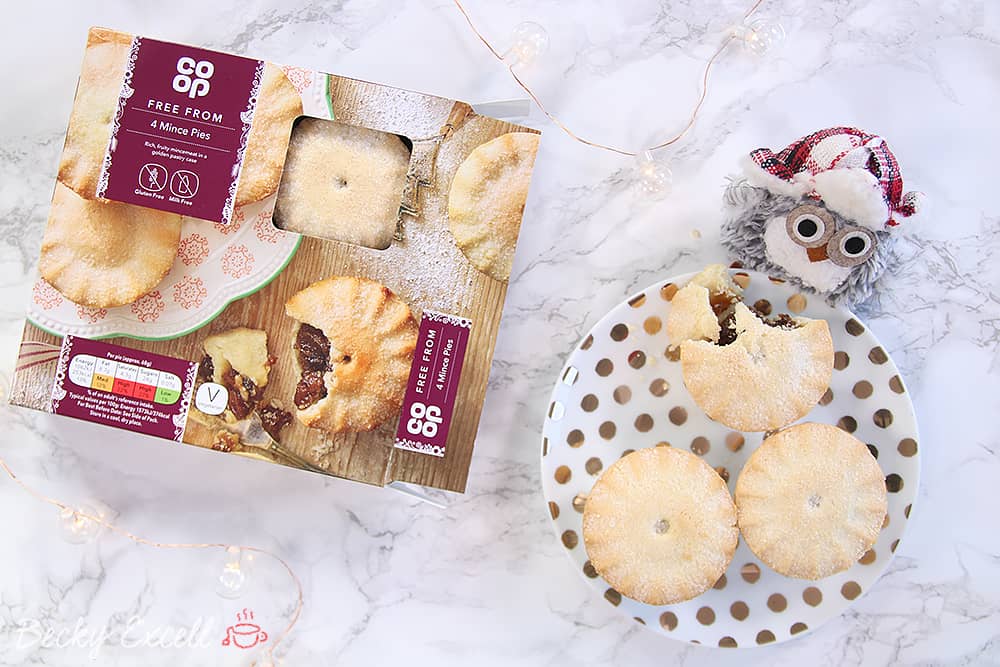 1. Co-op free from mince pies, £2.
Co-op's free from mince pies might just actually be too good to leave out for Santa on Christmas eve. Sorry Santa… maybe you can share Rudolf's carrot?
The pastry is so buttery and indulgent that you'd never believe they're actually dairy free too. It's so great that both Mark and I can enjoy these together for once.
But don't just take my word for it. Co-op's free from mince pies actually won this year's Olive Magazine supermarket award for 'best supermarket gluten free mince pies'.
Now you can tell everyone that you have an award-winner attending your Christmas party.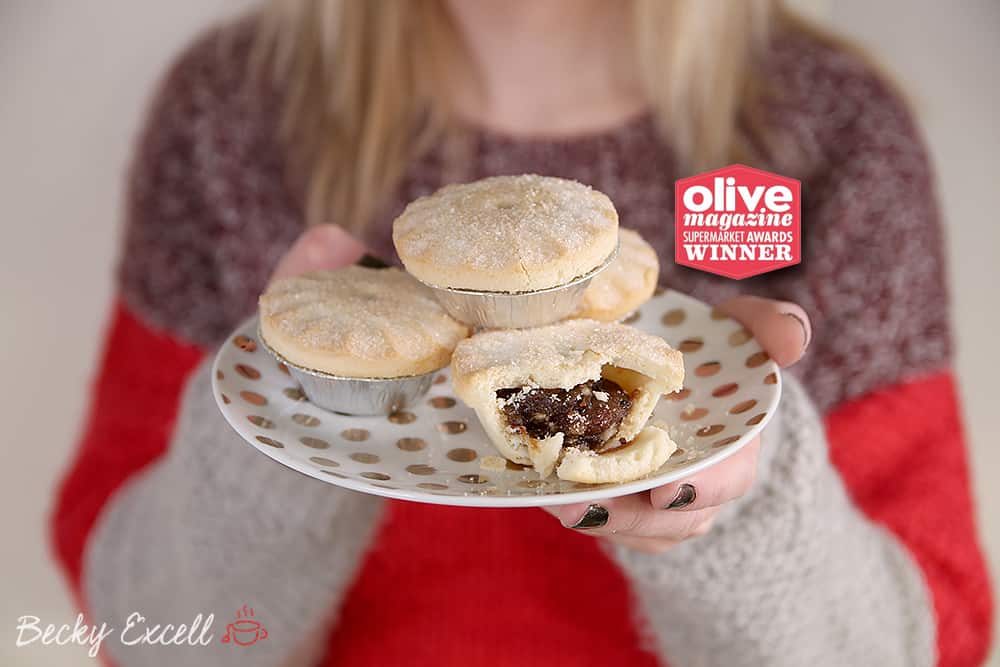 2. Co-op gluten free mini yule logs, £2.49.
Next up is my personal highlight from the range: Co-op's gluten free mini yule logs. Where do I even begin with these little beauties?
These yummy little yule logs are a decadent slice of festive cheer. With a rich, chocolatey taste and a gleaming, twinkling exterior, they taste every bit as good as they look.
Co-op have gone the extra mile to sprinkle a little festive cheer on top of every single one and I absolutely love it!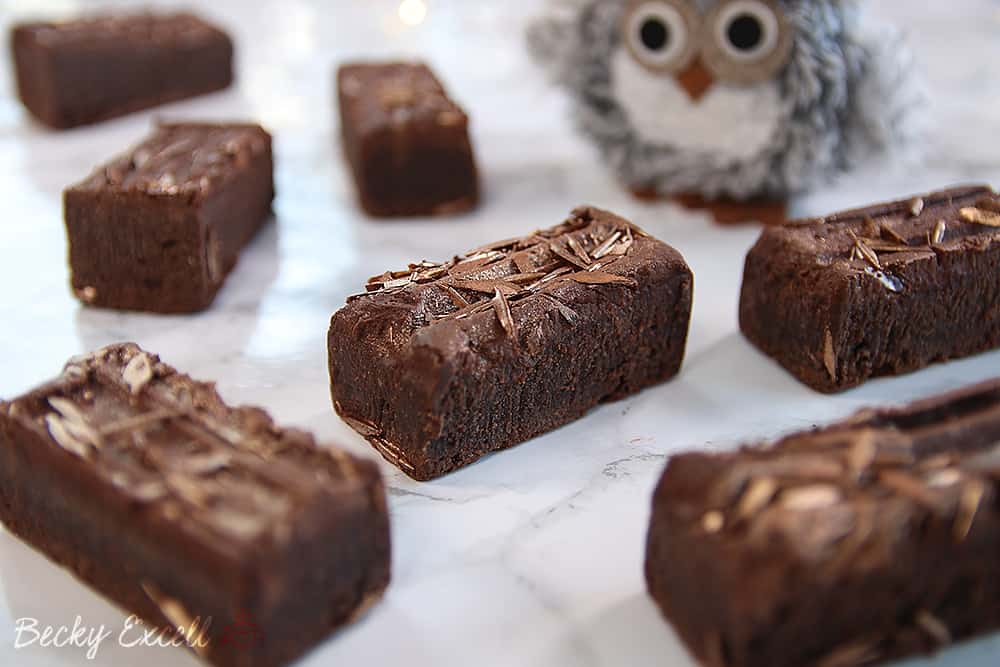 Each mini yule log is hand finished with a beautiful, shimmering, sprinkle of copper shards. It's so nice to see a touch of luxury come to free from products.
Why should us gluten free folk have to miss out on all the festive fun?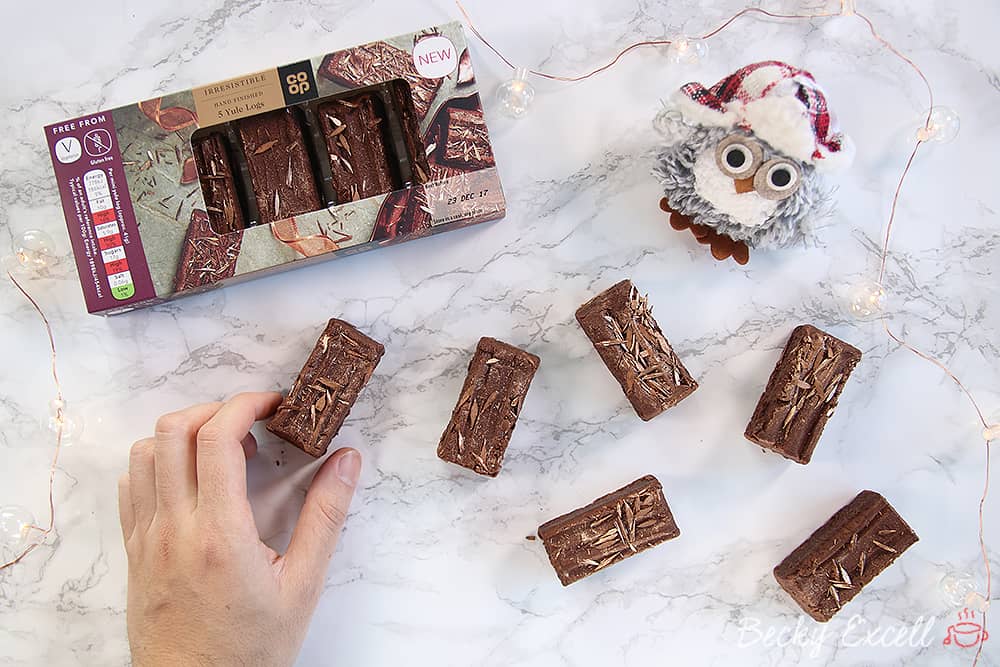 3. Co-op cranberry and orange tiffin mini bites, £2.49.
So now you know my favourite from the range, it's time for Mark's favourite: the cranberry and orange tiffin mini bites.
He never actually told me these were his favourites himself btw. But I can tell they were… because there isn't any left!
These are gluten free, milk free and egg free, which is really hard to believe given how creamy and intense the chocolate tastes.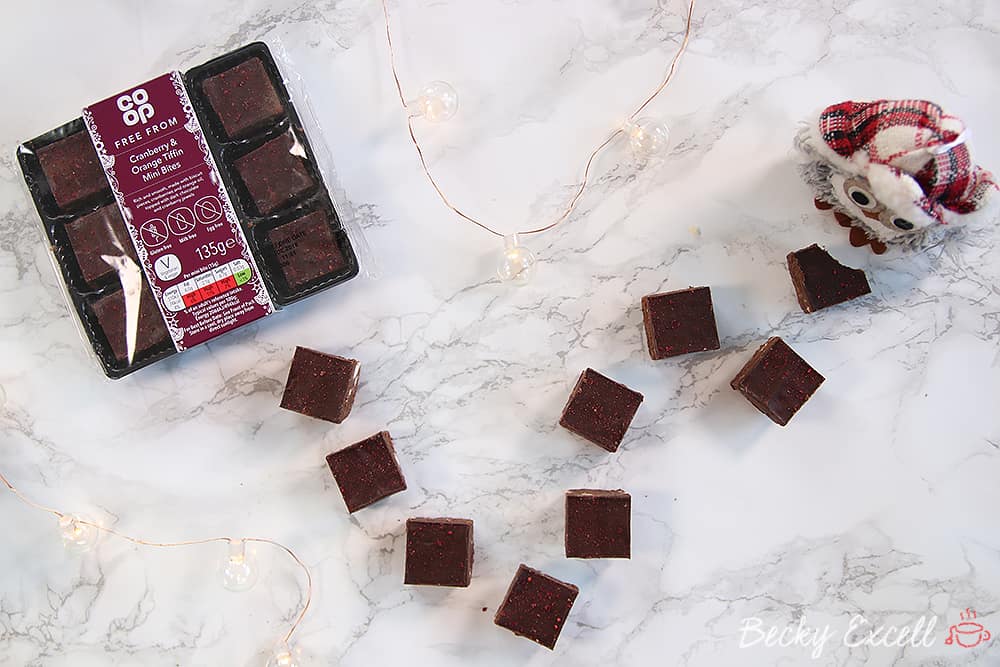 When you open the packet, they instantly smell like chocolate orange. So now all I want is a chocolate orange scented candle! (or another packet of these would do me fine actually!)
Again, a little sprinkling of cranberry jewels on top just goes to show Co-op's care and attention to detail.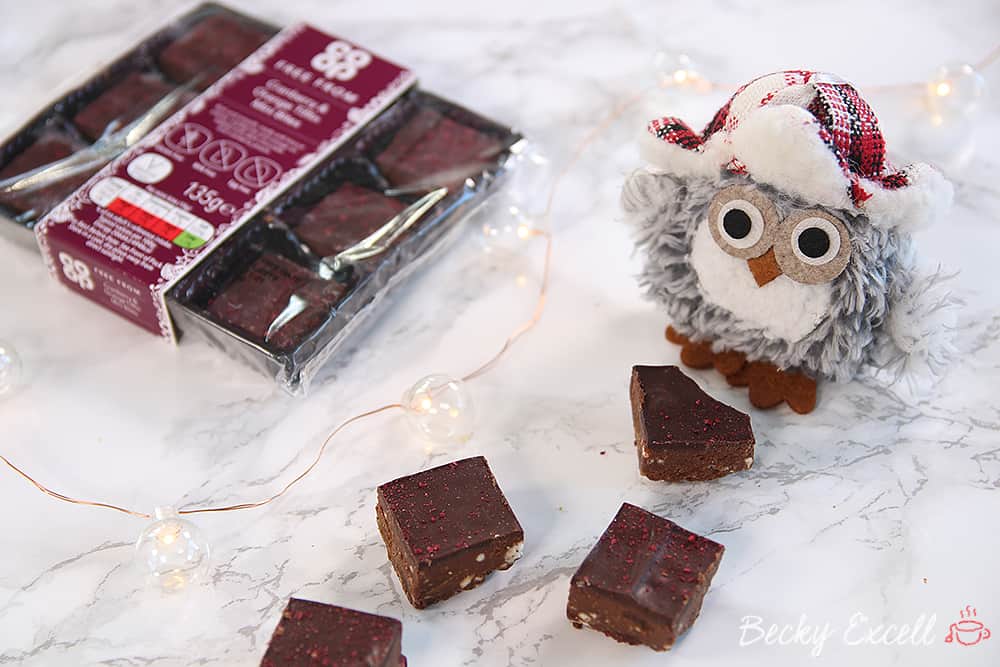 4. Co-op all butter ginger and dark chocolate cookies, £2.
Co-op has really nailed the creation of festive treats that both gluten free and non-gluten free people can enjoy.
So many Christmas' have gone by where I've had to buy separate free from products just for myself. Usually, one of two things happens.
Either I end up eating them all myself (oops) or they often end up going to waste (still oops). Sometimes you feel like you just can't win!
But I really don't feel that buying separate products for myself is necessary anymore. Co-op's ginger and dark chocolate cookies are the perfect example. Buttery, soft and intensely chocolatey with a hint of warming ginger.
I mean, let's be honest: who wouldn't love these?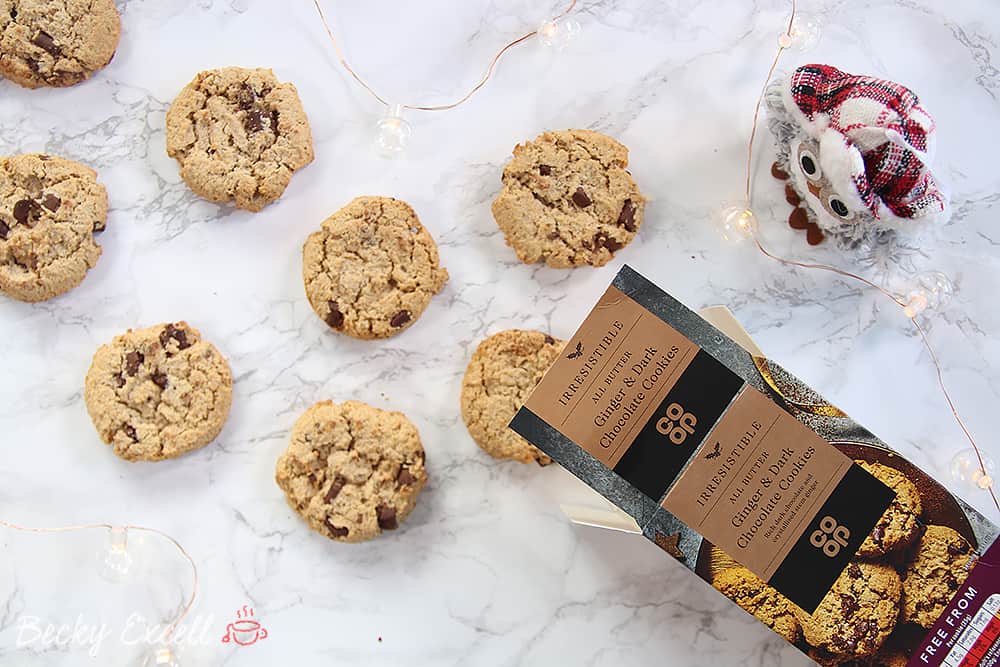 5. Co-op free from choc box, £5.
Mark has been waiting a very, very long time for a festive free from chocolate box that's 100% milk free. Thankfully, the wait is finally over!
As we all know, it's inevitable that the Quality Street and the Roses are passed around at some point on Christmas day. Being lactose intolerant, this is a very low point of the day for Mark.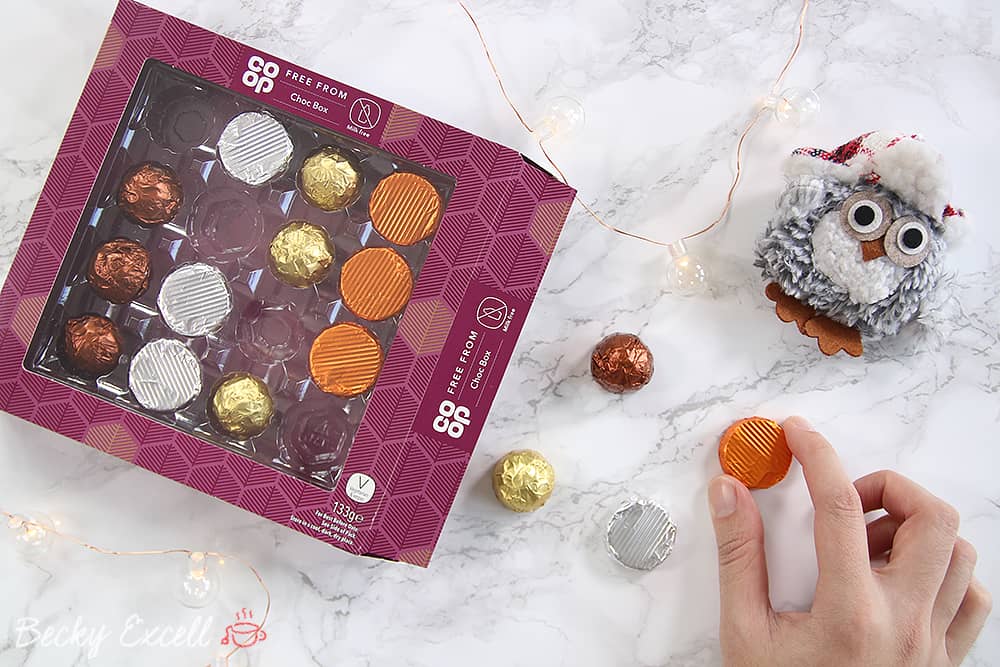 People still offer them to him out of politeness/forgetfulness and I have to say, he does very well to hide his frustration!
Fortunately, this free from choc box will be a little surprise for him on Christmas day that I think he might just appreciate!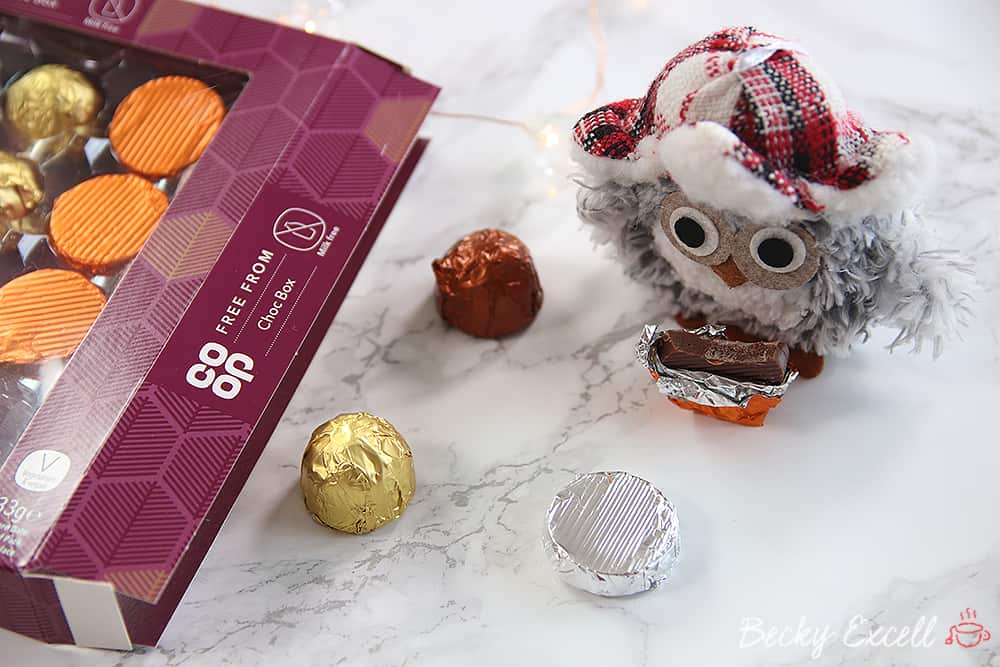 So that's the Co-op festive free from range! I hope you enjoyed this little round-up and I really hope you found something you liked.
Take back control of the Christmas buffet this year and make sure there's some festive treats that you (and everyone else) can enjoy.
I plan on making my Christmas buffet entirely gluten free this year with tons of dairy free stuff for Mark too. As you can imagine, these products will go a long way in making that a reality!
After all, if I can't eat everything at a Christmas buffet in my own home, where can I?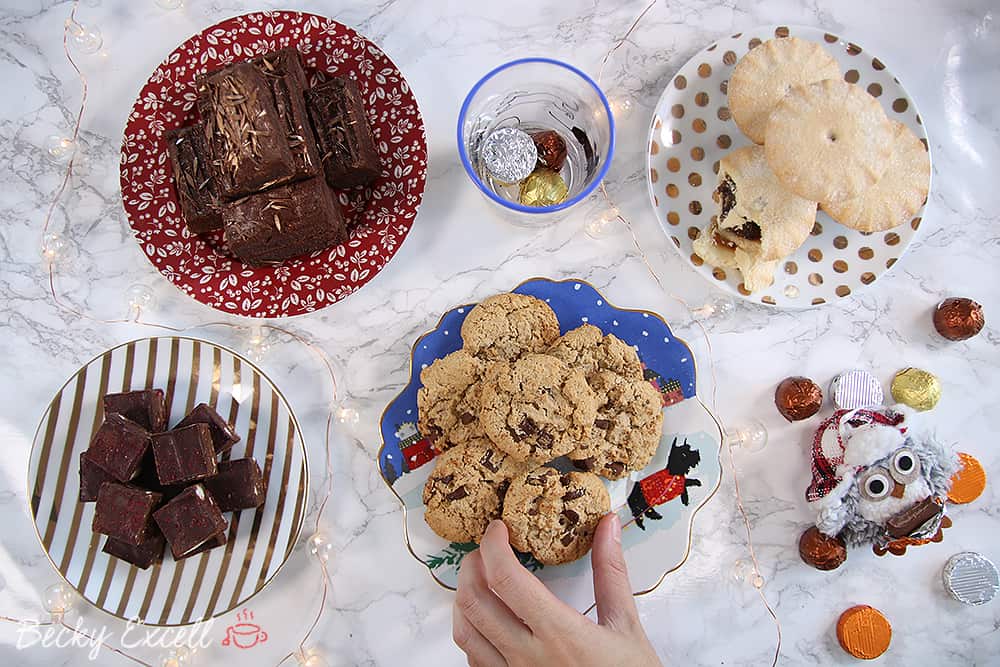 What's your favourite product from the Co-op festive free from range?
I think you can all guess my favourite product from the range, right? Need a clue? Here's a massive one…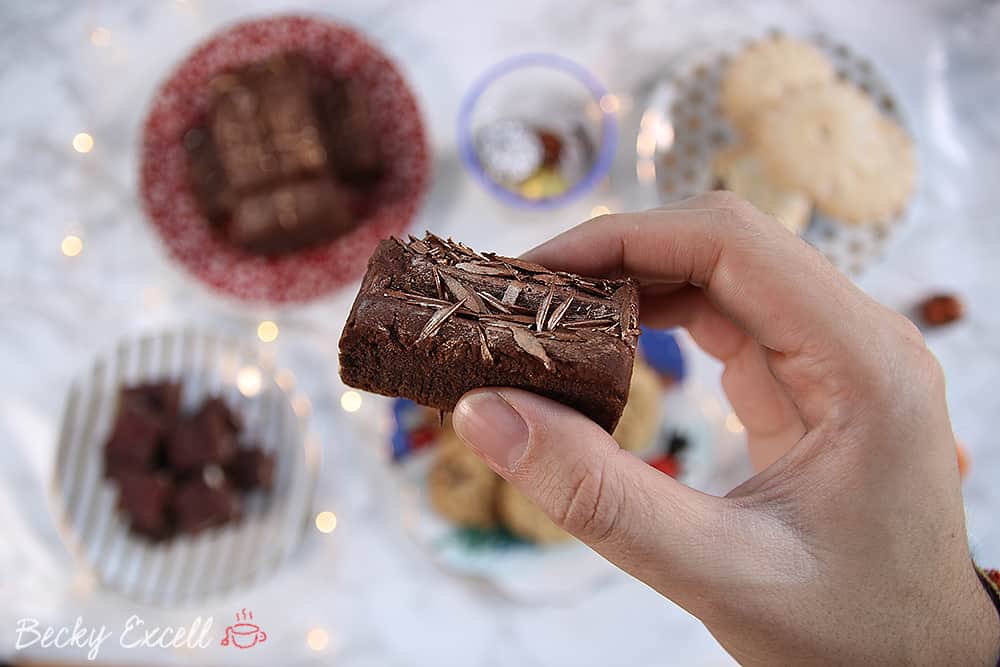 Yassss! Those gluten free mini yule logs will be at the very centre of my 100% gluten free Christmas buffet without a doubt.
Tempted? Co-op's free from range is now available in Co-op stores nationwide. So hop in your sleigh (other less exciting transport methods still acceptable) and head to your local Co-op's free from section.
Just make sure you save a gluten free mini yule log for me! Merry Christmas.
Thanks for reading,
Becky xxx
This is a sponsored post in collaboration with The Co-op.
Comments