Today I've teamed up with Nutribrex to bring you 5 ways to use their gluten free 5 ways granola! Here's 5 simple recipes that are all gluten free and dairy free too.
Each of these 5 super simple recipes almost make it ok to eat breakfast for for every meal of the day (if only). Of course, if you're ready to try these recipes, you're gonna need some Nutribrex granola!
1. Blueberry Granola Pancakes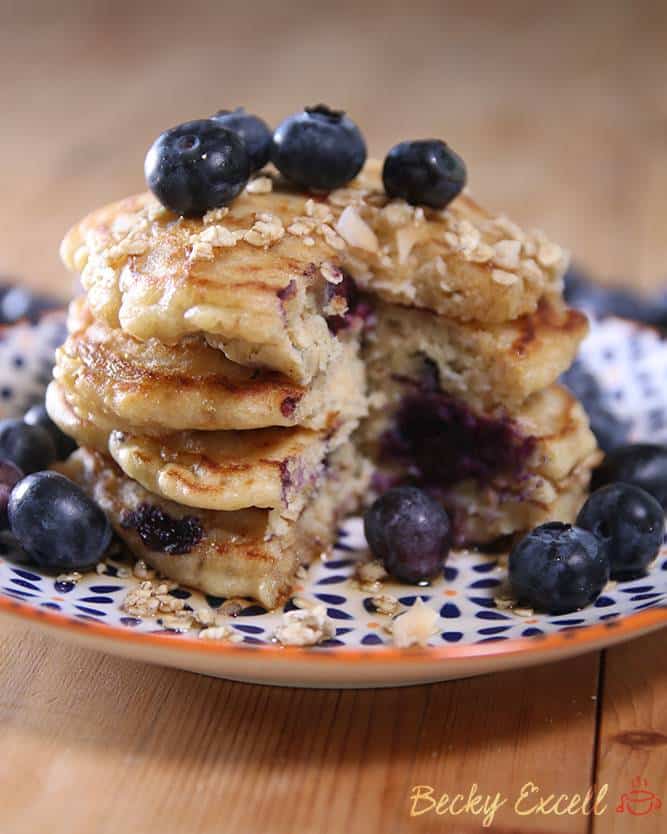 Who doesn't love a good stack of gluten free pancakes? I can justify eating pancakes for literally any meal of the day. Breakfast like in the good ol' USA, brunch like in London, savoury crepes for lunch and well… more pancakes for dinner!
I used Nutribrex's hazelnut, coconut and quinoa granola for this one and every bite was like a high-five to my taste buds. The subtle hints of coconut and hazelnut work so well with the hearty gluten free oats in these kick-ass pancakes.
They're, light, fluffy and those bursting blueberries are pure heaven. My top tip is to add the blueberries shortly after you've poured your batter into the frying pan for A+ blueberry distribution. Plus you can press them in a bit so they don't stop your pancake from frying evenly when you flip it over.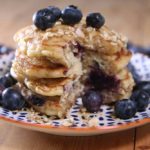 Gluten Free Blueberry Granola Pancakes
Ingredients
100g gluten free plain flour

1 tsp baking powder

1/4 tsp salt

2 tbsp sugar

90g Nutribrex 5 Ways Granola

Hazelnut, Coconut and Quinoa

1 egg

145ml almond milk

or any dairy free milk

2 tbsp dairy free spread

melted

blueberries

maple syrup for topping

extra granola for topping
Instructions
Sift your gluten free flour, baking powder, salt and sugar into a mixing bowl.

Pour in your granola and mix thoroughly.

In a separate bowl beat one egg then add your almond milk and melted dairy free spread and mix together.

Add your wet mix to your dry mix and thoroughly whisk.

Heat up a frying pan and add a little oil.

Pour a cup of the pancake mix into the frying pan in a smallish circular shape.

Straight away push down around 5 blueberries into your pancake and allow to cook for a couple of minutes on the first side.

Flip the pancake and cook for another couple of minutes on the other side until cooked.

Repeat with the rest of your mixture until you have a nice stack of pancakes.

Serve with a little granola and fresh blueberries on top. Finish by drizzling as much maple syrup as you like on top!
2. Berry Smoothie Bowl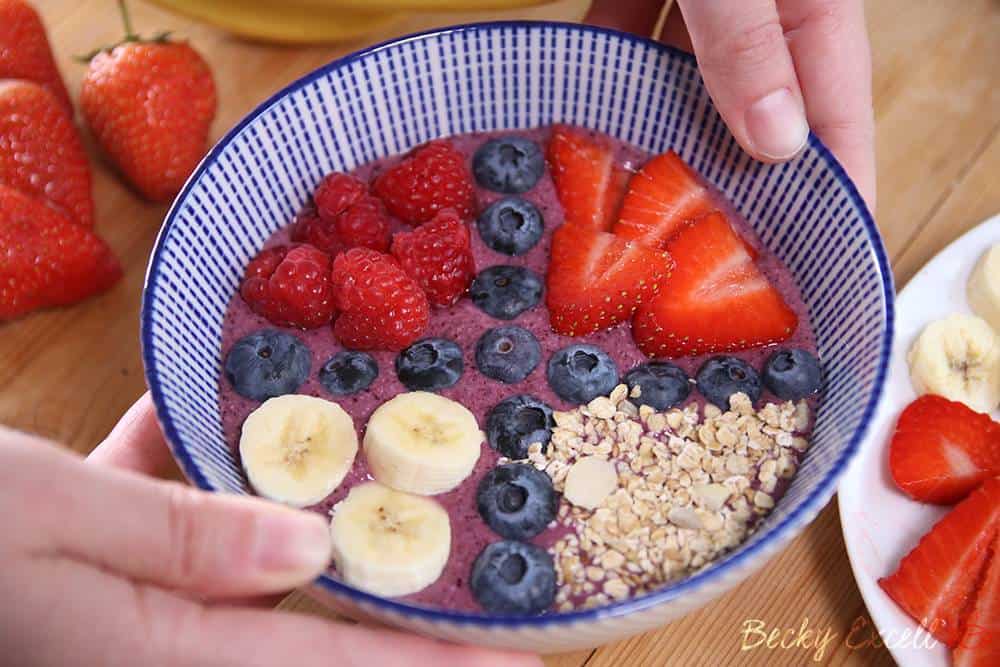 This might mildly surprise you, but I've never had or made a smoothie bowl before. I know, I'm disappointed in me too. They always look so beautiful and I knew that if I was going to make one, it had to be a work of art in both looks and taste!
Crisis over, here is my first smoothie bowl! It really was so much fun to decorate with fresh fruit and of course, it tastes every bit as good as it looks.
I added Nutribrex honey, almond and seeds granola this time, which really thickened things up to the perfect consistency for spooning (interpret as you wish). It's strangely awesome to enjoy this smoothie bowl, knowing there's so much goodness from the fruit and the almond/seeds from the Nutribrex.
It's like dessert, but better and good for you!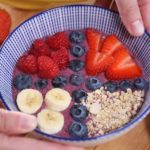 Smoothie Bowl
Ingredients
80g frozen strawberries

55g frozen blueberries

1 banana

chopped

90ml almond milk

or any dairy free milk

30g Nutribrex Granola

Honey, Almonds & Seeds

fresh berries - strawberries

raspberries, blueberries for the topping

extra granola for the topping
Instructions
Put your frozen berries, almond milk, banana and granola into a blender. Blend until smooth.

Pour your thick smoothie mixture into your breakfast bowl.

Top with fresh fruit and granola.
3. Mini Rhubarb and Berry Crumble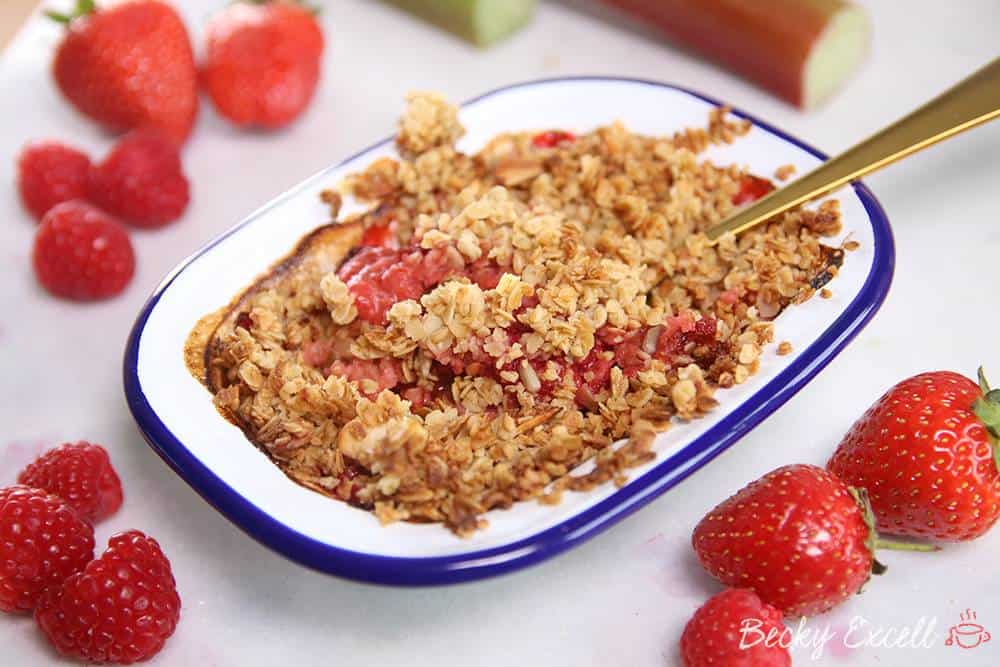 Let's get ready to crumble! I told you that I wanted to push the boundaries of breakfast and here we are at dessert. Nutribrex's 5 ways granola is literally the perfect crumble topping, hands down.
I always make a gluten free apple crumble for Mark, so I thought I'd go with rhubarb and berries instead. It has that perfect balance of sharp and sweet flavours and that vibrant colour hiding beneath is pure eye candy. The almonds in the Nutribrex add the perfect crunch throughout that golden, oaty crumble. If I could add an emoji with heart eyes here, I would.
I'd also usually make one enormous crumble, but this makes the perfect crumble for one. But there really is something quite satisfying about making a mini crumble, plus you can say you ate an entire crumble to yourself without feeling bad about it!
Gluten Free Rhubarb and Berry Crumble
Ingredients
85g rhubarb

chopped

5 fresh strawberries

halved

5 fresh raspberries

1/2 tbsp sugar

60g Nutribrex Granola

Honey, Almond and Seeds

15g dairy free spread

melted

1 tsp maple syrup
Instructions
Preheat your oven to 170C

Add your fruit to your dish.

Sprinkle with your sugar.

Place in the oven for around 15 - 20 minutes until the fruit has softened.

Whilst your fruit is in the oven make your crumble topping. Place your granola in a bowl and add the melted dairy free spread and maple syrup to it. Mix it together thoroughly.

Add your crumble topping to your fruit (I like to have lots of crumble on mine!) and cook in the oven for a further 8 minutes, until golden.

Remove from the oven and serve up on its own or with custard!
Recipe Notes
* These measurements are for a single serving of rhubarb and berry crumble in an individual dish. If you want to make a larger one just increase these measurements. Remember that the fruit might take a little longer to cook if there is more of it in a bigger dish.
4. Three Ingredient Peanut Butter Cookies
PB&J is my favourite flavour combo in baking without a doubt. You just can't go wrong! The same goes for this recipe too, it's mega simple and only has three ingredients: peanut butter, Nutrbrex granola and one egg. The jam doesn't count because it's optional (but I will totally judge you if you don't opt in to jam!)
These cookies have a beautiful crumbly texture thanks to the gluten free oats in the Nutribrex granola. If you love peanut butter as much as I do, you won't be disappointed with these little beauties, especially with a little hot jam dolloped on top!
They make the perfect snack on the go, or pick me up. Since these cookies are made purely of Nutribrex granola, peanut butter and an egg, that means they're packed with goodness that'll give you a boost whenever you need it most.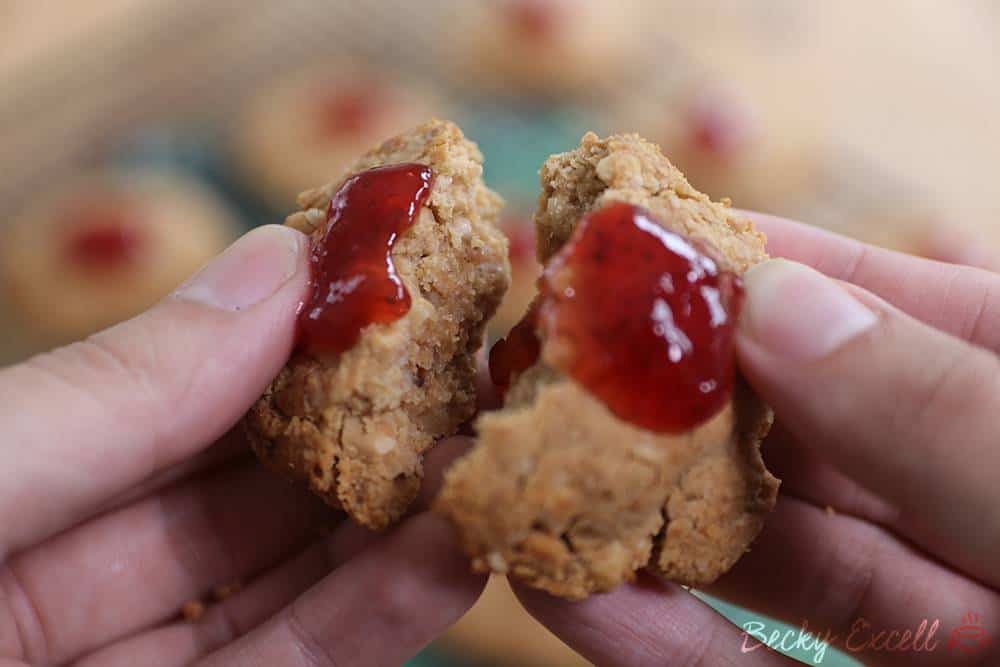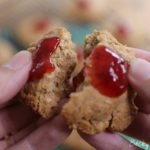 3 Ingredient Gluten Free Peanut Butter Cookies
Ingredients
125g Nutribrex Granola

55g Nutribrex Granola

Hazelnut, Coconut & Quinoa (keep separate from the above)

250g crunchy peanut butter

1 very large egg

strawberry jam

optional but SO worth it!
Instructions
Preheat the oven to 180C and line a baking tray with parchment paper.

Place 125g of granola into a blender. Blend for a few seconds until it becomes flour like.

Add in 250g of peanut butter and 1 very large egg (or two small ones!). Mix together either with an electric hand mixer or with a wooden spoon.

Pour in your extra 55g of granola and mix thoroughly.

You should have a crumbly dough now. Using your hands grab a handful of the mix and mould it together into a flattened circle/oval. (Size wise, however big/thick you like your cookies - they won't change shape in the oven)

Place the cookies onto your baking tray and cook in the oven for around 15 minutes or until they are going slightly more golden.

Remove from the oven and allow to cool mainly on the baking tray before moving them onto a cooling wrack.

To make your peanut butter cookies PB&J cookies, heat up a little strawberry jam and place a dollop in the centre of each cookie.
5. Chocolate Dipped Granola Bars
If you've got a bag of Nutribrex hazelnut, coconut and quinoa granola, you're in for a treat, quite literally.
These granola bars are not only buttery and sweet, but they're intensely chocolatey too. The Nutribrex granola makes some of the best granola bars I've ever tasted and after plunging them into melted chocolate, your masterpiece is complete.
I always use dark chocolate of 70% or more, because they're usually then dairy free too. Plus, rich dark chocolate just works so well with the hazelnut in the Nutribrex granola.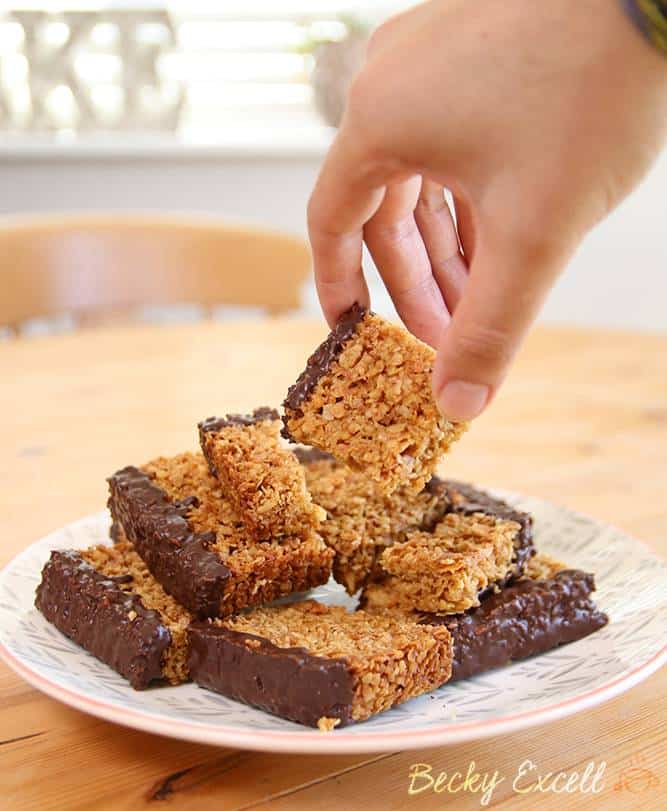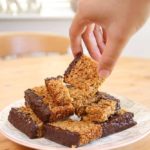 Gluten Free Chocolate Dipped Granola Bars
Ingredients
275g dairy free hard margarine

150g brown sugar

1 tbsp golden syrup

380g Nutribrex Granola

Hazelnut, Coconut & Quinoa

100g dairy free dark chocolate
Instructions
Heat the oven to 150C and line a square baking tin. (Mine was 23cmx23cm and 4cm deep)

Add dairy free margarine, brown sugar and golden syrup to a saucepan and heat until melted.

Pour your melted mixture into a mixing bowl and then add your granola. Mix thoroughly.

Pour your mixture into your baking tin and evenly spread it out.

Place in the oven for 45 minutes.

Once cooked allow to completely cool and harden up.

Melt your chocolate in a bain marie.

Finally half dip your granola bars in the melted chocolate and leave to set.
So that's 5 ways you can use Nutribrex 5 ways granola. I guess, if you count the 5 ways on the packaging too, that's 10 ways! If you're feeling up to the challenge, why not make your own Nutribrex granola creations and share them with the hashtag #5wayschallenge.
You can pick up their awesome 5 ways granola from Ocado, Asda, Morrison's and directly from the Nutribrex website. You can opt for either honey, almond and seeds or hazelnut, coconut and quinoa. These recipes use both, so make sure you've got a bag or two before you get stuck in.
It really is such a versatile cooking ingredient, but of course… it's just as wonderful in a bowl with some almond milk too!
Did you try any of my Nutribrex granola recipes? How did you get on with your recipe creations? Let me know by leaving a comment below or on Facebook / Twitter / Instagram.
Thanks for reading and happy baking,
Becky xxx
Comments