Rule of Crumb has been one of my favourite gluten free brands ever since I took a bite of one of their amazing gluten free kievs a few years ago. How did gluten free food get this good?
You may know them as the brand from Dragon's Den, or you may be a newcomer to the Kingdom of Rule of Crumb. Nevertheless, read on to find out the 5 reasons why Rule of Crumb is always in my freezer and why they should always be in yours too!
1. Gluten free AND dairy free chocolate eclairs. No way!
To me, Rule of Crumb is one of those awesome brands that constantly pushes the boundaries of gluten free (and dairy free) food. Not only do they prioritise quality of ingredients but they're always the first to release new products that you simply can't get anywhere else. A couple of years ago, The Rule of Crumb gluten free kiev was one of the first kievs I'd had in 5 years. Now they're doing the same for dairy free too.
Their new chocolate eclairs are not only gluten free, but dairy free too. I know, right? Mind blown. You may find this hard to believe, but as Mark is lactose intolerant, he hadn't had a chocolate eclair in 8 years until last week. 8 years!! I don't think I need to continue to say why we always have a couple of boxes of these in our freezer. Thanks Rule of Crumb!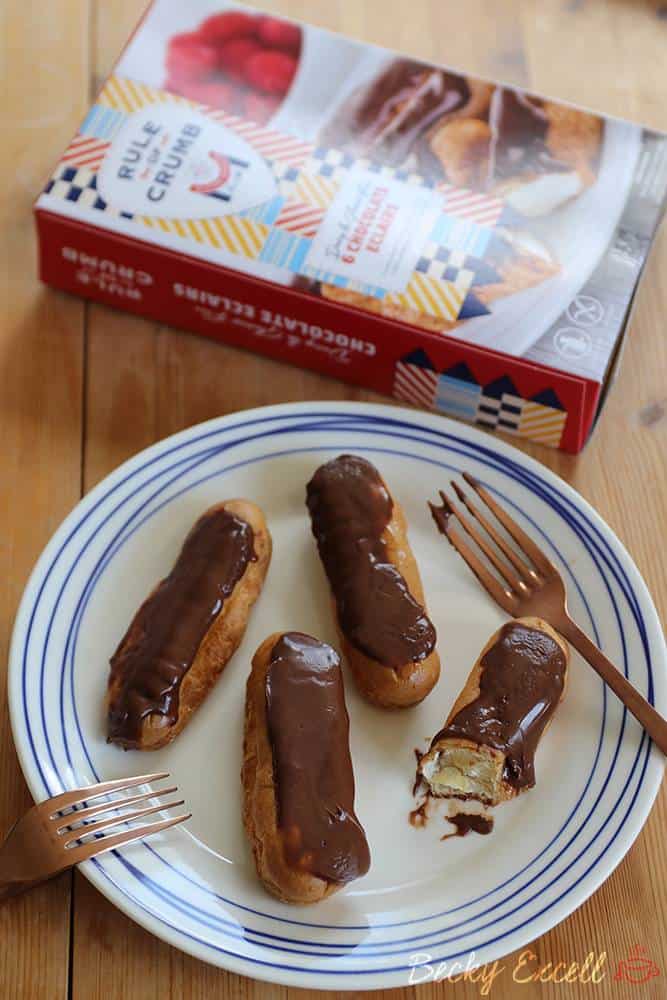 2. Zero compromise on the quality of ingredients and taste.
If Rule of Crumb is a loud and proud brand about being gluten free, then I'd say they're equally as proud of the taste and quality of their ingredients. In terms of chicken goujons (gluten free or not), these are quite honestly the best you will ever try. Rule of Crumb are extremely proud about the quality of their chicken and rightly so; you genuinely won't find better tasting breaded chicken anywhere else.
It made me realise that whenever you buy your average breaded chicken, the meat is processed to some degree (don't ask me why!) It's actually nearly impossible to find breaded chicken made from 100% chicken breast, even in non-gluten free aisles. Rule of Crumb will be the first to tell you that all of their chicken is made from 100% chicken breast and trust me, it makes a massive, massive difference. Mark and I have never looked back from Rule of Crumb!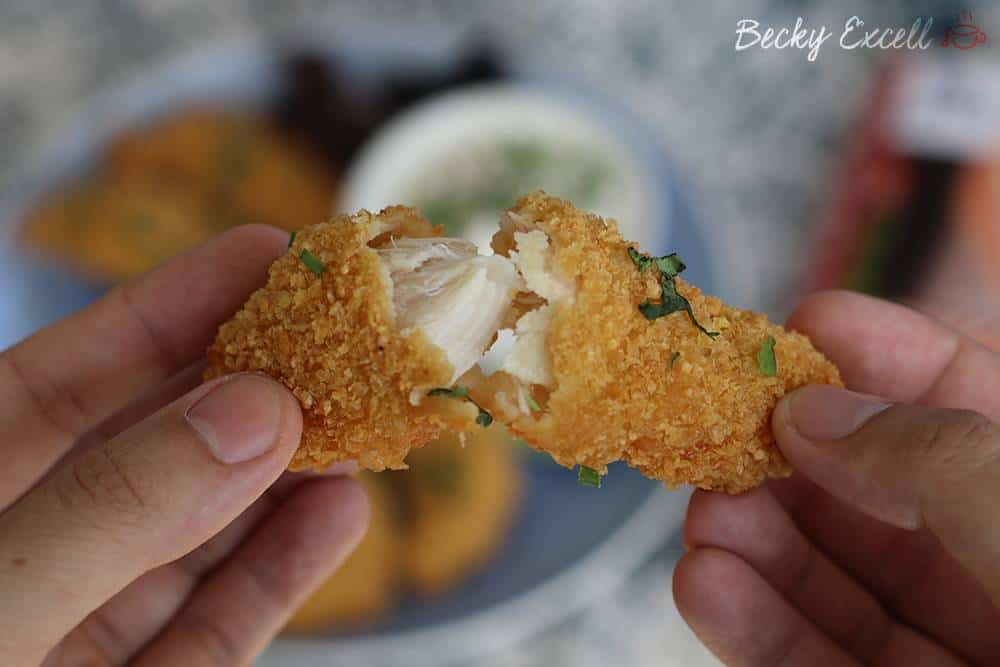 3. Their branding is awesome.
When I first found Rule of Crumb, I just simply adored their branding. It's so loud and proud about being gluten free, when so often (especially a couple of years ago) gluten free food packaging looked so clinical. It's bright, colourful and has so much personality, just like the very passionate people who run the brand.
But of course, underneath that eye catching packaging has always been some of the best and innovative gluten free food that I've ever tasted. Maybe this is one of those rare occasions when you are allowed to judge a book by its cover?!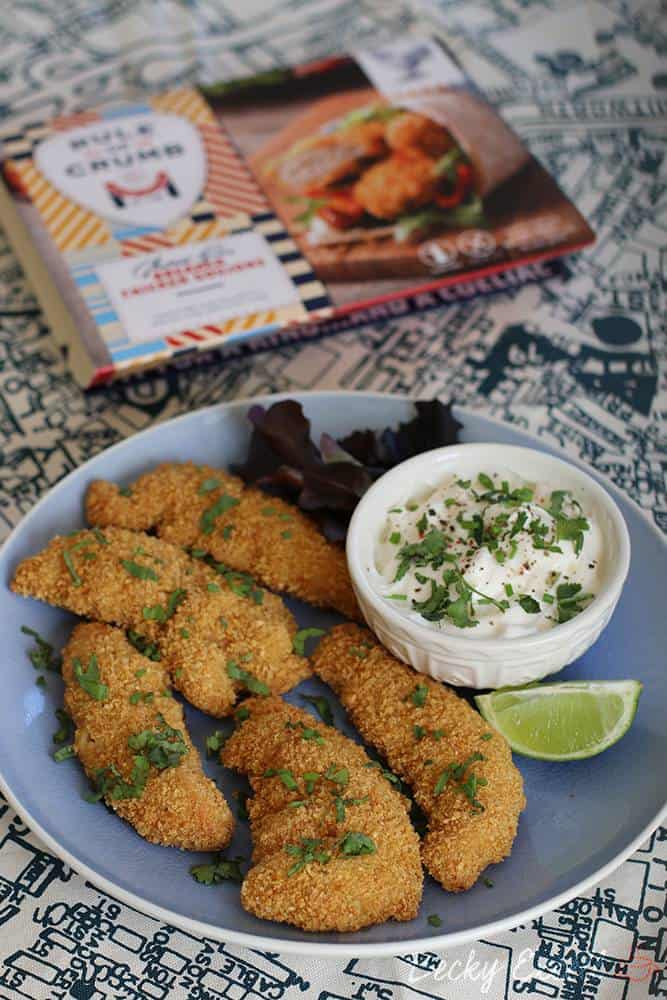 4. It's just so gosh darn convenient.
I'm entirely serious when I say that Mark and I literally have a 'Rule of Crumb' drawer in our freezer. Please bear in mind that we don't exactly have a big freezer either! It's full to the brim with gluten free breaded chicken breasts, goujons and even dairy free chicken kievs for Mark! Oh & don't forget the gluten free and dairy free chocolate eclairs.
Being a gluten free and dairy free household, cooking is a necessity 99% of the time, with pre-prepared meals being few and far between. But cooking from scratch takes time and means tons of washing up. Sometimes we need a meal that's convenient but obviously still tastes as good as homemade cooking with fresh ingredients. I'd imagine that most 'normal' people would probably order a takeaway in this scenario, but we just raid the 'Rule of Crumb drawer'!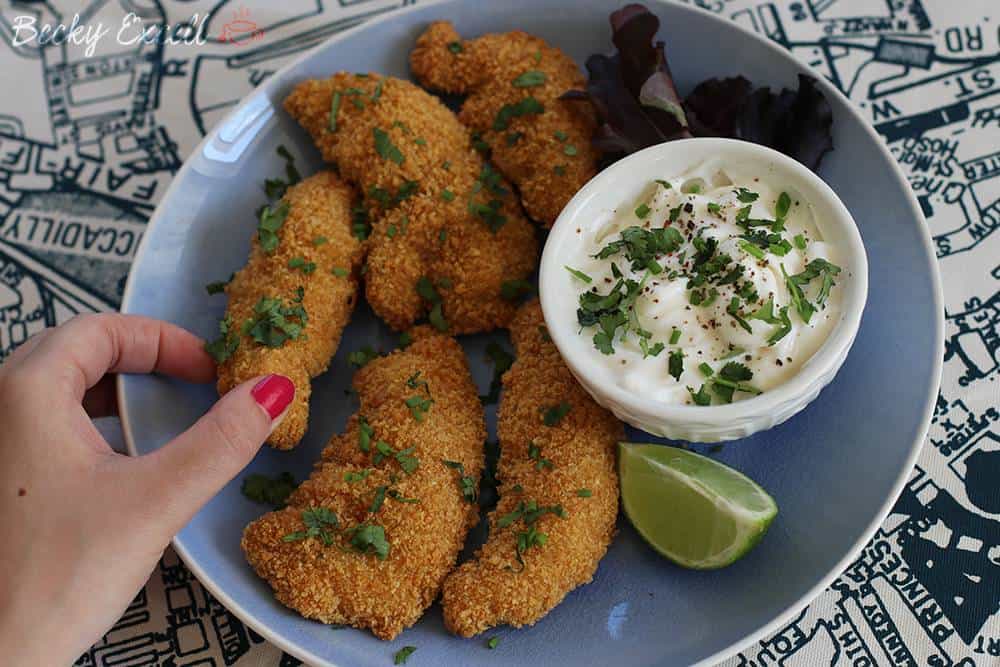 5. Rule of Crumb is easier to find than ever.
A lot of the things I've loved about Rule of Crumb have never changed. But back when I first discovered Rule of Crumb in 2015, you couldn't just pop down to the supermarket and come back with a few bagfuls ready for the freezer. We could only get them through ordering online, but often struggled to find other items we'd like to order to justify paying the postage or waiting in for the delivery man.
Fast-forward a couple of years and you can now easily find a range of Rule of Crumb's products in Sainsbury's, Morrisons, Whole Foods, Booths and in independent retailers too. There's an awesome gluten free shop near us in Diss that always has a freezer full of Rule of Crumb, ready and waiting for us! Obviously you can still order online from Ocado and the Rule of Crumb website if you'd prefer too. The choice is yours!

You've crumb to the end of the post…
So that's why Rule of Crumb has rightfully earned it's own named drawer in our freezer. If you've never tried anything from Rule of Crumb, I'd highly, highly recommend you give them a try. I've honestly never found better tasting gluten free and dairy free food anywhere else 🙂
Have you tried Rule of Crumb? What's your favourite product? Most importantly, do you have a Rule of Crumb drawer in your freezer?! Let me know by leaving me a comment below or by getting in touch on Twitter or Facebook.
Thanks for reading,
Becky xxx
Comments