Gluten free cooking has become second nature to me over the years. Mark & I cook up a gluten free meal for two every evening without fail, but what happens when we fancy having a few guests around for a dinner party?
Should we cook everything gluten free even for our guests who can eat gluten just because of me? Or do we go into the confusing 'this is gluten free and this isn't' scenario? Well, as you might have guessed, we simply endeavour to make everything on the table gluten free. I mean, why should I miss out on particular dishes in my own house of all places?!
But understandably, gluten free food can often be a bit of a mystery (or even a bit of a worry) for your average non-gluten-free dinner guest. There's a few misconceptions out there, such as gluten free food being either super 'healthy', devoid of carbs or maybe even totally tasteless entirely, to name a few. I always mention to dinner guests that the food I serve is gluten free, but it's misconceptions like this which make me feel like I shouldn't bother saying so if not necessary!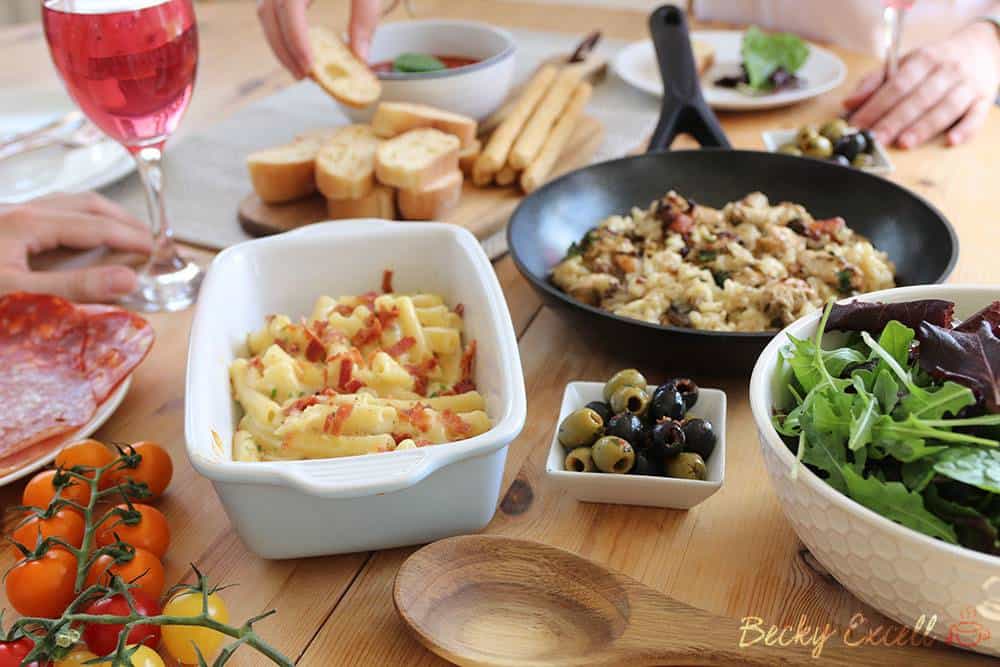 Yet this small gluten free niggle never stops me throwing a dinner party. But this time I wanted a theme… so how about a gluten free Italian dinner party? "Bellissimo!" I thought. I invited my Mum, Dad and Brother (who can all eat gluten) round to join Mark and I for dinner the following week. After all, we're a bit more settled in our new house now and it's the first time I've really had the pleasure of cooking for my close family in our new home. Yet still, I felt that telling them I was going to be cooking up a "gluten free Italian extravaganza" would only be met with a mild fear of the unknown. Seeing as none of my family are gluten free anyway, I decided not to tell them I was making everything gluten free! Would they notice? Would they even think twice? Only time will tell!
I should probably add a little backstory here. It wasn't until I first moved out of my parents house many years ago that I had to stop eating gluten. So up until then, they had always seen me eat gluten without any problem. So, it was quite an odd transition to suddenly tell them a long lists of foods I could no longer eat, despite the fact they'd seen be eat them my entire life at home! I feel like my intolerance to gluten has always resulted in a mild skepticism because of this, but they've always embraced it and catered for me when myself and Mark visit for dinner. But I still wasn't so convinced they would willingly eat gluten free themselves!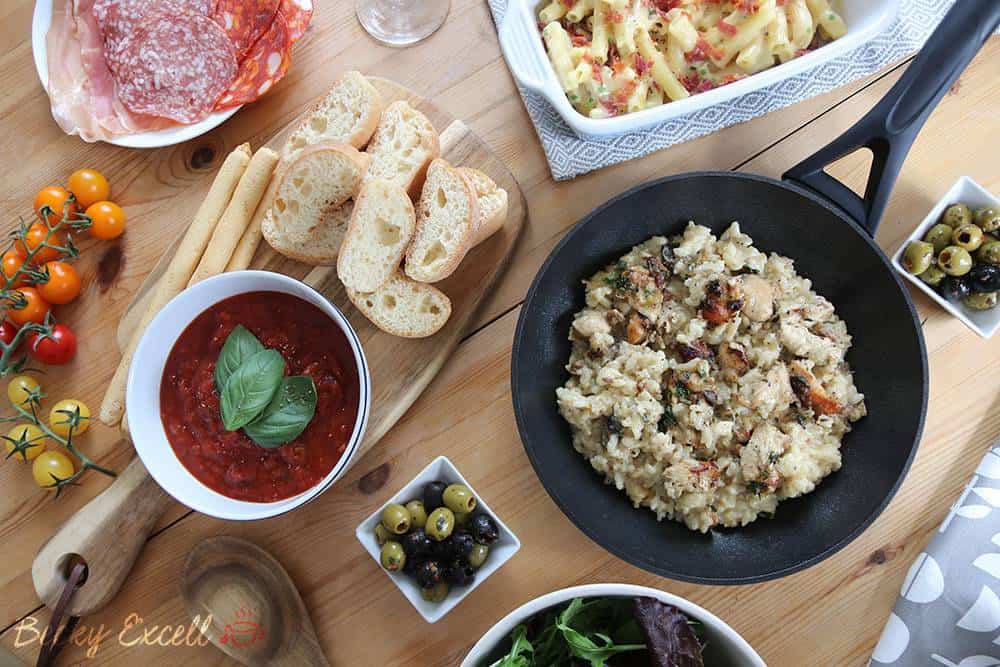 Since we decided to make three dishes alongside a few antipasti style sides, I sought a little helping hand from Schwartz's new gluten free recipe mixes and sauces. But as I'd already set my mind on an Italian dinner party, I thought I'd experiment using their gluten free recipe mixes in a slightly different way. I used Schwartz's gluten free Chicken Casserole mix in an amazingly creamy chicken and mushroom risotto for my Brother. I used their gluten free Cheese Sauce mix to create a rich, cheesy penne topped with crispy bacon and chives like my Mum used to make. Lastly, I used their gluten free Spaghetti Bolognese mix in my DIY bruschetta dip for my Dad. Knowing my family's favourite meals very well, I made sure their favourite dishes were all at the table, all entirely gluten free, Italian-inspired and packed with flavour!
My Brother's ultimate Italian dish has always been a hearty risotto. So I knew my creamy chicken and mushroom risotto was the perfect way to prove to him that gluten free food is nothing to fear! Schwartz's gluten free Chicken Casserole recipe mix was perfect as it contained all the complimentary spices and herbs to work with the chicken and mushroom flavours. Mark tended to this with constant stirring as it reduced down, while I then went on to prepare the other two dishes.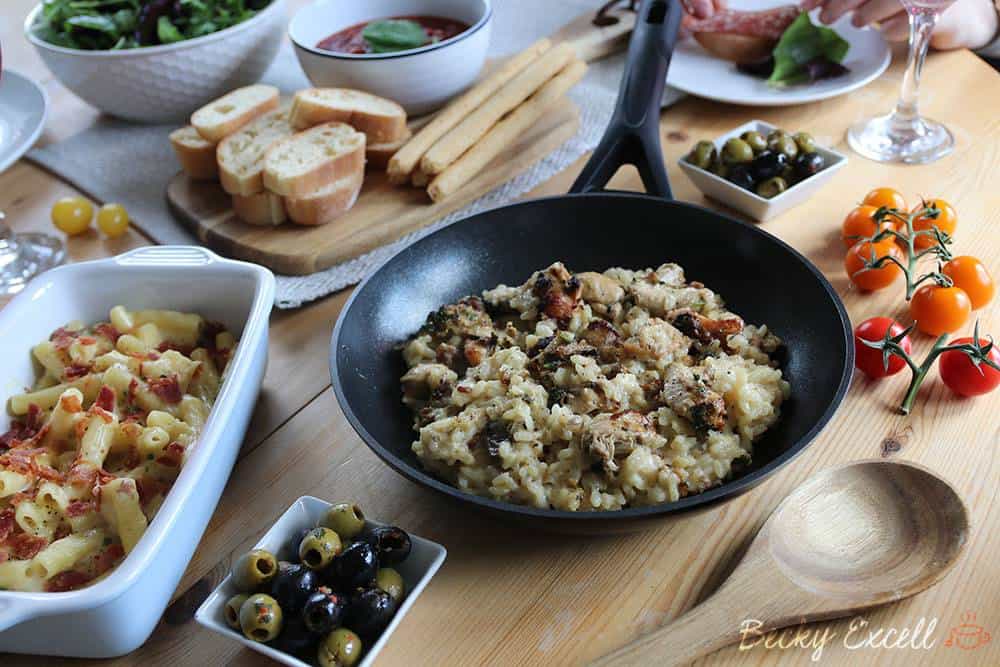 My Mum has always made the best macaroni cheese and that's what inspired my Italian take on a rich and cheesy penne, topped with super crispy bacon and chives. The Cheese Sauce mix is super quick to whip up by simply mixing the sachet with milk and bringing it to the boil. Job done! I put this in a a ceramic dish and kept it warm in the oven until I was ready to serve everything up. I like to grate a little extra cheese on top at this point for added intensity.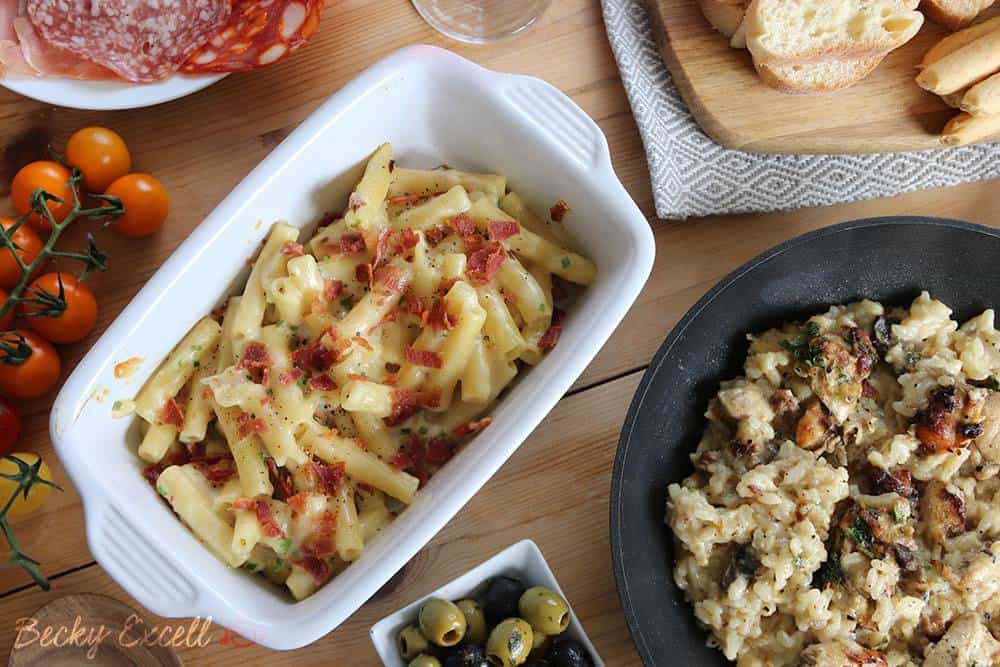 My Dad will never turn down finger foods, antipasti, olives and bruschetta. Sometimes when we go out for a meal, I think he only comes for the starter! This one was also super simple: I started with a tin of chopped tomatoes on the hob and slowly stirred in the gluten free Spaghetti Bolognese recipe mix. The recipe mix adds such a depth of flavour to the chopped tomatoes and really helps to balance out the acidity of the tomatoes. I toasted some freshly sliced gluten free ciabatta rolls and my DIY gluten free bruschetta was complete. Even the breadsticks were gluten free too!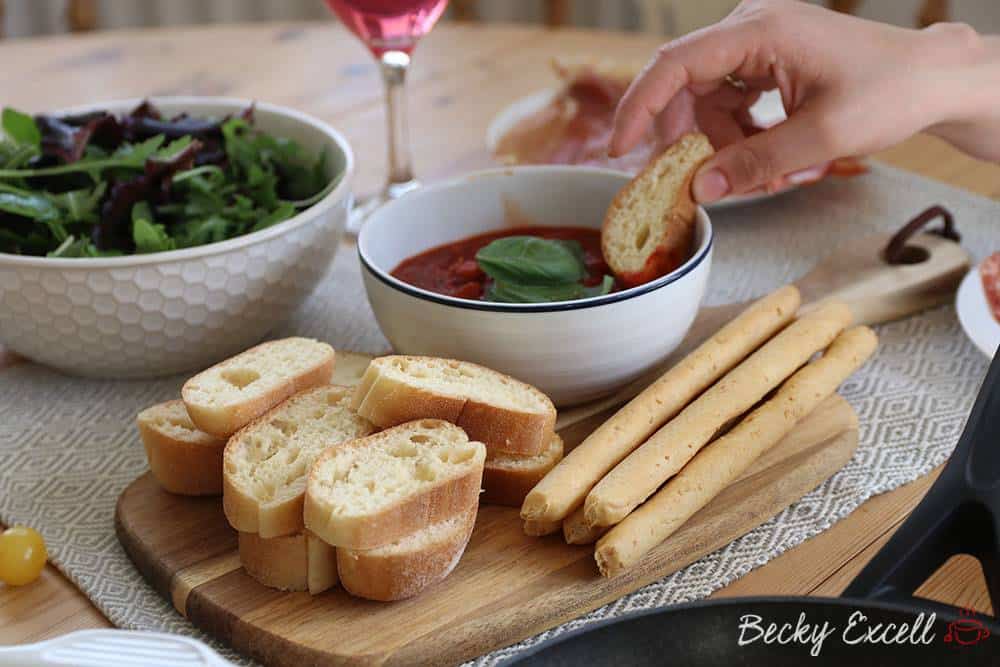 So how did it go? It went so well, it all vanished! It just goes to show that so many of the misconceptions when it comes to gluten free are based on so little. When it ultimately comes down to it, gluten free food is just as good as any other (if not better :)). I wish I could get that message through to your average person without having to throw a secret Italian dinner party every time, but this definitely did the trick regardless! But I was still pretty nervous for the big gluten free reveal… how would they react when I told them that everything on the table was gluten free, not just my plate?
When I told my family that everything was gluten free after the meal, it was almost met with a pleasant surprise. I hadn't replaced all the carbs with vegetable spaghetti, taken out all the flavour along with the gluten or served everything on rice cakes. It was simply an Italian dinner party, made just how Italian food should be made: with love and family in mind. It's sad to think that a little gluten once divided me from my family at the dinner table, but I hope that doesn't have to be the case any longer.
My Mum asked me for my recipe for the cheesy penne which was extremely simple to explain… I just showed her the Schwartz Cheese Sauce recipe mix packet! My Brother mentioned how he wouldn't ordinarily order a gluten free dish in a restaurant – as it sort of implies that it's only for people with allergies. Yet we acknowledged how some dishes are naturally gluten free anyway and haven't even been altered or had gluten substituted to begin with. They're just dishes that people can enjoy regardless of allergies. I'm so glad that my Italian dinner party was not only an enjoyable occasion and a delicious meal, but it also busted a few misconceptions of gluten free in the process.
Have you hosted a gluten free dinner party recently? Do you make every meal on the table 100% gluten free, or only specific dishes for yourself, or other gluten free guests? Have you tried the gluten free recipe mixes by Schwartz? Please let me know by leaving me a comment below or getting in touch on Facebook or Twitter! Looking for gluten free party food that you can buy in the supermarkets? Click here.
Thanks for reading,
Becky
xxx
This is a sponsored post in partnership with Schwartz.
Comments