When it comes to dinner, avoiding gluten (as well as other trigger foods) is an absolute nightmare for me. That's why I usually have to cook from scratch every single night so I can guarantee what I'm eating is safe and of course… there's always a mountain of washing up to do after. But Mash Direct's amazing gluten free products have been a welcome helping hand in the kitchen in more ways than one!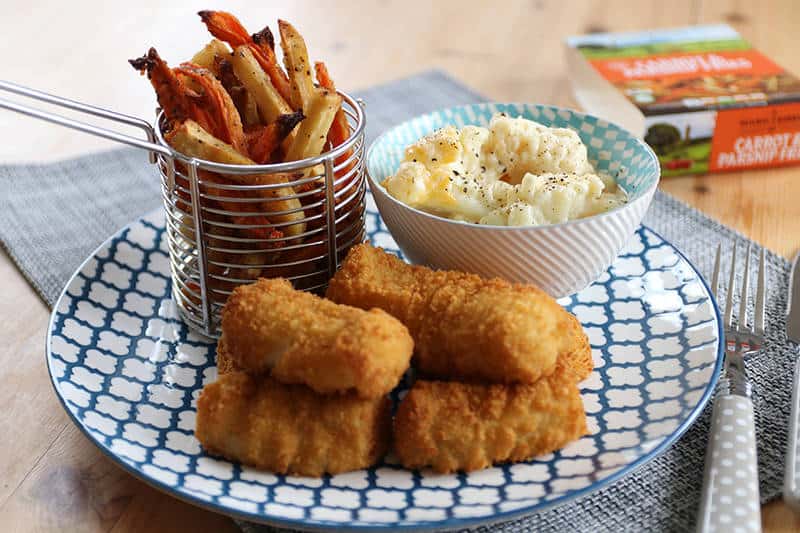 I absolutely love cooking and baking (well, I hope so seeing as I have a food blog!) but I also have a full-time job to think about. Sometimes after a full day of back-to-back meetings, I can imagine nothing worse than peeling a few spuds, carrots, parsnips etc. Haven't I already worked hard enough for one day?! Of course, when avoiding gluten and a mountain of other foods that don't agree with me, takeaways and ready meals just aren't an option. But that's where Mash Direct step in!
But Mash Direct's range has allowed me to make the perfect compromise: when I don't want to cook from scratch, I'll just… cook from scratch to a point! What I mean is, instead of spending my well deserved relaxation time with a potato peeler, I can then concentrate on creating the 'main event' (which could either be my gluten free herb crusted haddock, my oh so simple chicken wrapped in parma ham or my very own gluten free southern fried chicken) and simply plate it up with the perfect 'supporting act', Mash Direct! Sorted.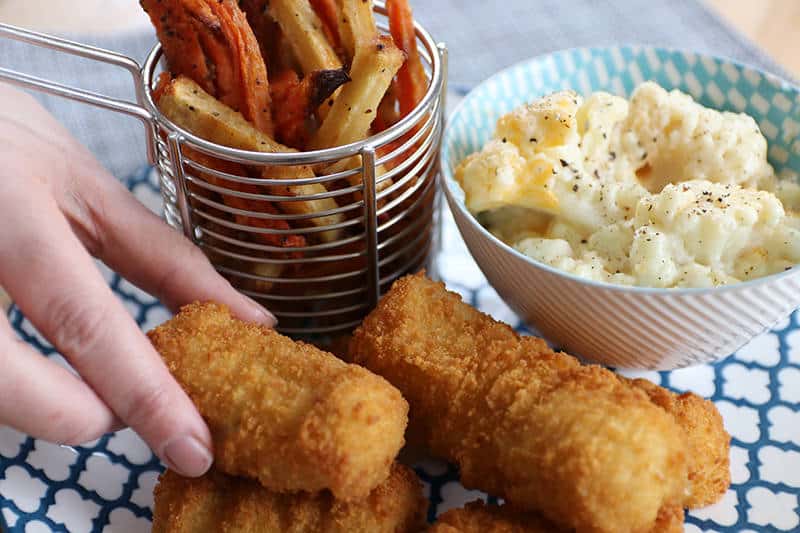 The best thing is, Mash Direct's range has literally everything I would want with any of my staple go-to main meals to start with. Carrot and Parsnip fries (AMAZING), Crispy Vegetable Bakes, Potato Rosti, Cauliflower Cheese Gratin and Potato Croquettes (even more amazing!!) make up the fab 5 in question. I honestly think that their range is really well thought out; you might assume that some or all of these products would be naturally gluten free anyway, but you'd be wrong. The amount of times I've been to the freezer section in my supermarket only to find that an innocent looking vegetable product has a wheat-based coating is sincerely disappointing. Not to mention the horror of being reminded that I can't even eat something as simple as a potato croquette. I usually settle for oven chips, but it's hardly what I'd call an exciting supporting act!
But that's what makes Mash Direct's products so much better. The carrot and parsnip fries do have a delicious crispy coating… made of maize flour. The cauliflower cheese gratin also has a herb crumb… made from rice flour, gram flour and maize starch. There's been no comprises made when it comes to adapting these dishes to be gluten free and that's what makes them so awesome.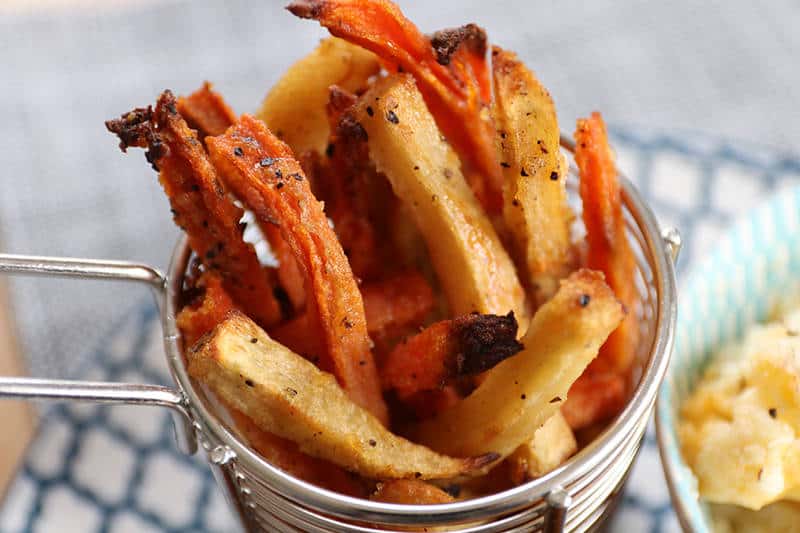 Proudly wearing their gluten free crispy coating, Mash Direct's carrot and parsnip fries are absolutely fab. It gives them a real restaurant-standard taste that undoubtedly makes them qualify as chips, not just 'roasted veg cut in the shape of a chip' which seems to be so disappointing popular these days. But the funny thing is, it's not just their amazing taste to be happy about: 15-20 minutes in the oven at 180c! I basically stick these in the oven along with my 'main event' and they both come out with perfect timing. No peeling, chopping, coating or hours roasting (wow, did that just rhyme?) just simple delicious food in a flash, that's 100% gluten free.
My favourites also include Mash Direct's potato croquettes. These are something that I've truly missed since going gluten free many years ago and such an underrated pleasure! Why let a few breadcrumbs stand in the way of a childhood favourite?! With their crispy coating and fluffy mash potato-like centre, they're yet another firm favourite on my dinner plate. I couldn't write this post without giving a shout out to Mash Direct's Cauliflower cheese gratin either, which was oh so creamy and delicious, yet only needs less than a 5 minute ping in the microwave. Why should we have to lose the 'gratin' part of a dish, just because we can't eat gluten? Well lucky for us, now we don't have to thanks to Mash Direct!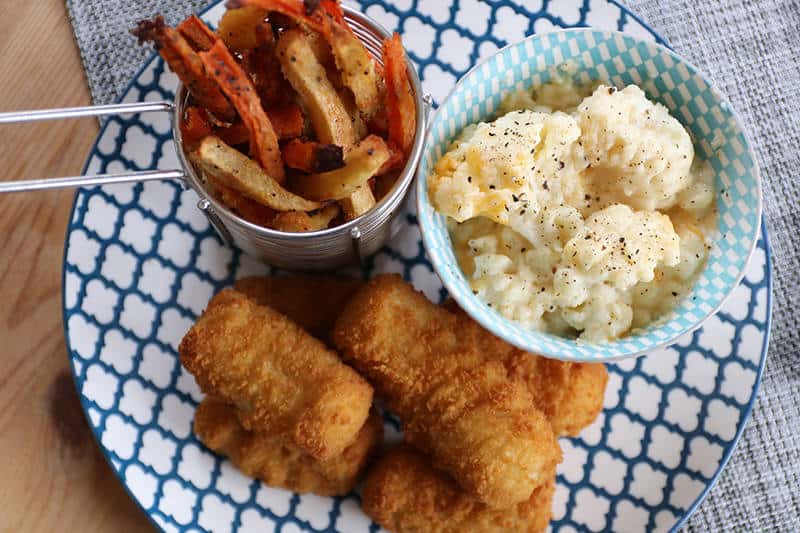 What I'm try to say is, if Mash Direct could just send me a lifetime's supply of their range then I'd probably live the rest of my life as a happy gluten free camper! You've seriously got to give them a try, especially if you're a 'cooking from scratch' kinda gal like me. Then you can focus on your main masterpiece and let Mash Direct be the missing gluten free piece to your puzzle! Oh, and did I mention less washing up? And peeling? And chopping? I think you get my point! Thanks Mash Direct for helping me to reclaim a little more of my well earned evenings.
Have you seen Mash Direct products out and about in your local supermarket? I found mine in one of the newly refurbished Morrisons stores down the free from aisle. If you watched my latest gluten free supermarket shopping haul (which features the Mash Direct Products I mentioned!) you'll know that I mentioned how amazing Morrisons free from aisle has become. Imagine all the normal free from section, along with the chilled free from section AND the frozen free from section all in one place… well you don't need to imagine if you head down to a newly refurbished Morrisons!
Please let me know in the comments below if you've tried Mash Direct's amazing gluten free range and most importantly, what do you think about it? What's your favourite product? Do you always cook from scratch? What do you do when you take a little time out from cooking from scratch? Let me know!
Thanks for reading,
Becky
xxx
Thanks to Mash Direct for being awesome. This is a paid promotion, but all views are my own.
Comments