The perfect, delicious & super simple gluten free chocolate chip cookies recipe is here! I might be using good ol' Betty Crocker's mix, but what's the shame in that?! Betty Crocker knows best… she certainly does now she makes a range of gluten free mixes too!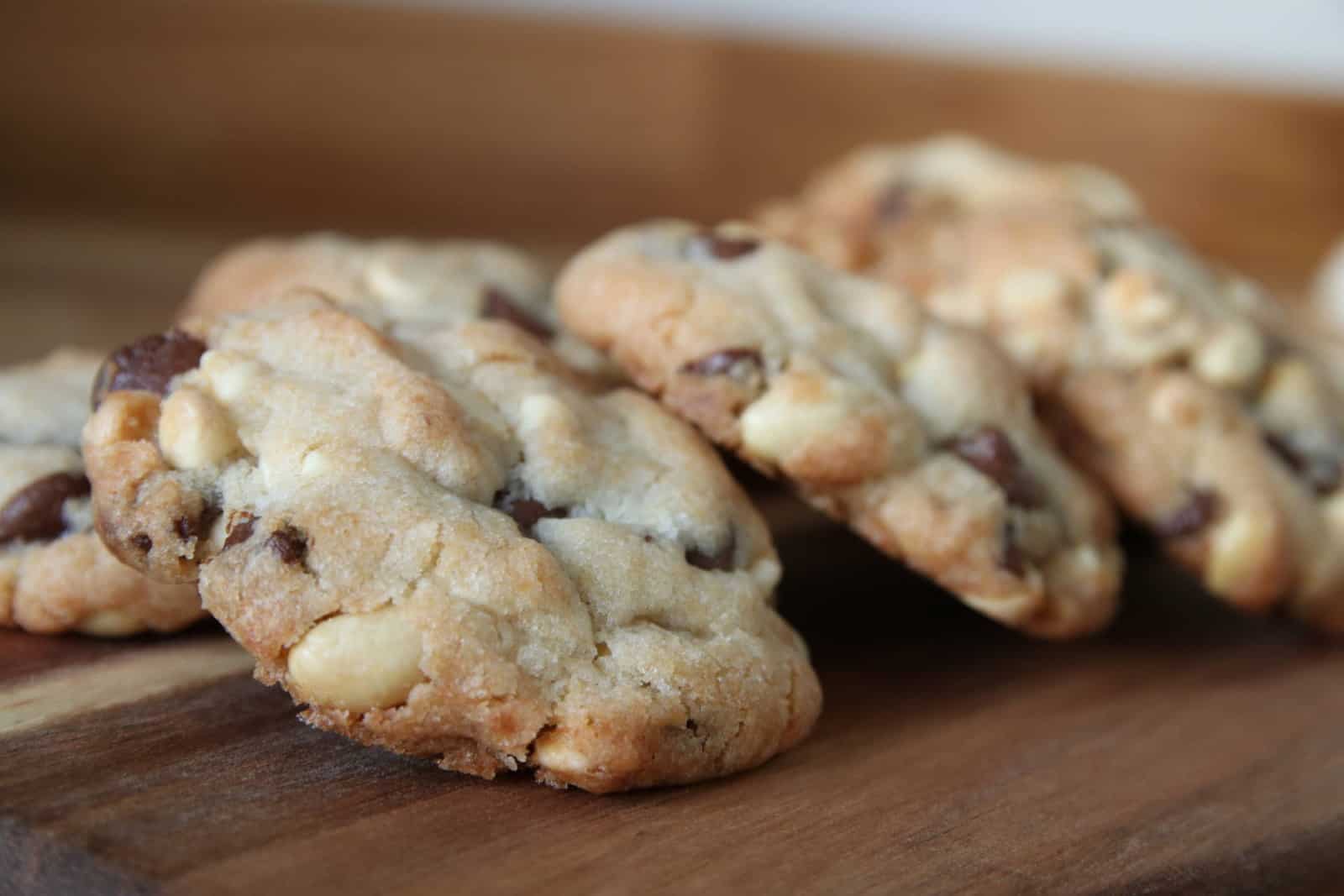 I don't know why this time of year seems more comforting for milk and cookies before bed… but it does. In the summer I wouldn't fancy it, all I want is a ice cold glass of water, however now… milk and gluten free chocolate chip cookies is the one. With the nights drawing in, chilly winter evenings are all about getting cosy under a blanket with your loved ones and enjoying comforting, feel good food – well that's what I think.
For me, biscuits are for during the day, dunking in your tea at work and melt in your mouth cookies are that little indulgence for the evening. That's how I differentiate between biscuits and cookies, how do you? Is it that cookies are more the American way of talking about biscuits, or, are they completely different things?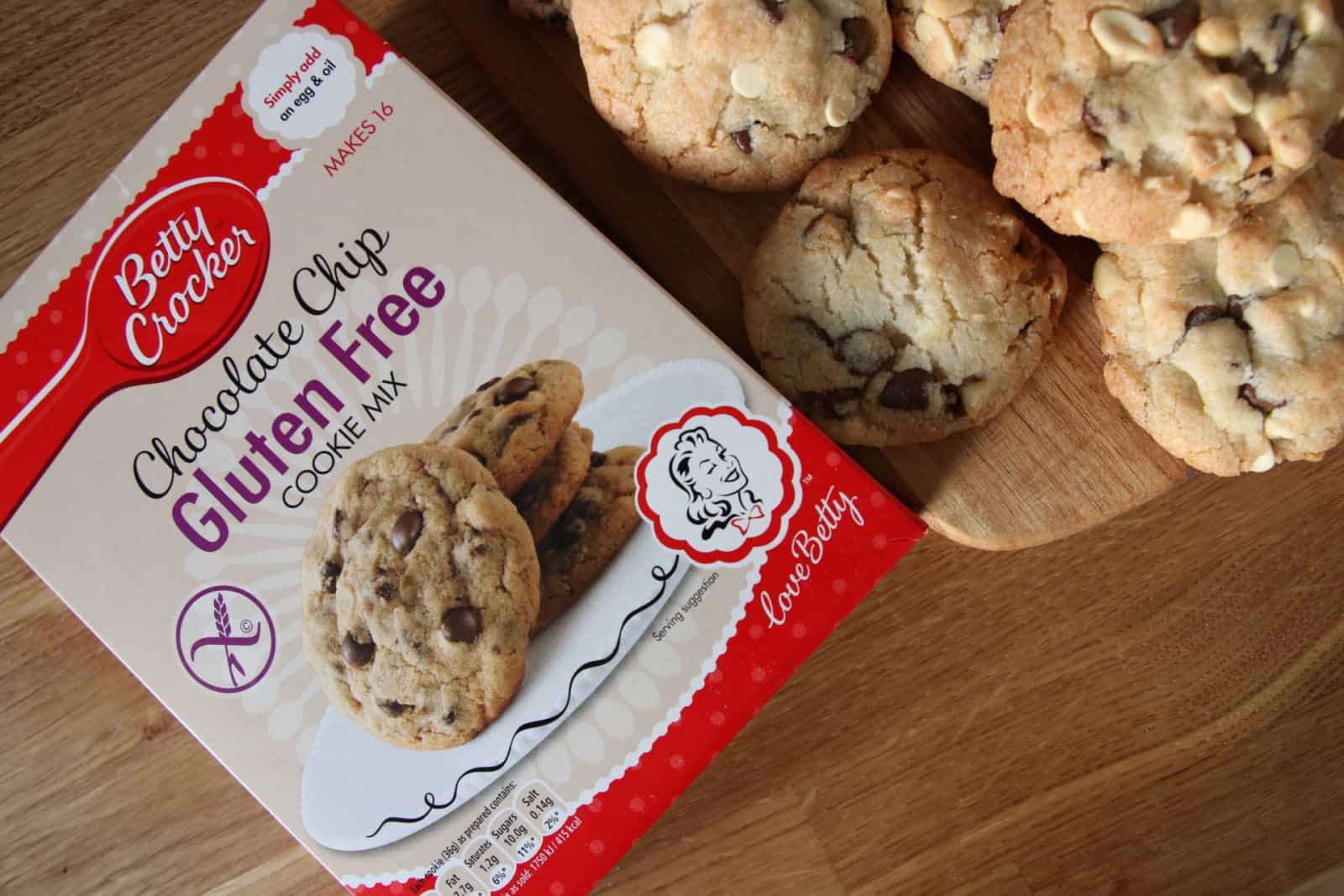 Anyway, I rarely find gluten free chocolate chip cookies that are 100% to my liking. I am picky when it comes to gluten free chocolate chip cookies, they need to be soft, maybe a little chewy with loads of filling, not just the odd chocolate chip. The only way in my opinion to enjoy the ultimate gluten free chocolate chip cookies is by making your own. I make mine using the Betty Crocker gluten free chocolate chip cookies mix. I just find it the simplest way to bake gluten free chocolate chip cookies. I always have a box (or two) in my cupboard and then only need to add an egg & some vegetable oil to make them awesome!
To personalise these chocolate chip cookies, why not try adding your own ingredients? It's a great way to add your own touch! For me this is in the form of extra chocolate chips and peanuts! These additions make the gluten free chocolate chip cookies almost into a peanut & double chocolate chip cookie – amazeballs. I love the peanut taste and crunch the gluten free chocolate chip cookie gets from such a mini addition.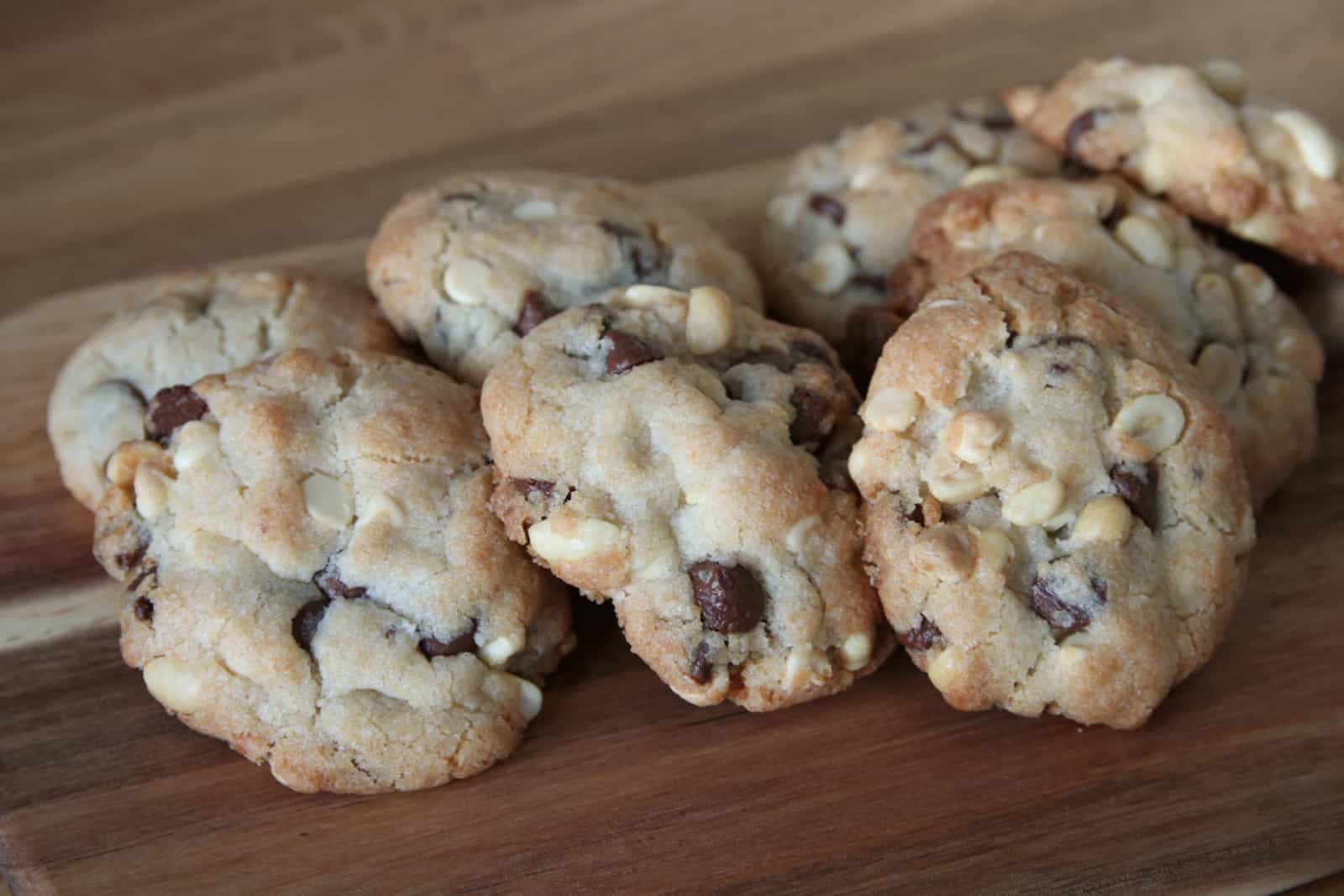 I took a tub of these gluten free chocolate chip cookies into work recently, and they were devoured very, very quickly. A few people even missed out because they were too late to the tub! They were most disappointed. Everyone who did get a gluten free chocolate chip cookie was pretty shocked at how they didn't 'taste gluten free'… I think they assumed they would taste different! Obviously they didn't they tasted amazing and with that… lets get on with the recipe!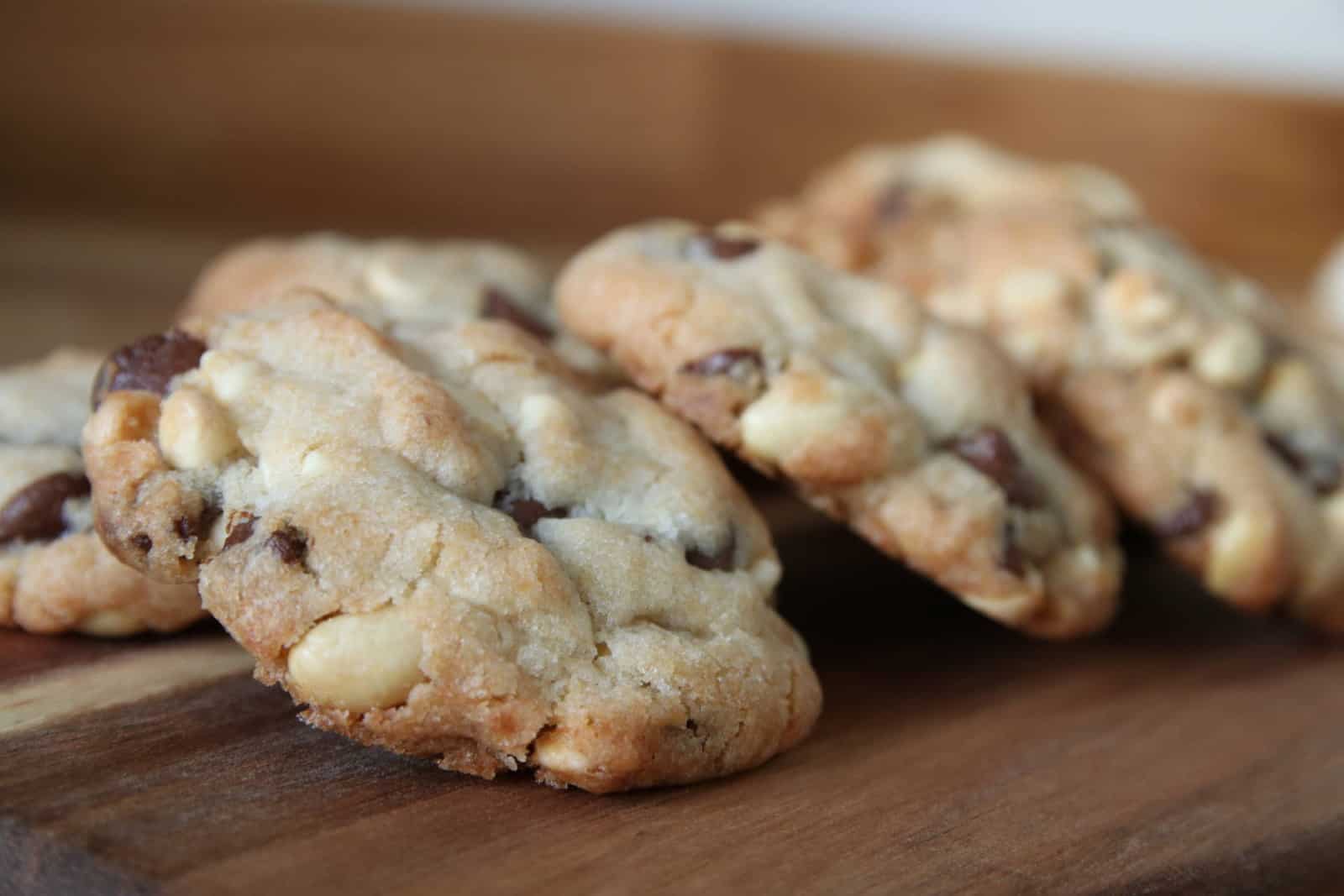 Gluten Free Chocolate Chip Cookies
2016-10-30 14:25:50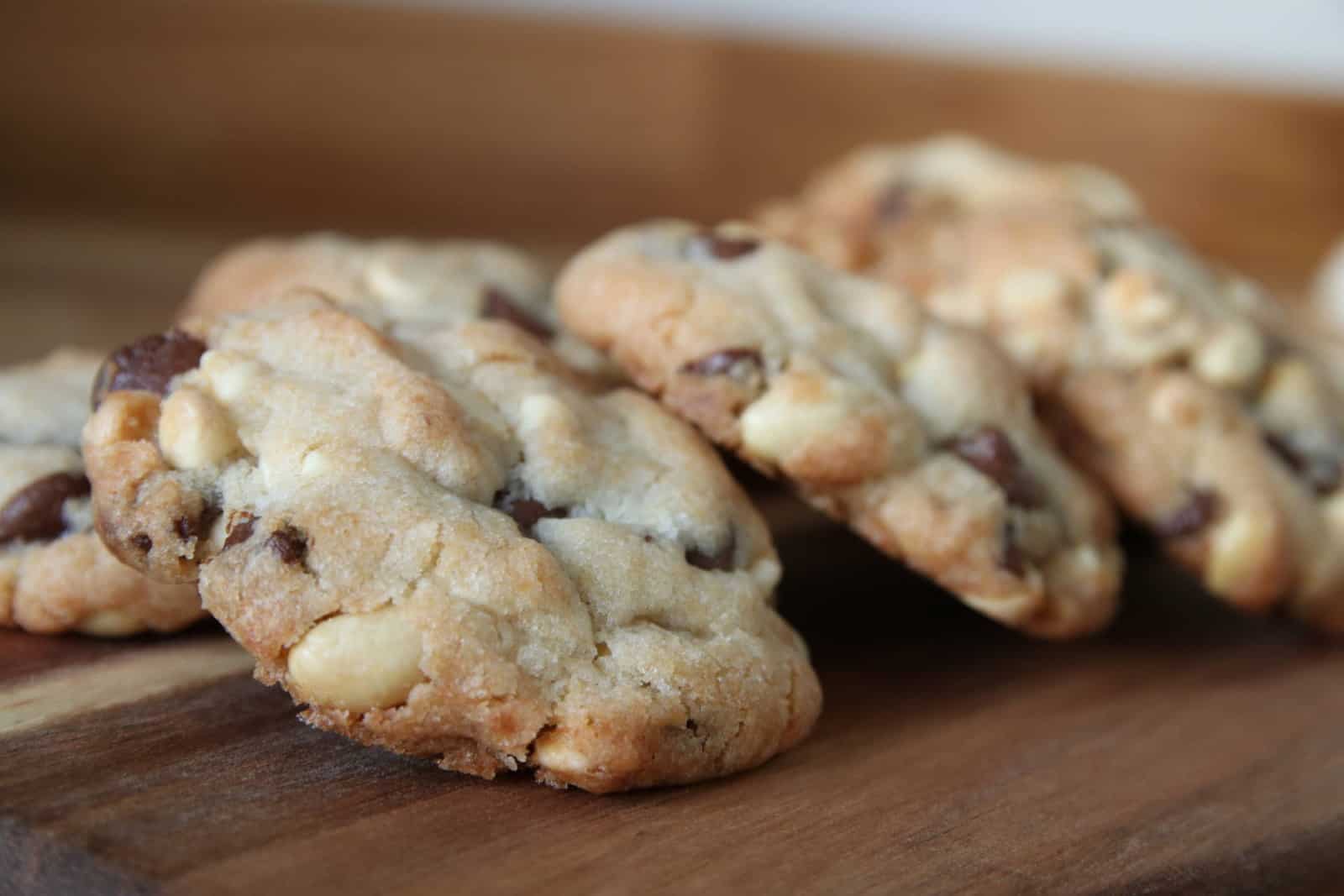 Ingredients
* Betty Crocker Gluten Free Chocolate Chip Cookie Mix
* 90ml vegetable oil (6 tbsp)
* 1 egg
* white Chocolate Chips
* peanuts (I used roasted ones - make sure they are gluten free!)
Instructions
1) Preheat your oven to 180C (160C Fan)
2) Pour your mix into a bowl.
3) Add your vegetable oil and 1 egg.
4) Mix thoroughly, you can use a mixer but I just did this by hand this time round, it's not too much hard work and then there is less to wash up! It should form a soft dough.
5) Stir in your white chocolate chips and peanuts with a spoon.
6) On a greased baking tray, spoon dollops of the cookie dough, make sure you leave generous gaps between the dollops as the cookies will spread!
7) Cook in the oven for 12-15 minutes minutes, until slightly golden.
8) Leave to cool. (Although warm they are amazing!)
9) Enjoy!
Notes
You can add whatever you like to these cookies, any nut would make a great addition, as would some dried fruit (dried cranberries taste great in a cookie, especially with white chocolate).
Gluten Free Cuppa Tea | Food blog based in London, UK. Low FODMAP. Dairy free Recipes.. https://glutenfreecuppatea.co.uk/
So there you have it, my gluten free chocolate chip cookies using the Betty Crocker gluten free mix PLUS added white chocolate chips and peanuts. My ultimate cookie treat with a glass of milk or a hot chocolate (I use almond milk for both!). I must say I am open to adding lots of different things to my gluten free cookies. I have made gluten free white chocolate & cranberry cookies in the past which are amazing & gluten free cookies with honeycomb and fudge chunks are pretty brill too. Oh & don't forget salted caramel!
For me the recipe above is the perfect Coeliac Cookie recipe but what is yours? If you could design your own ultimate gluten free chocolate chip cookie, what would it involve?Have you got a recipe to share? Just leave a comment below, or on Facebook/Twitter. Once again, big up to Betty Crocker & the team at General Mills for making such a delcious, simple gluten free mix – thank you for collaborating with me!
Thanks for reading,
Becky xxx
Comments