So the day has arrived, we can now pop into our local supermarket like our gluten eating friends and family & pick up a Gluten Free Pizza Express Pizza to eat at home! Hands up if you're excited, because I am!!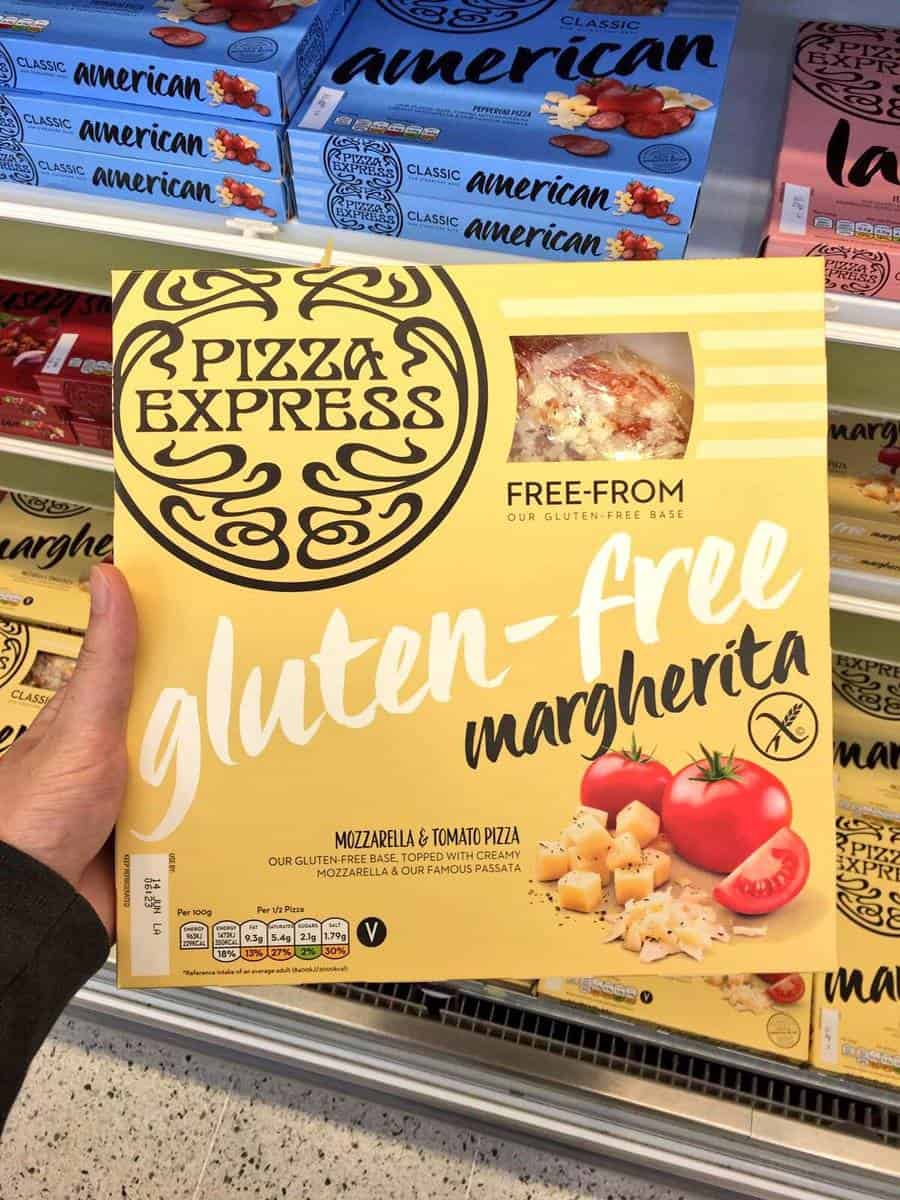 I absolutely love Pizza Express. Their gluten free pizzas are my favourite. They taste great & if you didn't know… they are one of the very few places that actually have a tomato sauce that's free from garlic. This is amazing for me as I struggle a lot with garlic & onions. We've all been excited about the news of gluten free frozen pizzas from Pizza Express sine Coeliac Awareness Week 2016… I thought the day would never come, but it's finally here! We can now pop into our local Sainsburys stores and pick up a gluten free Pizza Express Pizza!
Pizza Express confirmed that it is revitalising its retail range with a new look – plus the addition of a new gluten-free 10? Margherita pizza. & I must admit I absolutely love it! I love the look of the entire range… obviously I don't love the taste of the entire range (as the rest are full of gluten!), but hopefully this is the start of more things to come from Pizza Express. More Gluten Free Pizza Express Pizzas please!!!
Pizza Express have really taken charge in the gluten free pizza & italian food race. I mean, in restaurants they now have gluten free doughballs & a decent gluten free menu too. I hope we get the chance to see gluten free Pizza Express doughballs at home soon too?!
One thing I would love (though I shouldn't be greedy) is that us gluten free folk could be offered different toppings on our pizzas. That would be amazing. Equally, and this is especially for Mark, I would love if Pizza Express in both their restaurants and in the take home gluten free pizza offered dairy free cheese! It would be so nice to have an option that is both gluten free and dairy free… maybe that is still a dream for us, but.. I like dreaming!
Anyway, just thought I'd drop a little post out, as I was really excited when I saw these gluten free Pizza Express pizzas today! Have you got hold of one yet? What did you think? What do you think of Pizza Express's gluten free menu at restaurants?! Please leave all your comments below, or on Facebook/Twitter.
(Oh & if you are wondering Gluten Free Pizza Express Pizzas are available in Sainsburys currently for £4)
Thanks for reading,
Becky xxx
Comments