It's Daim's 15 year anniversary! If St. Patrick's Day is the perfect excuse to drink to excess on a weekday, Daim's anniversary is surely the perfect excuse to eat an entire Almondy Daim Gluten Free Chocolate Cake all by yourself, right? Well… if it's not, I still have no regrets!

I'm sure you've seen Almondy's Daim Gluten Free Chocolate Cake in the free from freezer aisle as we've been lucky enough to have them regularly stocked in our local Tescos for a couple of years now. It's one of the best gluten free desserts which you can buy straight out of the freezer that in my opinion, is of a restaurant standard in taste and looks.
In a few local cafés, I've been over the moon to find that they stock a slice of Almondy alongside their usual cake offerings as their gluten free option. I'd like to take a moment to politely urge every café/restaurant to do this! Not only is it easily kept frozen for storage (so it can be served fresh from the freezer too with minimal cross contamination) but it also obviously tastes absolutely insane too. You can't go wrong with an Almondy in the freezer, people!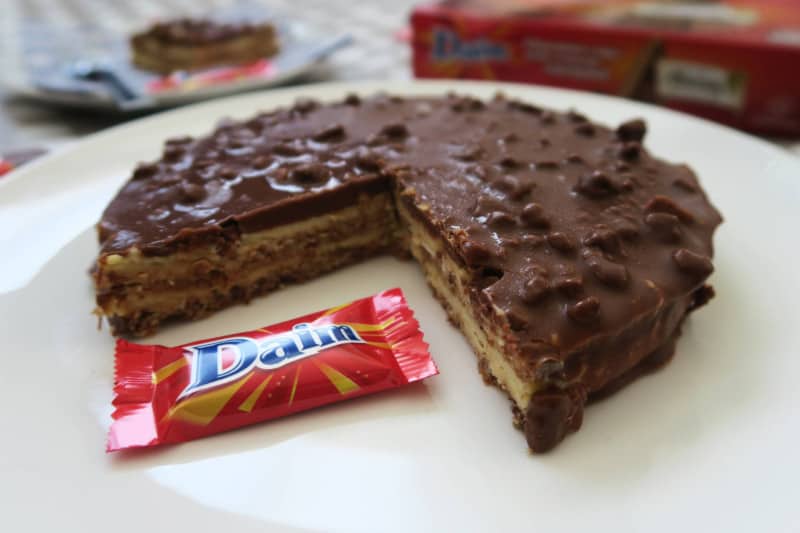 I never knew this until Almondy kindly asked me to review their Daim Gluten Free Chocolate Cake, but all Almondy products are (not surprisingly) based on an Almond base. It originates from a Swedish recipe from the 1890's, so it's naturally gluten free and 100% grain free, which is amazing. So often, when products are adapted to be gluten free, you lose a little texture or taste in translation. So the fact that Almondy products just happen to be gluten free is probably why they taste so divine! And that's before I've even mentioned the humble Daim bar!
Daim bars have been one of my favourite chocolate bars since forever. Granted, that these days a 'treat' is more often freeze-dried fruit or coconut flakes rather than a chocolate bar, but Daim will always hold a special place in my heart (and my stomach!). Almondy's Daim Gluten Free Chocolate Cake really does taste exactly like Daim… but in a cake! So the fact that I can enjoy this gluten free, seems a little too good to be true if I'm honest.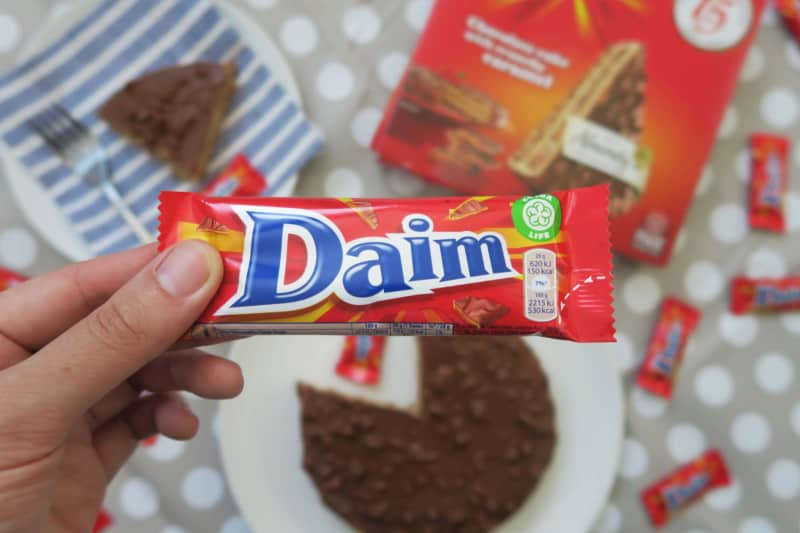 There's two layers of the wonderful almond base and two layers of golden cream and crunchy almond caramel which look so perfectly presented when you slice into the cake. It goes without saying that I would struggle to make such a perfect looking dessert, myself! Finally, it's topped with crushed almonds and a smooth layer of milk chocolate. It's a decadent gluten free treat which is rich, luxurious and filled with so many happy memories of chomping down on a Daim bar back at school!
Like I said at the beginning of this post, now really is the best time to give Almondy's Daim Gluten Free Chocolate Cake a try! After all, what sort of people would we be if we didn't celebrate Daim's 15th Birthday?! If you wanna give it a try, Almondy's Daim Gluten Free Chocolate Cake is currently stocked in the freezer aisle of most Tescos as well as Asda, Booths, Budgens, Morrisons and Sainsbury's.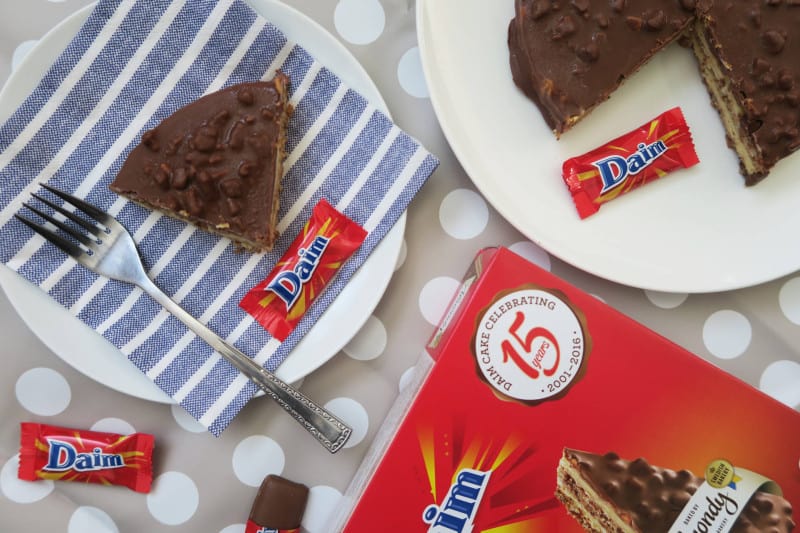 Have you tried Almondy's Daim Gluten Free Chocolate Cake before? What did you think? Have you ever seen it stocked in a café or restaurant near you? Let me know by leaving a comment below or leaving me a message on Facebook or Twitter!
Thanks for reading,
Becky xxx
Comments