We love Ice Cream, it's as simple as that. However it is definitely a struggle to find ice cream that ticks all of our boxes. Gluten Free, Sugar Free & Dairy Free Ice Cream all in one tub? Thank You Perfect World, let's just hope it's delicious too! Taste test time!
So, the weather is improving… heck, it'll be summer before we know it! I've definitely noticed the change this week, having moved from Manchester back down to the south east of England. With the sunny weather comes the yearning for ice cream! I must admit that so far this year the stock of dairy free ice cream seems to have significantly increased. Just in the past week I have discovered 4 brand new products in the Tesco freezers which is very exciting. Gluten Free, in a huge amount of cases is not an issue when it comes to ice cream (minus the flavours that contain cookie dough, brownie bits etc), however, finding refined sugar free ice cream is a massive task.
Fortunately there is a way to enjoy dairy free ice cream now, that is also sugar free & gluten free. I'm not talking about making your own, because I know, however nice homemade ice cream may be, we just want something convenient! What I am talking about is dairy free ice cream from the brand Perfect World! Perfect World's dairy free ice cream is sugar free, gluten free & for once… also soya free!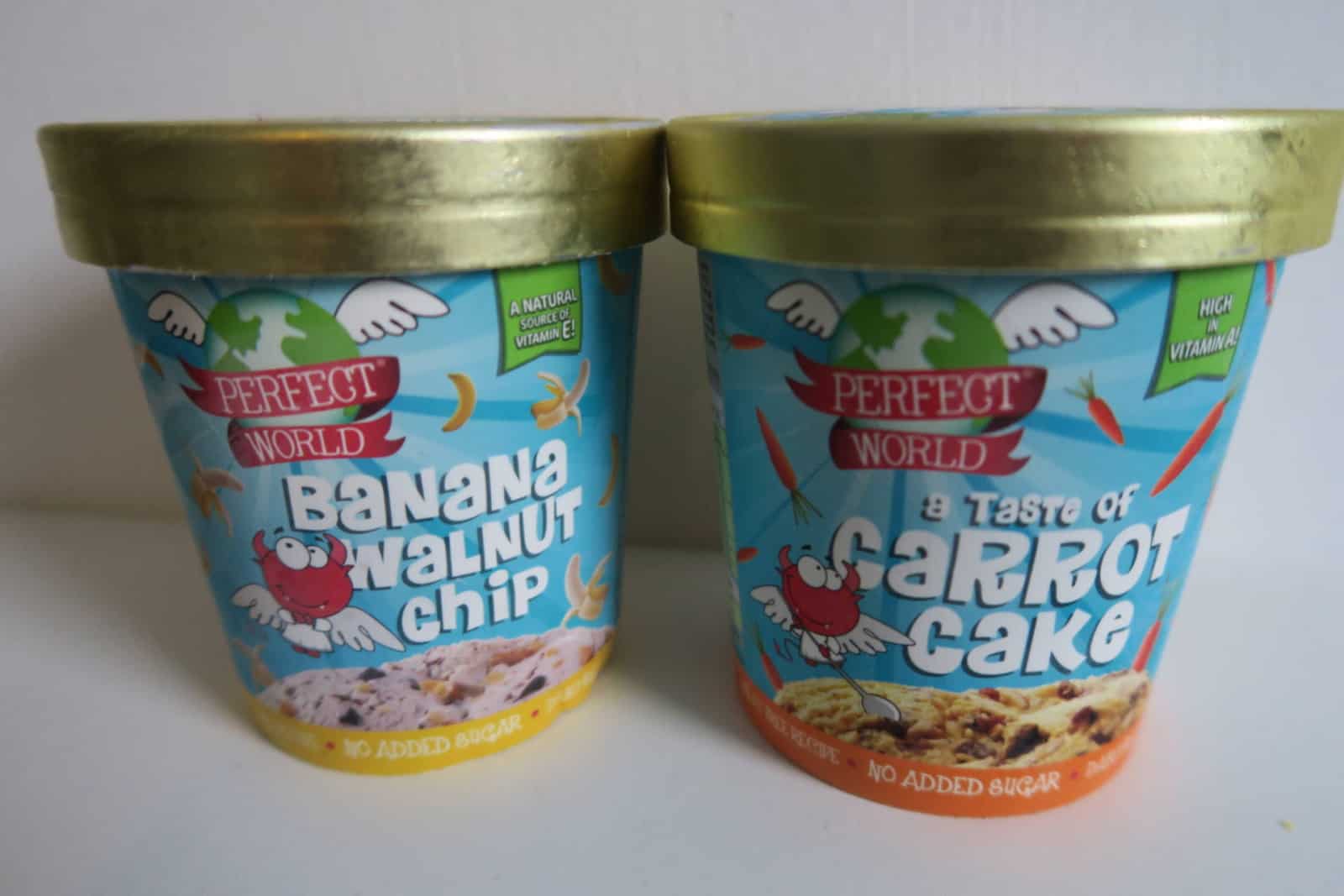 As you can see from the video above (please click here to view the video on YouTube, leave your comments & subscribe!), Mark & I decided we would taste test 3 different Perfect World Dairy Free Ice Cream flavours. Each tub is the same size as those of Ben & Jerry's & equally the flavours are of nice & varied like Ben & Jerry's too. In terms of the dairy free ice cream market… vanilla ice cream is the main flavour, so it is nice to see some changes!
Anyway… the flavours we tried were…….
Banana Walnut Chip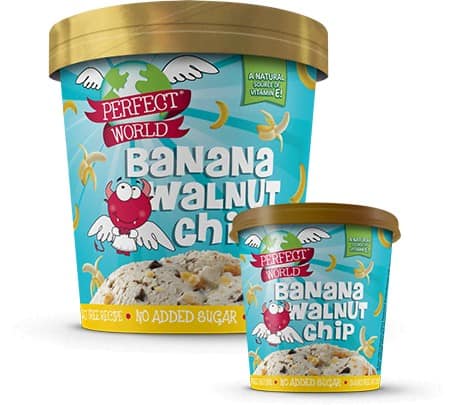 Our absolute favourite flavour. I love banana ice cream and to think this is a refined sugar free & dairy free ice cream is crazy. It's got a lovely level of natural sweetness from the banana. The small dairy free chocolate chips & walnut pieces provide both flavour & texture. Basically, just think of a healthier, dairy free version of Ben & Jerry's ultimate Chunky Monkey. Yep, that's right, this is the dairy free Chunky Monkey! I would eat this again & again & again. It's so creamy & delicious, the tub was gone within a day. Mark has said that to date, this is the best dairy free ice cream he has had. I might just have to agree with him there!
A Taste of Carrot Cake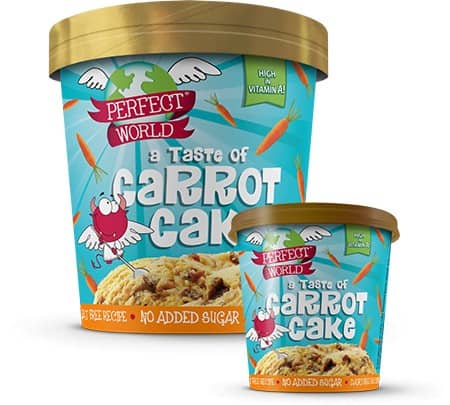 This flavour had a lot to live up to after we tried the Banana Walnut Chip. As expected, it didn't quite live up to the banana heaven… nevertheless, it was pretty dandy. As many of you might know, my favourite type of cake is a carrot cake (so raisins/sultanas though!). The thought of carrot cake ice cream confused my brain a lot, cake is… cake right?! However, once the taste came through I could definitely taste the carrot cake. It had that slight spice to it whilst still maintaining a delicious creaminess that is a necessity in any ice cream. I wouldn't buy it over the banana walnut chip flavour. But I would still buy it & I definitely think that a lot of people are going to love it!
Caramel Pecan
Now the caramel pecan dairy free ice cream I believe is a new flavour for Perfect World. They delivered it to me without the branded packaging, just in a plain tub. I thought they must be very confident on the flavour to do this, & they were right to be, oh my goodness, a caramel dairy free ice cream that tastes amazing. It reminded me of my childhood when we used to sometimes have some toffee flavour ice cream for dessert, its not complicated its just the perfect caramel/toffee flavour. The pecan nut pieces within it make it dreamy (oh & it's creamy!) for me. I absolutely love this flavour & I do hope it will be introduced alongside the other flavours into Tesco & any other stores very very soon!
On top of the flavours we tried Perfect World also have a Gluten Free Belgium Chocolate Brownie Dairy Free Ice Cream & Strawberry Dairy Free Ice Cream. Both of which I can guarantee from our taste testing just have to taste amazing too!
So Perfect World has been available in Holland & Barrett for quite some time now, but finally it has been introduced into Tesco stores as well! Oh & of course it is also available at Ocado. I would highly recommend grabbing a tub if you get the chance. For me, it has to be the banana walnut chip every single time… you know how much I love bananas!
To find a dairy free ice cream (for Mark) that also has a much lower level of sugar than any other ice cream I have ever come across in the shops (for Me) is perfect. It is so nice to find a product suitable for us both, without any compromise on taste.
Let me know if you have tried any Perfect World Dairy Free Ice Cream. What did you think of it? What are your favourite flavours of ice cream? Are there any products you are still waiting (& praying) to come onto the ice cream market that are dairy free & gluten free? For me… an ice cream roll!! (oh the memories when I was young!) Anyway, let me know by leaving a comment below, on Facebook/Twitter OR better still…. on my VIDEO!
Thanks for reading and watching,
Becky xxx
Comments