We've seen Udi's Apple & Cinnamon Toaster Pastries in our local free from aisle for a while now, but we've only just about plucked up the courage to give 'em a try! Could this really be the closest thing we'll get to a dairy free & gluten free Pop Tarts?!
Likening to my favourite childhood breakfast, Pop Tarts, there's something about eating a Pop Tart for breakfast that just feels a little overkill so early in the day. However, Udi's own spin on toaster pastries is a lot less sickly and tastes a lot less artificial. Think of them as an adult equivalent! Gluten Free Pop Tarts ahoy!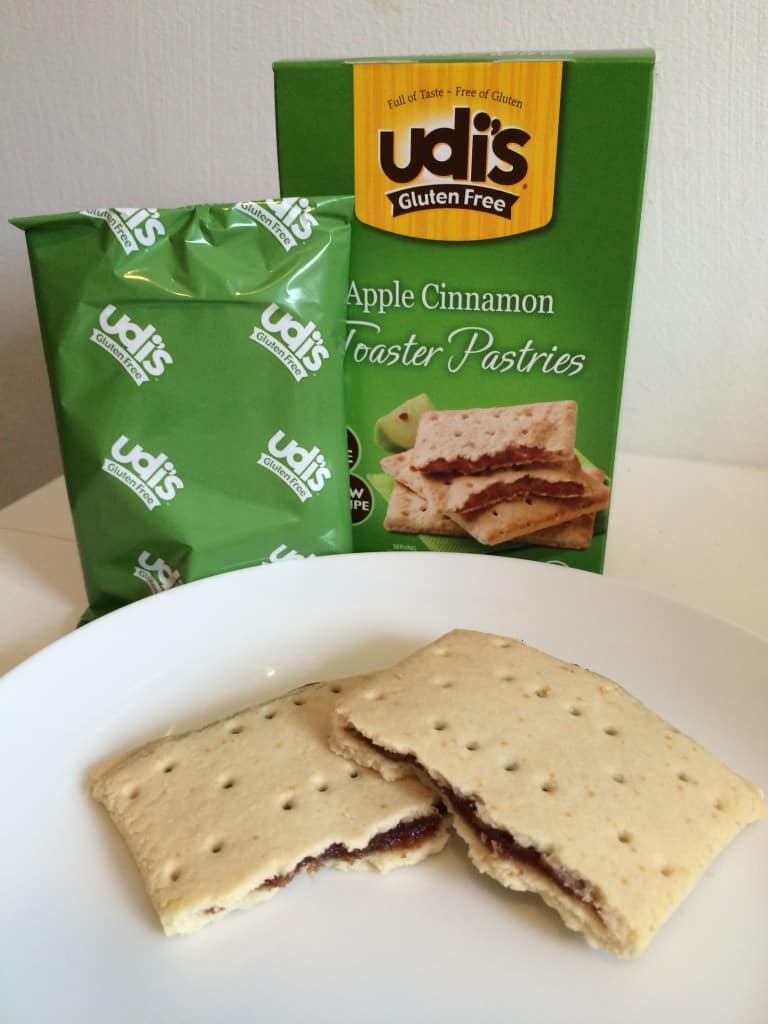 Whilst Udi's Apple & Cinnamon Toaster Pastries aren't overtly advertised as dairy free, after checking the ingredients, I can fortunately confirm that there's no dairy containing ingredients in there. They come individually wrapped and there's five individual toaster pastries per box. They're at least a quarter smaller than a regular-sized Pop Tart, but it's a small price to pay for a delicious gluten free and dairy free treat! Who else provides you with convenient gluten free pop tarts?!
After literally about 30 seconds in the toaster (or as the box cryptically describes, warm at the "lowest or lightest heat setting for one heating cycle only") the Udi's Apple & Cinnamon Toaster Pastries emerge triumphantly, steaming hot and smelling divine – much like myself on a Friday night.
There's no doubting the taste, comparing to a delicious apple pie with a hint of cinnamon. The gluten free pastry is soft and delicate and a lot less crumbly that a regular Pop Tart. Two is more than enough to fill a gap and, whilst I'm still not a convert to Pop Tarts for breakfast, Udi's Apple & Cinnamon Toaster Pastries are my new mid-morning snack! It's most definitely a great substitute for gluten free Pop Tarts.
Have you tried Udi's Apple & Cinnamon Toaster Pastries? Leave us a comment below letting us know your thoughts! If you haven't tried them, then go grab some and let us know what you thought! Just drop a comment below, or on Facebook/Twitter.
Cheers,
Mark x
Comments