Basically I LOVE PECAN PIE! It's my ultimate dessert, however I can't remember the last time I enjoyed a slice. I decided to try making a Gluten Free Pecan Pie myself, it's also Dairy Free. Check out this tasty simple recipe below!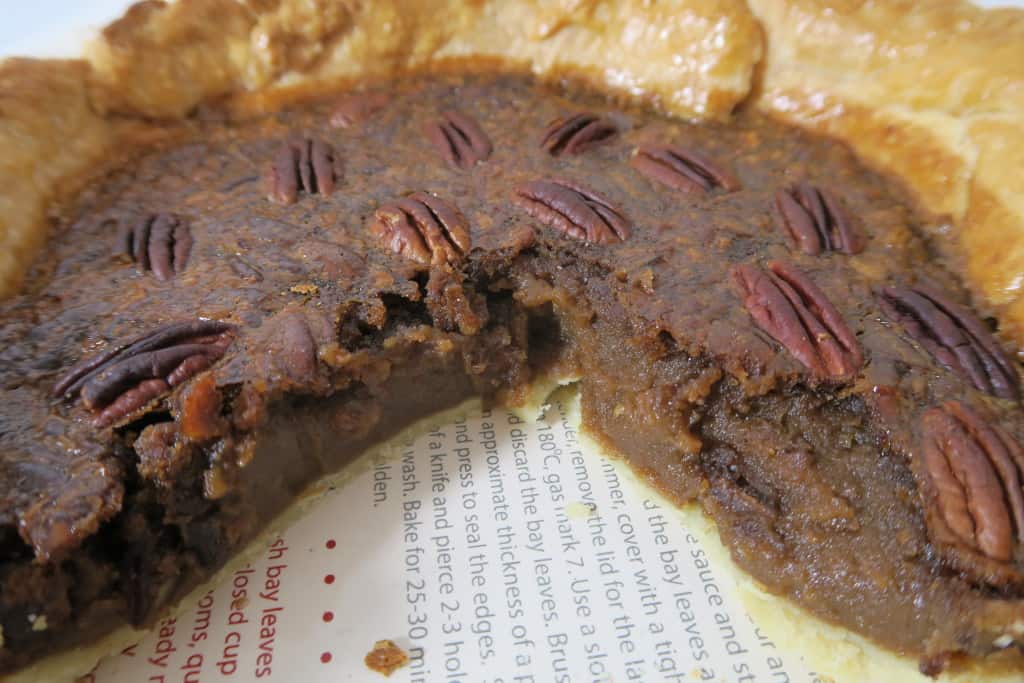 I've always been a massive fan of pecan pie. My Ouma (what I called my Grandma.. I'm half south african), used to often have a pecan pie for dessert when she had us round for dinner. Ever since then, probably about 15 years ago I have adored pecan pie.
As a very American pie, every holiday I have ever had in America has definitely involved numerous pecan pies. However, family holidays to America all happened before I had problems with gluten, since having a gluten intolerance I can only think of one gluten free pecan pie I have had the opportunity to enjoy (at Cookies & Scream in Camden).
Pecan Pie is one of America's greatest creations. Personally, Pumpkin Pie is just not the one. I don't enjoy the flavour of pumpkin at all, so for me it's all about pecan pie… a gluten free pecan pie! Perfect for a gluten free Thanksgiving, but also literally perfect for every single day of the week!
Basically, if you aren't super familiar with Pecan Pie, then this recipe will be the perfect introduction. It is really simple to make and it is beyond delicious. A gluten free pecan pie will provide you with a heavenly combo of rich nuttiness and caramel sweetness. Seriously this is the best combination ever. & served slightly warm with a big dollop of dairy free ice cream is just my ultimate dessert. Mark enjoys eating it cold too so it's really up to you how you eat yours! It will be epic whatever!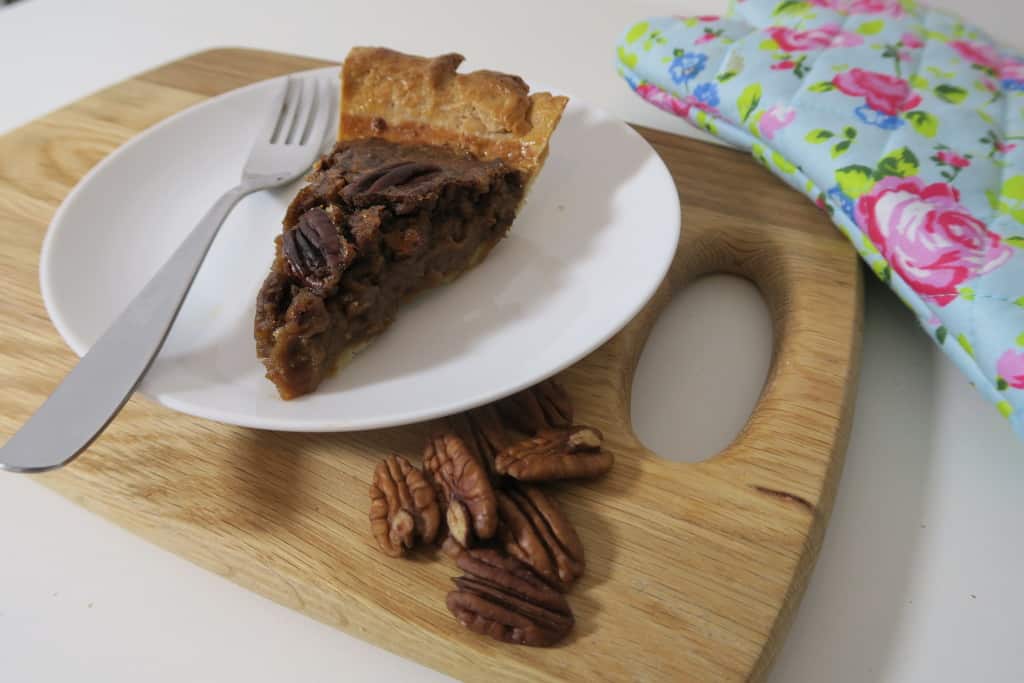 In this recipe I chose to try out the gluten free pastry mix from The Pastry Room. I am terrible at making pastry so it was the perfect option for me. It honestly is a life changing product for me, the whole concept is stupidly cool… I can get my pastry mix out the freezer, add water & mix… I have pastry ready to roll! I wrote a few bits on The Pastry Room here, just because I think the concept needs fully explaining!!
On the other hand, for all those brill gluten free pastry chefs out there my gluten free pecan pie recipe will work just as well if you want to use your own shortcrust pastry recipes. (If anyone has any advice for me that would be great too!) Just make your gluten free pastry as per usual & then when it comes just pour in your pecan mixture! I love creating recipes that some people can follow word for word, whilst others can use aspects of it & make it their own too! So here you go… let's make my gluten free pecan pie!
(my mum has always used this recipe for gluten free pastry with success so if you want to use this instead click here… HOWEVER I urge you 150% to try The Pastry Room!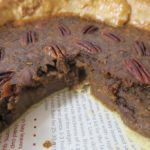 Gluten Free Pecan Pie
Pecan Pie has to be my favourite dessert of all time. So I thought I would make a delicious Gluten Free & Dairy Free Pecan Pie, so glad I did!!!
Ingredients
Gluten free pastry mix from The Pastry Room

OR.. your own Gluten Free Shortcrust Pastry Recipe

150

g

pecans

100

g

dark muscovado sugar

100

g

maple syrup

85

g

dairy free spread

I use Pure Dairy Free Spread

200

ml

dairy free single cream

I use Alpro Soy Single Cream

2

tbsp

cornflour

2

egg yolks

Pinch

of salt
Instructions
Heat your oven to around 180 degrees.

Grease a Pie Dish or Loose Bottomed Pie/Flan Dish (Around 23cm in perfect for this)

Make your gluten free shortcrust pastry as per recipe OR use The Pastry Room's Gluten Free (& dairy free) Pastry Mix.

Roll out your gluten free pastry to around 3-5mm thick.

Line your greased tin with the pastry (lettering excess pastry hang over the edges, do not trim!)

Prick the pastry base with a fork, line with parchment paper and fill with baking beans.

Bake for 15 minutes, then remove the parchment and beans and bake for another 6 minutes until golden.

Whilst you are baking your pastry you can also bake your pecan nuts for about 6 minutes on a baking tray until toasted.

Allow to cool slightly, then roughly crush approx half of them.

Whilst the above is happening or afterwards... place the sugar, maple syrup, dairy free margarine & dairy free cream into a heatproof bowl & set over a pan of simmering water.

Stir together until they all melt.

Mix in the cornflour and whisk thoroughly until you have a smooth, silky mixture. (do this over the heat still)

Take off the heat and mix in the egg yolks and a pinch of salt.

Mix in your crushed pecans.

Pour the mixture into your pastry and arrange some of your whole roasted pecans on top.

You can egg wash the pastry if you want it to be extra golden!

Bake for around 25 minutes, until the mix is set.

Once cooked, allow to cool and then slice it up... serve with dairy free vanilla ice cream.

Enjoy!
Recipe Notes
I used a Pie Dish without a loose bottom which worked fine but I would recommend using a loose bottomed pie dish for ease.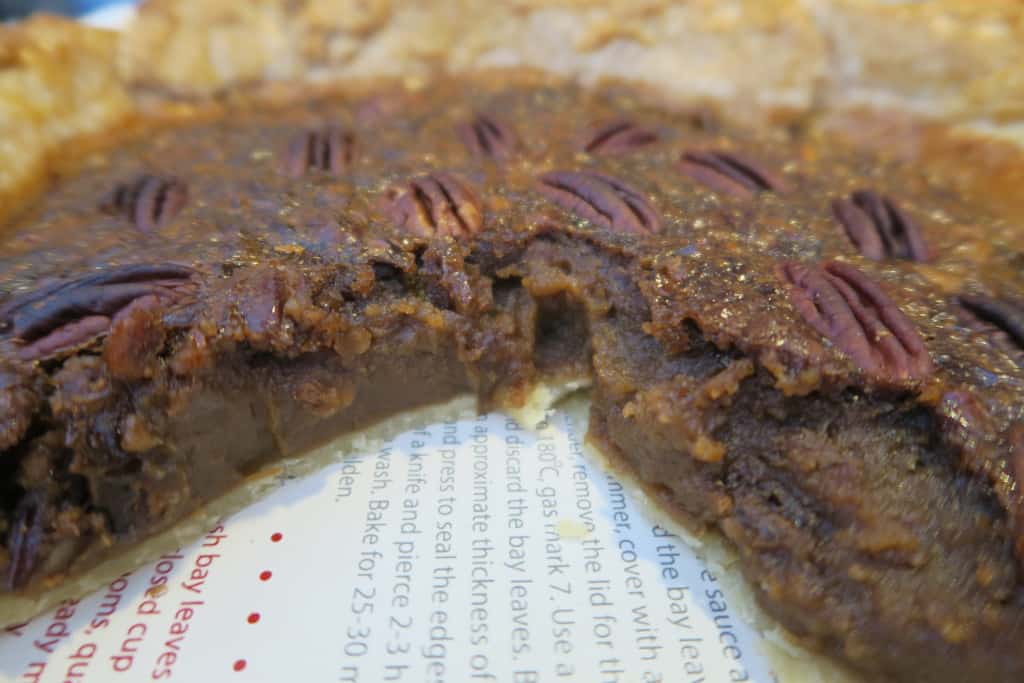 What's your favourite food to come across the water from America to the UK? OR if you are from America… what is your favourite traditional American dish. How do you fair eating gluten free at Thanksgiving? Let me know if you get the chance to try my gluten free pecan pie recipe. I love using pecan nuts in so many recipes (& just eating them!), so PLEASE let me know if you have any more genius ways to enjoy pecans! Let me know on any of the above by leaving a comment below, or on Facebook/Twitter.
Thanks for reading,
Becky
Comments