Garlic Bread is always a winner at any dinner table. I thought I would try to recreate my own version of garlic bread but make it a gluten free garlic bread! It's also dairy free & in a delicious 'tear & share' dough ball style. Oh & the perfect recipe for Bread Week on The Great British Bake Off 2015!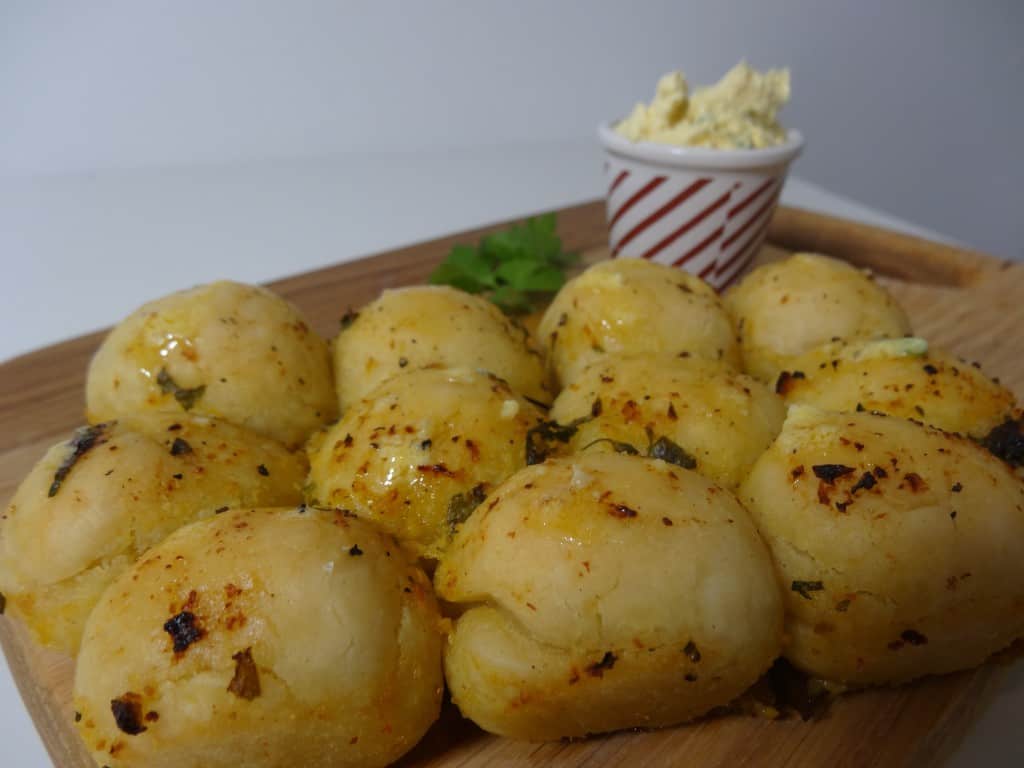 When I was a much younger, fussier eater, garlic bread was a regular choice for me. Whenever I went to a restaurant I would always order it as my starter. Looking back on it, there were likely some amazing other choices on the menu, but I would turn my nose up at all of them in favour of my beloved garlic bread! Anyone else like this as a kid?
Anyway, in more recent years I have of course become much more adventurous. (Before my Gluten Intolerance & IBS arose I would eat literally everything… I can't think of a food I dislike anymore.) However I wouldn't turn down a gluten free garlic bread side order if it were available to me. In most places it isn't… Dough in Manchester does amazing gluten free garlic bread, but generally even restaurants that provide gluten free pizza bases, tend not to provide gluten free garlic bread.
Therefore, I decided to go about making my own garlic bread right from scratch. Rather than just adding a bit of homemade garlic butter to already cooked bread, I thought I would make my own. I thought I would combine my love for garlic bread with my desire to eat Pizza Express style dough balls & create a gluten free garlic bread that is essentially a tear & share garlic dough ball feast! This went down a treat when I made it recently for dinner alongside some gluten free pasta… we had a proper free from Italian feast!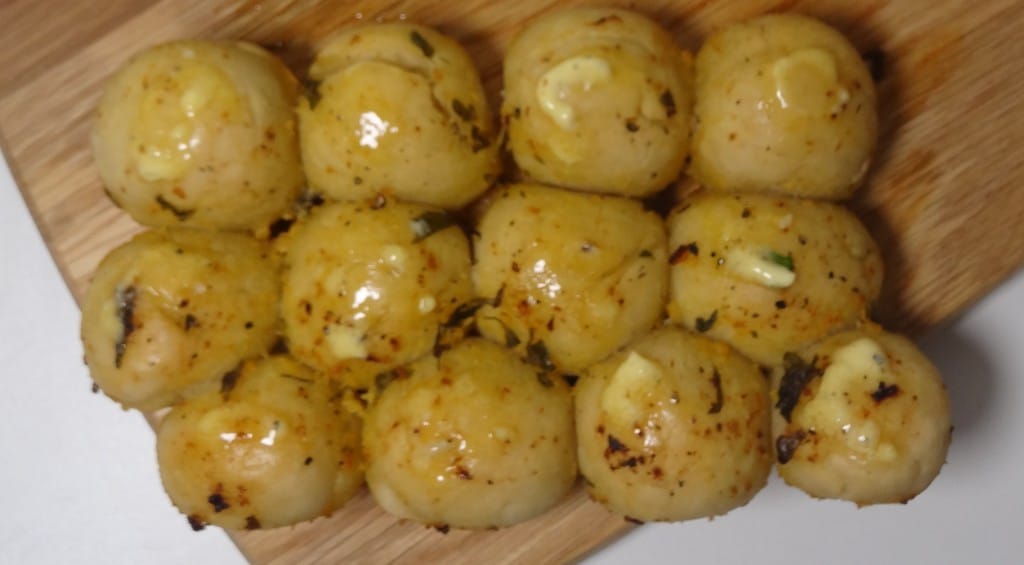 What I would say when making these is to use whichever gluten free bread flour mix / blend that you usually use. Some folks buy a Gluten Free Bread Flour… for instance from Doves; however others combine a mixture of flours, starches & xanthan gum together to make their own personal blend. I for one enjoy making my own blend & it is definitely worth the time. You can make a huge batch of your gluten free flour blend & it will last you months!
This recipe is also 100% dairy free as most of my recipes are. If you don't follow a dairy free diet then feel free to use butter in place of dairy free spread. I find dairy free spread works really really well though. Additionally I definitely think you could cook this with some cheese on top too (dairy free I would use Mozzarisella for this). I mean, who orders garlic bread in a restaurant over cheesy garlic bread?!?! Not me!
So here is the recipe for my gluten free garlic bread: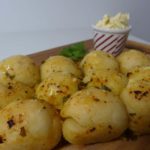 Gluten Free Garlic Bread with a Dairy Free Garlic Butter
A delicious tear and share garlic bread which is both Gluten Free & Dairy Free. Be prepared to let it prove so read the recipe through to see how long you will need... it's so worth it!
Ingredients
250

g

gluten free bread flour

Dove's do a Gluten Free BREAD Flour.... Or use your own Gluten Free Flour Blend - there are plenty of GF flour blend recipes online

1

tsp

gluten free dried yeast

30

g

gluten free breadcrumbs

optional

3

cloves

of crushed garlic or a tbsp garlic paste

160

g

dairy free spread

at room temperature

1/3

lemon zest

small handful of fresh flat-leaf parsley

finely chopped

1/3

tsp

cayenne pepper
Instructions
Place your gluten free bread flour/flour blend into a bowl alongside your yeast and a pinch of salt.

Make a well in the middle of your dry ingredients.

Gradually pour in 170ml of tepid (luke warm) water & stir continuously until you form something a little like a rough dough. (don't worry if it feels a little sticky)

Transfer your dough onto a lightly gluten free floured surface & knead for 10 minutes (important!)

Once you have kneaded, place your dough in a bowl covered with clingfilm or a damp tea towel. Leave in a warm place for about 1 hour.

Whilst you wait... make the garlic butter. Mix your garlic into your room temp spread.

Add your lemon zest, finely chopped parsley & cayenne pepper.

Spread around a 1/3 of your garlic butter over an oven proof dish, all over the base & sides. (the dish doesn't need to be very big)

(Optional) Scatter the breadcrumbs across the dish evenly.. this will give a crispier tasty base to your garlic bread, but is definitely not necessary if you don't have any bread crumbs lying around.

When the hour is up, take your dough and divide it up, rolling it into even balls.

Place then in your oven proof dish & spread over another 1/3 of your garlic butter mixture.

Cover once more & leave to prove in a warm place for a further 1 hour - 1 hour 30.

Preheat your oven to 190degrees celsius.

Bake on the bottom shelf of your oven for about 30 minutes, they might need a little longer to make them go more golden.

If you are going to serve immediately, you can then spread your final third of garlic butter on top to them, it will melt and ooze everywhere!

Enjoy!
Recipe Notes
This delicious gluten free & dairy free garlic tear & share bread is perfect to accompany so many dishes. I love it alongside a Gluten Free Spaghetti Bolognese, but it really can go with anything, or be enjoyed on its own!
So there you have it, a gluten free garlic bread recipe that everyone can enjoy! It not only tastes great, it also looks good. It would be a great dish to make if you had some people coming round or just for the family to tear & share themselves. Of course you can make more or less depending on how many of you there are!
Let me know if you get the chance to try out my gluten free garlic bread recipe. Or do you have a bread based recipe you want to share with me? Let me know! You can leave a comment below, or on Facebook/Twitter/Instagram. Also let me know where your favourite restaurants are that serve gluten free garlic bread (& dairy free).
Thanks for reading,
Becky xxx
Comments