One of my all time favourite cocktails is the humble Pina Colada. Whilst in it's alcoholic form it is amazing; in it's 'virgin' state it is still mighty fine! Whilst the 10th July is officially Pina Colada Day… in my world… every day is Pina Colada Day!
You might remember I put up a Virgin Pina Colada Smoothie recipe a few months ago. Click here to view it. But since then, I guess we have perfected it even more & made it even more coconuterly awesome! So, why not make a video out of it?! Here is the NEW recipe. I hope you get to give this beauty a go!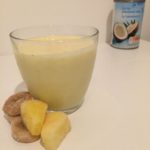 Pina Colada Day Smoothie!
I use a NutriBullet to make all my smoothies, but any blender that has the ability to crush ice and frozen banana will do. This recipe makes one large drink or 2 smaller ones.
Ingredients
1

Medium Pineapple

chopped up or use a pineapple corer like mine in the video!

1/2

can of Coconut Milk

1

Frozen Banana

only a SMALL banana, maybe use a little less if it's a big one!

3-4

Coconut Water Ice Cubes

I used Vita Coco original - My Ice Cubes were large!

Tiny Squeeze of Lime

optional - it definitely tastes perfect without too!
Instructions
Pour your coconut water into ice cube trays and place in the freezer for a couple of hours or until frozen.

Place your pineapple into your blender.

Pour in half a can of coconut milk.

Add your frozen banana.

Add your coconut water ice cubes.

(Optional) squeeze of lime

Secure your blender lid & blend away till smooth.

Pour into a glass & enjoy!
So there you have it, who would have thought that freezing Coconut Water would be so amazing. I will definitely be trying frozen coconut water out in other smoothie recipes from now on. I am a massive coconut water fan & it is a great way of getting the coconut flavour into a smoothie.
I will always have a mighty soft spot for a Pina Colada, it is one of the worlds greatest cocktails & to be able to enjoy it whenever I fancy in a non alcoholic form is amazing. It tastes too good to be just a few simple ingredients!
What's your favourite summer drink? Let me know… whether that be a smoothie, a cocktail, or just an ice cold lemonade! Let me know by leaving a comment below, or on Facebook/Twitter.
Thanks for watching/reading!
Becky xxx
Comments