Now as a child my favourite cereal wasn't Weetabix, but I still ate it almost every day! Sadly, there's no such thing as true gluten free Weetabix but there's two great alternatives made from Sorghum that make a great replacement.
Now, Sanitarium might very well be an Australian brand, but as you know from my recent Canadian Chocolate Chip Cookie Review, distance doesn't stop me from reviewing! I noticed Sanitarium Gluten Free Weet-Bix online a while ago whilst having a lazy Sunday afternoon internet browse for new gluten free products. I found the website Sanza.co.uk, which stocks a large amount of different products to the UK from Australia, New Zeland & South Africa (I'm half South African, fact of the day!). I actually couldn't resist buying some!
In the past I was always against Weetabix, I used to want chocolate or sugary cereal for breakfast when I was 7, yet chocolate and sugary cereal was banned in my house growing up! Looking back on that, I am really pleased that I never had chocolate cereal, I gradually came to really enjoy the taste of Bran Flakes, All Bran & even Weetabix! Unfortunately, my love of 'healthier' cereal was short lived as I developed an intolerance to gluten which meant All Bran & Weetabix were straight off the breakfast menu. I was devastated to find that the official brand don't produce gluten free Weetabix!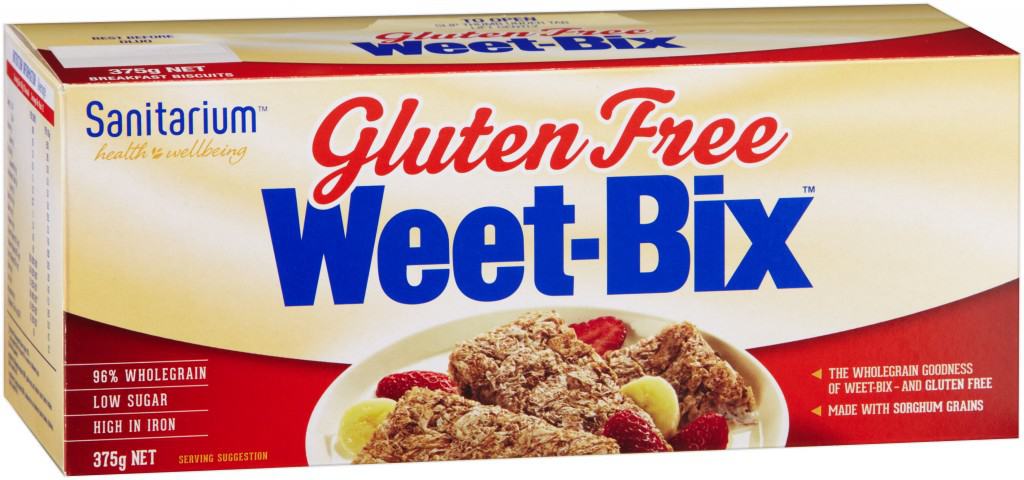 I used to have my Weetabix with semi skimmed milk warmed up gently in the microwave. However, I decided to change it up a bit & have it with some cold almond milk! Though it didn't taste exactly like the Weetabix I eventually came to love; it was definitely the closest thing I've tasted thats gluten free. I would recommend trying this out in exactly the same way as you once ate your Weetabix. Whether that be warmed or cold… on it's own or with fresh fruit. I really think this is something not to be missed. It's the closest you'll get to gluten free Weetabix!
So, what is it made from, if it isn't wheat?!
Well, it is made from Sorghum. I must admit I am not overly familiar with Sorghum so I'll leave you with a link to go and explore what it is yourself.. Click here!
For me these days a very important aspect of my diet is that it ideally needs to be low in sugar. I have a lot of trouble digesting sugar, especially in the morning on an empty stomach. Sanitarium Gluten Free Weet-Bix is, like most original style whole grain cereals, low in sugar.. good news! For me, the taste that whole grain provides a breakfast cereal is far superior to the taste that sugar provides anyway!
This gluten free Weet-Bix is also endorsed by Coeliac Australia and is produced in a completely gluten free factory. This is great news for coeliacs and gluten intolerants alike. I so often find products state they are gluten free.. but then the factory they are produced in really says otherwise!
I will not say for one minute this is the cheapest option in the world, but until the official brand make gluten free weetabix, Sanitarium seem to be the only company producing a gluten free alternative. If you miss your Weetabix and/or intrigued & want to taste it for yourself, I would highly recommend giving this gluten free Weet-Bix a go. Hopefully one of these days a brand readily available in UK supermarkets might give gluten free weetabix a try….
Do you think we'll ever see gluten free weetabix in UK supermarkets? Let me know by leaving a comment below or on Facebook/Twitter.
Thanks for reading,
Becky xxx
Comments