Gluten Free Donuts are hard to come by, as are simple UK recipes. However that has now all changed! These Gluten Free Donuts are Baked & also Dairy Free. Not only that, they are loads of fun all year round and perfect for Comic Relief!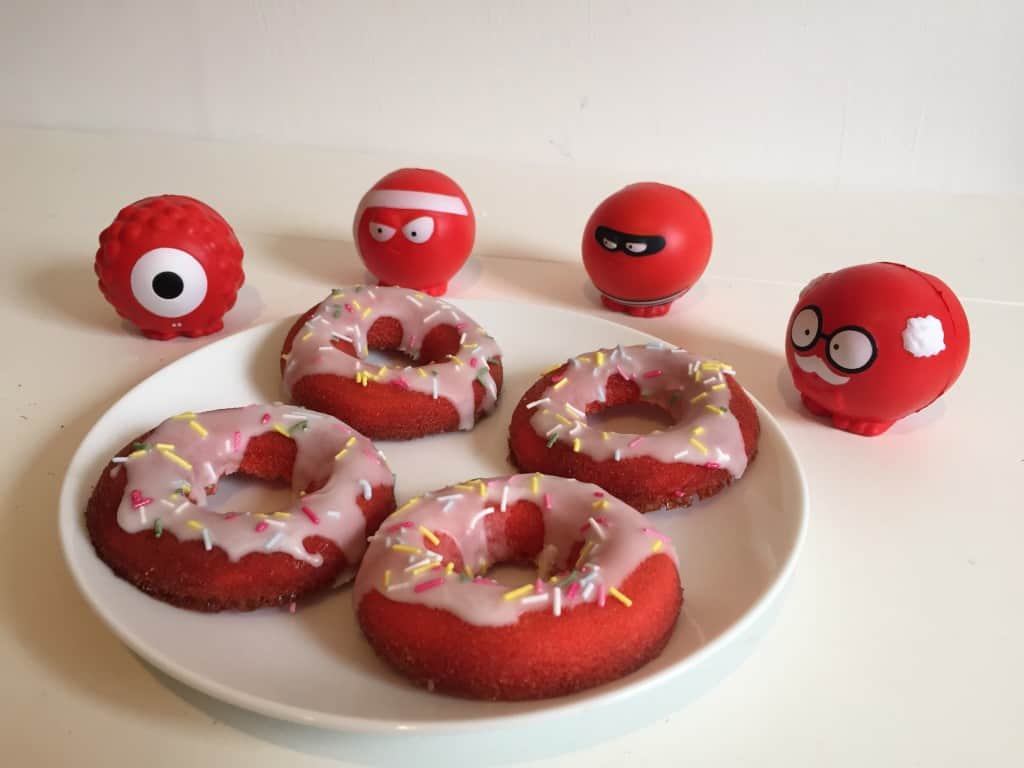 I have always been a massive donut fan & since I became aware of my intolerance to gluten in early 2010 I have actually only eaten one donut. I have to say, that one gluten free donut was amazing & it inspired me into thinking that making gluten free donuts is definitely possible. (The place that inspired me was Cookies and Scream in Camden… if you haven't already been check out my review here.. it is well, well worth it!)
Most donuts that you find in supermarkets or bakeries are fried, which of course gives it the perfect texture. However, not only am I always looking to make my favourite foods gluten free, I am also trying to make them a little healthier. It's all about Baked not Fried for me. The gluten free donuts at Cookies and Scream are baked so I knew it was possible to get that light, fluffy, perfect donut texture from baking them; so I set about making gluten free donuts!
Firstly, I bought myself a donut tin. I got mine off Amazon (Click here) & I have to say it is perfect. The gluten free donuts it produces are not the largest but they are the perfect size to not fill you up too much.
The fact that the gluten free donuts are baked in the oven rather than being fried means that they are not greasy at all, they really do have all the qualities of a delicious shop bought donut but are healthier and gluten & dairy free!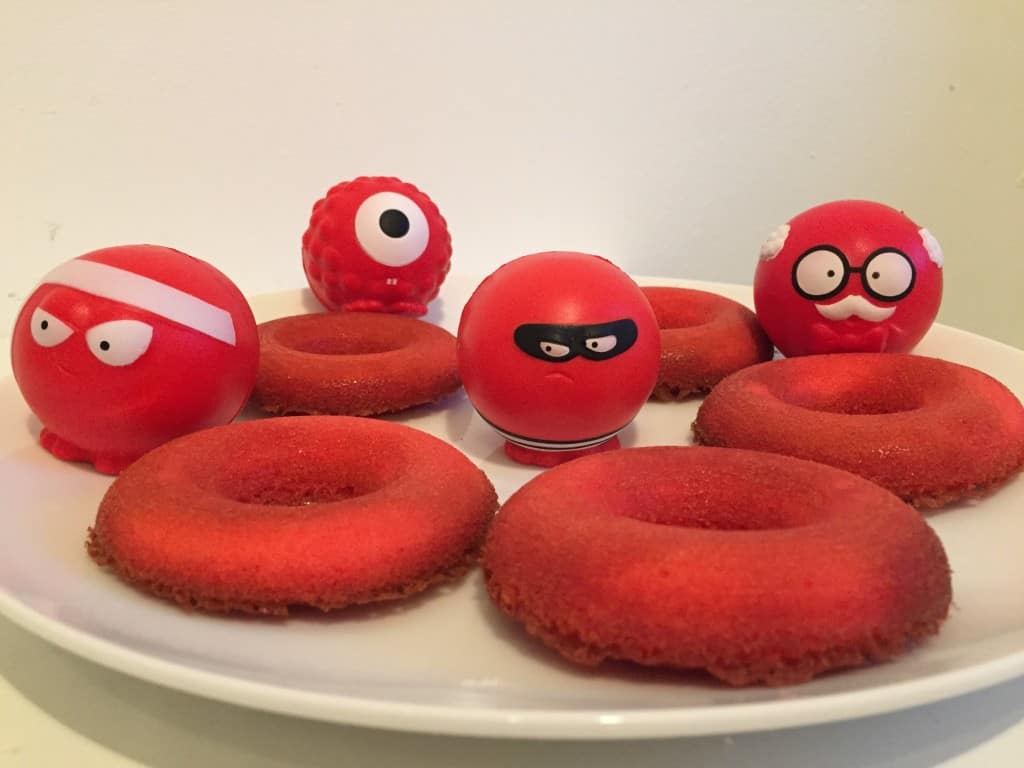 The other day Mark bought us both a red nose for Comic Relief & as you can see, since then we have got fairly addicted to trying to catch them all! We are determined to get all 9! It was these cheeky little red noses that gave me the inspiration to make my gluten free donuts RED! With Comic Relief rapidly approaching there are so many charity bake sales getting prepared to raise some money for good causes, however I often find very little of this is edible for us gluten intolerants. These little red gluten free donuts really would be the star of the show at any bake sale; fortunately not only do they look great, they also taste amazing.
You could easily ice these gluten free donuts however you fancy. But for these Comic Relief Gluten Free Donuts, I wanted to go for a really classic 'Simpsons' style donut, with white glace icing & sugar strands. They look fun & very inviting! I have also tried out these gluten free donuts with a cinnamon sugar coating which tasted amazing & I definitely have a few more ideas I want to try up my sleeve.. so watch this space! (Gluten Free/Dairy Free custard filled donuts anyone?!?! One day!!)
Anyway, here is the recipe I hope you have been looking forward to; just make sure you eat them all before the Red Noses do!!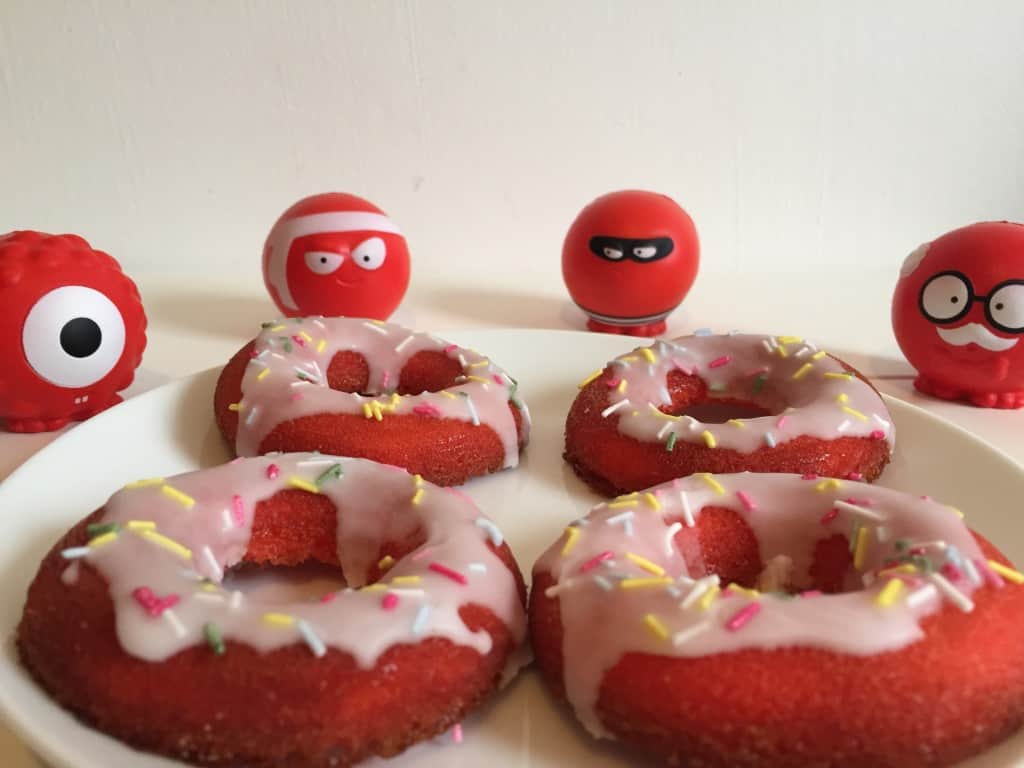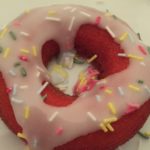 Gluten Free Donuts (also Dairy Free)
Ingredients
195

g

Gluten Free Plain Flour

1

tsp

Baking Powder

Pinch

of Salt

115

ml

Dairy Free Milk (I used Lacto Free Semi Skimmed

but I think nut milks

1

tsp

vanilla extract

115

g

Dairy Free Margarine

195

g

Caster Sugar

2

Eggs

A few drops of Red Food Colouring

I use a Red Food Colouring Paste from HobbyCraft

125

g

Icing Sugar

1 tbsp water should be added and mixed. Keep adding icing sugar and water if you need to, until you get the right thickened consistency of glace icing

Sugar Strand Sprinkles
Instructions
Preheat the oven to 190 degrees, 170 degrees fan.

Grease your donut tin.

Using a whisk cream the butter and sugar until smooth.

Add the eggs one at a time, and continue to whisk.

In a jug measure out your milk & vanilla & in a separate bowl measure out your flour, baking powder salt.

Gradually alternate adding the milk mixture & then the flour mixture to your creamed butter/sugar mix whilst continuing to thoroughly whisk.

Add your red food colouring and continue to mix until fully combined & a nice red colour!

Using either a piping bag or by pouring the mixture into a jug, fill each of your greased donut tin shapes to about 2/3 full.

Bake in the preheated oven for no more than 15 minutes.

Once cooked take the tray out of the oven and leave to cool for a few minutes before turning it upside down and gently tapping out the donuts. (They should come out easily)

Leave to fully cool before icing.

The icing is a simple glace icing which is made by mixing icing sugar & a little water together. Make sure you make the icing sugar thick enough, if too thin add a little extra icing sugar & mix.

Drizzle the icing sugar oven the donuts (unless you're a genius a lot will slide off but most of it will soon dry hard)

Straight after putting the icing on the donuts sprinkle the sugar strands over them & leave to harden.

Enjoy!
Recipe Notes
This amount made me around 15 donuts. I only had 1 six donut tin so I had to make them in batches - they are so quick to cook so this wasn't a problem!
The donut tin I have I bought off Amazon for a good price. It works really well and I would highly recommend it.
Let me know how you get on if you give these gluten free donuts a try. I would love to see some pictures if you do!
I also love these gluten free donuts from Free From Foods.. click here to find out all the details!
Thanks for reading,
Becky xxx
Comments