The weather may still be a little apocalyptic but this Virgin Piña Colada Smoothie (Barista Style) will have you in a Hawaiian shirt and flip flops in no time.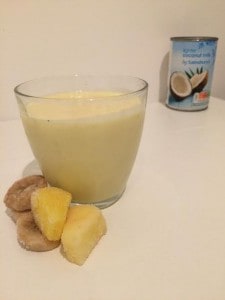 As you may know, since being diagnosed with IBS some years ago, alcohol has been one of the many things that's now strictly off my menu. I used to love making myself and Bex cocktails at home but alas… my cocktail shaker has been in retirement for quite some years.
One of my favourite cocktails was a Piña Colada which commonly comprises of pineapple, cream of coconut and rum. I used to enjoy this rather flamboyant looking delight in restaurants such as Chiquitos and at The Hard Rock Café but I hadn't had one in a very long time, up until recently. Luckily, Chiquitos (and a handful of other places) serve a wicked Virgin Piña Colada (sans alcohol) in their mocktails section. However, I'm not usually so lucky!
That's why, since I bought Bex a Nutribullet for her Birthday, I've made it my mission to recreate all of the epic cocktails I used to love – but in smoothie form! So here's my starting point, a delicious Virgin Piña Colada Smoothie (Barista Style) that's completely free of alcohol, but will have you drunk with admiration. It's sad that, for younger people in the UK, alcohol has simply become a way to get drunk; not necessarily something to be savored. Take my word for it, there's an array of cocktails out there that border on works of art! Shall we begin?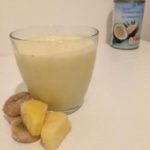 Virgin Piña Colada Smoothie (Barista Style)
Ingredients
350

g

Fresh Pineapple

Roughly a whole pineapple, peeled and cored

200

ml

Coconut Milk

100

g

Frozen Bananas
Instructions
Pour the pineapple into the blender. Add any leftover juice if using pre-prepared pinapple.

Add the coconut milk and the frozen banana to the blender.

Blend for 30 seconds until smooth and consistent.

Pour into glass and enjoy!
The frozen banana gives my Virgin Piña Colada Smoothie the icy barista-style twist that I love in coffee shop frappucinos such as Costa/Starbucks/Cafe Nero. The coconut milk gives the smoothie a luxurious creamy, coconut taste with the sweet taste of pineapple coming through. It's brilliant as a mocktail and a smoothie and won't affect your ability to drive! If you tried it out, let us know what you thought on
Twitter
or
Facebook
!
Cheers,
Mark x
Comments