The Bake Off always makes me get really into my gluten free baking. This weekend I decided to make Gluten Free Linzer Biscuits (Jammy Dodgers!) filled with Jam, Lemon & Nutella! I'm hoping to raise some money for Comic Relief by Baking some classics Gluten Free style this year & these Gluten Free Linzer Biscuits are also vegan!
One of my absolute favourite biscuits as a child was a jammy dodger, or, as they are more generically known.. Linzer biscuits! I think everyone loves them right?! Those soft crumbly biscuits encasing a cheeky jammy filling, what could be better? With Comic Relief & Charity Bake Sales approaching I thought.. why not make my own gluten free Linzer biscuits / jammy dodgers so that us gluten intolerants can once again enjoy those delightful jammy dodger treats!
I'm going to call these Gluten Free Linzer Biscuits, rather than just Jammy Dodgers, purely because when it came to making these biscuits at the weekend I decided to not just use jam. Jam is delicious and works really well but I wanted some variety! So… I went for a lemon curd filling (not vegan sadly, but I make it dairy free/gluten free) and also a nutritious Nutella style filling (that is vegan/dairy free/gluten free). The Nutritious Nutella Recipe comes from the amazing cook book of Deliciously Ella, which I highly recommend. This Nutella recipe alone warrants you buying it, it is amazing!!
Anyway back to the Gluten Free Linzer Biscuits! These were incredibly simple to make. The biscuit dough could also be used for all manner of different biscuits and cookies really. It tastes great on its own and it also would work well as an iced biscuit. My favourite suggestion however as an alternative to using the dough for Gluten Free Linzer Biscuits (although this is the ultimate way to use it!!) is to use it as cookie dough! Because the dough is vegan it contains no raw egg like some other cookie dough recipes do. It tastes amazing before you even cook it and I can imagine it working great chilled with some dairy free vanilla ice cream as a dessert or in your own Cookie Dough Shake like the amazing ones you find at Cookies & Scream in Camden!
The fillings I chose, as I mentioned before, were nutella (healthy version), raspberry jam & home made lemon curd. However you could choose any fillings that tickle your fancy for your Gluten Free Linzer Biscuits. Whether it is simply just another flavour of jam or even more of a take on a bourbon / custard cream filling… anything would work with these versatile biscuits!
Furthermore of course you can choose to cut the shape in the middle to whatever you fancy. I did very simple shapes as I don't have the best knife skills or any small cutters, but you could do whatever you fancy. With Red Nose Day coming up this month these Gluten Free Linzer Biscuits could be circular and have a circle cut out the centre to look a little like a red nose! I think I might be doing this in a couple of weeks time!
Anyway, here is the recipe for Gluten Free Linzer Biscuits aka Jammy Dodgers… enjoy!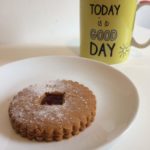 Gluten Free Linzer Biscuits / Jammy Dodgers
Ingredients
The Biscuit
350

g

gluten free plain flour

1

tsp

bicarbonate of soda

140

g

dairy free margarine

100

g

light brown sugar

3

tbsp

golden syrup

1

tbsp

vanilla extract
Fillings of your choice
Strawberry/Raspberry Jam

Lemon Curd

Nutella

Use Deliciously Ella's Nutritious Nutella recipe!
Instructions
Preheat your oven to 180degrees/160 fan.

Grease a large baking sheet

Mix together the flour & bicarbonate of soda together.

In a separate bowl cream together the margarine, sugar, golden syrup and vanilla extract.

Gradually add the dry flour mix to the butter/sugar mix (initially using a spoon but as it comes together to a more dough like consistency, get your hands involved!

Using your hands form the dough into a large ball, wrap in cling film and place it in the fridge for a minimum of 30 minutes. (Longer is great, but no worries either way!)

Once your dough has been chilled remove it from the fridge.

Get a little gluten free flour and spread if over your surface and roll out the dough.

Roll out to around just under half a cm (it doesn't need to be exact, I have no idea how thick mine were if I'm honest!!)

Using a cookie cutter cut out as many shapes as you can, remember to re-roll the spare dough (any size cutter you fancy, we made quite large ones, but that means less biscuits!)

Using a small cutter or a sharp knife, cut out a shape in the centre of half the cookies for your filling to peek through.

Place the biscuits on the greased baking sheet and put in the preheated oven for around 8-10 minutes. (Don't allow them to brown too much!)

Once cooked remove from the oven and allow to cool initially on the baking sheet before moving onto a cooling rack.

Once completely cool spread your filling over whole biscuits, make sure there is a little more in the centre.

Place the biscuit with the cut out centre on top and gently press down so the filling can be seen.

If you fancy you can sprinkle with icing sugar.

Serve with a cuppa & enjoy!
Recipe Notes
Any filling will do... jam, curd, nutella or anything else you fancy.
This made me 8 large linzer biscuits (so 16 separate biscuits) but if you want them smaller the dough could make even more.
Adapted from Ms Cupcake - The Naughtiest Vegan Cakes in Town
Let me know how you get on with this recipe & if you are even more inventive than me with what fillings you use! How can anyone resist a blast from the past with some old school.. yet gluten free jammie dodgers!
Thanks for reading,
Becky xxx
Comments